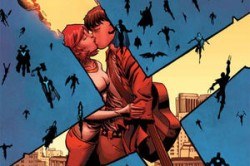 Name: Michael Avon Oeming, Taki Soma
Date(s): May 30, 2009
Description: MICHAEL OEMING & TAKI SOMA
REDMOND STORE SIGNING
SATURDAY, MAY 30TH
12PM TO 3PM
The Comic Stop is excited to have comic book artist extraordinaire Michael Avon Oeming (Powers, Bulletproof Monk, Hammer of the Gods) for a store signing to help promote his brand new series debuting with Dark Horse Comics, Rapture. Signing along with Oeming is co-creator and artist for the book, Taki Soma.
Here's what Dark horse has to say about Rapture:
After warring for a century, Earth's greatest champions and villains suddenly disappear, leaving the planet devastated. Like a rapture, the Powers are gone and humanity is left behind to pick up the pieces. Amongst this wreckage, two lovers, Evelyn and Gil, find themselves separated by a continent and will do anything to find each other again. But when a strange being named "The Word" turns Evelyn into a champion with an angelic spear, she finds the force of her love for Gil clashing with her newfound power. Love and destiny collide in what will become the worst breakup-ever.
This store signing will take place from 12pm to 3pm at the Redmond location, on Saturday, May 30th.
COMIC STOP REDMOND
16444 NE 74th St #B-135
Redmond, WA 98052
425.881.0291
Location: COMIC STOP REDMOND, 16444 NE 74th St #B-135, Redmond, WA 98052
Website: http://www.comicstoponline.com
[photosmash=]