Director J.J. Abrams and novelist Doug Dorst appear at Symphony Space on Saturday, November 23, 2013 at 6:00pm to debut S.: A Novel!
Press Release:
J.J. Abrams presents S., a brand-new novel and multi-layered literary puzzle he developed with novelist Doug Dorst, PEN/Hemingway and Shirley Jackson Award nominee. J.J. Abrams has created, written, directed, or produced television shows such as the Emmy and Golden Globe Award-winning Lost, Alias, and Felicity and films including Star Trek, Super 8, Cloverfield, and Mission: Impossible.
Event includes a reading from the novel, a conversation between Abrams and Dorst, followed by a signing. Co-presented with 826NYC, a nonprofit dedicated to supporting students ages 6-18 with their creative and expository writing skills, and to helping teachers inspire their students to write.
Tickets available at the link!
Symphony Space
2537 Broadway at 95th Street, New York, NY 10025-6990
Press Release:
J.J. Abrams to Direct Star Wars: Episode VII
J.J. Abrams will direct Star Wars: Episode VII, the first of a new series of Star Wars films to come from Lucasfilm under the leadership of Kathleen Kennedy. Abrams will be directing and Academy Award-winning writer Michael Arndt will write the screenplay.
"It's very exciting to have J.J. aboard leading the charge as we set off to make a new Star Wars movie," said Kennedy. "J.J. is the perfect director to helm this. Beyond having such great instincts as a filmmaker, he has an intuitive understanding of this franchise. He understands the essence of the Star Wars experience, and will bring that talent to create an unforgettable motion picture."
George Lucas went on to say "I've consistently been impressed with J.J. as a filmmaker and storyteller.  He's an ideal choice to direct the new Star Wars film and the legacy couldn't be in better hands."
"To be a part of the next chapter of the Star Wars saga, to collaborate with Kathy Kennedy and this remarkable group of people, is an absolute honor," J.J. Abrams said. "I may be even more grateful to George Lucas now than I was as a kid."
J.J., his longtime producing partner Bryan Burk, and Bad Robot are on board to produce along with Kathleen Kennedy under the Disney | Lucasfilm banner.
Also consulting on the project are Lawrence Kasdan and Simon Kinberg.  Kasdan has a long history with Lucasfilm, as screenwriter on The Empire Strikes Back, Raiders of the Lost Ark and Return of the Jedi.Kinberg was writer on Sherlock Holmes and Mr. and Mrs. Smith.
Abrams and his production company Bad Robot have a proven track record of blockbuster movies that feature complex action, heartfelt drama, iconic heroes and fantastic production values with such credits as Star Trek, Super 8, Mission: Impossible Ghost Protocol, and this year's Star Trek Into Darkness. Abrams has worked with Lucasfilm's preeminent postproduction facilities, Industrial Light & Magic and Skywalker Sound, on all of the feature films he has directed, beginning with Mission: Impossible III. He also created or co-created such acclaimed television series as Felicity, Alias, Lost and Fringe.
Writer-director J.J. Abrams and some of the stars of the film Super 8 speak on Saturday, January 7th 2012 with Hero Complex's Geoff Boucher in an on-stage interview at the Aero Theatre in Santa Monica. The Q&A session will follow a  7:30 p.m. screening of the retro-spirited sci-fi film by American Cinematheque, the nonprofit, viewer-supported cultural organization  that celebrated its 30th anniversary this year. More details to come at the American Cinematheque website.
Aero Theatre
1328 Montana Avenue, Santa Monica, CA 90403
Entertainment Weekly Comic-Con Panel (and Video): J.J. Abrams and Joss Whedon Greet the Faithful
J.J. Abrams and Joss Whedon are responsible for some of the most obsessed-over and geeked-out-about pop culture creations of the past two decades, so it's natural they would find an ideal audience at Comic-Con, the home away from home for the obsessive and geeky. When the two took the stage at Comic-Con for EW's Visionaries panel, hosted by EW's Jeff "Doc" Jensen, the crowd welcomed them with raucous and adoring applause. For the hour that followed, these two master storytellers gave the audience some insight into their upcoming projects, their creative processes, their influences, and their perspectives on the seismic shifts that are rocking the entertainment landscape. Some highlights:
Following months of speculation, Whedon confirmed that he is, indeed, directing Marvel's superhero-team-up movie, The Avengers. (See video of the announcement below.) But he said it's still too early to get into details about the film, which will unite such beloved Marvel heroes as Iron Man, Captain America, Thor, and the Hulk. "I'm still writing an outline," Whedon said. "But the thing that made me excited to do it was just how completely counterintuitive it is. It makes no sense. These people shouldn't be in the same room, let alone on the same team." He paused. "And that, to me, is the very definition of family," he added wryly.
The always-busy Abrams, who is launching a new spy series called Undercover and finishing the romantic comedy Morning Glory, talked about his thrill at collaborating with Steven Spielberg–who's long been a kind of creative father figure to him–on a still-mysterious film due next summer called Super 8. "It's imposible to work with him and not constantly reference the work he's done," Abrams said. Though he revealed few specifics about the project, he said, "The movie is very much in the spirit of some of the Amblin films [Spielberg] made years ago."
The two diverged in their opinions of the current boom in 3-D movies. Whedon was high on it ("Honestly, I totally love it"), while Abrams expressed reservations: "The thing that drives me crazy about 3-D is that when you put on the glasses, everything seems dim," he says. "I'm not totally on board yet."
But in more general terms, they both expressed the same kind of unabashed fanboy enthusiasm for the pop culture they love that also drives the Comic-Con crowd. Abrams talked of his admiration for the work of comic-book artist Chris Ware and Scott Pilgrim vs. The World director Edgar Wright ("I just saw Scott Pilgrim–it's awesome"). And Whedon, for his part, geeked out big-time over some of Abrams' work. "I've had actual moments of sheer f—ing panic because I loved Star Trek so much," Whedon said. "I just keep watching it and going, 'This is the gold standard for a team movie, for a summer movie, for any movie that has come out in the last several years.' And it makes me throw up with fear, so I have to stop watching it."
Source: EW.com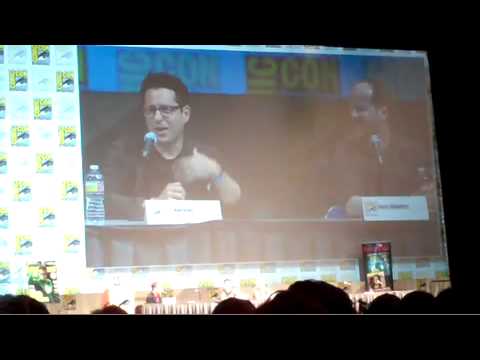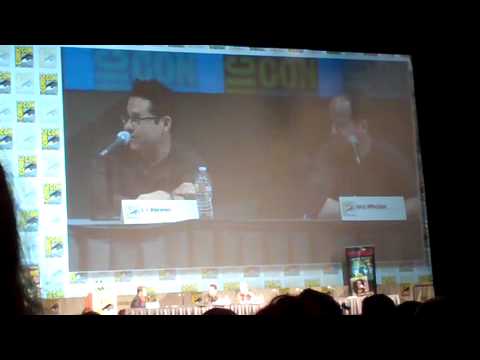 How does this partial list of guests for the first day grab you?
Will Ferrell, Tina Fey, Jonah Hill, J. Michael Straczynski, Danny Elfman, Rick Riordan, Jeff Bridges, Garrett Hedlund, Olivia Wilde, Michael Sheen, Bruce Boxleitner, Patton Oswalt, Dan DiDio, Jim Lee, The Miz, Brian Michael Bendis, Charlaine Harris, Bruce Campbell, Michelle Rodriguez, Aaron Eckhart, Todd McFarlane, Geoff Johns, Bruce Willis, Warren Ellis, Helen Mirren, Mike Mignola, J.J. Abrams, Joss Whedon, Robert Kirkman, Michael C. Hall, David Duchovny, Sylvester Stallone, Steve "Stone Cold" Austin, Michael Cera, Michael Elizabeth Winstead, and Penn & Teller.
Oh, and the panel announcement everyone's been waiting for:
3:30-4:30 Entertainment Weekly: The Visionaries— A discussion with geek gods J. J. Abrams (Star Trek) and Joss Whedon (Buffy the Vampire Slayer) on the future of pop culture. EW presents an in-depth conversation with these two creative geniuses about how technology, gaming, and global culture are reshaping how we tell and consume stories on television, film and the web. Plus: Is the superhero movie waning, or is it on the cusp of reinvention? And what do they think the pop culture universe will look like a decade from now? Moderated by Jeff "Doc" Jensen. Hall H