May 6, 2016 by Colin Solan
Filed under Animation, Comic Books, Convention News, Florida, Horror, Movies, Other, Science Fiction and Fantasy, Television, Video Games
The Photo Op schedule with celebrities including Stan Lee, William Shatner, Nichelle Nichols, George Takei, John Cusack, Christopher Lloyd, Ming-Na Wen, Hayley Atwell, John Barrowman, and many more at MegaCon‬ 2016 is now available. Tickets are now on sale via the website: www.MegaConvention.com/photo-ops
SPOILERS: I do get into spoiler-territory here, so if you haven't seen it yet, you might want to skip this part.
I have to say… I have very mixed feelings about Star Wars: The Force Awakens. I go way back with Star Wars… all the way back to 1977. Because my cousin wanted to see it, our whole family went to our local theater and saw the original. I was hooked. Naturally, I've seen every Star Wars movie since. But… like a lot of fans, I found the prequels a little wanting and felt that they tarnished Star Wars's reputation. I was eager to see what Director J.J. Abrams and the folks at Disney had cooked up to take the bad taste of the prequels out of our mouths. For months as the trailers rolled out, I crossed my fingers and said, "Let it be good… let it be good… let it be good." Having seen it, though, I came away disappointed. While I loved the new characters, especially Daisy Ridley's Rey, I felt like the original characters really got the short end of the stick. All these years later, and either everything is the same or changed for the negative. Han and Leia broken up? Say it ain't so! Stormtroopers running around…still?! Han back to being a smuggler…. really?! After becoming a military leader? And the movie robs us of the chance to see Han, Leia, and Luke all sharing the screen again.
So as far as the older characters go, I almost wish they had just set it farther into the future and just said the originals died happy deaths. Despite all my misgivings, I am still looking forward to Episode VIII. Hopefully, the next movie will be more about charging forward and less about looking back. I want to see the next chapter of Rey, Finn, Poe, and Kylo Ren, and I want to see Luke Skywalker kick some butt!
Although I did not love the new movie, I still jumped at the chance to receive a copy of the Blu-ray Combo Pack to review. Deleted scenes, behind-the-scenes stuff, it's packed with goodies!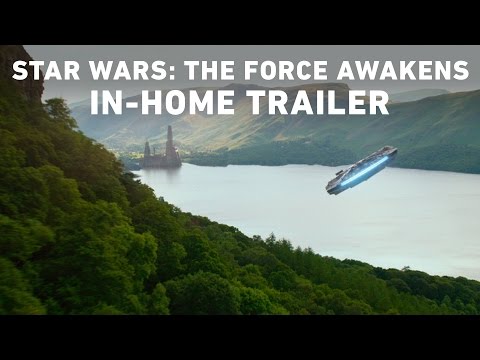 Arriving early on Digital HD April 1, 2016
Bring it home on Blu-ray™ Combo Pack and DVD on April 5, 2016
Including new in-depth bonus offering fans the chance to experience more
BURBANK, Calif. (March 3, 2016)—Star Wars: The Force Awakens shattered box office records upon its debut to become the cinematic event of a generation with over $926 million domestic and $2.05 billion worldwide. As announced this morning by Chairman and Chief Executive Officer Robert A. Iger at The Walt Disney Company's Annual Meeting of Shareholders, the epic movie will be available to own early on Digital HD and Disney Movies Anywhere on April 1. It comes home on Blu-ray Combo Pack and DVD on April 5.
Discover the complete story behind the making of Star Wars: The Force Awakens with in-depth documentary and bonus material that will take fans on an exciting journey behind the scenes.  Secrets will be revealed through extensive footage, never-before-seen deleted scenes, and exclusive interviews with the actors and filmmakers. Bonus features include*:
Secrets of The Force Awakens: A Cinematic Journey – For the first time, discover the complete story behind the making of The Force Awakens, revealed through in-depth footage and exclusive interviews with the actors and filmmakers in this feature documentary.
The Story Awakens: The Table Read – Cast members familiar and new reflect on the memorable day they all first came together to read the movie's script.
Building BB-8 – See how the filmmakers brought the newest droid to the screen, creating an instant fan favorite in the Star Wars universe.
Crafting Creatures – Watch movie magic as the filmmakers bring a cast of new creatures to life.
Blueprint of a Battle: The Snow Fight – Go deeper into the epic, climactic lightsaber battle between Rey and Kylo Ren.
John Williams: The Seventh Symphony – The legendary composer shares personal insights of his work on Star Wars and The Force Awakens.
ILM: The Visual Magic of The Force – An insider's look into the remarkable digital artistry of the movie's visual effects.
Force For Change – Heroes come in all shapes and sizes. See how the Star Wars: Force for Change initiative has united Star Wars fans all over the globe to help others.
Plus Deleted Scenes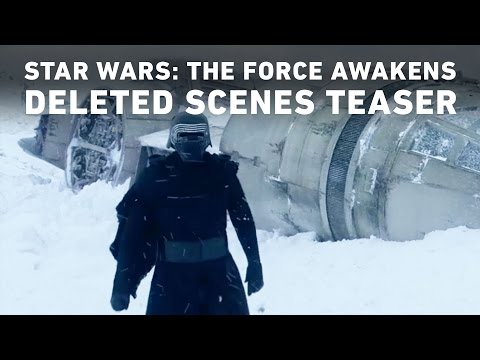 * Digital bonus offerings may vary by retailer
Star Wars: The Force Awakens saw the eagerly anticipated reteaming of original Star Wars stars Harrison Ford, Carrie Fisher, and Mark Hamill, along with Anthony Daniels, the only actor to have been in all seven Star Wars films, and Peter Mayhew. The returning cast was joined by newcomer Daisy Ridley, who beat out fierce competition to take the principal role of Rey; BAFTA Rising Star Award winner John Boyega (Attack the Block, Imperial Dreams) as reluctant stormtrooper Finn; Emmy® nominee Adam Driver (Lincoln, Girls) as the villainous Kylo Ren, and Golden Globe® winner Oscar Isaac (Inside Llewyn Davis, The Bourne Legacy) as Resistance pilot Poe Dameron.
Star Wars: The Force Awakens was directed by J.J. Abrams and written by Lawrence Kasdan & J.J. Abrams and Michael Arndt. Lucasfilm president and eight-time Academy Award® nominee Kathleen Kennedy and J.J. Abrams, along with his longtime producing partner Bryan Burk, are the film's producers.
Having established a musical legacy with his iconic scores for the previous six films in the Star Wars Saga, acclaimed composer John Williams returned to score Star Wars: The Force Awakens, ultimately garnering his 50th Oscar® nomination for it. 
DISC SPECIFICATIONS:
FEATURE RUN TIME:                            Approximately 136 min.
RATING:                                                 PG-13 in U.S.; PG in CE; G in CF
ASPECT RATIO:                                     Blu-ray Feature Film = 2.40:1
DVD Feature Film = 2.40:1  
AUDIO:                                                   Blu-ray = English 7.1 DTS-HDMA, English 2.0 Descriptive Audio, French and Spanish 5.1
Dolby Digital Language Tracks
DVD = English, French and Spanish 5.1 Dolby Digital, English 2.0 Descriptive Audio Language Tracks
LANGUAGES:                                        English, French & Spanish
SUBTITLES:                                            English SDH, French & Spanish
SOCIAL MEDIA:
Facebook: http://www.facebook.com/StarWarsMovies
Twitter: https://twitter.com/StarWars
Website:  http://www.starwars.com/the-force-awakens/
Instagram: http://instagram.com/StarWarsMovies
ABOUT STAR WARS: THE FORCE AWAKENS:
Lucasfilm and visionary director J.J. Abrams join forces to take you back again to a galaxy far, far away as Star Wars returns to the big screen with Star Wars: The Force Awakens. The film stars Harrison Ford, Mark Hamill, Carrie Fisher, Adam Driver, Daisy Ridley, John Boyega, Oscar Isaac, Lupita Nyong'o, Andy Serkis, Domhnall Gleeson, Anthony Daniels, Peter Mayhew and Max Von Sydow. Kathleen Kennedy, J.J. Abrams and Bryan Burk are producing with Tommy Harper and Jason McGatlin serving as executive producers. The screenplay is written by Lawrence Kasdan & J.J. Abrams and Michael Arndt.
ABOUT LUCASFILM LTD.
Lucasfilm Ltd., a wholly-owned subsidiary of The Walt Disney Company, is a global leader in film, television and digital entertainment production. In addition to its motion-picture and television production, the company's activities include visual effects and audio post-production, cutting-edge digital animation, interactive entertainment software, and the management of the global merchandising activities for its entertainment properties including the legendary STAR WARS andINDIANA JONES franchises. Lucasfilm Ltd. is headquartered in northern California.
Lucasfilm, the Lucasfilm logo, STAR WARS and related properties are trademarks and/or copyrights, in the United States and other countries, of Lucasfilm Ltd. and/or its affiliates. © & TM 2015 Lucasfilm Ltd. All rights reserved.
ABOUT DISNEY MOVIES ANYWHERE (DMA):
Disney Movies Anywhere (DMA) is an engaging and family-friendly cloud-based digital movie service that makes it simple to buy your favorite Disney, Pixar, Marvel and Star Wars movies once and watch them anywhere.  With DMA you can explore Disney's library of over 450 eligible digital movies, discover hours of new and exclusive short-form content, and watch your digital movies from the comfort of the living room or across multiple mobile devices.  Using the free DMA apps and website, you can connect your DMA account with participating providers including iTunes, Amazon Video, VUDU, Microsoft Movies and TV and Google Play and unlock access to your eligible movie collections across platforms and devices –  iPhone, iPad, iPod Touch, Apple TV/Airplay, Amazon's Fire tablets, Fire TV and Fire TV Stick, Microsoft Movies and TV service on Windows and Microsoft Xbox devices, Android mobile and tablet devices and Android TV, Chromecast and the Roku®platform.  In addition, you can redeem Digital Copy codes found in Disney, Pixar and Marvel Blu-rays and DVDs, as well as earn Disney Movie Rewards points with every digital purchase.
ABOUT THE WALT DISNEY STUDIOS:
For over 90 years, The Walt Disney Studios has been the foundation on which The Walt Disney Company was built. Today, the Studio brings quality movies, music and stage plays to consumers throughout the world. Feature films are released under the following banners: Disney, including Walt Disney Animation Studios and Pixar Animation Studios; Disneynature; Marvel Studios; Lucasfilm; and Touchstone Pictures, the banner under which live-action films from DreamWorks Studios are distributed. The Disney Music Group encompasses the Walt Disney Records and Hollywood Records labels, as well as Disney Music Publishing. The Disney Theatrical Group produces and licenses live events, including Disney on Broadway, Disney On Ice and Disney Live!.
Comments Off on Steel City Con Adds Anthony Daniels to Massive Celebrity Guest Lineup for March 2012
THE BIGGEST CELEBRITY LINE-UP IN 23 YEARS! DON'T MISS OUT!
ANTHONY DANIELS – The Steel City Con is very pleased to announce that ANTHONY DANIELS ( C-3PO in all six of the STAR WARS feature films ) will be attending the upcoming Show! Mr. Daniels was both the body and voice of the golden robot. Daniels has reprised the role for various promotional work such as hosting The Making of Star Wars, Star Wars Connections and The Science of Star Wars; for appearances on The Muppet Show and Sesame Street and an anti-smoking public service announcement; for The Star Wars Holiday Special; in advertising for Star Wars licensed products such as Kenner toys. Daniels is the only cast member of the original Star Wars trilogy to voice his character in all three parts of National Public Radio's dramatizations of the trilogy. He voiced C-3PO for three animated series: Droids, Star Wars: Clone Wars and Star Wars: The Clone Wars. Other C-3PO voicework by Daniels includes: the Christmas-themed Christmas in the Stars album; the multiple Walt Disney theme park attractions and Star Tours.
MR. DANIELS IS ONLY APPEARANING SATURDAY 10am-6pm
IMPORTANT: Buy your 3 Day Pass so you can get in before general admission and get in line first!
_______________________________________________________
BILLY DEE WILLIAMS – American actor, artist, singer, and writer. He is most known for playing LANDO CALRISSIAN in STAR WARS – Episode V: The Empire Strikes Back and Return of the Jedi. Billy Dee Williams and James Caan were both nominated for Emmy Awards for best actor for their performances in the film Brian's Song. Mr. Williams will only be siging for LIMITED HOURS so please check out the web site to make sure you are at his booth at the right times.
COREY DEE WILLIAMS – COREY DEE WILLIAMS is the son of Hollywood icon Billy Dee Williams (a.k.a. Lando Calrissian from the originalSTAR WARS trilogy). Corey was actually his Dad's stand-in on Return of the Jedi! It was during his time on set that he was offered the role of KLAATU. If you are a Star Wars fan then you know that this is a rare appearance!
SPECIAL NOTE: THE STEEL CITY CON IS THE FIRST CONVENTION IN THE WORLD TO HOST BOTH WILLIAM'S IN A SIGNING APPEARANCE TOGETHER!
CHRISTOPHER KNIGHT – American actor best known for playing PETER BRADY on the 1970s series, THE BRADY BUNCH. He has since gone on to become a successful businessman and had a successfull reality TV Show. Christopher Knight will be joining Susan Olsen in a mini- BRADY BUNCH Reunion!
SUSAN OLSEN – The Steel City Con is VERY pleased to announce that SUSAN OLSEN will be attending the March Show! Many of you know Susan as "CINDY BRADY" from the BRADY BUNCH. Susan has appeared nearly all of the Brady Bunch reunion fils. In 2007, Susan and her fellow cast members were honored with the TV Pop Culture Awards on the TV Lands Awards. This is a very rare signing appearance. Make your plans to attend!
SID & MARTY KROFFT SUPERSTARS REUNION TOUR
Presented by: In Person Productions & Hosted by Steel City Con
Many of you remember that the sibling team of Sid & Marty Krofft produced a series of
influential children's television and variety show programs in the USA, particularly throughout the 1970s and early 1980s. They are largely known for a unique brand of ambitious fantasy programs,
The Steel City Con is proud to be the first stop on this amazing Reunion of many original cast members:
SIGMOND & THE SEA MONSTERS
JOHNNY WHITAKER – Star of Sigmond & the Sea Monsters & Family Affair!
LAND OF THE LOST
KATHLEEN COLEMAN – ( "Holly" from Land of the Lost)
WESLEY EURE ("Will" from Land of the Lost)
LIDSVILLE
BUTCH PATRICK – "Mark" from LIDSVILLE & "Eddie Munster" -THE MUNSTERS
IAN ZIERING – In 1990, IAN ZIERING was chosen as " STEVE SANDERS" on the hit series BEVERLY HILLS, 90210. He was a celebrity dancer on Season 4 of ABC's Dancing with the Stars. His professional dance partner was Cheryl Burke, who won the competition in Season 2. In made it to the semi-final round and received a perfect score (three 10s) from the judges for one of his two dances in the semi-finals.
ANGIE EVERHART – American Actress and Fashion Model. Angie has graced the covers of such fashion mainstays as ELLE and GLAMOUR MAGAZINE. She was ranked #98 on the FHM 100 Sexiest Women of 2003. Angie made her film deut in 1993 with the Arnold Schwarzenegger action-comedy LAST ACTION HERO. She has since appeared in such features as Tales From the Crypt Presents: Bordello of Blood (1996), Denial (1998), Trigger Happy (1996), and Gunblast Vodka (2000). She has also appeared in Another 9½ Weeks (1997), Payback (2006) and many others.
GENA LEE NOLIN – American Actress and model. GENA LEE NOLIN is best known for her television appearances on The Price Is Right and BAYWATCH in the 1990s. Nolin starred in her biggest role as Neely Capshaw in the television series Baywatch (becoming the second actress to play the controversial character). Let's not, however forget Gena's role as SHEENA – QUEEN OF THE JUNGLE in the 2000-2002 TV series!
IAN PETRELLA – A special treat for Steel City Con attendees! Yes, it's "RANDY PARKER" who portrayed Ralphie's brother in the Holiday Classic Film A CHRISTMAS STORY! Very Rare Sigining Appearance!
Ian's Signing Appearance is being Sponsored by: In Person Productions
ROSITA – TNA KNOCKOUT and former Knockouts Tag-Team Championship
ROSITA'S Signing Appearance is being Sponsored by: Collectors's Realm
Steel City Con
TOY, COMIC & POP CULTURE CONVENTION! 
MARCH 2-4, 2012
THE MONROEVILLE CONVENTION CENTER
Monroeville, Pennsylvania
SHOW HOURS:
SAT 10am – 6pm 
SUN 10am – 4pm
August 22, 2011 by Brian Pate
Filed under Anime, Canada, Comic Books, Convention News, Gaming, Horror, Movies, Science Fiction and Fantasy, Television, Top Stories
Comments Off on Fan Expo Canada 2011 Adds Hayden Panettiere and William Shatner
Press Release:
TOP 10 MUST SEES AT FAN EXPO CANADA™
The ultimate four-day fan experience adds Heroes star HAYDEN PANETTIERE and the one and only WILLIAM SHATNER to line-up!
TORONTO, ON (August 17, 2011) – Only eight more days until FAN EXPO CANADA™ arrives in Toronto!   Canada's premier combined gaming, horror, comic, science fiction and anime event – the third largest in the world – is celebrating 17 years of Comic-Con North!  This year's expanded four-day festival takes place August 25-28, 2011 at the Metro Toronto Convention Centre showcasing more than 600 exhibitors and retailers covering over 250,000 square feet.
Tickets to FAN EXPO CANADA™ are on sale in advance until August 21st and available at the door.  Prices range from $79 (DELUXE Fan Expo Pass); and SINGLE Fan Expo Passes from $40, $30 and $25.  All prices include HST and are available through the FAN EXPO CANADA™ website, www.fanexpocanada.com.
In addition to NEW features and events including Nerd Speed Dating, fans can also expect returning popular favourites such as Canada's largest costume Masquerade, Artist Alley, Sketching Duels, National Gaming Tournaments and, of course, celebrity autograph and Q&A panels.  For the complete programming schedule, visit www.fanexpocanada.com.
TOP 10 MUST SEES AT FAN EXPO CANADA
CANADA'S LARGEST COSTUME MASQUERADE – SATURDAY NIGHT ONLY! 8PM (All genres) If you've never been to a masquerade or costume play, THIS is the one to attend!  This annual event features creative fans showcasing their original costumes derived from the comic, sci-fi, horror, anime and fantasy worlds – all on stage for a chance to win bragging rights.  Master of Ceremonies, Gordon Rose, brings you the most popular event of the weekend and the largest show of its kind in Canada!
(Saturday, Aug. 27, 8 pm, Hall G)
NERD SPEED DATING (All genres)
For the first time ever, speed dating is coming to FAN EXPO CANADA™!  Come and enjoy good music, great company, and the thrilling potential to meet your soul mate!  Each genre will have its own session and is free for all attendees!  This is the perfect opportunity to seek out like-hearted individuals at the biggest fan party of the year!  This event is for adults 18 years of age or older.
(Thursday-Saturday, various times, Room 803)
TELETOON CANADA PRESENTS THE WORLD PREMIERE OF "STAR WARS: CLONE WARS"
Season Four, Episode One (Sci-Fi)
The season will be an exciting one where viewers will see the heroic Jedi Knights and their clone army fight to preserve order.  Season four will show efforts met with strong resistance from the massive Separatist droid army.  Escalating and expanding into uncharted corners of the galaxy, Star Wars: The Clone Wars grows with exotic adventures and enhanced animation.  Within the galactic battle, fearsome foes from the past return to settle the score, including lethal adversaries such as bounty hunter Cad Bane and the monstrous Savage Opress.  Hosted by TELETOON at Night's Fred Kennedy, fans in attendance will get the chance to win one of three mystery prize packs to be revealed onsite.
(Saturday, Aug. 27, 5 pm, Room 718)
SKETCHING DUELS (Comic)
Check out your favourite comic artists as they go pen to pen!  The original art they produce goes up for grabs once they're done!  An amazing experience to witness, these friendly competitions show who's got the edge in comic book illustration!
(Thursday-Sunday, various times, Room 716)
STAR WARS – JEDI SCHOOL (Sci-Fi/Fantasy)
Lightsaber Dueling Demo & Workshop.  How do Jedis do it?  It looks so cool!  Find out here.
(Saturday, Aug. 27, 4 pm, Room 715B)
501ST GRAND MARCH
Have your cameras ready as the 501st Legion of Stormtroopers march the floor en masse as they travel to the location of their much looked forward to Grand Assembly photo opportunity.  When they get rolling they can't stop, so get your shot and then get yourself to the Gallery on 800 for the Assembly.
(Saturday, Aug. 27, 5 p.m., 800 Level)
REMEMBERING FRIGHTENSTEIN
Join VICTORIA PRICE and producer/co-star MITCH MARKOWITZ as we take a walk down memory lane of The Hilarious House of Frightenstein, Canada's legendary monster kid's show starring Vincent Price and Billy Van.  Moderated by Rue Morgue's Paul Corupe!
(Friday, Aug. 26, 5 pm, Room 715B)
ANIMOTION J POP DANCE (Anime)
Coming to you from the heart of downtown Toronto, Fan Expo is proud to present our annual J-Pop dance. Featuring a mix of the hottest hits from the hottest shows, to classics everyone remembers and loves, ANIMOTION promises to give you the beats to unleash your inner dance machine!
LOLITA FASHION 101 (Anime)
Lolita,a Japanese street fashion know for its intricate and delicate doll-like look, has become one of the most recognized street stylesin Japan, and is now a popular movement in North America.  Members of 'The Southern Ontario Lolita Community' will give you an opportunity to find out all about this growing fashion style and how to get involved in it!  Check out the fashion show too!
(Sunday, Aug. 28, 1 pm, Room 707; Fashion Show, Sunday, Aug. 28, 1:30 pm, Room 718)
VIDEO GAME TOURNAMENTS and CARD TOURNAMENTS (Gaming)
GX offers the largest destination for live competitive console and PC gaming tournaments featuring all the latest and hot titles.  GX has been the site of the Canadian National Championships for Magic: the Gathering, Pokemon, and UFS Universal Fighting System, and is hosting the national championship for the Great Canadian Board Game Blitz.  FAN EXPO CANADA™ is home to the largest gathering of gamers in the country!
(Daily, various times and locations)
FAN EXPO CANADA™ recently announced its stellar line up of celebrity guests comprising of the world's most legendary names in pop culture, many of today's hottest film and television stars, as well as industry luminaries including:
Sci-Fi / Fantasy:
ANTHONY DANIELS (Star Wars)
ELIZA DUSHKU (Dollhouse)
TOM FELTON (Harry Potter)
LARRY HAGMAN and BARBARA EDEN (I Dream of Jeannie)
LEE MAJORS (The Six Million Dollar Man)
HAYDEN PANETTIERE (Heroes) – NEW
KATEE SACKHOFF (Battlestar Galactica)
ROBERT J. SAWYER (Bestselling author of Flashforward)
WILLIAM SHATNER (Star Trek) – NEW
KEVIN SORBO (Hercules)
SAM TRAMMELL (True Blood)
Horror:
ROBERT ENGLUND (A Nightmare On Elm Street)
JOHN WATERS (Legendary director of Pink Flamingos, Multiple Maniacs, Serial Mom)
MARTIN LANDAU (Ed Wood) – NEW
JOHN ASTIN (The Addams Family)
DOUG BRADLEY (Hellraiser)
HEATHER BREWER (NY Times bestselling author of The Chronicles of Vladimir Tod)
LANCE HENRIKSEN (Aliens)
VICTORIA PRICE (Daughter of Vincent Price and author of A Daughter's Biography)
STEVEN SEVERIN (London Punk pioneer and founder of Siouxsie And the Banshees)
Comic:
CHRIS CLAREMONT (Legendary Comic Writer) – NEW
DAVID FINCH (Batman:The Dark Knight Artist) – NEW
JOE KUBERT (Legendary Comic Book Artist)
ADAM KUBERT (Artist of ASTONISHING SPIDER-MAN & WOLVERINE)
ANDY KUBERT (Artist of BATMAN & FLASHPOINT)
JEFF SMITH (Cartoonist Guest of Honour – Creator of BONE)
DOUG SNEYD (Legendary Playboy cartoonist)
CLAY MANN (Artist — X-Men: Legacy) – NEW
Anime:
JASON DELINE, SHAWN MEUNIER (Stars of Bakugan)
MIKE MCFARLAND, CHRIS SABAT (Stars of Dragonball Z)
JUNKO MIZUNO (Acclaimed manga artist)
VIC MIGNOGNA (Star of Fullmetal Alchemist:Brotherhood)
VERONICA TAYLOR (Star of Pokemon)
Gaming:
JARETT CALE, GEOFF LAPAIRE (Pure Pwnage)
ROBIN D. LAWS (Author – Dungeons & Dragons, Heroquest)
ED GREENWOOD (Author of Forgotten Realms)
VICTOR LUCAS, SHAUN HATTON (The Electric Playground)
For the complete list of celebrity guests, go to www.fanexpocanada.com.
TICKET DETAILS: All advance ticket sales are available August 21st through the Fan Expo Canada
website: www.fanexpocanada.com.  (All prices include HST)
DELUXE Fan Expo Pass: $79 — BEST VALUE, LIMITED QUANTITIES
·        Includes unlimited access to Fan Expo Canada for up to 4 days
·        Access to Special Expo Preview on Thursday, August 25 at 2:00 pm
·        (Excludes special ticketed events and anything otherwise noted)
SINGLE Fan Expo Pass:
·        Includes unlimited access Fan Expo Canada on specified date
·        (Excludes special ticketed events and anything otherwise noted)
Thursday, August 25, 2011
(starting at 4pm)
Friday, August, 26, 2011
Saturday, August 27, 2011
Sunday, August 28, 2011
$25$30
$40
$30
SHOW DETAILS:
WHEN: AUGUST 25- 28, 2011
Thursday, August 25Friday, August 26
Saturday, August 27
Sunday, August 28

WHERE:

2:00 pm – 4:00 pm (Special Preview for Deluxe Pass holders)
4:00 pm – 9:00 pm
10:00 am – 8:00 pm
10:00 am – 8:00 pm
10:00 am – 6:00 pmMetro Toronto Convention Centre South Building
222 Bremner Blvd, Toronto, Ontario, Canada
For more information visit, www.fanexpocanada.com
Comments Off on Fan Expo Canada 2011 Adds Sci-Fi and Fantasy Icons
Press Release:
Pop Culture's Sci-Fi & Fantasy Icons Added to Powerhouse Lineup at 2011 Fan Expo Canada™
Stars of True Blood and Harry Potter join C-P3O, The Six Million Dollar Man and Hercules on SFX Science Fiction Expo Stage
Toronto, ON (May 11, 2011) – Fan Expo Canada™, Canada's largest gaming, horror, comic, science fiction and anime event, today announced a star-studded lineup of science fiction celebrities that is sure to thrill fans of all ages. The Science Fiction Expo spotlights a plethora of television and film idols spanning generations including
Lee Majors (The Six Million Dollar Man), Larry Hagman and Barbara Eden (I Dream of Jeannie), Kevin Sorbo (Hercules) as well as today's hottest fantasy stars such as True Blood's Sam Trammell, Harry Potter's Tom Felton and Sci-Fi "it" girls Eliza Dushku and Katee Sackhoff.
Original Star Wars actor, Anthony Daniels, who played CP3O, joins the weekend-long "Celebrating Star Wars" programming featuring 501st Legion, The Droid Hunt, Masquerade, Lightsaber Duel demonstrations, video presentations, costume and prop making workshops, photo sessions and more!
Also announced, returning by popular demand is Fan Expo Canada's Steampunk programming – a growing sub-genre of Sci-Fi, inspired by the industrial Victorian era. The introduction of STEAMPUNK to last year's event drew massive crowds of enthusiasts from all corners of the world.
The SFX Science Fiction Expo Celebrity Guests Include:
· ANTHONY DANIELS (C-3PO in Star Wars feature films)
· ELIZA DUSHKU (Echo in Dollhouse)
· BARBARA EDEN (Jeannie in I Dream of Jeannie)
· TOM FELTON (Draco in Harry Potter feature films)
· LARRY HAGMAN (Major Anthony Nelson in I Dream of Jeannie)
· LANCE HENRIKSEN (Bishop in the Aliens feature films)
· LEE MAJORS (Steve Austin in The Six Million Dollar Man)
· NICHELLE NICHOLS (Uhura in the original Star Trek)
· KATEE SACKHOFF (Captain Kara of Battlestar Galactica)
· MICHAEL SHANKS (Dr. Daniel Jackson in Stargate SG-1)
· MARINA SIRTIS (Deanna Troi in Star Trek: The Next Generation)
· KEVIN SORBO (Captain Dylan Hunt in Andromeda and star of Hercules)
· SAM TRAMMELL (Sam Merlotte in True Blood)
Key Features and Highlights of the SFX Science Fiction Expo:
· "Celebrating Star Wars" with an entire weekend-long programming including 501st Legion Conference, The Droid Hunt, Masquerade, Light saber Duel demonstrations, Video presentations, Costume & Prop making workshops, Photo Sessions and more!
· Intimate and Interactive – celebrity presentations allow fans the opportunity to meet their favourite celebrities and learn some of Sci-Fi's best kept secrets in an open Q & A forum
· Autograph Sessions with Science Fiction celebrities – always a crowd pleaser
· Canada's largest Masquerade on Saturday, Aug. 27 – dress up as a popular Science Fiction character
· 600 commercial exhibitors supporting a full complement of science fiction and entertainment themes including collectibles, videos and more
· Science Fiction industry professional workshops for the public
· Industry Preview Area – see the latest products and services and get a sneak peek at upcoming projects
For the 17th consecutive year, visitors from across Ontario and around the world will have the opportunity to experience the very best in pop culture first-hand at the upcoming 2011 Fan Expo Canada™. In addition to the Science Fiction Expo, the country's largest combined event will include Anime, Comic Books, Festival of Fear Horror Expo and GX – Gaming Expo. Stay tuned for more announcements in the upcoming weeks.
SHOW DETAILS:
WHEN: AUGUST 25- 28, 2011
Thursday, August 25 2:00 pm – 4:00 pm (Special Preview)
4:00 pm – 9:00 pm
Friday, August 26 10:00 am – 8:00 pm
Saturday, August 27 10:00 am – 8:00 pm
Sunday, August 28 10:00 am – 6:00 pm
WHERE: Metro Toronto Convention Centre South Building
222 Bremner Blvd, Toronto, Ontario, Canada
For more information visit, www.fanexpocanada.com