Artist SIYA OUM appears in person at Northeast Comic Con on December 5th and 6th to autograph copies of their exclusive limited edition of Star Wars: Vader Down #1 with a Phantom Variant Cover. Only 3,000 color copies and 1,000 black and white copies will be available worldwide. Autographs are absolutely free with paid admission and the cost of the book (color only $10 each, b&w only $20 each). Siya will also be available for sketches.
NorthEast Comic Con & Collectibles Extravaganza, a Pop Culture Expo, is a family friendly event featuring all things that appeal to fans of Comics, Movies, Television and Nerd Culture. Guests include George Perez, John Wesley Shipp, Annie Potts, Andrew WK, and many more. The show will be held on Saturday December 5 and Sunday December 6, 2015 at the Aleppo Shriners Auditorium in Wilmington, MA.
More information and tickets are available now at the website: www.NEComicCon.Net
Clermont Comic Con Jimmy Dempster and Grace Smith!
Meet Jimmy Dempster from the CW series The Originals and Swamp Murders on the ID Network.
We are proud to announce Grace Smith the lovely and proud mother of Kevin Smith as our guest this year at the Clermont Comic Con. You listen to her on SMODCAST now you can meet her in person.
For more info on Clemont comic con visit the website!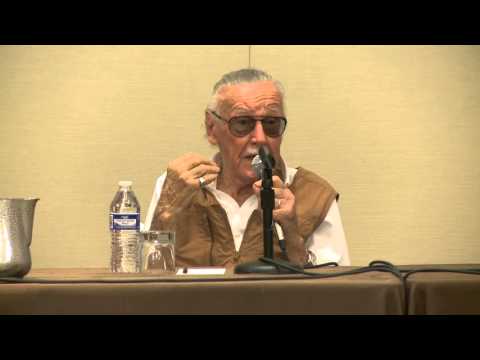 Watch The Man himself Stan Lee speak to a captivated audience at Boston Comic Con 2015 in a panel moderated by comic creator Jimmy Palmiotti and Stan's manager Max Anderson. The event featured a special appearance by Stan's best friend Ken Bald, Guinness World Record holder as the oldest living comic artist, and a phone call from Stan's wife Joanie.
Video courtesy of Ihungerproductions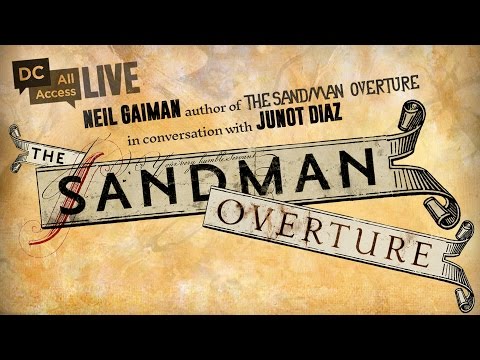 Superstar writer Neil Gaiman celebrated the legacy of his creation The Sandman in a conversation with Pulitzer Prize-winning author Junot Diaz on Monday, November 9, 2015 in Brooklyn. Thanks to DC Entertainment, the entire talk can be watched in the video above (via YouTube) with a special introduction by DC Co-Publisher Jim Lee.
Press Release:
The Michigan State University Comics Forum is an annual event that brings together scholars, creators, and fans in order to explore and celebrate the medium of comics, graphic storytelling, and sequential art. This year's event is scheduled to take place February 26-27, 2016 at the Residential College in the Arts and Humanities in Snyder/Phillips Hall on the campus of Michigan State University.
This year, the Forum is proud to announce that Sergio Aragonés will be our Guest of Honor and Keynote Speaker on Friday, February 26, 2016. Aragonés is the most honored cartoonist, having won every major award in the field including the National Cartoonists Society's Reuben Award and the Will Eisner Hall of Fame Award. He is widely known for his contributions to Mad Magazine and his long-running comic book series, Groo the Wanderer. Aragonés recently completed a Groo v. Conan crossover with artist Tom Yeates and continues his more than 50 years of contributions to Mad Magazine.
Press Release:
Writer Brian Azzarello (Wonder Woman, 100 Bullets) will be signing copies of DARK KNIGHT III: The Master Race #1 when it's released on Wednesday November 25th at a special tour of three Graham Crackers Comics Chicagoland locations! LOOP from 10:30 AM – 12:30 PM; LAKEVIEW from 1:30 – 3:30PM; and EDGEWATER from 4:00 – 6:00 PM!
Dark Knight III #1 variant cover artist Jill Thompson (Beasts of Burden, Scary Godmother) will also be on hand to sign copies of her 1 in 10 incentive copy (of which we will have copies available).
Signing begins at 10:30 am and ends at 6pm, working their way through 3 locations.  There's an open time that should fit everyone's schedule for this special occasion!
Graham Crackers Comics – CHICAGO LOOP
77 E. Madison Street, Chicago, IL 60602
312-629-1810
LAKEVIEW
5443 N Broadway Street, Chicago, IL 60640
(773) 665-2010
EDGEWATER
5443 N Broadway Street, Chicago, IL 60640
(773) 561-5010
Charlie Adlard and Stefano Gaudiano appear this weekend November 13-15th at the NC Comicon in a rare opportunity to see both artists from The Walking Dead! This is Charlie's only US appearance this year! Splash Page Comic Art will be set up at booth A201 to sell Walking Dead original covers and pages!
Charlie will have his own ticketed signing area and special panel appearances. Details available at the link… Inker extraordinaire, Stefano Gaudiano, will signing and sketch at the Splash Page Art booth the entire weekend.
Other special guests include Gerard Way, Adam Hughes, Afua Richardson, Allison Sohn, Andy Smith, Bernard Chang, Brian Clevinger, Budd Root, Buzz, Christos Gage, Cliff Chiang, Daniel Way, Dave Dwonch, Dinesh Shamdasani, Dustin Harbin, Jeremy Bastian, Jeremy Whitley, John Paul Leon, John Van Fleet, Liz Prince, Mike Perkins, Mitch Gerads, Neal Adams, Richard Case, Rico Renzi, Scott Wegener, Stacey Lee, Tini Howard, Tony Harris, and Tommy Lee Edwards.
For more information, go to the convention's website: nccomicon.com
Fiona Staples, multi-award-winning artist of Saga and Archie, appears at Alpha Comics on Saturday November 28th, 2015 from 2:00-6:00 PM.
If you'd like a sketch or more than 5 books signed Alpha Comics will accept non-perishable food items to donate to the Calgary Food Bank. It's the time of year when they need donations the most so let's be sure to do Calgary and the comic community proud!
Alpha Comics 
Lynnwood Shopping Centre #9
7005 18th Street S.E., Calgary, AB T2C 1Y1, Canada
403-453-0187
Press Release:
'Captain America' Chris Evans To Make Wizard World Comic Con Debut In New Orleans, January 9
Fellow 'Cap' Standouts Jeremy Renner, Hayley Atwell, Frank Grillo, Directors Anthony and Joe Russo Also To Appear; 'First Avenger,' 'Avengers' Star To Meet Fans, Sign Autographs, Pose For Photo Ops, Conduct Live Q&A In Rare Appearance At Ernest N. Morial Convention Center

NEW ORLEANS, November 6, 2015 – Chris Evans, who has emerged as one of Hollywood's most in-demand actors for both big budget and independent features, will make his Wizard World Comic Con debut at the New Orleans Ernest N. Morial Convention Center on Saturday, January 9. The Hollywood heavyweight will greet fans, sign autographs, pose for photo ops and conduct a live Q&A session in this extremely rare appearance.
Evans will be joined at the event by fellow Captain America franchise stars Jeremy Renner ("Clint Barton/Hawkeye"), Hayley Atwell ("Peggy Carter") and Frank Grillo ("Brock Rumlow"), as well as directors Anthony and Joe Russo. Renner will also attend on Saturday, while Atwell, Grillo and the Russos are scheduled for Saturday and Sunday, Jan. 9-10.
Evans can next be seen in Captain America: Civil War , the third installment of Marvel's Captain America franchise. He also starred in Captain America: The Winter Soldier , the sequel to the highly successful Captain America: The First Avenger which was released in 2011. In each film, Evans reprises his role as the famed Marvel Comics character, "Steve Rogers," who transforms into Captain America after volunteering for a top secret research project in hopes of defending America's ideals. Both films grossed over $713 million each at box offices worldwide.
Recently, Evans starred in Bong Joon-ho's Snowpiercer opposite Octavia Spencer, Tilda Swinton, John Hurt and Ed Harris. Set in a world covered in snow and ice, the film follows a train full of travelers who struggle to co-exist.
"The addition of Chris Evans brings the already stacked Wizard World Comic Con New Orleans guest list to a new level for our attendees," said John Macaluso , Wizard World CEO. "Captain America is one of the world's great franchises, and Chris has been its face for several huge blockbusters. Fans will want to take advantage of this extremely rare opportunity to meet this superstar."
Two-time Academy Award® nominee Renner also reprised his role as William Brandt in Mission: Impossible – Rogue Nation . His nominations have come as Best Actor for The Hurt Locker in 2008 and Best Supporting Actor for his role in The Town .
Atwell, who plays the lead in the ABC TV series "Agent Carter," a spin-off featuring her role in the Captain America franchise, has appeared in numerous other TV shows both in the U.S. and U.K., and is an accomplished stage actress, having completed several long runs in leading British theatres.
Grillo is also known for his roles in Warrior, The Grey, End of Watch and The Purge: Anarchy. His TV work includes recurring spots in "The Shield," "Prison Break," "The Gates" and "Blind Justice."
Directors Joe and Anthony Russo have produced and directed many critically acclaimed TV shows including "Arrested Development", "Community", and "Happy Endings". They received an Emmy for helming the "Arrested Development" pilot. The Brothers most recently directed Captain America: The Winter Soldier for Marvel. They are currently in post-production on Captain America: Civil War and will direct Avengers Infinity War Part I and II after that.
Wizard World, Inc. (OTCBB: WIZD) opens its 2016 schedule with its sixth trip to the Ernest N. Morial Convention Center at Wizard World Comic Con New Orleans, January 8-10. In addition to Evans, Renner, Atwell and Grillo, other headliners on the celebrity roster include the "Doctor Who" trio of Matt Smith, Karen Gillan and Jenna Coleman, "The Walking Dead" standouts Chandler Riggs and Steven Yeun , Ben McKenzie ("Gotham," "The O.C.") and William Shatner ("Star Trek," "Boston Legal").
Wizard World Comic Con events bring together thousands of fans of all ages to celebrate the best in pop-fi, pop culture, movies, graphic novels, cosplay, comics, television, sci-fi, toys, video gaming, gaming, original art, collectibles, contests and more. The first event scheduled on the 2016 Wizard World calendar, New Orleans show hours are Friday, January 8, 3-8 p.m.; Saturday, January 9, 10 a.m.-7 p.m.; Sunday, January 10, 10 a.m.-4 p.m.
Wizard World Comic Con New Orleans is also the place for cosplay, with fans young and old showing off their best costumes throughout the event. Fans dressed as every imaginable character – and some never before dreamed – will roam the convention floor and participate in the famed Wizard World Costume Contest on Saturday night.
For more on the 2016 Wizard World Comic Con New Orleans, visit http://wizd.me/NewOrleansPR .
About Wizard World (OTCBB: WIZD)
Wizard World, Inc. (http://www.wizardworld.com) produces Comic Cons and pop culture conventions across North America that celebrate the best in pop-fi, pop culture, movies, television, cosplay, comics, graphic novels, toys, video gaming, sci-fi, gaming, original art, collectibles, contests and more. A first-class lineup of topical programming takes place at each event, with celebrity Q&A's, comics-themed sessions, costume contests, movie screenings, evening parties and more. Wizard World has also launched CONtv, a digital media channel in partnership with leading independent content distributor Cinedigm™ (NASDAQ: CIDM), and ComicConBox™, a premium subscription-based monthly box service. Fans can interact with Wizard World on Facebook, Twitter, Pinterest, Instagram and other social media services.
The 2015-16 Wizard World Comic Con schedule is available at: www.wizardworld.com/wizcon.html .
Artist John Cassaday appears at the Metropolis Gallery on Friday, November 13th from 6:00 to 10:00 PM to open an exhibition of his original art from Marvel's Star Wars series.
Press Release:
While the much-anticipated Star Wars movie, The Force Awakens, won't arrive in theaters until December 18, The Force in all its legendary glory will descend on Manhattan on Friday, November 13. That's the day Metropolis Gallery, the first New York gallery dedicated to comic art, opens its new Star Wars: The Art of John Cassaday exhibit.
"We couldn't think of a better time to unleash this amazing art than just before the new highly anticipated movie premieres," says curator Rob Pistella.
"This comic art makes one harken back to 1977 when the original movie first opened."
The exhibit will feature the work of Cassaday, the acclaimed artist behind Marvel's new hit Star Wars comic book series, plus other famed Star Wars illustrators as well as original vintage toys, comics and limited edition prints.
John Cassaday will attend the Friday night opening (6-10 pm), which is open to the public. Signed copies of Cassaday's Star Wars #1 comic will be available for purchase.
A life size R2-D2 and Boba Fett will circulate among the opening night crowd along with possible guests from a galaxy far, far away.
"Come, and feel like a kid again!" invites COO and curator Vincent Zurzolo.
"We're thrilled to contribute to the Star Wars film's opening excitement by presenting this breathtaking array of Star Wars art for display and sale."
Opening weekend continues on Saturday and Sunday, November 14-15 from noon-5pm. Thereafter, the exhibit is open Tuesday-Friday, 11am-5pm through December 23. The exhibit/sale is a joint venture between Metropolis Gallery and Albert Moy Original Art of New York. The art will go on sale simultaneously at Metropolis Gallery, on its website, Metropoliscomics.com, and on eBay, which is promoting the event. With prices ranging from $30-$10,000, collectors can expect to find treasures at every level.
Metropolis Gallery is the creation of Metropolis Collectibles, the world's largest vintage comic collectibles dealer. Together with its online auction house, www.ComicConnect.com,  it has an evolving inventory of more than 150,000 collectibles and holds five Guinness World Records.
Metropolis Gallery
36 W 37th St, New York, New York 10018
(212) 260-4147