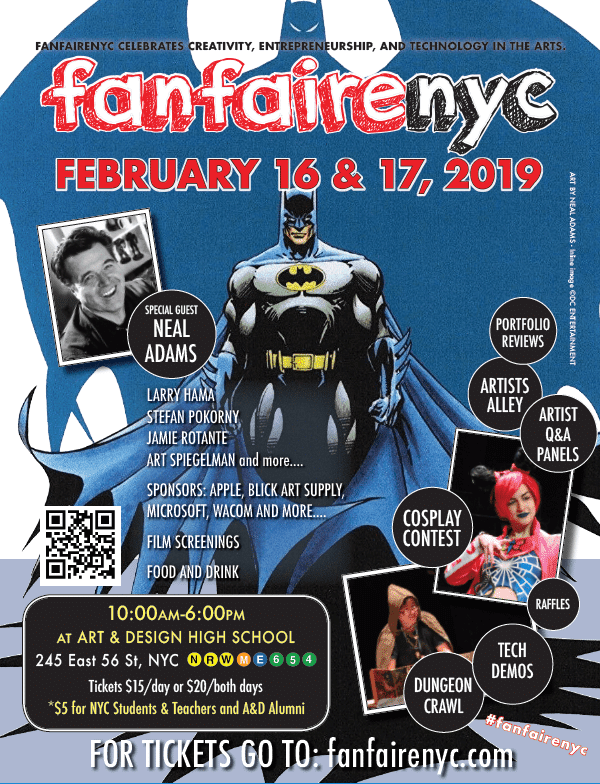 Press Release:
FanfaireNYC, which celebrates creativity, entrepreneurship, and
technology in the arts from cartooning and animation to architecture and fashion, will return the weekend of February 16th and 17th to the High School of Art and Design.
Art Spiegelman, Pulitzer Prize winning author/illustrator of Maus, and Neal Adams, renowned comic book artist of Batman, the Avengers, and X-Men, are two of the many alumni and special guests who will participate.
This event will draw over 125 exhibiting artists and vendors as well as award-winning guest speakers who will offer lectures about their careers and artistic processes and conduct workshops and portfolio reviews. Additional confirmed participants include Art and Design Alumni D&D Master Stefan Pokorny; Comic Book Writer Larry Hama; Archie Comics Editor/Writer Jamie Rotande; and FX Artist Michael Maddi. There will also be a cosplay contest, raffles, and artist commissions.
Sponsors of the event include Blick Art Materials, Appel Farm Arts Camp, Neal Adams Gallery, Duggal, Midtown Comics, the Kubert School, Microsoft, and Apple, and who will be providing workshops and interactive exhibits for attendees, as well as support and resources.
"Last year's inaugural Fanfaire was outstanding and this year's event will provide incredible opportunities to meet industry leaders in cartooning, animation, film, photography, fashion, illustration, architecture, and graphic design," says the school's principal, Manuel Ureña.
"Art and Design High School has been at the forefront of developing illustrious artists and it's fitting that we've created additional opportunities to expose our students and the public to the power of their work," says PTA President Miguel Chavez. "People of all ages will enjoy the energy, creativity and affordability of this dynamic event."
ABOUT THE HIGH SCHOOL OF ART AND DESIGN
The mission of the High School of Art and Design is to inspire, educate, and fully prepare our gifted students to become exceptional artists. Through a unified curriculum that incorporates a broad spectrum of disciplines integrating art, technology and academics, students are prepared to go on to college and careers with industry-standard mastery in the major of their choice. Some notable Alumni of High School of Art & Design include: Neal Adams, Eric Carr, Amy Heckerling, Eva Hesse, Marc Jacobs, Calvin Klein, Tony
Bennett and Art Spiegelman.