Press Release:
Forbidden Planet will host a signing with artist Jeff Zornow in celebration of his new comic 68: Rule of War #1 (Image) on the day of its release. Jeff will be on hand from 7:30 to sign and sketch the night away on April 2nd. Blank variant covers of the book will be available, so don't miss the chance to jump on a great new series and have a personalized cover drawn by the very man who made it. See you then!
Forbidden Planet
832 Broadway, New York, NY 10003
212-473-1576
Press Release:
DAVE GIBBONS appears to sign THE SECRET SERVICE at the Forbidden Planet London Megastore on Saturday 22nd March from 3:00 – 4:00 pm!
Two masters of the form, Mark Millar and Dave Gibbons, have come together to produce this remarkable new graphic novel from Millar and Hollywood director Matthew Vaughn, set in the aftermath of the 2011 riots that fractured London. The film based on the graphic novel, and directed by Vaughn, will be released in UK cinemas in March 2015.
Gary's life is going nowhere. He lives in public housing with his mother and spends his nights carousing with his friends. But Gary's Uncle Jack has taken a different path – one of glamour, danger and mystery. When Jack is called upon to get his nephew out of trouble one last time, their lives are going to intersect in a way neither of them could have foreseen. From the creative team of Mark Millar (Kick-Ass), Dave Gibbons (Watchmen) and Matthew Vaughn (Lock, Stock and Two Smoking Barrels; Snatch; Layer Cake; Stardust; Kick-Ass and X-Men: First Class) comes this highly anticipated and superlative work.
Dave Gibbons is one of Britain's finest comic artists, whose most famous work is the multi-award- winning Watchmen. Since then he has drawn series including Batman, Doctor Who, and Give Me Liberty, and has written Batman vs. Predator, Green Lantern, and World's Finest, as well as his own graphic novel The Originals.
Forbidden Planet London Megastore
179  Shaftesbury Avenue, London, WC2H 8JR
Press Release:
Forbidden Planet are delighted to bring you a signing for the brand new hardcovers of UBER and THREE, both from writer Kieron Gillen! Join Kieron at the London Megastore, 179 Shaftesbury Avenue, WC2H 8JR, on Friday 11th April from 6 – 7pm!
In UBER, it's April 24, 1945. The world holds its collective breath as the war is only days away from ending. Russian troops move through Germany to the final objective… Hitler himself. As those around the mad dictator crumble, the much ridiculed threats of the "Wunderwafen" materialise. A new weapon is delivered, one with unstoppable power – a weapon like no other, and with a madman pulling the trigger. The Ubers change the direction of World War II, providing a dark and uncompromising alternative history in a way that you've never seen.
In THREE, we return to the world of Ancient Sparta, where three Helot slaves are running for their lives – and pursuing them are three hundred of their Spartan masters. Includes cover gallery, making of material, and annotations. This story takes place during the events of 300.
Forbidden Planet London Megastore
179  Shaftesbury Avenue, London, WC2H 8JR
IAN MILLER appears to sign his collected artworks THE ART OF IAN MILLER, at the Forbidden Planet London Megastore on Saturday 22nd March from 1 – 2pm!
Featuring over 300 pieces of artwork spanning decades of Ian's work, this collection is a treat for all lovers of great fantasy art from Lovecraft novel covers to Tolkien bestiaries to Warhammer 40K concept at, through a veritable trove of gothic humour, fantasy battles, dragons, beasts and a world of nightmarish visions.
IAN MILLER is a fantasy illustrator and writer best known for his quirkily etched gothic style and macabre sensibility, noted for his book and magazine covers and interior illustrations, including SF fiction covers, a host of illustrations for the Realm of Chaos supplement and the first edition of Warhammer 40K, work for Fighting Fantasy gamebooks and covers for Terror of the Lichmaster, Death on the Reik, and Warhammer City.
Forbidden Planet London Megastore
179  Shaftesbury Avenue, London, WC2H 8JR
Tim Lebbon signs STAR WARS DAWN OF THE JEDI: INTO THE VOID, at the Forbidden Planet London Megastore on Thursday March 20th from 6 – 7pm!
A stand-alone hardcover tie-in to the successful comic book series, Star Wars: Dawn of the Jedi, written by fantasy novelist, Tim Lebbon
Taking place thousands of years before the time of Luke Skywalker and Darth Vader. On the remote world Tython ancient philosophers and scientists share their mystical knowledge and study the ways of the Force. They establish the order of the Je'daii–which, in years to come, will become the Jedi. But first these visitors from so many different planets must colonize a dangerous new homeworld and surmount societal conflicts as the burgeoning Rakatan Empire prepares to conquer the known galaxy.
Tim Lebbon is a New York Times-bestselling writer from South Wales. He's had over twenty novels published to date, as well as dozens of novellas and hundreds of short stories. Recent books include The Secret Journeys of Jack London: The Wild (co-authored with Christopher Golden), Echo City, The Island, The Map of Moments (with Christopher Golden), and Bar None. He has won four British Fantasy Awards, a Bram Stoker Award, and a Scribe Award, and has been a finalist for International Horror Guild, Shirley Jackson, and World Fantasy Awards
Forbidden Planet London Megastore
179  Shaftesbury Avenue, London, WC2H 8JR
PETER DAVID appears for an X-FACTOR THE COMPLETE COLLECTION VOLUME 1 signing, at the Forbidden Planet London Megastore on Monday 17th March from 6 – 7pm!
Relive the gripping, noir-esque launch of Peter David's most memorable concept: X-Factor Investigations!
Jamie Madrox sets up shop in the heart of Mutant Town but with so many duplicates out in the world, who is the real Madrox? Does he even know anymore? Then, when the fallout from the House of M depowers most of the world's mutants, X-Factor must find answers fast! With Guido, Wolfsbane, Siryn, M and Rictor by his side as well as the stuff-knowing Layla Miller Madrox must take on the manipulative prescient Mr. Tryp's rival group Singularity Investigations, navigate a superhuman Civil War, learn why the X-Men lied to his team, deal with the unbalanced Quicksilver's new ability to reboot mutant powers for a price and discover the deadly traitor in X-Factor's midst! Collecting Madrox #1-5 and X-Factor (2006) #1-12.
PETER DAVID is a prolific author whose career spans nearly two decades. He's worked in every conceivable media: television, film, books (fiction, non-fiction and audio), short stories, and comic books, and acquired followings in all of them.
Forbidden Planet London Megastore
179  Shaftesbury Avenue, London, WC2H 8JR
Superstar writer DAN SLOTT (Superior Spider-Man, Amazing Spider-Man) signs at Forbidden Planet NYC the day his much anticipated new comic SILVER SURFER #1 debuts, Wednesday March 26th at 7:00 pm.
Forbidden Planet
832 Broadway, New York, NY 10003
212-473-1576
Director Gareth Edwards signs at Forbidden Planet on Friday 28th February at the Forbidden Planet London Megastore from 6:00 till 7:00 pm!
Press Release:
Forbidden Planet in association with Empire Magazine are delighted to welcome Godzilla director GARETH EDWARDS, signing copies of Empire to celebrate the magazine's exclusive cover reveal of Godzilla, on Friday 28th February at the Forbidden Planet London Megastore from 6-7pm.
In Summer 2014, the world's most revered monster is reborn as Warner Bros. Pictures and Legendary Pictures unleash the epic action adventure Godzilla.
From visionary new director Gareth Edwards ("Monsters") comes a powerful story of human courage and reconciliation in the face of titanic forces of nature, when the awe-inspiring Godzilla rises to restore balance as humanity stands defenceless. The film stars Aaron Taylor-Johnson, Ken Watanabe, Elizabeth Olsen, Juliette Binoche and Sally Hawkins, with David Strathairn and Bryan Cranston. Edwards directs from a screenplay by Max Borenstein, story by David Callaham, based on the character "Godzilla" owned and created by TOHO CO., LTD. Thomas Tull and Jon Jashni are producing with Mary Parent and Brian Rogers. Patricia Whitcher and Alex Garcia are serving as executive producers, alongside Yoshimitsu Banno and Kenji Okuhira.
Forbidden Planet London Megastore
179  Shaftesbury Avenue, London, WC2H 8JR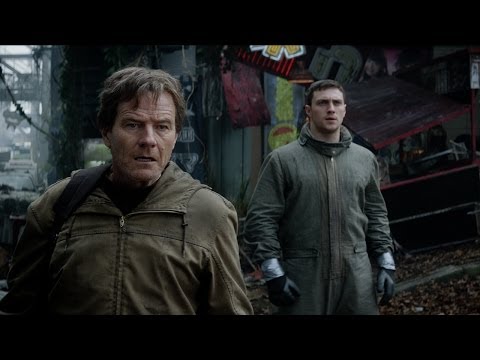 Writer DAN SLOTT will be signing SUPERIOR SPIDER-MAN: NECESSARY EVIL, at the Forbidden Planet London Megastore on Wednesday 19th March 6 – 7pm.
Back by popular demand – Spider-Man 2099 returns!
But when the future Spidey and the Superior Spidey clash, who will be the most superior Spider-Man in the multiverse?
It may not matter, because the end of the battle brings about a moment that will alter the world of Spider-Man and the Marvel Universe for years to come! But which Spider was responsible for this shocking change? Then, from the ashes of battle comes the first team-up between the Superior Spider-Man and the Black Cat. Felicia Hardy always cared for the Spider more than the man, but what happens when that man is Otto Octavius? And as an Osborn we haven't seen in a while returns, Otto celebrates a milestone! Is the world ready for 'Dr. Peter Parker' or what he plans to do next?
Dan Slott is an American comic-book writer best known for Avengers: initiative, Might Avengers, She-Hulk and The Amazing Spider-Man. He's currently the sole writer of the controversial Superior Spider-Man, where Peter Parker has been replaced by Doctor Otto Octavius, and the upcoming Silver Surfer. He's renowned for injecting humour into typically serious superhero books.
Forbidden Planet London Megastore
179  Shaftesbury Avenue, London, WC2H 8JR
Writer John Layman signs 'Chew' Comics and Graphic Novels at the Forbidden Planet London Megastore on Monday 17th March from 6:00 to 7:00pm!
Tony Chu is a cop with a secret. A weird secret. Tony Chu is Cibopathic, which means he gets psychic impressions from whatever he eats. It also means he's a hell of a detective, as long as he doesn't mind nibbling on the corpse of a murder victim to figure out whodunit, and why. It's a dirty job – and Tony has to eat terrible things in the name of justice. And if that wasn't bad enough, the government has figured out Tony Chu`s secret. They have plans for him… whether he likes it or not.
John Layman is the creator, writer and letterer of CHEW, the New York Times best-selling, Harvey Award and multi-Eisner Award winning cannibal cop comedy series from Image Comics. Layman was an editor for WildStorm Production and has written or lettered for every major publisher in comics for the last decade and a half. CHEW was the 2011 Eisner winner for Best Continuing Series, and winner of both the Eisner and the Harvey in 2010 for Best New Series. Currently, he's finishing a run on Detective Comics for DC and working on the upcoming Batman Eternal Weekly. He's written Aliens, Mars Attacks, Godzilla, Thundercats, Gambit, Scarface, Red Sonja, Marvel Zombies Vs. Army of Darkness, House of M: Fantastic Four, the Marvel Identity Wars Annuals, Stephen Colbert's Tek Jansen… and a whole lotta other stuff. He loves kitties, Legos and Grand Theft Auto.
Forbidden Planet London Megastore
179  Shaftesbury Avenue, London, WC2H 8JR