Press Release:
The Art Auction will be held on Saturday May 17th, 2014. The blind auction will run throughout the day in the art gallery in the back of the hall, and will wrap up at 5:30 PM Interested parties must sign up for a bidder/paddle number and then can begin placing blind bids on the art they are interested in. Contributors include Mark Brooks (seen at left), Charlie Adlard, Frank Cho, Sanjulian, Michael Lark, Justin Greenwood, Toshio Maeda, Darick Robertson, Bill Morrison, and many many others! Full details at the link!
Art that does not receive three bids will sell for the highest offer at 5:30 PM, and ones that do get at least three bids will be placed in the live auction that begins at 6:30 PM in convention hall room B. Writer Ken Kristensen will be helping emcee the auction so if you are a Todd the Ugliest Kid on Earth fan, this will be a fun chance to hang out with Ken and hopefully buy some art! There will be a cash bar in the room, and hopefully a number artists that submitted their works to the auction in attendance.
Founded in 1979 as "Super-Con", Big Wow! Comic Fest is not only Northern California's Longest-Running Comic-Con, but is this year's Only Major Comics Event in the San Francisco Bay Area! As the Original Artist-Friendly Show, we have Fantastic Comic Book Creator Guests spanning all decades and genres! This year we are pleased to welcome as our Featured Guests:  Charlie Adlard (Artist for the popular "Walking Dead" series), Legendary Illustrator Neal Adams (Batman, X-Men, Avengers), Hellboy Creator Mike Mignola, Fan-Favorites Travis Charest (Weapons of the Metabarons), Art Adams (X-Men, Godzilla), and more Special Guests including: Dan Brereton (Nocturnals), Mike Zeck (Punisher, Spider-Man, Secret Wars), Joe Linsner (Dawn), Bill Morrison (The Simpsons, Futurama, Disney Poster Artist), Alex Nino (Dead Ahead), Sergio Aragones (Mad Magazine, Groo the Wanderer), Liam Sharp (Gears of War), and many more confirmed and added to our website! Over 200 Comic Creators!
Tickets are available at the link. And we have tickets available at over 30 participating comic book stores around Northern California.
Admission is only:
1 Day Adult $25.00 (at the door)
2 Day Adult $35.00 (at the door)
1 Day Child (8-14) $10.00 (at the door)
2 Day Child $15.00 (at the door)
CHILDREN UNDER 8 ARE FREE!
*Save $5.00 Off Admission! Buy tickets online, or at many local Comic Book Stores!
Be sure to follow us on both Facebook and Twitter to stay up-to-date on all our upcoming announcements!
Batman writers Scott Snyder and James Tynion IV and Daredevil team Mark Waid and Chris Samnee appear at Alter Ego Comics on Free Comic Book Day, Saturday May 3rd, to sign all your favorite comic books!! Cosplay, games and COMICS will also be on hand.
Alter Ego Comics
111 E. Adams Street, Muncie, IN 47305
765-282-5297
Artist Dave Johnson appears at The Silver Snail for a signing on Saturday May 3rd from noon till 7:00 pm to celebrate the store's 38th Anniversary and Free Comic Book Day!
The Silver Snail
329 Yonge Street, Toronto, ON M5B 1R7
416-593-0889
UPDATE: Unfortunately Manu Bennett has had to cancel his appearance
Press Release:
Hartford Comic Con is proud to announce the addition of Manu Bennett from Arrow (Slade Wilson/Deathstroke), Spartacus (Crixus), and The Hobbit (Azog). He joins an already A-list line up of celebrity guests to join our show including cast mate Katrina Law ("Mira" from Spartacus), Chandler Riggs ("Carl Grimes" from The Walking Dead), Giancarlo Esposito ("Gus" from Breaking Bad), and more!
Please join us at the fastest growing comic con in New England! With appearance by over 150 of the industry's top artists including special guests Ed McGuinness (Amazing X-Men, Nova), Tim Sale (Captain America, Batman), Jim Cheung (Infinity, Young Avengers), Dave Johnson (Deadpool, 100 Bullets), and so many more.
Hartford Comic Con will take place on May 31 – June 1, 2014 at the XL Center in Hartford, CT. For more information, tickets, registration, and the complete list of guests please check out the website: www.hartfordcomiccon.com and follow them on Twitter (@ HartfordCon) and Facebook!
Gene Ha and Carol Tilley appear at Holy Cross College on Friday, April 11 from 3:00 – 5:00 PM!
Press Release:
Holy Cross College invites you to attend its annual Arts Day: a public lecture and exhibition which celebrates the spirit of the creative arts. The event will be held on Friday, April 11 from 3:00 – 5:00 PM in Driscoll Auditorium, Vincent Gallery, and Vincent Atrium at Holy Cross College.
This year's event will highlight lectures by Carol Tilley, an Assistant Professor of Library and Information Science from the University of Illinois, Champaign Urbana and Gene Ha, a professional comic artist, illustrator and writer.
Carol Tilley will present "When Comics Almost Died: Readers, Censors, and Innovation." Tilley teaches courses in media literacy and youth services librarianship. Part of her scholarship focuses on the intersection of young people, comics and libraries, particularly in the United States during the mid-twentieth century. Her research has been published in journals including the Journal of the American Society for Information Science and Technology (JASIST) and Children's Literature in Education. Tilley's research on anti-comics advocate Fredric Wertham was featured in the New York Times and other media outlets.
Gene Ha will talk about his artistic career and the comic book industry. He has been a professional artist drawing images for comic books for over twenty years. Ha's drawings have filled the pages of graphic works published by DC Comics, Malibu Comics, Wildstorm, Vertigo and Marvel Comics. A sampling of Ha's character renderings encompass work on Batman, Captain America, Superman, Green Lantern, X-Men, and the Justice League of America as well as many others. Ha has won four Eisner Awards for his work on Top Ten with Alan Moore and Zander Cannon and with Brad Meltzer on Justice League of America #11 for DC Comics. Ha grew up in South Bend, Indiana, attended Clay High School, and received a BFA from the Center for Creative Studies in Detroit, Michigan.
In addition to these lectures, the Vincent Gallery will feature an exhibition of student art and a reception with light refreshments will be held in the Vincent Atrium, adjacent to the gallery and auditorium. These events are free and open to the public. All are welcome to visit Holy Cross campus and celebrate the arts!
For further information about the events or directions, please contact William Tourtillotte by email at wtourtillotte[at]hcc-nd.edu or by phone at 574-239-8304.
Holy Cross College
54515 State Road 933 North, Notre Dame, IN 46556
574-239-8377
Illustrator Chris Samnee debuts the relaunch of his Daredevil series with Mark Waid at Star Clipper on Wednesday, March 19 from 1:00 to 3:00 pm!
BECAUSE YOU DEMANDED IT! Join Marvel's fearless hero as he begins his most awe-inspiring adventure yet in the sunny city of San Francisco! Gifted with an imperceptible radar sense and a passion for justice, blind lawyer Matt Murdock-a.k.a. DAREDEVIL-protects the Golden City's streets from all manner of evil. But big changes are in store for Matt Murdock as old haunts and familiar faces rise to give the devil his due. Hold on tight, because here comes Daredevil…the Man Without Fear!
Don't miss this chance to meet one of the most talented artist in the comic industry.
Star Clipper Comics
6392 Delmar Blvd, St. Louis, MO 63130
Phone: (314) 725-9110
While the comic book version of the story had Bucky Barnes, Captain America's sidekick during World War II, found and revived by the Russians, it appears that in the new film the Winter Solider is serving new masters.
According to the interviews in the featurette below, Bucky is working for Hydra in the new film, the Nazi-like terrorist organization often at odds with the heroes of the Marvel universe.
This fits in perfectly with two other bits of information. We know that Thomas Kretschmann has signed on to play Hydra founder Baron Von Strucker in Avengers: Age of Ultron. Rumors persist that the Scarlet Witch and Quicksilver, two prominent Avengers set to be introduced in the 2nd Avengers movie, will be working for Hydra when that movie begins. Since Hydra is already showing up in Captain America: The Winter Soldier, that also lends credence to the rumor that Scarlet Witch and Quicksilver will actually debut in a post-credits sequence in the new Captain America film.
Here is the featurette. You can also catch a very brief glimpse of S.H.I.E.L.D. agent and oft-times love interest of Captain America, Sharon Carter, in the clips.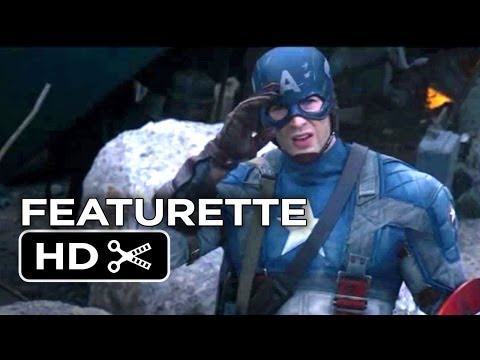 Artist Klaus Janson, newly announced inker of Superman, signs at Casablanca Comics on Saturday, March 1, 2014 from 4:00 pm until 5:30 pm!
Press Release:
Klaus Janson has worked for Marvel and DC Comics since the 1970s, and has worked on numerous titles. He is well known for his work on Batman, Daredevil, Defenders, Howard the Duck, Amazing Spider-Man and many other titles. We are thrilled to provide an opportunity for his fans to meet him.
Casablanca Comics
151 Middle Street, Portland, ME 04101
Press Release:
Big Wow! ComicFest is proud to announce two new guests to this year's convention, writer Greg Rucka and artist Michael Lark! Greg and Michael are co-creators on the popular new book LAZARUS from Image Comics.
Greg Rucka is the author of twenty novels, the latest of which, BRAVO, will be released in July, as well as more comic books than any sane person can count. In addition to critically acclaimed runs on such mainstream titles as Detective Comics, Wonder Woman, The Punisher, Adventures of Superman, and Wolverine, he's the creator of several original series, including Queen & Country, Whiteout (with Steve Lieber), and Stumptown (with Matthew Southworth).
Michael Lark is the Eisner and Harvey Awards winning artist of LAZARUS from Image Comics, which he co-created with writer Greg Rucka. He is also known his for work on several other titles, including Daredevil, Amazing Spider-Man, Winter Soldier, Captain America, and Stephen King's Dark Tower at Marvel, and Gotham Central, Scene of the Crime, Batman: Nine Lives and Terminal City at DC.
Big Wow! ComicFest – The Original Artist Friendly Convention – returns to San Jose May 17th & 18th, 2014, bringing two great days of Comic Book, Anime/Manga, Art, Sci-Fi, Fantasy, Gaming and Cosplay FUN! Many of the country's best vendors of all things cool and collectible will tempt your wallets with the perfect gifts for Geek, Fans and True Collectors, everywhere! Big Wow! ComicFest is the only major comics event in the San Francisco Bay Area this year.
Be sure to follow us on both Facebook and Twitter to stay up-to-date on all our upcoming announcements!
Boston Comic Con has announced its initial details for next year's convention! Following the phenomenal success of the 2013 show, the 2014 convention will again be held in August at the Seaport World Trade Center on Boston's historic waterfront. The promoters have added an additional day to the convention which is scheduled to run Friday August 8th till Sunday August 10th. Joining the festivities this year is an all-star list of comic creators including: Rafael Albuquerque, Tim Bradstreet, Amanda Conner, Mike Kunkel, Jorge Molina, Dustin Nguyen, Jimmy Palmiotti, Carlos Pacheco, Ramón Pérez, Esad Ribic, Gail Simone, Cat Staggs, and many more! Additionally, the first media guests have been announced: Torchwood's Eve Myles and Spike himself, James Marsters! More will be added over the coming months so be sure to follow Boston Comic Con on Facebook and Twitter!
For the full guest list plus artist alley, exhibitor, and film fest registration please check out the Boston Comic Con website! Online ticket purchases are available at the link! Tell your friends!
About Boston Comic Con:
The Boston Comic Con is a 100% independently run comic book show committed to bringing the biggest and best comic creators to New England. Run by fans for fans, Boston Comic Con is not affiliated with any other convention tour or corporate interests. Hosting over 120,000 square feet of vendors selling comic books, toys, posters, trading cards, and other pop culture memorabilia, this is a destination event for geeks of any stripe. Next year's convention will be held Friday August 8th, Saturday August 9th and Sunday August 10th at the Seaport World Trade Center, 200 Seaport Blvd, Boston, MA 02210. For more information please go to our website at www.bostoncomiccon.com and follow us on Twitter (@BostonComicCon) and Facebook!