Greensboro. Third-largest city in North Carolina. Named for Major General Nathanael Greene, commander of the American rebel forces at the Battle of Guilford Court House on March 15, 1781. Two centuries later, a Greensboro resident, Orson Scott Card, set war at the heart of his novel Ender's Game. Speaking of war, Greensboro is home to the Atlantic Coast Conference and often the site of its annual men's basketball tournament, the last conference tourney before March Madness. Syracuse University coach Jim Boeheim told the world what he thinks of the city, and I forgive him his Gotham grouchiness. Perhaps if he spent more time there, he would have a softer opinion. Perhaps if his team had gone to this year's Triad Anime Con, held March 3-5 at the Koury Convention Center, they wouldn't have lost their first tournament game three days later.
Triad Anime is done by the same team that puts on Ichibancon in Charlotte (I wrote about this year's Ichibancon here). It is normally held in Winston-Salem but moved to Greensboro this year and a larger venue. A much larger venue. Here was the view Friday morning.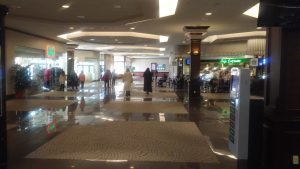 Things heated up throughout the day, and of course Saturday brought in a great crowd, but the whole weekend felt less cozy that I was accustomed to. I expect that to change, however, as the con grows into its new digs. The on-site Starbucks was a welcome sight, and next door was Four Seasons Mall, with plenty of lunchtime options. And for perhaps the first time in my convention-going career, I didn't have trouble finding a parking spot.
When I first attended Triad back in 2014, there were only two or three guests. This year had three times that number. Vic Mignogna has been every year (read our 2016 interview with him here), and I always enjoy seeing him. I was eager to see Brian Beacock, but he had to cancel (hey, Triad: get a phone app like Ichibancon so you can update us on changes like that). The person I was most excited to see was Johnny Yong Bosch. Power Ranger, voice actor, rock star, Johnny has done a little of everything. Whereas Vic has the personality to fill a lecture hall, Johnny is more reserved. I caught up with him on Friday after his autograph session.
What's it like going from a character like Ichigo (Bleach) to someone like Izaya Orihara (Durarara!!) or Saruhiko (K – Project)?
Well the thing is, I didn't work on those at the same time. There's a lot of separation in time. So things I worked on while I was doing Bleach was Code Geass. And I think that overlapped a little bit with Eureka Seven. They're different characters in different shows, but once you know your character, you just go in and do it.
How did you get into voice acting after doing live action?
Well, basically I was working on an independent film with the Japanese stunt team from Power Rangers, and the audio got screwed up. So I had to dub myself. As I was dubbing myself for the movie, the producer walked in and heard my voice and he thought I had a decent hero voice and asked me to come audition for some animation. And when I auditioned for that animation, I got the role for Vash from Trigun.
Why do you think Power Rangers has stayed popular for over twenty years?
Well, that's a good question. A majority of the fans have stayed pretty loyal. I know there have been different actors over the years. I really don't know. Basically, I think that it's something that people grew up with and that they want to keep watching.
What has been your favorite role thus far in your career?
It's very hard to pick one. It's like picking your favorite child. For me, they've all been really great moments in my life, from Vash in Trigun to Bleach, Code Geass. I think one of my most favorites would be Nero from Devil May Cry 4, because I got to do the motion capture. I got to go to Japan for the first time. And I wasn't limited to the animation. I was creating the character and then they animated it. And it was more of me. That would be one of my favorites.
What is it like doing motion capture?
Motion capture is weird at first. Your motions have to be overdone a bit and you have to overact your body language so that the computer can read your motions. But your face and your voice have to be very natural because they pick up every little detail.
What do you think of all of the fanfiction of Shizuo and Izaya?
I don't read those. I know they exist. People have brought me books that looked interesting at first and I'm like "Huh, what is this?" So no, I don't read those, but I did a long time ago with Power Rangers. I was like "Oh, there's fan fiction?" And I read one. It was a little weird for me, so I stayed away from it.
I thought it was cool that Narita, the creator of Durarara!!, made a fiction of Shizuo and Izaya for April Fools' Day.
[What Johnny said here was, "Oh my goodness." But what I heard was this.]
Let's switch gears a little. How did you get started doing conventions?
In 2001 or 2002, a director of Trigun, whatsherface, went to Sakura Con and said that she had an awesome time and it was really cool and a lot of fun. She recommended to me to go and took me with her the following year. And it was cool. Over the years, little by little, the convention scene (nice shout out) started growing. It wasn't every weekend then like it is now. I started getting more invites. And now I have a few booking agents that handle me and my appearances.
How many conventions a year do you do?
I think last year it was fifteen or twenty, this year I'm already doing far too many. It's neat to come out and meet fans. If I'm in the booth working on a project, nobody is saying "great job". The director might say "Okay, next one. Okay next one." It's not like in theatre where everyone cheers. You don't get to see the reward. Coming to a con, is seeing that reward. Seeing whether it was a success or not. The only drawback for me is my family. My family is back home. My kids are little. My son, for the first six months of his life, didn't know me and was afraid of me. That's where I had to pull the brakes a little and make some changes.
How did you start your band, Eyeshine?
Basically I couldn't get a job to save my life after Power Rangers. There weren't a whole lot of half-Asian roles at the time. I was very depressed, and I was near homeless. I had two trash bags full of clothes and a guitar. And in that time, I started teaching myself to play the guitar. Out of all that, I formed the band.
How many concerts a year do you do?
I have no idea. There are so many. We have quite a few this year. We have a lot of albums now. Got a new one coming out this April.
Between conventions and your band, when do you find the time to do acting?
I do that as well! Every day. My weeks are usually booked a couple of weeks in advance. Sometimes more than that. For voiceover work especially because they know their schedule and when things are coming along. The end of this month and going into next month, I already have bookings for voice over.
Are you able to record at home?
Sometimes I record at home. I do have a studio at home. But sometimes they like you to be there, but on occasion, they'll ask for pickups or something to be done at home.
Okay, last question. What are some of your favorite TV shows?
I am watching Walking Dead at the moment. Breaking Bad was a really good one. Sons of Anarchy was a very interesting show. I watch a lot of terrible shows. Not terrible as in inappropriate, but terrible as in really bad.
Do you ever think, when you're watching a bad show, "I could do better"?
I may have thought that. The thing about bad TV shows is they stay with you forever.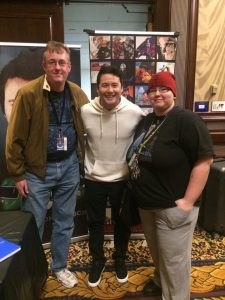 Another thing I enjoy about Triad and Ichibancon is the Otaku Flea Market. Held all day Sunday, the flea market is a chance for any convention goer to sell merchandise. It is a feature I have seen at no other convention. The intent is for people to sell their own used stuff–manga, costumes, DVDs, toys, cards, etc.–but sometimes vendors who couldn't get into the dealer room will grab a table. I have also seen people selling original art, which is against the rules: art belongs in artist alley. It is a good rule though hard to enforce in the first-come-first-served madness of getting flea market tables. Besides, who says the person made the art they are selling? I had trouble finding this year's flea market because it wasn't in the room designated on the convention map, which probably explains why all the sellers had their wares on the floor instead of on tables. One of the hiccoughs of being in a new venue, I guess. Again, however, a phone app would have made the room switch easy to announce.
To all my readers, I'll say this: come out next year and check out Triad Anime Con. It is terrific value–the weekend pass was only $42!–and I guarantee you'll have fun. Don't let Jim Boeheim have the last word on Greensboro. And before you go, enjoy these photos.