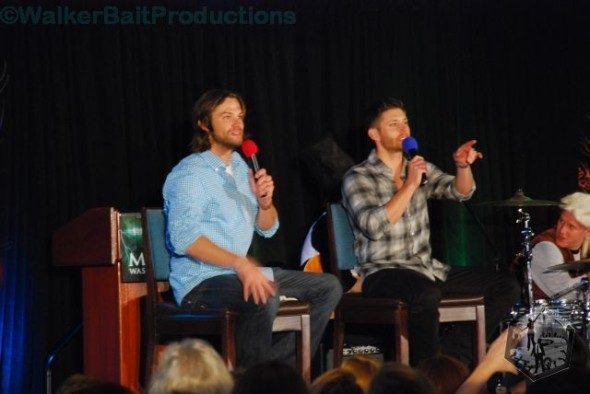 A special look inside Creation Entertainment's Salute to Supernatural DC May 2-4, 2014 Convention.
Creation Entertainment was founded in 1971 by Gary Berman and Adam Malin, two youths with a shared vision of "traveling" fan conventions. Producing "live, interactive" shows, Creation Entertainment soon cornered the market on Star Trek conventions. Being fans of Sci-Fi, Berman and Malin began producing scores of genre-specific events that showcased individual movies and television series. Their policies are "not to oversell its venues" and "guarantees a seat in the main theatre for all ticket holders to see all guest appearances and attractions." Having only ever attended conventions that sell until the Fire Marshall arrives and institutes the one-out-one-in policy, I couldn't wrap my head around how this could work. I'm used to large convention centers, massive halls and ballrooms lined with tables of celebrities signing autograph after autograph. Even if you purchased your tickets in advance, you could spend an entire weekend standing in line and risk missing celebrity panels and photo-ops. Surely, an entire convention devoted to the CW series Supernatural, which is coming into its 10th season, couldn't be confined to seats in a singular theatre, could it?
When I interviewed Barry Bostwick in March of 2014, he had this to say about Supernatural, "That show [Supernatural] has such a fan base! We were at a convention once where there was a whole panel of just people from Supernatural; people who maybe only did it twice. And the audience was rabid. I mean RABID. It was amazing!" (Bostwick appeared in a single episode of Supernatural). I have to be honest; I half-expected this weekend to be a hot mess. I was never more excited to be proven wrong!
The convention was held at the Double Tree by Hilton hotel in Crystal City, Arlington, VA, which is basically Washington DC. I should mention that an announcement was made that this was to be their first and only show in the DC area. Climate control was a major issue, with some areas too hot to breathe and other areas too cold. This, however, is a venue issue and not a convention issue. But since it was the only complaint I heard from attendees, I felt the need to mention it. We visited the vendor room downstairs first. I'd come to expect a sea of small store fronts. Surprisingly, there were less than a dozen vendors to shop with. Save for a handful of tables with handmade jewelry and vinyl stickers, the majority of the items for sale were top quality, officially licensed Supernatural products. What are we supposed to do during "down time" if we don't have 100 booths of fan junk to sift through each day? The big laugh here is that I actually thought there would be "down time" at this show.
We returned to the lobby where the main stage theatre was located. The lines at the registration and photo-op ticketing tables were moving along in a timely manner. Volunteers at the theatre door were checking wristbands and credentials, guiding fans to their designated seats. With your ticket purchase, you are assigned a specific seat for the entire weekend. This meant you didn't have to worry about lines, since you already knew where your seat would be. We took our place alongside the videographer, one of the many friendly volunteers at the show. Her name was Rachael Augsburger and she's been volunteering exclusively with Creation Entertainment for 4 years. "It's always so much fun," she said. "No other show is put together like this. And I love meeting all the guests who visit us from so far away. We've had people from South Africa, New Zealand, Australia, and the United Kingdom." As we chatted, I watched throngs of fans file into the room. No one was rushing around. No one was pushing to get closer to the stage. In a virtual sea of plaid-flannel and tan-Trenchcoats, fans were courteous and pleasant. I'd never seen anything like it. Adam Malin took the stage to make a few quick announcements. And then, the stars of the show literally took over the convention.
Dressed in patriotic garb, the house band entered the theatre in a military style march. They called themselves the Elastic Waste Band, but are professionally known as Louden Swain. The band is fronted by Supernatural cast member, Rob Benedict (Chuck), who adopted the stage name "Tango". The band rocked from open until close each day of the convention, alternating between classic rock songs and original material. They were quickly joined by cast member, Richard Speight, Jr. (Gabriel/Trickster) who was our emcee for the weekend, and who described the long theatre room as being, "Like Jared [Padalecki] laying down; it keeps going and going and ends up in a pile of hair." Speight and Benedict controlled the rhythm and pacing of the panels, both literally and figuratively, keeping the events as close to the program schedule as possible. For two cast members that had never worked together on the show, their friendship and quick-witted rapport was contagious. I am of the opinion that they should have their own late night talk show. That, or they should host every convention, every where. Forever.
Beyond being called out for photograph and autograph sessions, and perhaps the occasional visit to the lavatory, there was no need to leave the theatre. The momentum never ceased to build. Stars would come in and share in a mutually entertaining hour with the fans. There was a microphone set up at both stage left and right where fans could line the walls and wait their turn to talk to the stars. As each celebrity appearance ended, that guest would journey to another room in the hotel for private meet and greets, autograph sessions and photo-ops. But as I said, there was no "down time". The time between guest appearances was filled with activities within the theatre such as trivia contests, a costume contest, a no-minimum-bid auction, music videos (made by fans), and a tribute to the "Angels, Demons and Other Creatures of Supernatural". The entire weekend was one of perpetual motion. By the time I went to bed Friday night, I was physically exhausted! Kudos to Rob Benedict, by the way, for his energy, commitment and devotion to the fans and the show. Benedict suffered a stroke at last year's Toronto Con. But he was back and in top form, outlasting the Energizer Bunny. Truly inspirational!
Benedict wasn't the only heart-warming aspect of the show. Rachel Miner (Meg) made a late evening appearance on Sunday. Miner, who was diagnosed with Multiple Sclerosis, was an example of strength in the face of adversity; a definite highlight for Supernatural fans. Over the weekend, various items were auctioned off with the proceeds going to an MS charity in her honor. Two things I love: shopping and philanthropy. I donated $70 and came away with quite a haul. Creation Entertainment also donates a table at every show to Random Acts, a non-profit organization started by cast member, Misha Collins (Castiel). Random Acts collects monetary and tangible donations at every event and donates them to a local charity in that particular city. This show's donations went to support a local food bank in the DC area. On Saturday, Collins did a live, one-hour event through Stageit, broadcasting from the convention over the internet. Collins screened two the short films from his TSA America: Level Orange series, while fans in the audience and worldwide logged in to Stageit and made donations to help fund Random Acts. "Small sacrifices in your life can help other people's lives in a big way," said Collins. The selfless generosity displayed that day was overwhelming.
As Bostwick teased, Supernatural fans are rabid. As with any fandom, there will always be a contingency of people who take such possessive ownership over their beloved characters, that they tend to ruin it for everyone else. Those people are the reason the stars must find a working balance between connecting with the fans and maintaining a healthy distance. Thankfully, the majority of fans bond over their shared love, some returning time and again, following Creation Entertainment shows like rock concerts. For Alex Harbet, 20, this was her fourth time at one of their shows. "I prefer these conventions to other ones, especially the way they run the photo-ops. You actually get quality time with the stars. This is just awesome." Cassandra Martin, a first time attendee, had a lot to say about her experience. "All of the volunteers are very kind. The photographer, Chris, is amazing and never takes a bad picture. This whole weekend has been very personalized. The lines move quickly, but when you are up there getting autographs or pictures, you never feel like you are being rushed. You definitely get your money's worth." Martin and her friend lost over a $1,000 in photo and autograph tickets and lost all hope for the weekend. The staff of volunteers quickly rallied, making announcements and getting other guests involved. Their tickets were recovered. "They were so helpful in resolving that. I haven't had a bad experience yet."
It helps that so many of the volunteers have been with Creation Entertainment for years. Johanna Burris first attended one of their Twilight conventions 4 years ago. "It stuck," she told us. "I knew I had to volunteer with them. Everyone here is like family. I have met friends I wouldn't have otherwise, who will be with me forever." We spoke with volunteers and staff who had been with the company from 3 to 23 years, completely dedicated to their business model and willing to travel around the c0untry to assist with productions. For this show, volunteers suggested the idea of utilizing a designated hashtag for fans to use, then broadcasting their Twitter and Instagram posts on the screens in the theatre all weekend long. The interactive nature of the convention pleased a lot of fans.
Personal highlights for me included:
Osric Chau (Kevin) appeared dressed in fellow character Dean Winchester's Ren Faire inspired costume, reciting the famous speech from the film, Braveheart. "When I said I would cosplay at every single con, I just…I forgot how many there were!"
Gil McKinney (Henry Winchester) making his first Supernatural convention appearance, seemed slightly overwhelmed, but with his sense of humor and charm, he quickly adapted. "Years ago, I actually auditioned for the role of Sam Winchester. So, when they called me about the role of Henry, I was surprised. I mean, I didn't even know the show was still on the air," he laughed with the crowd.
Sebastian Roche (Balthazar) commanded the theatre like a bona fide rock star. Though he answered only 3 fan questions in an hour, they didn't seem to mind. For Roche spent the majority of that time singing, dancing, running through the audience, and being his naughty, flirtatious self.
Mark Sheppard (Crowley) came down from the stage to console a young woman who had broken down in tears at the microphone. He also proceeded to erupt Misha Collins in a fit of laughter over a story about the Wind in the Willows, leaving Collins unable to speak.
Chad Lindberg (Ash) spent the majority of his time on stage regaling the crowd with tales from his own ghost-hunting experiences, even using a "ghost box" on stage to try and summon spirits to communicate within the theatre.
Cast members pranked Matt Cohen (John Winchester), Benedict, and Speight during their panel. Unbeknownst to them, a message was displayed across the  screens that faced the audience that read "Jacques E. Normus Please remove your package from the registration table." That's how it was for most of the weekend. This family of actors laughed, talked, sang and played with one another just as you'd expect a real family would.
The costume contest on Saturday had, from my best guess, around 200 contestants. They paid tribute to the obvious and the more subtle only-a-true-fan-would-know-this aspects of the series. A separate judging was held of approximately 30 dressed as Castiel. Those fans were judged by the angel himself, Misha Collins. On Friday night, guests were treated to an 80s themed Karaoke party, where fans had the opportunity to sing on stage with their favorite stars. On Saturday night, the cast held a special Cabaret, or as Collins put it, "…a bad talent show." The cast members sang a variety of songs, some solo, others duet and in groups, showcasing their talents beyond hunting demons. McKinney, who was a voice major, stole the show (and ruined a lot of women) when he sang John Legend's hit, All of Me.
Of course, a Supernatural weekend wouldn't be complete without the Winchester brothers, themselves, Jensen Ackles and Jared Padalecki. The pair attended an exclusive breakfast with fans, then for one sweet hour, they took to the theatre stage, thrilling fans and answering questions. I would imagine seeing them years ago at a convention was a wholly different experience. But, as a parent, I found their honesty refreshing. Ackles and Padalecki admitted to being tired and sleep deprived, and they seemed most genuine when telling stories about their children. Both men were taken aback when a fan thanked Ackles for "saving my life". She had heard him tell a story about losing a friend, some years back, and it moved her. She has since been sober for 8 years and through streams of tears, wanted to present Ackles with her sobriety chip. Ackles was hesitant, reminding her of the significance of the chip, but she assured him it was what she wanted. Ackles reluctantly and emotionally accepted it with a hug. From there, they humbly told the audience of how they feel about the impact of what they do, on their fans. Said Ackles, "We may not be curing cancer. But we sure may be helping someone who has it."
Over all, the entire weekend was nothing at all like I'd expected it to be. The pacing was smooth enough that hours could go by and I'd completely forget that I'd been in the same theatre all day. There was constantly something more to see and do. Of course, there were a number of technical difficulties with regards to multi-media and lighting, but you'll have that any show from time to time. There was some time lost due to seating confusion during the Cabaret, but that was mostly because once the fans had taken their seats, the stars encouraged them to all move forward, closer to the stage. Officials quickly had them retract and send everyone back to their designated seats. Aside from that, I honestly did not hear a single complaint from any of the fans (and you'd best believe I do my share of eavesdropping in order to hear what people really think). The volunteers were knowledgeable, committed and friendly. Again, the element of the house band and emcee was absolutely wonderful and, in my opinion, a necessity that should be considered by all conventions. The idea of having an emcee, yet no moderator during the panels was somewhat risky, as stars can become "trapped" by a fan's question and momentum can be lost, denying opportunities to other fans who are patiently waiting their turn. Conversely, the absence of a moderator allowed each star to speak freely and plainly with the fans and "shoot from the hip" rather than dole out stock answers to the same tired questions posed interview after interview at other conventions. This show was completely unstructured in a structured way; controlled chaos, if you will. And that environment suits Supernatural very well.
Creation Entertainment truly and pleasantly surprised me with the level of intimacy and element of fun with regards to the atmosphere of their Supernatural convention. According to Speight, "All four leads [Ackles, Padalecki, Sheppard, Collins] have signed on to do one year of conventions worldwide, so that all of the fans would know when and where they'd be and could plan to meet them. That's rare for a TV show cast." Indeed. Rarer still, is the ability of a cast nearly 10 years later, to have this much fun spending time together. I only wish we'd had as much time with Jensen Ackles and Jared Padalecki as we did Misha Collins throughout the weekend.
Thank you, Creation Entertainment, for allowing us the opportunity to be a part of your Salute to Supernatural DC. It was an exciting weekend filled with laughter, good deeds and quality "entertainment". I would highly recommend your conventions to any fan eager for a unique experience!
To see a full schedule of Creation Entertainment's upcoming fan conventions, visit creationent.com
Supernatural airs on the CW Network. Check your local listings.