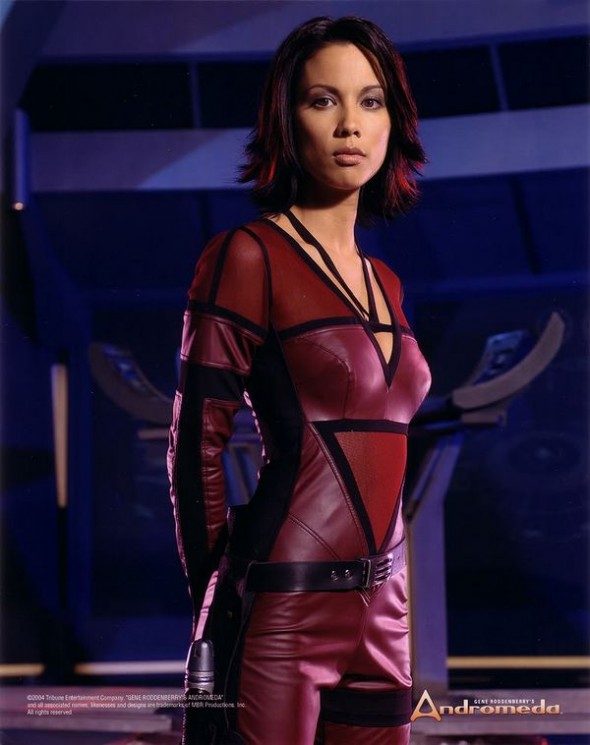 Press Release:
Jason Voorhees survivor to bring some Friday the 13th-style horror to Seattle!"
Jason X star to slash her way to Emerald City Comicon!
 Seattle, WA – Sci-Fi beauty Lexa Doig (Jason X aka Friday the 13th Pt. 10, Gene Roddenberry's Andromeda, William Shatner's Tek War) is the sixteenth special celebrity guest announced for the upcoming Emerald City Comicon taking place on March 1st – 3rd, 2013 at the Washington State Convention Center. She will be appearing Saturday and Sunday!
Lexa Doig has been a fixture in the world of genre film and television for the last two decades. She got her start as "Cowgirl" in William Shatner's Tek War, the small screen version of the Star Trek actor's popular series of novels from the early 90s. However, Doig would land her biggest role as "Andromeda Ascendant " for five seasons on Gene Roddenberry's Andromeda. Other television credits include "Dr. Leah Pearlman" on the re-imagined V, "Dr. Sony Valentine" on Continuum and as "Dr. Carolyn Lam" on Stargate SG-1, which starred her real life off-screen husband and fellow ECCC 2013 celebrity guest Michael Shanks.
Always seeming to play a doctor, Doig portrayed "Dr. Rowan LaFontaine" in the 2001 film Jason X, the tenth installment of the Friday the 13th series that was set in space. The movie saw her character battling for survival on a space station against the notorious hockey mask-wearing killer "Jason Voorhees." Doig's "LaFontaine" has the distinction of being one of only a small number of people who have managed to survive his rampages.
Canadian-born, Doig and her husband live in Vancouver, British Columbia where they raise their two children. She is also active in fundraising for the Multiple Sclerosis Society of Canada.
Joining Doig at ECCC 2013 will be  previously announced guests  Sir Patrick Stewart ("Captain Jean-Luc Picard in Star Trek The Next Generation, "Dr. Charles Xavier" from the X-Men films), Billy Dee Williams ("Lando Calrissian" from The Empire Strikes Back and Return of the Jedi), Walter Koenig ("Chekov" from classic Star Trek), Natalia Tena (Harry Potter, Game of Thrones), Paul McGillion (Stargate Atlantis), Michael Shanks (Saving Hope, Stargate SG-1), Kristin Bauer ("Pam" from HBO's True Blood), Gillian Anderson ("Agent Scully" from The X-Files), Chandler Riggs ("Carl Grimes" on AMC's The Walking Dead), Adam West and Burt Ward (TV's classic "Batman" and "Robin"), Dirk Benedict ("Faceman" from The A-Team, "Starbuck" from Battlestar Galactica), Danai Gurira ("Michonne" from The Walking Dead), Chris Sarandon ("Prince Humperdinck" from The Princess Bride) and Carrie Fisher ("Princess Leia" from Star Wars). More fantastic celebrity guests yet to be announced!
Tickets for Emerald City Comicon 2013 are ON SALE NOW byvisiting www.emeraldcitycomicon.com or any number of local comic book stores, also listed on the website!
ECCC 2013 will feature its most expansive variety of film/television stars, voice actors, comic guests, vendors, merchandise, gaming, contests, artists, speakers and pop culture yet! With record-breaking attendance of over 53,000 attendees in 2012, Emerald City Comicon has established itself as one of North America's largest and most respected shows of its kind anywhere in the world and has become the premier event of its kind in the Northwest. Founded in 2003 by Seattle-area entrepreneur and Geekwire's "Geek of the Year" Award winner Jim Demonakos, ECCC has become highly regarded in both national and international circles as one of the most fan and family-friendly shows in existence.
Look for regular press releases containing all of the latest news leading up to the show in March 2013. For more information, please visit ECCC's website at www.emeraldcitycomicon.com