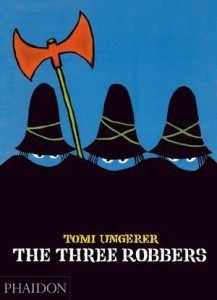 Illustrator Tomi Ungerer signs at Little Island Comics on Saturday, September 8, 2012 at 2:00pm.
Press Release:
Tomi Ungerer is perhaps the most famous children's book author you have never heard of. Just over 50 years ago, Ungerer landed in New York City with only $60 in his pocket and a suitcase full of drawings. A brilliant illustrator, he became an overnight sensation. Ungerer went on to publish an astonishing 80 books in ten years, including beloved classics Moon Man, Otto, and The Three Robbers.
The Beguiling and Little Island Comics are honoured to host Tomi Ungerer for a special signing event at Little Island Comics on Saturday, September 8th, at 2pm in Little Island Comics' event space. Ungerer will be signing copies of all of his work, including his work for adults, and a wide selection of books will be available for sale at the event.
The Three Robbers in particular remains one of our favourite children's books carried at the store, and its darkly humourous message and brilliant and evocative illustrations have made it a classic for generations of parents and children since its original publication in 1962.
Tomi Ungerer is in Toronto as part of the promotional tour for the new film Far Out Isn't Far Enough: The Tomi Ungerer Story, a documentary about his life and work screening as part of TIFF. While this film is definitely intended for an adult audience, Ungerer's work has a broad appeal and this signing is intended for readers of all ages.
–
ABOUT TOMI UNGERER
Tomi Ungerer (b.1931) was born in Strasbourg, in the Alsace region of France. He moved to New York City in 1956 and instantly found success as a caricaturist, illustrator, and children's book author. As graphic artist he created advertising campaigns for Willy Brandt and The New York Times. In 1998 he was awarded the Hans Christian Anderson Award for Illustration, which is the Nobel Prize of the world of children's literature. He now divides his time between Strasbourg and Ireland.
ABOUT FAR OUT ISN'T FAR ENOUGH: THE TOMI UNGERER STORY
"Far Out Isn't Far Enough: The Tomi Ungerer Story" is a brilliant, original and highly engrossing feature-length documentary depicting the life and times of the best-selling children's author and illustrator Tomi Ungerer. This French artist's wild, lifelong adventure of testing societal boundaries through his use of subversive art and biting social satire is fully explored in this entertaining, 98-minute film which will have its North American premiere at TIFF 2012. While you may not be familiar with Ungerer or his work, you will quickly be entranced by the force of nature that is Tomi Ungerer.
Little Island Comics 
742 Bathurst Street, Toronto, ON, M5S 2R6 Canada
Phone: 416-901-7489