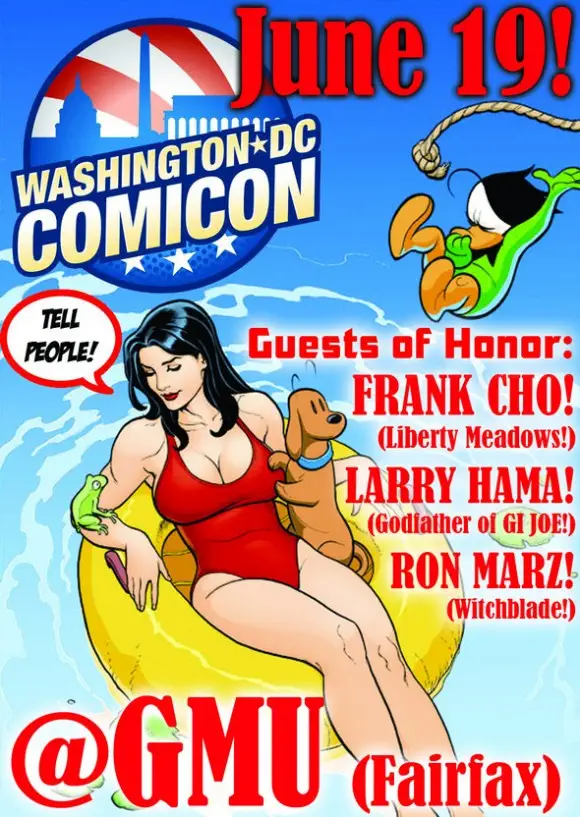 Press Release:
FREE TICKETS TO DC COMICON (FATHER'S DAY) AVAILABLE AT VA COMICON THIS SATURDAY (6/11)! INCREDIBLE COMIC ARTISTS!
Good evening! The title says it all!
Come to the VA Comicon THIS Saturday (June 11th) in Richmond, and pick up a ticket for the ONLY FREE NATIONAL SHOW IN THE COUNTRY, the Washington, DC Comicon!
The VA Comicon will feature an entire Small Press room, as well as top comic talent, door prize premiums from Top Cow, the Wieringo Scholarship, and Fangoria! Get there THIS Saturday in Richmond. More information, of course is at www.VAcomicon.com! And remember, ALL attendees will get a FREE ticket to the Washington DC Comicon.
The Washington Comicon will be held once again on the GMU campus on Sunday, June 19th (Father's Day). With Special superstar Guests Frank Cho (Mighty Avengers), Ron Marz (Witchblade), Jim Starlin (Thanos), Larry Hama (GI Joe), Todd Dezago (Tellos), and more, make sure to bring dad to the Nation's only FREE National-level comic book show!
The DC Comicon is being operated By Brett Carreras (The VA Comicon) and Marc Nathan (Baltimore Comicon), so it's BOUND to be awesome! More info at www.DCcomicon.com.
We'll see you all on Saturday, and then on Father's Day. Awesome!
-Brett (owner of www.BrettsComicpile.com)
Promoter of the VA Comicon and co-promoter of the DC Comicon