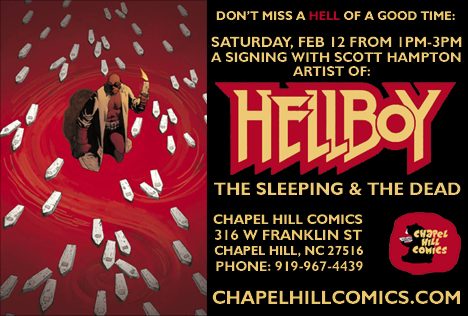 Scott Hampton signs on Saturday, February 12, from 1pm until 3pm, as Hell comes to Chapel Hill Comics!
Chapel Hill Comics is proud to announce a signing event featuring local artist Scott Hampton, the artist of the new two-issue Hellboy series, Hellboy: The Sleeping and the Dead, published by Dark Horse Comics. We will have stock on hand of both issues of the series, including separate covers of issue #1 by Scott Hampton and series creator Mike Mignola.
For the first time, Hellboy: The Sleeping and the Dead pits Hellboy against vampires! The comics are priced at $3.50 each, so you will be able to pick up the full story for seven bucks, and have it signed by the artist! That's a Hell (ahem) of a great deal!
Scott Hampton has a very impressive résumé. His professional comics work was the three-page story "Victims" published in Vampirella #101 in 1981. He has illustrated the adventures of iconic characters such as Batman, Sandman, and Black Widow, has adapted his favorite Ghost stories into fully painted comics (Spookhouse, published by IDW), and even illustrated the story of Genesis in The Bible: Eden. He won the Harvey Award (The Special Award for Excellence in Presentation) for Batman: Night Cries. Now he's drawn a new Hellboy series, and it looks fantastic.
Come on out, meet an incredibly talented, locally-based artist, and pick up a fun, spooky story featuring one of indie comics' most iconic characters!
Chapel Hill Comics
316 W Franklin St, Chapel Hill, NC 27516