Press Release:
Disney Launches TRON for the iPhone and iPod Touch at Comic-Con Serving as Fans' 'Golden Ticket' to Disney's ComiTRON Offsite Event
The TRON App Will Update with Additional Games, Video, Music and More as the December Launch of the Film – TRON: Legacy – Draws Near Comic-Con 2010
SAN DIEGO–(BUSINESS WIRE)–With "ComiTRON" in full swing at the San Diego Comic-Con International Convention, Disney Interactive Media Group's newly launched TRON app (www.itunes.com/app/tron) for the iPhone® and iPod® touch is a must-have for attendees. By downloading the TRON app, attendees can "Enter the Grid" by checking in at the show via the phone's GPS system, which also updates the user's Facebook status. Starting today, anyone who has checked in at ComiTRON (located on aisle #3712) and opens us the app will receive an exclusive "golden ticket" to the Studio's offsite ComiTRON event, revealing information about the event's location and timing.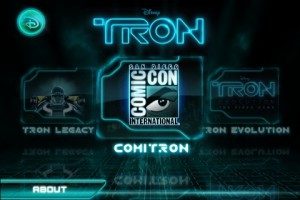 The TRON app is free to download and fans can immediately play an all-new version of the classic Tanks game from the Tron Arcade, view a trailer of TRON: Legacy and receive pre-sale order information for the TRON Evolution video game from Disney Interactive Studios. The app will also update as the premiere of the TRON: Legacy film in December draws closer and include additional video, music, and free and premium games.
"We are excited to provide a unique and continually evolving mobile experience that will provide fans the opportunity to dive into the world of TRON in anticipation of the film's premiere in December," said Stephen Saiz, director of marketing, Disney Interactive Studios. "Comic-Con is the perfect place to launch the new TRON app, which was created specifically for enthusiastic fans as a way for them to jump into the ComiTRON action."
For more information and to download the TRON app, please visit: www.itunes.com/app/tron.
About "TRON: Legacy"
"TRON: Legacy" is a 3D action-packed adventure set in a digital world unlike anything captured on the big screen. Sam Flynn (Garrett Hedlund), a rebellious 27-year-old, is haunted by the mysterious disappearance of his father Kevin Flynn (Oscar® and Golden Globe® winner Jeff Bridges), a man once known as the world's leading video-game developer. When Sam investigates a strange signal sent from the abandoned Flynn's Arcade—that could have only come from his father—he finds himself pulled into a world where Kevin has been trapped for 20 years. With the help of the fearless warrior Quorra (Olivia Wilde), father and son embark on a life-or-death journey across a visually stunning universe—created by Kevin Himself—which has become far more advanced with never-before-imagined vehicles, weapons and landscapes, and a ruthless villain who will stop at nothing to prevent their escape.
Presented in Disney Digital 3Dâ"¢ and scored by Grammy Award®–winning electronic music duo Daft Punk, "TRON: Legacy" hits theaters on December 17, 2010.
About Disney Interactive Media Group
Disney Interactive Media Group (DIMG) is a segment of The Walt Disney Company (NYSE:DIS) responsible for the creation and delivery of Disney-branded interactive entertainment and informational content across multiple platforms including online, mobile and video game consoles around the globe. DIMG core businesses include Disney Interactive Studios, which self publishes and distributes a broad portfolio of multi-platform video games, mobile games and interactive entertainment worldwide; and Disney Online, which produces the No. 1 Community-Family & Parenting Web site and an industry-leading suite of online virtual worlds for kids and families. DIMG also creates and delivers unique mobile content and manages a Disney-branded mobile phone service in Japan.