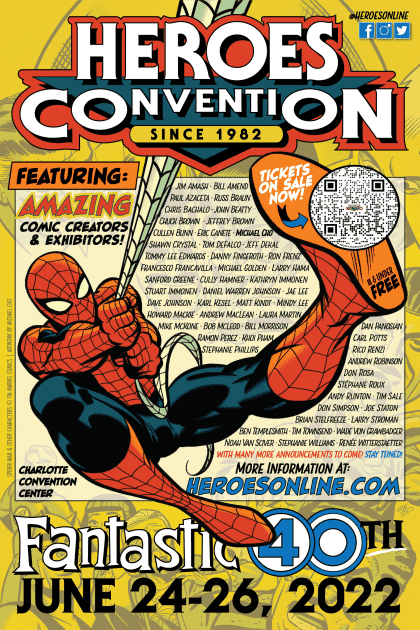 TODAY'S FEATURED GUEST ANNOUNCEMENTS:
BILL AMEND | AA-TBA
Foxtrot
PAUL AZACETA | AA-TBA
Outcast, Punisher: No More, Amazing Spider-Man, Elektra: Black, White and Blood
JEFFREY BROWN | AA-TBA
Darth Vader and Son, Vader's Little Princess, Lucy and Andy Neanderthal
CULLEN BUNN | AA-TBA
Harrow County, Bone Parish, The Sixth Gun, Deadpool Kills the Marvel Universe
ERIC CANETE | AA-TBA
Senior Artist at Riot Games, TRON: Uprising, Beware The Batman
SHAWN CRYSTAL | AA-TBA
Mother Panic, Arkham Manor, Scarlet Witch
TOMMY LEE EDWARDS | AA-TBA
Mother Panic, 1985, Turf, The Question, Moon Knight
CULLY HAMNER | AA-TBA
The Question, Red, Batman
DANIEL WARREN JOHNSON | AA-TBA
Extremity, Murder Falcon, Space-Mullet
DAVE JOHNSON | AA-TBA
Ben10, 100 Bullets, Cover Artist for multiple DC and Marvel Comics
KARL KESEL | AA-TBA
Impossible Jones, Section Zero, Harley Quinn, Creator of King Shark
MINDY LEE | AA-TBA
Masters of the Universe: Revelation, Crimson Lotus, Bounty
HOWARD MACKIE | AA-TBA
Ghost Rider, Ghost Rider: Return of Vengeance, Iron Man, Spider-Man, Batman
ANDREW MACLEAN | AA-TBA
Head Lopper, Laser Wolf Attack, Apocalyptigirl
LAURA MARTIN | AA-TBA
Color Artist for Beta Ray Bill, Plastic: Li'l Birdie, Star Wars Annual, Nubia #1
MIKE MCKONE | AA-TBA
Amazing Spider-Man, Teen Titans, Fantastic Four
DAN PANOSIAN | AA-TBA
Slots, John Tiffany, Batwing, All Star Western
RAMON PEREZ | AA-TBA
Hawkeye, Tale of Sand, Spider-Man
KHOI PHAM | AA-TBA
Marvel and DC Artist
STEPHANIE PHILLIPS | AA-TBA
Harley Quinn, Wonder Woman: Evolution, Batman: Legends of the Dark Knight
RICO RENZI | AA-TBA
Goddess Mode, Bitter Root, Spider-Gwen, The Unbeatable Squirrel Girl
ANDREW ROBINSON | AA-TBA
The Fifth Beatle, Dusty Star, Batman, Winter Soldier
STÉPHANE ROUX | AA-TBA
Birds of Prey, Zatanna, Star Wars: Agent of the Empire
ANDY RUNTON | AA-TBA
Owly
TIM SALE | AA-TBA
Captain America, Batman, Spider-Man, Catwoman, Superman For All Seasons
WADE VON GRAWBADGER | AA-TBA
Starman, Birds of Prey, Fear Itself, New Avengers
STEPHANIE WILLIAMS | AA-TBA
Nubia Coronation, Nubia and the Amazons, Marvel Voices: Legacy #1
The HEROES CONVENTION was founded in 1982 by Shelton Drum, owner of Charlotte's Heroes Aren't Hard To Find comics shop. Since then the convention has become famous for its comics-first and family-friendly atmosphere, where fans can mingle directly with professionals and exhibitors. Boasting an incredible guest list built mainly on reputation and goodwill, HeroesCon is known nationwide as a "must" on the summer schedule, drawing fans, exhibitors, and creators from every region of the country to the Charlotte Convention Center.
We are busy confirming the greatest names in the comics industry for our 2022 show! We will post post guests announcements and updates right up to the week of the show! Stay up to date with regular visits to our FEATURED GUEST list on our website!
For the most up-to-date information, check out our blog, or sign up for the weekly Heroes Hotline newsletter. You can also follow us on Instagram, Twitter and Facebook!