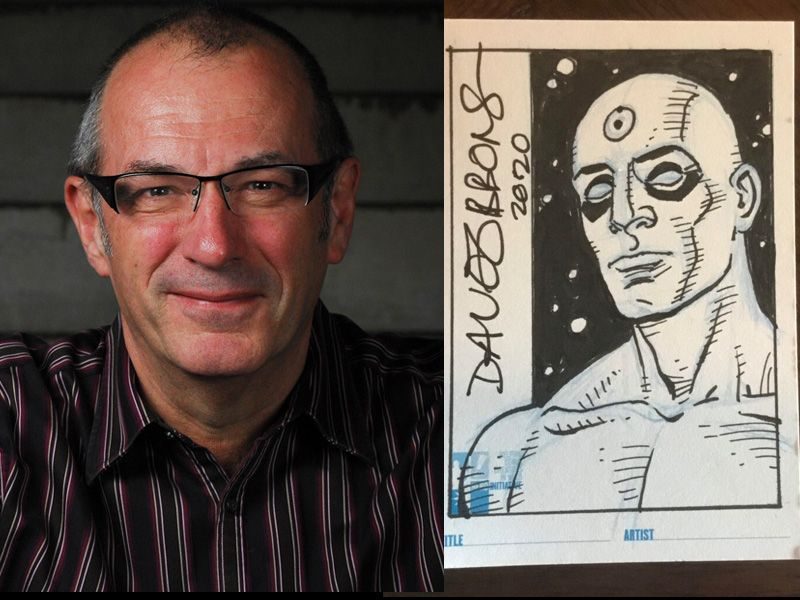 TalentTalk offers an online chat with Dave Gibbons on Monday, February 22nd! Click here to purchase… Save $5 off your Talk when you use the promo code THANKS5.
Dave Gibbons is an absolute legend in the comic book field, the co-creator of Watchmen and the sole creator of The Originals, an amazing sci-fi take on the '60s mod bikers of Britain!
Your purchase of this Talk gets you to access to a limited, private 45-minute Q&A session with Dave!  Dave is happy to answer questions about the process, his experiences in comics, or art in general!  Only FIVE seats are available to this exclusive session!  ALSO: Your purchase includes an original drawing by Dave of a character of your choice on a 2.5-by-3.5  inch sketch card provided by TalentTalk! Samples seen here in the gallery!
BONUS: Proceeds from this talk benefit Hero Initiative, the charity that helps comic book creators in medical or financial need!
This Q-and-A session will take place on Monday, Feb. 22, 2021, from 12:00 noon-12:45 PM (ET) via Zoom video conference (Zoom.us).  You must have Zoom downloaded on your device (phone, tablet, or computer) to participate.  Full details at Zoom.us.  You will receive an invite to the meeting prior to its start.
Other TalentTalks with comic creators include:
TalentTalk
talenttalklive.com