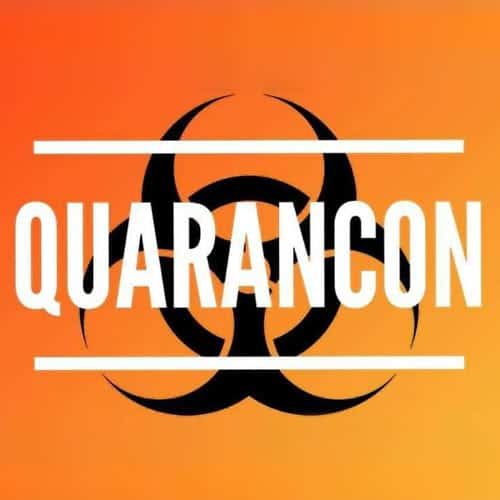 Press Release:
SacGeeks, a collaboration hub for all things nerdy and geeky in the Sacramento and surrounding areas, announces it is partnering with the Cartoon Art Museum again to host QuaranCon Continues… on Saturday, April 4, 2020 from 10 a.m. to 5 p.m. PST via the brand new web app (app.quarancon.org) created by FilmFestO.com, a new software service from the operators of Sacramento Casting, which can be used through your desktop, laptop or mobile web browser with no downloading.
QuaranCon is a free, virtual comic convention available to anyone with internet access. This online comic convention will feature a virtual 'panel' starting every 30 minutes, highlighting an individual or group and directing viewers to access that individual/group's Facebook Live stream.
"It was such a cool experince to see the local and international community come together with hundreds of people watching for the first QuaranCon online convention in March and see that those videos continue to be watched and engaged with. We're really excited to help host this experience again for our cartooning and geek communities to reach out to one another and to have a web-based app to streamline it all at app.quarancon.org. We are exceptionally thankful to all the streamers and behind-the-scenes volunteers that are coming together to make this all happen," reflects program coordinator for the Cartoon Art Museum, Nina Taylor Kester.
Presentations can also be found April 4th and after on the Facebook event (facebook.com/events/148440476513347) and each of their respective Facebook pages (facebook.com/cartoonartmuseum & facebook.com/sacgeeks)!
The full schedule follows, but may be subject to change. Log into the online web app for the most up to date listings.
QuaranCon Continues… Schedule for Saturday April 4th (PST):
10:00 Empire Comics Vault with Creator and Artist Kyrun Silva from Taurus Comics
www.facebook.com/EmpiresComics
10:30 Chew on This: A Nerd's United Podcast: with Ming Chen from The Comic Book Men
www.facebook.com/chewonthispodcast
11:00 Heroic Girls with Artist Justin Greenwood ( Artist for comics such as The Fuse, Stumptown, Crone) and an Executive Producer of the TV show Stumptown.
www.facebook.com/theheroicgirls
11:30 Odin Makes: Demo Build
www.facebook.com/odinmakes
12:00 Music with Craig Honeycutt Founder of the band "Everything" and co-Founder of nonprofit Light the Music
www.facebook.com/craig.honeycutt.79
12:30 Parties Galore: Face Painting Demo
www.facebook.com/PartiesGaloreCA
1:00 Hardly Heroes: with actor and VFX Artist
C Andrew Nelson Actor who has logged the most hours in the Darth Vader suit for TV, Video Games and Star Wars Special Edition Scenes
www.facebook.com/hardlyheroes
1:30 Pam & Danny: Belle & Beast Storytime
www.facebook.com/panddcosplay
2:00 Jacob Andrew Adair with Mandalorian Mercs: Building Your Own Mandalorian Armor
www.facebook.com/jacob.a.adair
2:30 Hardly Heroes: Gene Freeman Stunt Double for Carl Weathers on The Mandalorian
www.facebook.com/hardlyheroes
3:00 Sactown Spidey: Cosplay Make-up- Creating the Joker
www.facebook.com/916SactownSpidey
3:30 Jocks, Geeks and Nerds with Andrea Miller Wickman and Tim Donaldson Jawas from Star Wars: A New Hope
www.facebook.com/jocksgeeksandnerds
4:00 The Sacramento Film Project: Panel- What do You do with your Down Time as a Creator? Featuring Creators from California, Idaho, and Alaska.
www.facebook.com/SacFilmProject
4:30 Champion Slam Poet And Yes: Interactive Game-The FanFic Free-For-All
www.facebook.com/AndYesPoetry