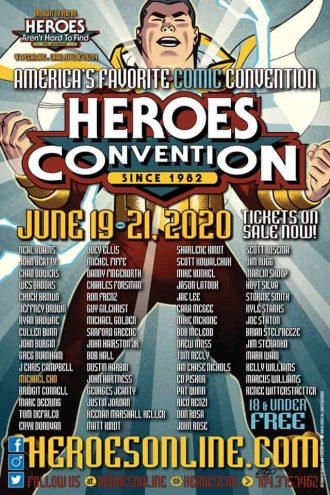 Celebrate thirty-eight years of America's favorite comic book convention with a magnificent guest list of the industry's greatest creators. More HeroesCon Guest Announcements to come SOON, but here's just a little taste of what we've got in store for our 38th Anniversary Show June 19-21!! Get your tickets to America's Favorite COMIC BOOK show today!!
NEAL ADAMS | AA-TBA
Coming of the Supermen, Batman: Odyssey, Green Lantern, X-Men
JOHN BEATTY | AA-TBA
Secret Wars, Punisher, Batman, Thanos Quest
CHAD BOWERS | AA-TBA
Youngblood, X-Men '92, Down Set Fight!
WES BROOKS | AA-TBA
Undead Speed Equipment, Skulls, Helmets, Bat Zine
CHUCK BROWN | AA-TBA
Bitter Root, Choosing Sides, Femme Magnifique
JEFFREY BROWN | AA-TBA
Rey and Pals, Space-Time!, Darth Vader and Son, Jedi Academy
RYAN BROWNE | AA-TBA
Curse Words, God Hates Astronauts, Manhattan Projects, Bedlam
CULLEN BUNN | AA-TBA
The Sixth Gun, Harrow County, Uncanny X-Men, Deadpool
JOHN BURGIN | AA-TBA
Frogboy
GREG BURNHAM | AA-TBA
Tuskegee Heirs
J CHRIS CAMPBELL | AA-TBA
Creator of Neatobots, Zig Zag & Publisher of Wide Awake Press 
MICHAEL CHO | AA-TBA
Batwoman, Shoplifter, DC/Marvel Cover Artist
BRIDGIT CONNELL | AA-TBA
Brother Nash
MARC DEERING | AA-TBA
Star Wars: Doctor Aphra, Black Panther
TOM DeFALCO | AA-TBA
The Amazing Spider-Man, Fantastic Four, Machine Man, Spider-girl, Thor
ERYK DONOVAN | AA-TBA
Memetic, Cognetic, Eugenic, Quantum Teens Are Go
JOEY ELLIS | AA-TBA
Wolfie Monster and the Big Bad Pizza Battle, Leaky Timbers
MICHEL FIFFE | AA-TBA
Copra, Zegas, Bloodstrike
DANNY FINGEROTH | AA-TBA
A Marvelous Life: The Amazing Story of Stan Lee
CHARLES FORSMAN | AA-TBA
Slasher, Revenger, TEOTFW, Celebrated Summer
RON FRENZ | AA-TBA
The Amazing Spider-Man, Superman, Thor, Spider-girl, Kazar
GUY GILCHRIST | AA-TBA
The Muppets, Muppet Babies, Fraggle Rock, Nancy
MICHAEL GOLDEN | AA-TBA
The Nam, Punisher, Micronauts 
SANFORD GREENE | AA-TBA
Bitter Root, Power Man & Iron Fist, Runaways, Rotten Apple, Deadpool
JOHN HAIRSTON JR. | AA-TBA
1962: The Age of Marvels
BOB HALL | AA-TBA
West Coast Avengers, Shadowman
DUSTIN HARBIN | AA-TBA
BEHOLD! The Dinosaurs, DIARY COMICS, DHARBIN!
JOHN HARTNESS | AA-TBA
Black Knight Chronicles, Quincy Harker
GEORGES JEANTY | AA-TBA
Buffy, Serenity, 24 Legacy, Green Lantern
JUSTIN JORDAN | AA-TBA
Luther Strode, Spread, The Family Trade, Planet of the Apes/Green Lantern
KEENAN MARSHALL KELLER | AA-TBA
The Humans, Galactic Breakdown, Force Majeure
MATT KINDT | AA-TBA
Dept. H, Mind MGMT, X-O Manowar 
SHARLENE KINDT | AA-TBA
Dept. H, Mind MGMT
SCOTT KOWALCHUCK | AA-TBA
Batman '66, Atari's SwordQuest, Constantine: the Hellblazer, Lucha Liberty, Down Set Fight
MIKE KUNKEL | AA-TBA
Eisner-Award winning creator of Herobear and the kid, Billy Batson and the Magic of Shazam
JASON LATOUR | AA-TBA
Southern Bastards, Spider-Gwen, Loose Ends, Black Cloud
JAE LEE | AA-TBA
Stephen King's Dark Tower, InHumans, Batman/Superman, Spider-Man
CARA MCGEE | AA-TBA
Dodge City, Over the Garden Wall, Black Canary: Ignite
MIKE MCKONE | AA-TBA
Justice League United, Avengers: Endless Wartime
BOB MCLEOD | AA-TBA
New Mutants, Spider-Man, Kraven's Last Hunt
DREW MOSS | AA-TBA
Copperhead, Terrible Lizard, The Colonized, The Crow: Pestilence, In the Dark
TOM NEELY | AA-TBA
The Humans, Henry & Glenn Forever, The Blot
IAN CHASE NICHOLS | AA-TBA
The Tick, Cover Artist: Teenage Mutant Ninja Turtles, TMNT/Batman Adventures
ED PISKOR | AA-TBA
Hip Hop Family Tree, X-Men: Grand Designs, Wizzywig, American Splendor
PAT QUINN | AA-TBA
The Phantom, GI Joe: Declassified, Necrotic
RICO RENZI | AA-TBA
Goddess Mode, Bitter Root, Spider-Gwen, The Unbeatable Squirrel Girl, Loose Ends
DON ROSA | AA-TBA
The Life and Times of Uncle Scrooge, Walt Disney's Comics and Stories
JOHN ROSE | AA-TBA
Snuffy Smith
SCOTT ROSEMA | AA-TBA
Space Ghost, Batman Animated, X-Men Adventures
JIM RUGG | AA-TBA
Street Angel, Supermag, Afrodisiac
MARLIN SHOOP | AA-TBA
LARP!, Grimm's Fairy Tales: Myths and Legends 
HOYT SILVA | AA-TBA
Adventures in Crime, Operation: Nemesis, Quartermain: Ghosts of the Nzadi
STORME SMITH | AA-TBA
Buño Books
KYLE STARKS | AA-TBA
Rock Candy Mountain, Rick and Morty, Sexcastle, Legend of Ricky Thunder 
JOE STATON | AA-TBA
Green Lantern, E-Man, Dick Tracy, Scooby Doo
BRIAN STELFREEZE | AA-TBA
Black Panther, Day Men, Wednesday Comics, Batman
JIM STERANKO | AA-TBA
Nick Fury, Agent of S.H.I.E.L.D., History of Comics, Prevue Magazine
MARK WAID | AA-TBA
Captain America, Champions, Fantastic Four, The Flash, Kingdom Come
KELLY WILLIAMS | AA-TBA
Metaphase, Creepy, This Nightmare Kills Fascists 
MARCUS WILLIAMS | AA-TBA
Tuskegee Heirs: Flames of Destiny 
RENEE WITTERSTAETTER | AA-TBA
Excess: The Art of Michael Golden, Joe Jusko: Savage Beauty
For the most up-to-date information, check our blog, or sign up for the weekly Heroes Hotline newsletter. You can also follow us on Twitter and Facebook!
BUYING AN ADVANCE PASS MEANS YOU'LL GET ANY ADVANCE INCENTIVES WE OFFER, FREE!
ENTRY WILL BE $25: FRI $25: SAT $20: SUN / AT THE SHOW ITSELF, SO YOU SAVE AS MUCH AS $20 BY PURCHASING ADVANCE PASSES TODAY! TICKETS ARE NOT REFUNDABLE, UNDER CERTAIN CIRCUMSTANCES WE MAY CREDIT AN UNUSABLE TICKET TOWARD FUTURE TICKET PURCHASES.
HEROES CONVENTION was founded in 1982 by Shelton Drum, owner of Charlotte's Heroes Aren't Hard To Find comics shop. Since then the convention has become famous for its comics-first and family-friendly atmosphere, where fans can mingle directly with professionals and exhibitors. Boasting an incredible guest list built mainly on reputation and goodwill, HeroesCon is known nationwide as a "must" on the summer schedule, drawing fans, exhibitors, and creators from all over the world to the Charlotte Convention Center.