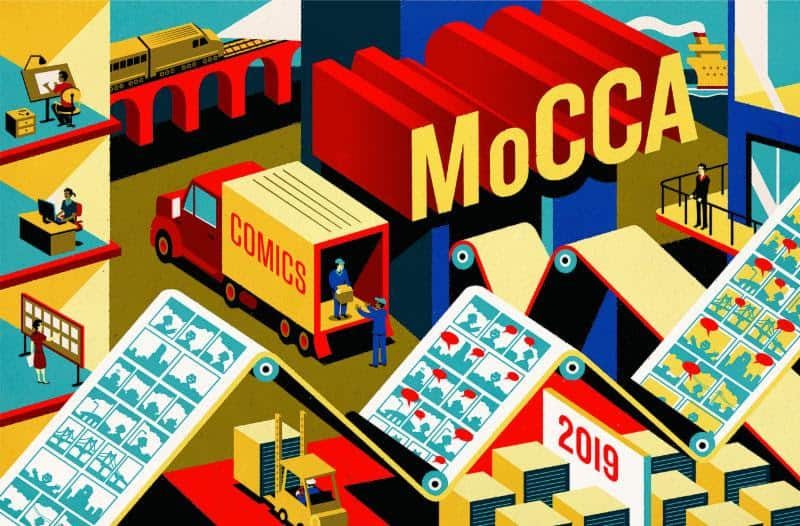 Press Release:
The Society of Illustrators is proud to share its first round of guest announcements with this year's stellar list of Guests of Honor for the MoCCA Arts Festival, taking place April 6-7 at Metropolitan West in New York City. This year's featured Guests of Honor are:
Edie Fake, whose award-winning comics series Gaylord Phoenix explores desire and transformation in a dreamlike, fantasy setting. His new collection of short comics Little Stranger (published by Secret Acres), collects a wide range of short pieces published in a variety of formats and contexts. Fake is also a fine artist, whose Memory Palace drawings re-imagine historical Chicago-area queer spaces. His recent paintings have been exhibited at Western Exhibitions and featured in The Paris Review.
Liana Finck's cartoons appear regularly in The New Yorker, The Awl, and Catapult. Her prolific body of incisive daily cartoons has earned her hundreds of thousands of followers online. Her first book, A Bintel Brief, was adapted from an advice column published in The Forward in the early twentieth century. Her recent book Passing for Human (Random House), a graphic memoir, follows her journey struggling against what's expected of her as a woman, and learning to accept her true self.
Cartoonist Keith Knight is the creator of three popular comic strips: The Knight Life, (th)ink, and the K Chronicles. Recently, he created the artwork for Jake the Fake (Yearling), an ongoing graphic novel collaboration with Craig Robinson (The Office) and Adam Mansbach. The hybrid animation/live action series Woke, based on his life, is currently being developed for Hulu. Knight is also a rapper, social activist, father and educator.
Eisner-winning, Emmy-nominated artist Bill Sienkiewicz, is best known for revamping the style of comic and graphic novel illustration from 1980 onward, most notably with Marvel Comics' New Mutants and Elektra: Assassin as well as his own acclaimed graphic novel Stray Toasters, earning him an international reputation and cult status across media industries. Bill Sienkiewicz's Mutants and Moon Knights Artifact Edition was published by IDW in 2018.
This group of artists exemplifies the limitless aesthetic and social power of comics and cartooning. The MoCCA Arts Festival will take place April 6 – 7th, 2019 from 11:00AM – 7:00PM on Saturday and 11:00AM – 6:00PM on Sunday, held at the luxurious and modern Metropolitan West located on West 46th Street between 11th and 12th Avenues. They will be joined at MoCCA Fest by an array of Featured and International Guests and exhibiting artists.
Price of admission is $10 per day, or $18 for Weekend Passes, and will grant attendees access to the Fest including the Exhibitors Hall, on-site Gallery space, and programming. Day Tickets will be available for purchase at the door and Weekend Passes are available to purchase in advance online. Children under ten are free. Further scheduling information regarding our Guests of Honor's visits will be available in future announcements.
To learn more about the Guests of Honor and the Fest please visit our website.
About the Museum of Illustration at the Society of Illustrators
Founded in 1901, the Society of Illustrators and its Museum of Illustration together comprise America's longest-standing nonprofit organization dedicated to the art of illustration. The mission of SI/MI is to promote the art and appreciation of illustration and its history and evolving nature through exhibitions and educational programs.
The MoCCA Arts Festival is a 2-day multimedia event, Manhattan's largest independent comics, cartoon and animation festival, drawing over 7,000 attendees each year. With 400 exhibiting artists displaying their work, award-winning honorees speaking about their careers and artistic processes and other featured artists conducting workshops, lectures and film screenings, our Festival mission accelerates the advancement of the Society's broader mission to serve as Manhattan's singular cultural institution promoting all genres of illustration through exhibitions, programs and art education. The 2019 MoCCA Arts Festival will take place April 6-7th, 2019 at Metropolitan West in New York City with programming mere steps away at Ink48 (653 11th Ave).