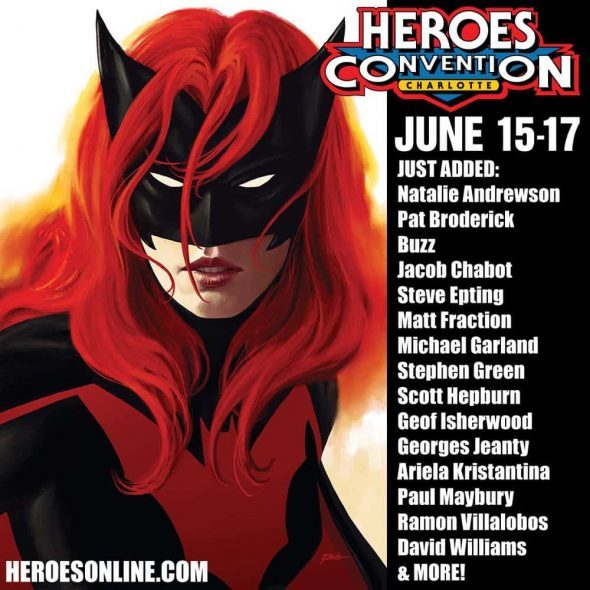 HeroesCon has announced more new guests for their 2018 show including Steve Epting, Matt Fraction, Geof Isherwood, Georges Jeanty, Ariela Kristantina, Paul Maybury, Ramon Villalobos, David Antoine Williams, and more! HeroesCon 2018 takes place June 15-17, 2018 at the Charlotte Convention Center.
GUEST ADDITIONS:
NATALIE ANDREWSON | Mamuna, Meanwhile
PAT BRODERICK | Green Lantern, Micronauts, Nibiru and the Legend of the Anunnaki
BUZZ | JSA, Vampirella, Atomika
JACOB CHABOT | Spongebob Comics, Plants Vs. Zombies, The Mighty Skullboy Army
KELLY DALE | Jeremy Dale Skyward Omnibus
STEVE EPTING | Velvet, Captain America, Avengers
MATT FRACTION | Sex Criminals, Casanova, ODY-C, Hawkeye
MICHAEL GARLAND | New Mutants, Black Monday Murders, Leviathan
STEPHEN GREEN | BPRD, The Legacy of Luther Strode, Dark Horse Presents
LAURA LEE GULLEDGE | Page by Paige, Will & Whit, Sketchbook Dares
SCOTT HEPBURN | Spider-Man/Deadpool, Orchid, Star Wars
GEOF ISHERWOOD | Conan, Dr. Strange, Suicide Squad, Namor
GEORGES JEANTY | The American Way, Buffy the Vampire Slayer, Serenity, 24 Legacy
ARIELA KRISTANTINA | Insexts, Mata Hari
MIKE LILLY | The Tick, Grimm Fairy Tales, Nightwing, Vampirella
PAUL MAYBURY | Hunters, Cave Carson, Bloodstrike
PAT QUINN | The Phantom, GI Joe: Declassified, Necrotic
SCOTT ROSEMA | Space Ghost, Batman Animated, X-Men Adventures
K LYNN SMITH | Plume
RAMON VILLALOBOS | Nighthawk, E Is For Extinction
DAVID ANTOINE WILLIAMS | X-Men: First Class, GI Joe, Incredible Hercules, Hulk & Power Pack

For the most up-to-date information, check our blog, or sign up for the weekly Heroes Hotline newsletter. You can also follow us on Twitter and Facebook!
BUYING AN ADVANCE PASS MEANS YOU'LL GET ANY ADVANCE INCENTIVES WE OFFER, FREE!
ENTRY WILL BE $25: FRI $25: SAT $20: SUN / AT THE SHOW ITSELF, SO YOU SAVE AS MUCH AS $20 BY PURCHASING ADVANCE PASSES TODAY! TICKETS ARE NOT REFUNDABLE, UNDER CERTAIN CIRCUMSTANCES WE MAY CREDIT AN UNUSABLE TICKET TOWARD FUTURE TICKET PURCHASES.
HEROES CONVENTION was founded in 1982 by Shelton Drum, owner of Charlotte's Heroes Aren't Hard To Find comics shop. Since then the convention has become famous for its comics-first and family-friendly atmosphere, where fans can mingle directly with professionals and exhibitors. Boasting an incredible guest list built mainly on reputation and goodwill, HeroesCon is known nationwide as a "must" on the summer schedule, drawing fans, exhibitors, and creators from all over the world to the Charlotte Convention Center.