Press Release: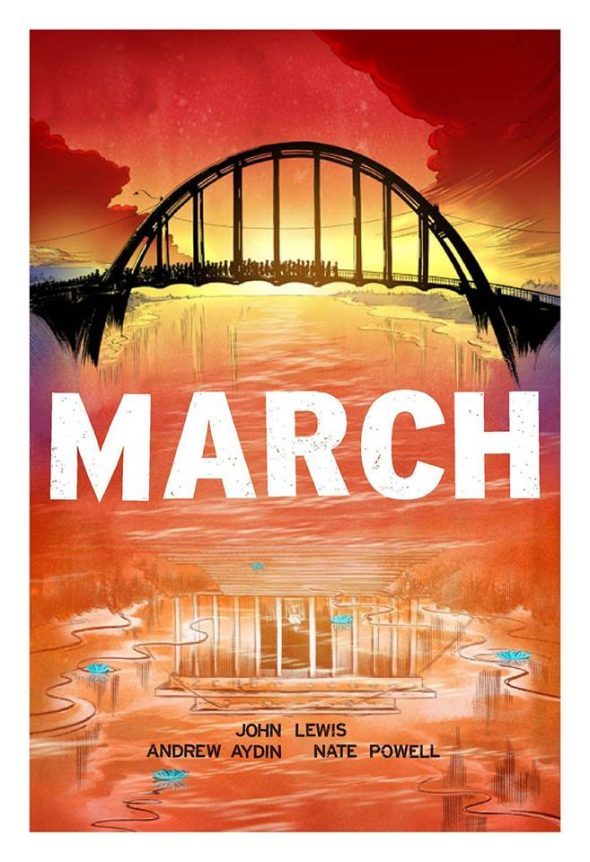 The Cartoon Art Museum, Top Shelf Productions, and IDW Publishing proudly present MARCH, an exhibition of original artwork from the acclaimed graphic novel trilogy written by Congressman John Lewis and Andrew Aydin and illustrated by Nate Powell.
Cartoon Art Museum patrons will discover the inside story of the Civil Rights Movement through the eyes of one of its most iconic figures, Congressman John Lewis, as artist Nate Powell chronicles Lewis's journey from Troy, Alabama to Washington, D.C. The MARCH graphic novel trilogy, co-written by Andrew Aydin, received the 2016 National Book Award for Young People's Literature, was the first graphic novel to win a Robert F. Kennedy Award, has won multiple Will Eisner Comics Industry Awards, and has been a staple of the New York Times and Washington Post bestseller lists.
Artist Nate Powell will discuss MARCH at the Cartoon Art Museum on Friday, February 9, 2018. RSVP on Facebook for further details…
About Congressman John Lewis and MARCH:
Congressman John Lewis (GA-5) is an American icon, one of the key figures of the civil rights movement. His commitment to justice and nonviolence has taken him from an Alabama sharecropper's farm to the halls of Congress, from a segregated schoolroom to the 1963 March on Washington, and from receiving beatings from state troopers to receiving the Medal of Freedom from the first African-American president.
To share his remarkable story with new generations, Lewis produced March, a graphic novel trilogy, in collaboration with co-writer Andrew Aydin and New York Times best-selling artist Nate Powell.
March is a vivid first-hand account of John Lewis's lifelong struggle for civil and human rights, meditating in the modern age on the distance traveled since the days of Jim Crow and segregation. Rooted in Lewis' personal story, it also reflects on the highs and lows of the broader civil rights movement.
About Nate Powell, forthcoming guest speaker at the Cartoon Art Museum:
Nate Powell is a New York Times best-selling graphic novelist born in Little Rock, Arkansas in 1978. He began self-publishing at age 14, and graduated from School of Visual Arts in 2000.
His work includes March, the graphic novel autobiography of Congressman and civil rights icon John Lewis; You Don't Say, Any Empire, Swallow Me Whole, The Silence of Our Friends, The Year of the Beasts, and Rick Riordan's The Lost Hero. Powell is the first and only cartoonist ever to win the National Book Award.
His work has also received a Robert F. Kennedy Book Award, three Eisner Awards, two Ignatz Awards, two Harvey Awards, the Michael L. Printz Award, a Coretta Scott King Author Award, four YALSA Great Graphic Novels For Teens selections, the Walter Dean Myers Award, and has been a finalist for the Los Angeles Times Book Prize.
Powell has discussed his work at the United Nations, as well as on MSNBC's The Rachel Maddow Show and CNN. His books have been placed on school curriculum in over 40 states, and his animated illustrations in the Southern Poverty Law Center's Selma: The Bridge to the Ballot documentary will reach roughly one million students in 50,000 schools across the nation.
From 1999 to 2009, Powell worked full-time providing support for adults with developmental disabilities alongside his cartooning efforts. He managed underground record label Harlan Records for 16 years, and performed in punk bands Soophie Nun Sqaud and Universe. He lives in Bloomington, Indiana.
Powell's next book, Come Again, will be released in summer 2018 by Top Shelf/IDW.
Cartoon Art Museum
781 Beach Street, San Francisco, CA 94109
(415) 227-8666