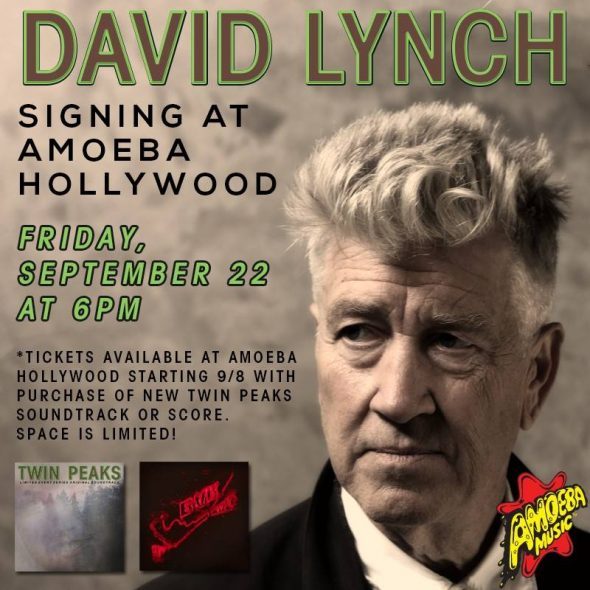 Director David Lynch visits Amoeba Hollywood Friday, September 22nd at 6:00 PM to sign copies of the new "Twin Peaks" (2017) soundtrack and score (out Sept. 8 on CD and Sept. 22 on LP via Rhino Records). Purchase the CD or pre-order the LP in-store at Amoeba Hollywood STARTING Sept. 8 to attend this signing event.
Vinyl pre-orders can be picked up day-of event (Sept. 22) for signing.
Space is limited to first 200 purchasers starting Sept. 8
Limited to in-store purchases made at Amoeba Hollywood only
1 ticket per album, max 2 per person
2 copies of "Twin Peaks" soundtracks per person allowed for signing
David Lynch will sign ONE additional item per person. No exceptions. (i.e. if you are getting two "Twin Peaks" soundtracks signed, you may have ONE additional item signed – not two.)
No personalizations for signatures
ABOUT THE ALBUMS:
"Twin Peaks: Limited Event Series Original Soundtrack"
The series score features 18 tracks including previously unreleased Angelo Badalamenti compositions. Music from the Roadhouse 20 tracks, including songs from Roadhouse performers and key moments in the series. CD and LP.
Amoeba Music
6400 Sunset Blvd, Los Angeles, CA 90028
(323) 245-6400