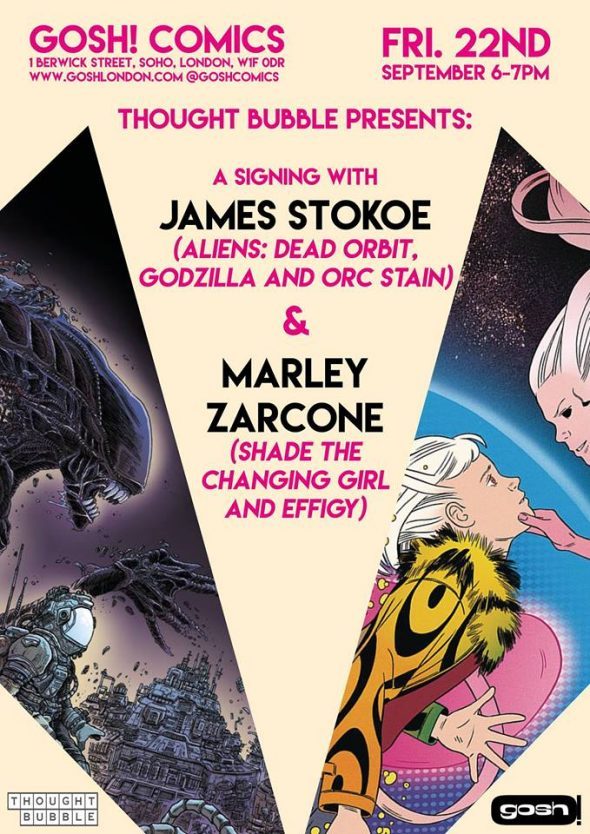 James Stokoe and Marley Zarcone will be signing at Gosh Comics on Friday, September 22nd from 6:00 – 7:00 PM!
James Stokoe is the acclaimed writer and artist behind titles such as Wonton Soup, Orc Stain, Godzilla Half Century War and Aliens Dead Orbit. With a kinetic, ultra-detailed style that meshes the underground sensibilities of Vaughn Bodē with the propulsive action of Katsuhiro Otomo, any new work from him is always sure to get our little hearts a-racing!
Marley Zarcone has made regular appearances since 2010 on DC & Vertigo titles such as Madame Xanadu, Fairest, House of Mystery and Justice League, but it was her work on the Tim Seeley-written book Effigy that really brought her to our attention. So we were very happy to see her attached to the Young Animal launch of Shade the Changing Girl, with writer Cecil Castellucci, where her clean, dynamic work manages to effortlessly switch from grounded high school drama to surreal mad-scapes.
Gosh Comics
1 Berwick St, SoHo, London W1F0DR
United Kingdom