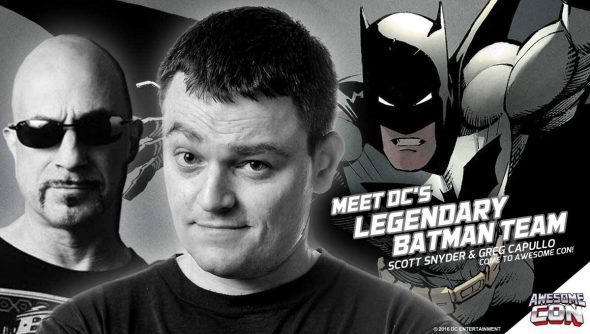 Press Release:
Awesome Con, the Mid-Atlantic's pop culture con held in Washington, DC from June 16-18, is excited to announce tickets are now available for a special comics masterclass with BATMAN writer and illustrator duo Scott Snyder and Greg Capullo on Saturday, June 17th.
Both Greg Capullo and Scott Snyder will be attending all three days of Awesome Con in addition to this special class.
Scott Snyder and Greg Capullo, two iconic figures behind the BATMAN comics, will take the stage together at Awesome Con for a special masterclass for aspiring writers and artists. On Saturday, June 17 at 7:15pm, 150 attendees will be able to attend a two-hour class and pick Snyder and Capullo's brains with questions about the comic book industry and their craft, as well as go over behind-the-scenes sketches and samples of comic scripts.
Every guest will receive: 1 limited edition exclusive lithograph by Capullo, the chance to have 5 items signed by Capullo, and the chance to have 5 items signed by Snyder. Tickets are $199.99 and available now on the Awesome Con site; admission to Awesome Con is not included in the masterclass ticket and must be purchased separately at www.awesomecon.com.