Press Release:
South Shore Art Center presents the first South Shore Comic Con on Saturday December 3rd from 10:00 AM – 4:00 PM with over twenty comic artists who will be at tables, signing and selling their zines, original art, and talking about the craft of comic book storytelling. Panels and workshops will be in the art Studios throughout the day. The event was initiated by the Art Center's cartoon instructor Tak Toyoshima, who discovered many of his students had never set foot in a comic book store. Tak is the artist behind the syndicated daily cartoon Secret Asian Man, and is a Hanover resident and his day job is the Creative Director for Rustic Marlin.
Admission is FREE and open to the public. The first 20 kids get a free South Shore Comic Con tee shirt thanks to Goodwin Graphics, the perfect item to get autographed by artists at the show.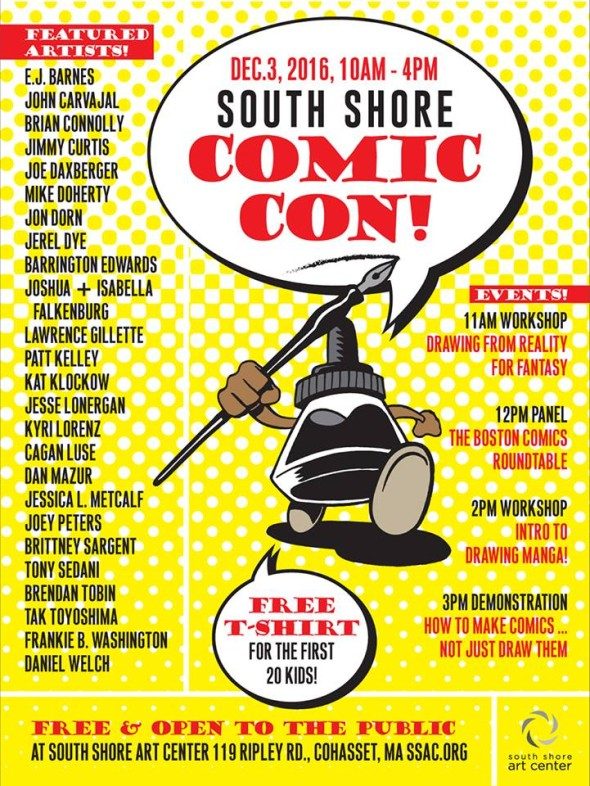 Confirmed artists are:
Barrington Edwards and Cagan Luse
Dan Mazur, The Boston Comics Roundtable
John Carvajal and Brittney Sargent
Tony Sedani
Jimmy Curtis and Joe Daxberger
Brian Connolly
Mike Doherty
Patt Kelley
Jerel Dye and Jesse Lonergan
Jon Dorn
E. J. Barnes
Kyri Lorenz and Daniel Welch
Jessica L Metcalf and Joshua Falkenburg, Books By Bella
Workshops & Panels In the Studios
11am to noon (Workshop)
Drawing from Reality for Fantasy
Barrington Edwards
Studio tips and techniques as well as hands on workshop drawing models, sculptures, and objects and how to use them to shape a more fantastical comics world.
noon to 12:30pm (Panel)
The Boston Comics Roundtable
Dan Mazur, E.J. Barnes, John Carvajal, Jesse Lonergan, Jerel Dye
Discussion on the importance of community and collaboration.
2pm to 3pm (Workshop)
Intro to Manga Drawing!
Kat Klockaw
Fun hands on drawing lesson on the basics of one of the most popular comic styles in the world: Japanese manga.
3pm to 3:30pm (Demo)
How to Make Comics … Not Just Draw Them
Kyri Lorenz and Mike Doherty. Demo on how to expand your comics beyond the traditional stapled together booklet.
South Shore Art Center
119 Ripley Rd, Cohasset, Massachusetts 02025
(781) 383-2787