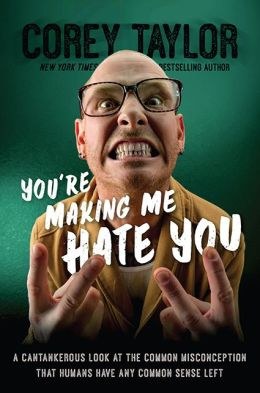 Corey Taylor appear at Book Revue on Thursday, July 9th, 2015 at 7:00 PM to speak about and sign his new book, You're Making Me Hate You.
In the tradition of the late great George Carlin, New York Times bestselling author and lead singer of Slipknot and Stone Sour Corey Taylor sounds off in hilarious fashion about the many vagaries of modern life that piss him off.
Whether it's people's rude behavior in restaurants and malls, the many indignities of air travel, eye-searingly terrible fashion choices, dangerously clueless drivers, and—most of all—the sorry state of much modern music, Taylor's humor and insight cover civil society's seeming decline—sparing no one along the way, least of all himself.
Holding nothing back and delivered in Taylor's inimitable voice,You're Making Me Hate You is a cathartic critique of the strange world in which we find ourselves.
IMPORTANT!
All books signed at Book Revue events must be purchased at Book Revue. If you purchase the book prior to the event please save your receipt. If you have purchased the book from somewhere else you can still get your book signed, we just ask that you make a purchase in our store of equal or greater value to that of the book.
Book Revue
313 New York Avenue, Huntington, NY 11743
631-271-1442