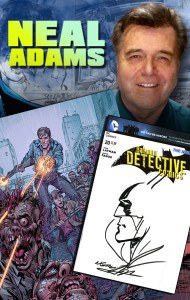 Press Release:
Golden Age Collectables is proud to bring Comics Legend Neal Adams to our store Wednesday, March 25th from 3:00pm to 6:00pm for an exclusive meet, greet, and autograph session being held before his appearance at Emerald City Comicon 2015. First autograph is FREE! (Additional autographs are $10 each). Don't have anything to get signed? Neal will have portfolios, art prints, books and sketches available for purchase!
Who is Neal Adams? For over 50 years, Neal Adams has been a towering figure in the world of comic book creation and art. Neal has had legendary 'runs' on Batman, X-Men, Green Lantern/Green Arrow and Deadman. Adams rescued Batman from the campy nostalgia of the television show, and re-fitted him in his present incarnation as an "Avenger of the Night." When people say 'modern Batman,' they mean Neal Adams' Batman. His run on Batman led directly to the new, more realistic incarnation in "Batman Returns" movie, which featured the character he created, Ra's Al Ghul. Neal is currently working on a Superman Series for DC Comics.
Neal can create a one-of-a-kind commissioned piece of artwork JUST FOR YOU! Email Jason for details at adams@nealadams.com or call him at 212-869-4170!
Don't miss this incredible opportunity to meet the one and only Neal Adams at Golden Age Collectables, Wednesday, March 25th from 3:00 pm to 6:00 pm! Contact Tony at Golden Age Collectables for more details by calling 206-622-9799.
Golden Age Collectables
1501 Pike Pl Market, #401 Lower Level, Seattle, WA 98101
(206) 622-9799