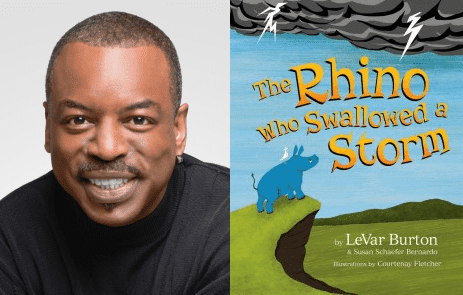 LeVar Burton, star of Reading Rainbow, Roots, and Star Trek: The Next Generation, appears at the Fayetteville Public Library on Wednesday, October 22, 2014 from 7:00 to 8:00 pm!
Press Release:
The Fayetteville Public Library will be celebrating 10 years in the Blair Library building in October. To help honor the library's commitment to building early literacy skills in our community and celebrate the landmark opening of the award-winning library in 2004, the library will host a special Evening with LeVar Burton, literacy advocate, actor, writer, and director on Wednesday, October 22nd at 7pm. The event is free and open to the public. Seating is limited, doors open at 6pm.
LeVar Burton has been capturing the admiring attention of both audiences and his industry peers for three decades and continues to enjoy longevity truly rare within the industry.
Launching his acting career in the groundbreaking role of Kunta Kinte in the landmark television series ROOTS, Burton found himself on the cover of Time Magazine at the age of 19. Shortly thereafter, Burton achieved further global acclaim as Chief Engineer Geordi LaForge in Star Trek: The Next Generation TV series and feature films.
From 1983 until 2009, Burton was the host and producer of the beloved Peabody Award winning PBS children's series, Reading Rainbow. LeVar has recently reimagined Reading Rainbow through his company RRKidz and its award-winning mobile library. The all-new Reading Rainbow app is the number one educational app on iTunes and delivers hundreds of quality books and video field trips.
Coming from a family of educators and as a result of his work on Reading Rainbow, LeVar speaks passionately on the topics of children's literacy and has been a keynote speaker at South by Southwest (SXSW), Edu, and received the Eliot-Pearson Award for Excellence in Children's Media from Tufts University. Also the honored recipient of twelve Emmy Awards, a Grammy and five NAACP awards, LeVar has demonstrated in his career that he can do it all, be it acting, directing, producing or educating.
The evening's discussion will be moderated by KUAF's Ozarks at Large, producer Kyle Kellams. The public is invited to celebrate the occasion with cake and coffee following the event.
Fayetteville Public Library
401 W Mountain St, Fayetteville, AR 72701
479.856.7000