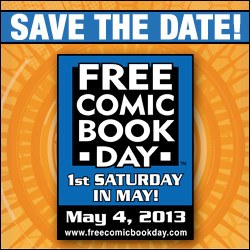 Ken Lashley, Ty Templeton, Marcus To, and many more appear at Stadium Comics on Saturday May 4, 2013 for Free Comic Book Day!
SPECIAL GUEST APPEARANCES BY COMIC CREATORS:
KEN LASHLEY – Ken has worked on titles such as Flash, Black Panther, Deadpool, X-Men, Batwing, Red Hood and the Outlaws and more! He also has credits on several DC New52 covers such as Suicide Squad, Superboy, Ravagers, Team 7, Blackhawks, plus lots of Star Wars related work for Hasbro, Lucasfilm, and LucasArts!
MARCUS TO – Marcus has worked on a several series for companies like DC Comics, Archaia, and Aspen such as Red Robin, Batwing, The Huntress, and the upcoming Cyborg 009 based on the original Japanese manga and anime created by Shotaro Ishinomori. Cyborg 009 will see release in both North America and Japan.
TY TEMPLETON – Ty Has written, penciled, and inked countless titles for DC, Marvel, and many other publishers. Most recently Ty has been providing art for Ultimate Spider-Man based on the popular animated series. Ty also runs "Ty Templeton's Comic Book Bootcamp", where he teaches up and coming creators the ins and outs of the comic industry!
ADAM GORHAM – Adam is the artist of the gritty medieval tale 'Teuton' published by Big Sexy Comics. Previously Adam made quite an impression with his graphic novel adaptation of Canadian indie film 'The Vampire Conspiracy', and has also contributed to the Western Horror anthology "Horror in the West". "Undertow" is another title Adam has worked on which will be published in the near future.
VINCE SUNICO and Members of Spent Pencils – Vince Sunico has been appearing at Stadium Comics since 2008 and his recent work includes our store exclusive variant covers for Aspen Comics' Shrugged and Jirni. Vince wlll also be releasing "Remnant" through IDW later this year. Spent Pencils is the Greater Toronto area's largest collective of artists. The Spent Pencils crew is always a fan favourite at Stadium and conventions across North America!
DAVID BISHOP – David is the writer and illustrator of the Zombie Survival tale "Stranger". He also famously worked with our own Ricky Lima on the haunting "Deep Sea", of which we will see more of later this year. David is also working on art for "Of Stone".
GEORGE TODOROVSKI – An independent artist from Toronto who is co-creator of the hilarious The Bear Stories graphic novels and webcomic. George is also the regular artist on the Dungeon Crawler Adventures web comic, and he has also had his work appear in Heavy Metal Magazine.
PARIS ALLEYNE – Up and coming young comic artist who has tons of potential, Paris is building quite the portfolio for himself while collaborating with other creators.
…and more to be announced!
MORE CONTESTS, PRIZES AND GIVEAWAYS THAN EVER BEFORE! – Info coming soon
OUR BIGGEST SALE OF THE YEAR! – Info coming soon
SPECIAL "MAY THE FOURTH" ACTIVITIES CELEBRATING STAR WARS! – Info coming soon
What is Free Comic Book Day?
Free Comic Book Day is held on the first Saturday in May every year. Participating comic stores all across North America give away comics for FREE to anyone who enters their store on that day.
Free Comic Book Day is meant to promote and celebrate comic books as great literature and a true artform.
Stadium Comics runs one of the largest Free Comic Book Day events in Canada. In addition to the free comics, the Brampton, Ontario comic shop brings in several guest artists and creators to sign and sketch for fans. Combined with the raffles and contests, and their biggest sale of the year, Free Comic Book Day at Stadium is one event that you don't want to miss!
Stadium Comics
499 Main Street South, Brampton, ON L6Y 1N7