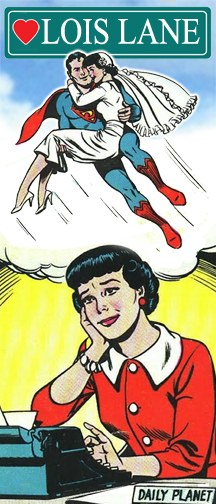 Artist Paul Ryan appears at That's Entertainment of Worcester on Sunday, December 30, 2012 from 3-6pm!
Press Release:
On Sunday, December 30, 2012, That's Entertainment of Worcester will celebrate the recent installation of the street sign for the newly renamed private road, Lois Lane. Superman artist Paul Ryan will be at the store at 244 Park Avenue from 3 p.m. to 6 p.m. Ryan will draw an original sketch of Lois Lane on a special commemorative print, at no charge for each attendee while time permits and the supply of prints lasts.
The street name Lois Lane instantly evokes the image of the famous fictional character who has been Superman's love interest— probably the archetypal superhero love interest– in various media for seven decades. She is the plucky journalist who always seems on the verge of proving that Superman is actually Clark Kent.
That's Entertainment had petitioned the City in March of 2011 to change the name of Marmon Place, a short private road that runs alongside and behind the store, to Lois Lane. In August of this year, the Worcester City Council unanimously approved the request.   "The new name is a perfect match for That's Entertainment, because we're in the comic book and pop culture business," said That's Entertainment owner Paul Howley, "and just about everyone says it's a super idea."
Manager Ken Carson expressed appreciation for the City officials who moved the proposal forward step by step, and for the DPW's attention to detail in the sign and installation.   "It's a very eye-catching sign, with the Worcester heart symbol on it, and 'Lois Lane' spelled out fully," Carson said. "I'm sure it will become a popular spot for photos."
"We've been in Worcester for thirty-two years and right at this address for the past twenty," Carson added. "Now we can say that we're located at the corner of Park Ave. and Lois Lane."
Artist Paul Ryan, who currently draws the daily comic strip The Phantom for King Features Syndicate, has worked extensively in the comic industry on major characters such as Spider-Man, Fantastic Four, Iron Man, Avengers, Batman and Superman. Ryan is the only artist to have contributed to the wedding issues of both Spider-Man (Peter Parker marrying Mary Jane Watson in Amazing Spider-Man Annual #21, 1987), and Superman (Clark Kent marrying– of course– Lois Lane in Superman: The Wedding Album, 1996).
"We're excited that Paul Ryan was available for the event because he's a classic superhero artist, and he has a strong history of drawing Lois," said Evan Scola, Marketing Manager for the store.
We will also simultaneously hold a "Lois Lane Look-Alike" contest. Because "Superman's Girlfriend" has been featured in so many different comics, TV shows and movies over the course of 75 years, there is a lot of room for interpretation.
"We'll be taking photos of anyone who wants to enter. We're looking for someone who personifies the tough and determined Daily Planet reporter. But Lois is really timeless, so a contestant might dress as a lady reporter from any era between the 1930s and the present," said Scola. "After the event, we'll choose the winner of a $50 store gift certificate."
In addition, the store will also raffle a hand-signed photo of the first Lois Lane actress, Noel Neill, at the event. Neill appeared in 1940s Superman film serials, and later starred alongside George Reeves in the classic 1950s TV show, The Adventures of Superman.
That's Entertainment is a pop culture emporium established in 1980. In 1997, That's Entertainment received the "Will Eisner Spirit of Comics Retailer Award" from Comic-Con International: San Diego. The award, named for comic book creator Will Eisner, recognizes "an individual retailer who has done an outstanding job of supporting the comics art medium both in the community and within the industry at large." In addition to comic books, the store carries video games, baseball cards, records, toys, DVDs and other collectible and entertainment items.
That's Entertainment
244 Park Ave, Worcester, MA 01609