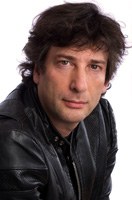 Press Release:
Neil Gaiman discusses his book, "American Gods: The Tenth Anniversary Edition," at 6:30 p.m. Thursday, June 23 in the NPC Ballroom. As a fundraiser for the Club's Eric Friedheim Library, this will be a ticketed event. Click the link to buy tickets.
First published in 2001, "American Gods" became an instant classic and has been described as a synthesis of "mystery, satire, sex, horror, and poetic prose" (Michael Dirda, Washington Post Book World). The Tenth Anniversary Edition is a commemorative volume that has been updated and expanded.
Gaiman, who began his writing career as a journalist, is the award-winning author of more than ten novels, including "Coraline," "The Graveyard Book," "Neverwhere," "Anansi Boys" and "Good Omens" (with Sir Terry Pratchett). He is listed in the Dictionary of Literary Biography as one of the top ten living post-modern writers. He has also worked in support of First Amendment rights, and was awarded the Defender of Liberty Award in August 1997 by the Comic Book Legal Defense Fund for his efforts.
This event is cosponsored by the Club's Book & Author and Young Members Committees. Proceeds benefit the Eric Friedheim National Journalism Library. No outside books will be permitted.
Tickets
Price: $5; General Admission. You must present your printed ticket for admission.
Books
Purchase your book ahead of time and guarantee a signed copy of "American Gods: The Tenth Anniversary Edition." Unsigned copies will also be for sale at the event.
Getting Your Book
The printed receipt will serve as a voucher. Vouchers may be redeemed immediately before the event at check-in. You must present your voucher at the time of pick up.
All sales are final and no refunds will be issued.
National Press Club
529 14th St. NW, 13th Floor, Washington, DC 20045