Comics legend Stan Lee, co-creator of Spider-Man, Avengers, X-Men, Fantastic Four, Iron Man, and more, appears at Barnes & Noble on Saturday, January 30, 2016 at 2:00 PM to celebrate the release of "The Zodiac Legacy: The Dragon's Return." In this second illustrated novel of The Zodiac Legacy series, the dangerous dragon power only grows stronger within Jasmine, and Steven struggles to hold their ragtag team together. But as alliances become strained, the line between the "good guys" and the "bad guys" becomes blurrier and blurrier. And it all culminates in a major cliffhanger that readers won't see coming!
Stan Lee will be here to hand out pre-signed copies of "The Zodiac Legacy: The Dragon's Return."
This is a wristbanded event
-1 book per person/ 1 wristband per person – no exceptions
-Wristbands and books are limited to 300
-Wristbands will be issued to customers who purchase the book from Barnes & Noble at The Grove beginning at 9am on January 30
-the wristband will allow you into the event area where Stan Lee will hand you a pre-signed book
-personalization will not be available
-photos will not be permitted
-No memorabilia please
Barnes & Noble – The Grove
189 The Grove Dr, Los Angeles, CA 90036
(323) 525-0270
Press Release:
Join Wisconsin English professor Ramzi Fawaz at the Strand Book Store on Thursday, January 28, 2016 at 7:00 PM as he discusses his brand-new, paradigm-shifting study of the comic book form, The New Mutants: Superheroes and the Radical Imagination of American Comics. Dissecting the history of the medium through the lens of queer theory, Fawaz delves into the creation and composition of such seminal series as X-Men and Fantastic 4 and finds a history of selves deconstructed and rebuilt on the page.
Joining Fawaz in discussion is Phil Jimenez, acclaimed artist artist and writer known for his work on Infinite Crisis, The Invisibles, Wonder Woman, X-Men, and many other beloved series.
Buy a copy of The New Mutants or a $15 gift card in order to attend this event.
Strand Book Store
828 Broadway, New York, NY, 10003-4805
(212) 473-1452
Press Release:
Galaxy of Comics proudly presents comic book legend LEN WEIN (co-creator of Swamp Thing, Wolverine, Storm, Nightcrawler, Colossus) signing his new book, SWAMP THING #1, from DC Comics, Saturday, January 9th, 2016, from 1:00 PM to 3:00 PM!
* Swamp Thing has received an ominous warning, and now he finds himself under attack from the forces of dark magic. These are more than just your average monsters—and there's something much worse looming on the horizon for Alec Holland! Swamp Thing returns in an all-new series written by his co-creator, legendary writer Len Wein along with legendary artist Kelley Jones!
With a career spanning five decades, Eisner Award Winner LEN WEIN has been everything from comic book artist, writer and even Editor-in-Chief of Marvel Comics! And now the Galaxy of Comics has Len here to sign his new SWAMP THING!!!
So, stop by the Galaxy of Comics and chat with Len Wein and get your copy of SWAMP THING #1 signed!!
Galaxy of Comics
17306 Saticoy Street, Van Nuys, CA 91406
(818) 578-8559
Charlotte MiniCon has announced they have just added the entire creative team of Marvel's new Patsy Walker AKA Hellcat to their guest list! Writer Kate Leth (Power Up!), artist Brittney Williams (The Legend of Korra), and colorist Megan Wilson (Gwenpool Special) will appear on Saturday January 30, 2016 along with lots of other great comic creators, comic and toy dealers and crafters!
Previously announced guests include:
Natalie Andrewson
Wes Brooks
Chris Brunner
Bridgit Connell
Sanford Greene
John Hairston Jr
Dustin Harbin
Sandy Jarrell
Jason Latour
Jackie Lewis
Kevin Mellon
Drew Moss
Budd Root
Rian Sygh
Andy Smith
Brian Stelfreeze
Robert Ullman
Matt Wilson
Kelly Yates
& more!
Press Release:
Get ready for an all-star signing event! To celebrate DC's Dark Knight III: The Master Race, Frank Miller, Brian Azzarello, Andy Kubert, and Klaus Janson will sign comics from 4:00 – 6:00 PM at Midtown Comics Downtown on Saturday, December 19, 2015.
Since this is such a high-profile signing, tickets will be limited! However, Midtown Comics is running a contest for line tickets through Rafflecopter. Winners will be randomly selected and fans can enter here at the link… ENTRY IS NOW CLOSED!
Fans without line tickets will unfortunately not be permitted at the event. Purchase of Dark Knight III: The Master Race #1 is required to attend; limit of 2 items signed per person.
"Three years after the death of Lex Luthor, Batman has not been seen since, until a thief being chased by police sees Batman attack the police cars. While Wonder Woman protects the Amazons' new city, her daughter Lara visits her father, Superman, who is now frozen in his Fortress of Solitude. Back in Gotham, Commissioner Ellen Yindel manages to set a trap for Batman, who is soon unmasked as Carrie Kelly, the former Robin/Catgirl, in a Batman suit, who claims that Bruce Wayne is now dead."
Midtown Comics Downtown
64 Fulton Street, New York, New York 10038
(212) 302-8192
New Jersey Comic Expo (#NJCE) makes its debut this weekend on November 21st and 22nd with several special guests!
Best-selling and fan favorite superstar comic book artist Jim Lee will be making a rare appearance at NJCE on Sunday, November 22nd. Jim's appearance at NJCE is his final U.S. convention appearance of the year! Attendees will have the chance to line up for a special TWO HOUR hour signing with a two-item limit! The signing will begin at 10AM and will be first come, first served.
Writer Garth Ennis, best known as the co-creator of the Vertigo comic Preacher with Steve Dillon, which is coming soon to AMC, and his fan beloved nine-year run on Marvel's Punisher. So if you have a stack of the plethora of comics authored by Mr. Ennis, you may want to bring them to the 2015 NJCE, because this will be his ONLY appearance in the great state of New Jersey.
Superstar Comic Book artist John Cassaday will be making a rare appearance this weekend at the New Jersey Comic Expo! Appearing both Saturday & Sunday, John who most recently handled the art on the first six issues of Marvel's flagship Star Wars book, will be signing books for fans and will also be available for meet & greet session via our VIP packages.
Angel and Person of Interest's Amy Acker will be joining us on Saturday and Drea de Matteo (The Sopranos, Sons of Anarchy) and from Marvel's Daredevil on NetFlix Peter Shinkoda and Tommy Walker will be there all weekend. In addition to signing autographs for fans (Additional fees apply) at their tables in our Celeb Signing Area we will also be offering the opportunity to have a professional photo with your favorite celeb taken by Epic Photo-Ops, the convention photo pros.
Other guests include: Mark Bagley, Frank J. Barbiere, Chris Batista, Ryan Bodenheim, Ivan Brandon, June Brigman, Jim Calafiore, Dennis Calero, Joe Caramagna, Paul Castiglia, Chris Claremont, Toby Cypress, Vito Delsante, Todd Dezago, Steve Ellis, The Fraim Bros, Bryan J.L. Glass, Justin Gray, Scott Hanna, Joe Harris, Edwin Huang, Jamal Igle, Jeff King, Joseph Michael Linsner, Shawn Martinbrough, Ben McCool, Mark Morales, Rags Morales, Rudy Nebres, Fabian Nicieza, Cary Nord, Carl Potts, Rodney Ramos, Tom Raney, Ivan Reis, Rod Reis, Dave Roman, Craig Rousseau, Fernando Ruiz, Buddy Scalera, Bob Schreck, Jeffery Shultz, Alex Simmons, Louise Simonson, Walter Simonson, Frank Tieri, Peter J. Tomasi, Ethan Van Sciver, Charles Paul Wilson III, and more! For the full guest list, tickets, and further details please check the website: www.newjerseycomicexpo.com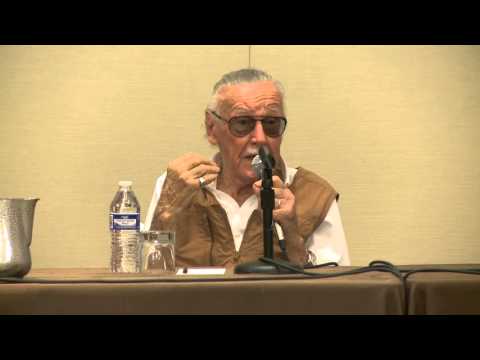 Watch The Man himself Stan Lee speak to a captivated audience at Boston Comic Con 2015 in a panel moderated by comic creator Jimmy Palmiotti and Stan's manager Max Anderson. The event featured a special appearance by Stan's best friend Ken Bald, Guinness World Record holder as the oldest living comic artist, and a phone call from Stan's wife Joanie.
Video courtesy of Ihungerproductions
Writer Sam Humphries signs at Collector's Paradise on Wednesday, November 4, 2015 at 6:00 PM!
About CITIZEN JACK:
Every presidential candidate has a skeleton in their closet—Jack Northworthy worships the devil! A scandal-plagued small town politician, Jack should in no way be president. But he's got a secret weapon: Marlinspike, a malevolent demon of high ambitions. Together, they're running for president in an outrageous campaign that America will never forget! Blockbuster writer Sam Humphries (Legendary Star-Lord, Guardians of the Galaxy, X-Men: Black Vortex) and New York Times bestselling artist TOMMY PATTERSON (Game of Thrones) debut a brand new ONGOING SERIES with a DIABOLICAL EXTRA-SIZED FIRST ISSUE!
Collector's Paradise
319 S. Arroyo Parkway #4, Pasadena, CA 91105
(626) 577-6694
Comics legend STAN LEE appears at Barnes & Noble to sign Amazing Fantastic Incredible: A Marvelous Memoir on Saturday November 7, 2015 at noon!
This is a wristbanded event. A wristband will be issued to customers who purchase *Amazing Fantastic Incredible: A Marvelous Memoir" at Barnes & Noble at The Grove beginning November 7th at 9am.
Stan Lee will not be signing any Memorabilia
About the book:
In this gorgeously illustrated, full-color graphic memoir, Stan Lee—comic book legend and co-creator of Spider-Man, the X-Men, the Avengers, the Incredible Hulk, Daredevil, and a legion of other Marvel superheroes—shares his iconic legacy and the story of how modern comics came to be.
Stan Lee is a man who needs no introduction. The most legendary name in the history of comic books, he has been the leading creative force behind Marvel Comics, and has brought to life—and into the mainstream—some of the world's best-known heroes and most infamous villains throughout his career. His stories—filled with superheroes struggling with personal hang-ups and bad guys who possessed previously unseen psychological complexity—added wit and subtlety to a field previously locked into flat portrayals of good vs. evil. Lee put the human in superhuman and in doing so, created a new mythology for the twentieth century.
In this beautifully illustrated graphic memoir—illustrated by celebrated artist Colleen Doran—Lee tells the story of his life with the same inimitable wit, energy, and offbeat spirit that he brought to the world of comics. Moving from his impoverished childhood in Manhattan to his early days writing comics, through his military training films during World War II and the rise of the Marvel empire in the 1960s to the current resurgence in movies, Amazing Fantastic Incredible documents the life of a man and the legacy of an industry and career.
Barnes & Noble – The Grove at Farmers Market
189 The Grove Drive Suite K 30 Los Angeles, CA 90036
323-525-0270
Eisner Award-winning artist Steve Leialoha appears at the Millbrae Library on Sunday, October 25, 2015 at 2:00 pm for an intimate gathering to share his techniques, skills, and stories from a forty-year career in comics. Leialoha is best known for his inking and penciling on Fables from the first issue to the last. Some drawing credits include Iron Man, X-Men, New Mutants, Spider-Man, Star Trek, and he inked Howard the Duck, Daredevil, Superman, Batman, Captain Marvel, Captain America, Secret Wars II, the original Star Wars movie adaptation, and much more.
Millbrae Library
1 Library Avenue, Millbrae, CA 94030
650.697.7607