Press Release:
REVOLUTION DIGITAL CARDS DEBUT AT COMIC-CON®
REVOLUTION FANS "FLOCK TO UNLOCK" NEW SERIES OF DC COMICS DIGITAL CHARACTER CARDS AT HIT SHOW'S COMIC-CON 2013 SESSION
Miles Matheson Character Profile Is First to Be Revealed by Show Creator/Executive Producer Eric Kripke
SAN DIEGO and BURBANK, Calif. (July 20, 2013) — Revolution's resident anti-militia rebel Miles Matheson has been freed from digital lockdown in today's packed Comic-Con panel session! Warner Bros. Worldwide TV Marketing, DC Entertainment and NBC have teamed up to create a series of seven original digital trading cards — one for each of Revolution's series regulars — that can be unlocked when fans tweet the #RevolutionCon hashtag. After more than 1,500 attendees at the Revolution Comic-Con panel tweeted while using the designated #RevolutionCon hashtag, the first card (for Miles Matheson) was revealed in the room by show creator/executive producer Eric Kripke. Subsequent cards will be revealed as fans continue hitting further social media thresholds.
Created by a DC Comics artist in conjunction with Revolution producers, each profile card features an illustrated graphic of each of the seven series regulars — Miles Matheson (Billy Burke), Tom Neville (Giancarlo Esposito), Jason Neville (JD Pardo), Sebastian Monroe (David Lyons), Aaron Pittman (Zak Orth), Rachel Matheson (Elizabeth Mitchell) and Charlie Matheson (Tracy Spiridakos) — as well as a brief summary of the characters.

 
In addition to the original illustration and overview of the characters' journeys, each card contains a hidden letter which, when combined with the hidden letters on the other cards, reveals a written clue about the show's second season. Fans must collect all seven to unlock the hidden message.

 
The cards were unveiled to the Revolution fandom at the show's Comic-Con panel session on Saturday afternoon. Soon after introducing the "Flock to Unlock" initiative and a collective call to action, members of the audience began tweeting en masse to the #RevolutionCon hashtag, prompting the release of the first digital profile (Miles Matheson).

 
Upon reaching announced Twitter thresholds for each subsequent character, the remaining cards will be released on Revolution's Facebook,Twitter and Tumblr pages throughout the weekend and into next week, as fans continue tweeting. As each of the cards is unveiled, fans can find the hidden letters, leading to the season two message. After being unlocked, all of these digital profiles will live on an NBC.com microsite at www.nbc.com/revolution/cards, with links to the Revolution show homepage at www.nbc.com/revolution.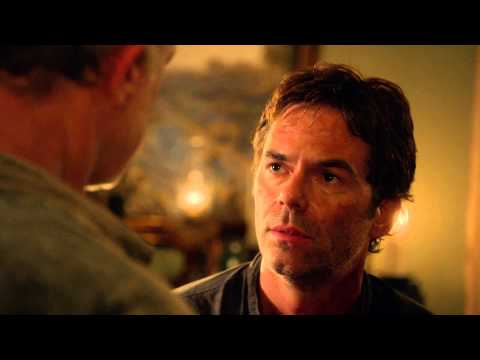 NBC's #1 scripted television series returns for its second season on Sept. 25, airing on a new day and time: Wednesdays at 8/7c. Starring Billy Burke (Twilight movies), Tracy Spiridakos (Being Human), Giancarlo Esposito (Breaking Bad), Zak Orth (Melinda and Melinda), David Lyons (ER), JD Pardo (The Twilight Saga: Breaking Dawn – Part 2) and Elizabeth Mitchell (Lost), Revolution was created by Eric Kripke (Supernatural) and is executive produced by Kripke, J.J. Abrams (Lost, Fringe, Person of Interest), Bryan Burk (Lost, Fringe, Person of Interest), Rockne S. O'Bannon (Defiance, V) and Jon Favreau (Iron Man movies).
From Bonanza Productions Inc. in association with Bad Robot Productions, Kripke Enterprises and Warner Bros. Television, Revolution is an epic adventure that follows a family's struggle to reunite in a post-apocalyptic American landscape where every piece of technology had mysteriously blacked out worldwide. Setting in motion a swashbuckling journey that led to the reason the lights went out, the season one finale found the show's heroes at the Tower and the switch to turn the lights back on — but the mystery of the blackout is just the beginning.
Become a fan of the show on Facebook at www.facebook.com/Revolution and follow the show on Twitter at @NBCRevolution. For additional information about Warner Bros. Television activities at Comic-Con, please follow us on Twitter @TheWBdotcom (hashtag #WBSDCC) and visitwww.thewb.com/comiccon.
Another day…another digest! Get all the latest SDCC photos, reports, videos, and more. Updates throughout the day.
Press Release:
WHO ARE THOSE CAPED DEMON-HUNTERS?
SUPERNATURAL'S JARED PADALECKI AND JENSEN ACKLES GET IN TOUCH WITH THEIR INNER SUPER HEROES IN PREPARATION FOR COMIC-CON 2013 WITH THE SIGNATURE WARNER BROS. CAPED BACKPACK
BURBANK, Calif. (July 17, 2013) — Men in … Capes? In preparation for Comic-Con 2013, Supernatural's Jared Padalecki and Jensen Ackles got in touch with the super hero within by modeling Warner Bros. signature caped Comic-Con backpacks. With production on the ninth season of the hit series just beginning and an appearance at 2013 Comic-Con International: San Diego this Sunday, series stars Padalecki and Ackles took a moment to show off the Supernatural bag and more importantly, to road-test its fashion cape accessory!
To get a closer look at the Supernatural bag as well as images of all the Warner Bros. TV series Comic-Con bags, click here: http://bit.ly/12H1gXG

 
Supernatural returns to Hall H at Comic Con on Sunday, July 21, from 10:00–11:00 AM with a special video presentation as well as a cast/producer Q&A. Recurring guest star Mark A. Sheppard joins series stars Padalecki, Ackles and Misha Collins alongside executive producers Jeremy Carver and Robert Singer. Additionally, the cast and executive producers will be signing for fans at the Warner Bros. booth (#4545) afterward at 12:45–1:30 PM.

 
Supernatural returns for its ninth season on October 15, 2013, airing on a new day this fall: Tuesdays at 9/8c on The CW.

 
For continuing info on the Studio's plans at Comic-Con, please visit www.thewb.com/comiccon and follow us on Twitter at @TheWBdotcom (hashtag #WBSDCC).
Press Release:
SCIENCE + ART + POP CULTURE = #BIGBANGTHEORY
THE BIG BANG THEORY ARTIST SERIES DEBUTS AT COMIC-CON®, FEATURING ORIGINAL WORKS INSPIRED BY THE SHOW AND CREATED BY SELECT ARTISTS FROM AROUND THE WORLD
Seven Original Pieces to Be Exhibited at the Warner Bros. Booth; Limited-Edition Litho Prints Available for Purchase Through Huckleberry
Additional Pieces and Artwork to Be Revealed Throughout the Year, with More Exhibitions Featuring All Artists in the Series to Follow
Merchandise Based on the Artist Series and Future Prints Will Be Available at Select Events and Retailers
BURBANK, Calif. (July 16, 2013) — Comic-Con fan favorite The Big Bang Theory (Thursdays 8/7c CBS) returns to San Diego in 2013, and this year, TV's #1 comedy makes its appearance at the Con not only in a Friday panel session — but also in fine art form. Warner Bros. Worldwide Television Marketing and Warner Bros. Consumer Products have launched The Big Bang Theory Artist Series, an exclusive collaboration with a select group of leading and emerging artists to celebrate TV's #1 comedy and its oft-imitated geek-chic aesthetic with a series of original artworks that will debut at Comic-Con.
Seven original pieces from The Big Bang Theory Artist Series will be exhibited in a gallery space within the Warner Bros. booth, and limited-edition litho prints of two of the selections will be available for sale at the Huckleberry booth. Exhibitions of additional pieces and artwork from the Artist Series, as well as future prints and additional merchandise based upon the series, will follow in upcoming months.
The Studio invited artists from the U.S. and around the globe to collaborate on The Big Bang Theory Artist Series and to express their visual interpretation of the smash series, its characters and its themes. Artists from Korea, Mexico, the UK, Italy, Germany, the U.S. and more have contributed original works in a variety of mediums and styles — ranging from street art to fine art and from digital to illustration — all inspired by The Big Bang Theory.

 
Fans can see the first installment of the Artist Series, with seven original pieces on display at the Warner Bros. booth, #4545 on the convention floor.

 
250 limited-edition offset lithographic prints of the creations by Martin Hsu ("Big Bang Cats") and Jerrod Maruyama ("Little Big Bang Theory") can be purchased for $45 per print at the Huckleberry booth, #3449 on the convention floor. Additionally, artists Hsu and Maruyama will be on hand to sign their prints on Friday, July 19, at the Huckleberry booth (time TBD).

 

 
Throughout the next year, WBTVG and WBCP will reveal additional participating artists, unveil new pieces and artwork, and announce upcoming gallery exhibitions featuring all artists in the series. Original merchandise based upon the Artist Series and future lithographic prints will be available at select events and retailers.

 
Details on the seven original pieces from The Big Bang Theory Artist Series on display at the Warner Bros. booth are as follows:
"Big Bang Cats" by Martin Hsu. San Francisco artist Martin Hsu found inspiration in the peculiar feline characteristics of cat breeds when looking for a perfect match for the eccentric Big Bang characters.

 
"Little Big Bang Theory" by Jerrod Maruyama. Specializing in character concept and design, freelance illustrator Jerrod Maruyama looks for the "cute" in everything and found a natural fit with these adorable cartoon characters in an almost toylike, kawaii homage.

 
"Zero2Hero" by Dez Einswell. As part of his signature style, Dez Einswell draws out the iconic nature of each character, blending both super hero and fanboy imagery.

 
"Doctor Cooper" by Nan Lawson. Self-taught Silverlake illustrator Nan Lawson found inspiration in Sheldon Cooper's charming and humorous perspective of how the world works.

 
"Friendship Formula" by David Zajdman X Munky King. Using Munky King's Omi (designer toy) aesthetic, Zajdman presents his own variable on Sheldon Cooper's "Friendship Algorithm."

 
"In the Beginning There Was Nothing Which Exploded" by Richard J. Oliver. Welsh artist Richard Oliver creates a visual representation of theBig Bang characters in the old comic book style fused with that of more contemporary graphic novels.

 
"The Big Bang" by Sakiroo Choi. Internationally prominent Korean illustrator and artist Sakiroo Choi was inspired by Stephen Hawking's groundbreaking research, as well as scientific themes found in The Big Bang Theory. This piece expresses the idea that the singular Dr. Sheldon Cooper — similar to a black hole — is unaffected by the gravitational pull of everything that surrounds him.

 
For continuing info on the Studio's plans at Comic-Con, please visit www.thewb.com/comiccon and follow us on Twitter at @TheWBdotcom (hashtag #WBSDCC).
About The Big Bang Theory
The Big Bang Theory stars Jim Parsons, Johnny Galecki, Kaley Cuoco, Simon Helberg, Kunal Nayyar, Mayim Bialik and Melissa Rauch. Chuck Lorre, Steven Molaro and Bill Prady serve as executive producers of the series, which was created by Lorre & Prady. From Chuck Lorre Productions, Inc. in association with Warner Bros. Television, The Big Bang Theory airs Thursdays at 8/7c on CBS, and the seventh season premieres on September 26.
About Huckleberry
Founded in 2006, Huckleberry dedicated itself to designing well-made, imaginative products to foster fun, creative play for kids of all ages.
Press Release:
PREPARE TO TAKE FLIGHT AT COMIC-CON® 2013
WARNER BROS. AND COMIC-CON TURN FANS INTO SUPER HEROES WITH OFFICIAL BAG OF SDCC 2013 — COMPLETE WITH CAPE!
Collectible Backpacks & Detachable Capes Highlight TV's Arrow, The Big Bang Theory, The Following, Revolution, Supernatural, The Vampire Diaries and Teen Titans Go!; Feature Films Godzilla, The LEGO® Movie and 300: Rise of an Empire; DC Universe Original Animated Movie Justice League: The Flashpoint Paradox; And the Classic Batman TV Series
BURBANK, Calif. (July 11, 2013) — It's a backpack. It's a cape. It's a backpack with a cape! Warner Bros. Entertainment will once again sponsor the official bag at Comic-Con International: San Diego 2013, to be distributed to fans when checking in at the Con, the Studio announced today. This marks the fourth year that Warner Bros. and Comic-Con have joined forces to produce and distribute what Entertainment Weekly once called the convention's "ubiquitous accessory," ensuring that attendees have a unique keepsake from the world's leading pop culture convention. Plus, for fans in San Diego who forgot their costumes, the "must-have" bag (according to Deadline Hollywood) not only lets attendees tote copious amounts of swag, but they can also flaunt their super hero side with the backpack's detachable cape!
More than 130,000 of the bags have been produced and will be provided to Comic-Con attendees throughout the convention.
The all-new 2013 edition is fashioned as a backpack and features a built-in cape — to assist the super hero in all of us race to panels, of course. The detachable cape can be worn separately, as can the backpack.
Each of the bags, designed by Warner Bros. Worldwide Television Marketing, feature double-sided artwork, with the all-new Comic-Con 2013 official design on one side and the other side highlighting titles from the Studio's TV series, theatrical motion pictures and original animated movies.
For continuing info on the Studio's plans at Comic-Con, please visit www.thewb.com/comiccon and follow us on Twitter at @TheWBdotcom (hashtag #WBSDCC). For official information about Comic-Con 2013, visitwww.comic-con.org and follow Comic-Con on Twitter at @Comic_Con.
Press Release:
DYNAMIC DUO SPRINGS BACK INTO ACTION!
WARNER BROS. TELEVISION AND TV GUIDE MAGAZINE RETEAM TO DELIVER FANS THE ULTIMATE COMIC-CON® SWAG ITEM:
A SPECIAL EDITION OF THE MAGAZINE DEVOTED EXCLUSIVELY TO PROGRAMMING FROM THE STUDIO
Collect All Four Sets of Flip Covers Featuring Arrow's Stephen Amell;
Supernatural's Jared Padalecki and Jensen Ackles;
The Vampire Diaries' Nina Dobrev, Paul Wesley and Ian Somerhalder;
The Originals' Joseph Morgan and Charles Michael Davis;
Superman 75 and Batman
Get It at the Warner Bros. Booth at Comic-Con, or Buy at Newsstands and on Digital Platforms Beginning July 17
BURBANK, Calif. (July 10, 2013) — TV's super alliance continues as Warner Bros. Television (WBTV) andTV Guide Magazine join forces once again to deliver fans the ultimate Comic-Con swag item for the fourth consecutive year: a Warner Bros.–themed Comic-Con special edition of the magazine, with insider scoop and behind-the scenes action from the Studio's series as well as four sets of collectible "flip" covers featuring Arrow star Stephen Amell; Supernatural stars Jared Padalecki and Jensen Ackles; The Vampire Diaries stars Nina Dobrev, Paul Wesley and Ian Somerhalder; and The Originals stars Joseph Morgan and Charles Michael Davis; in addition to a set dedicated to the 75th anniversary of Superman, with Batman on the flip cover.
For a sneak peek at the four sets of flip covers and to download all eight cover designs, click here:http://bit.ly/18LY702
Comic-Con Distribution at the Warner Bros. Booth: The Warner Bros. TV Guide Magazine special issues will be distributed to fans for free at the Warner Bros. booth — #4545 on the convention floor — throughout Comic-Con, beginning on preview night, Wednesday, July 17, and continuing through Sunday, July 21.
Newsstand and Digital Platforms: For those unable to attend Comic-Con in person, all four sets of collectible flip covers will be on sale from July 17 at newsstands wherever TV Guide Magazineis sold. The special issue will also be available digitally on iPad, Nook, Kindle Fire, Zinio and Google platforms.
The 88-page special issue is packed with features and photos dedicated to the following programs:
Previews of WBTV's highly anticipated new series Almost Human, from J.J. Abrams' Bad Robot Productions and Fringe's J.H. Wyman, starring Karl Urban (Star Trek films) and Michael Ealy (Underworld: Awakening); The Tomorrow People, from executive producers Greg Berlanti (Arrow), Julie Plec (The Vampire Diaries), Danny Cannon (Nikita) and Phil Klemmer (Chuck), and based on the original UK series; The Vampire Diaries spinoff series The Originals, from Julie Plec; The 100, in which 100 juvenile delinquents are sent to Earth years after a nuclear apocalypse to see if the planet is habitable; and more…
And there's more! Including:
An exclusive Arrow comic created by DC Comics and penned by TV series executive producer Marc Guggenheim
A sneak peek inside the upcoming DC Universe Original Animated Movie Justice League: The Flashpoint Paradox, from Warner Bros. Home Entertainment, Warner Bros. Animation and DC Entertainment
An in-depth look at the television history of the man of steel — Superman — in honor of the character's 75th anniversary
Behind-the-scenes photos from the TV Guide Magazine yacht and Warner Bros. Television media cocktail event at Comic-Con 2012
A look back at pop-culture costumes seen on The Big Bang Theory
Burning questions answered about fans' favorite shows, including the final season of Nikita
For continuing info on the Studio's plans at Comic-Con, please follow us on Twitter @TheWBdotcom(hashtag #WBSDCC) and visit www.thewb.com/comiccon. And follow TV Guide Magazine on Facebook atwww.facebook.com/TVGuideMagazine and on Twitter @TVGuideMagazine.
Press Release:
IT'S NOT PARANOIA IF THEY REALLY ARE WATCHING YOU…
THE MACHINE UNLOCKS YOUR DOOR AND ACCESSES YOUR ROOM AT COMIC-CON® 2013
Hit Drama Person Of Interest — from Warner Bros. Television, J.J. Abrams' Bad Robot Productions and The Dark Knight's Jonathan Nolan — to be Featured on Nearly 40,000 Limited-Edition Collectible Hotel Keycards
BURBANK, Calif. (July 2, 2013) — Proving that there is no place that the Machine cannot access — it is now infiltrating your hotel room. You are most definitely being watched.
For Comic-Con 2013, the hit Warner Bros. Television/CBS action-crime drama Person Of Interest will be featured on limited-edition collectible keycards — with two separate designs — at top hotels throughout the San Diego area during the convention. Nearly 40,000 branded room keys will be available to fans at nearly 30 participating hotels, courtesy of Warner Bros. Worldwide Television Marketing.
One keycard features Reese and Finch — series stars Jim Caviezel (left) and Michael Emerson — keeping a watchful eye.
And one keycard could be seen as a response to those who may have suggested that Person Of Interest — which posits a world in which a highly sophisticated, all-seeing surveillance program could track the whereabouts of virtually anyone, anywhere, following our every move — was a bit of science fiction. In light of recent revelations in the news, including this Time article, pardon the producers if they say they told you so…
This marks this sixth consecutive year that Warner Bros. has been the official Comic-Con hotel keycard sponsor — and the first time that a single show has been selected to make its presence known … virtually everywhere!
Person Of Interest returns for its third hotly anticipated Comic-Con panel session on Saturday, July 20, with executive producers Jonathan Nolan and Greg Plageman joining members of the cast (attendees to be announced)
Fans of the show can now catch up on the first two seasons on digital download (in standard and high definition) through all online retailers, including iTunes and Amazon Instant Video. Additionally, the complete second season of Person of Interest will be available on Blu-ray™ Combo Pack and DVD on September 3, 2013.
Person of Interest returns for a third season on September 24, airing on a new day and at a new time: Tuesdays at 10/9c on CBS
About Person of Interest
Winner of the 2012 People's Choice Award for Favorite New TV Drama, Person of Interest stars Jim Caviezel (The Thin Red Line, The Prisoner) as John Reese, a former CIA agent who teams up with reclusive billionaire and computer genius Harold Finch, portrayed by Emmy® winner Michael Emerson (Lost). The crime thriller follows Reese and Finch as they set out to prevent violent crimes with high tech surveillance and their own brand of vigilante justice. Reese's special training in covert operations appeals to Finch, a software genius who invented a program — aka the Machine — that can identify people soon to be involved in violent crimes. Tapping into ubiquitous surveillance feeds throughout the city, the two work outside of the law, combining Reese's black ops skills with Finch's technological prowess and unlimited wealth to unravel the mystery of the person of interest, and stop the crime before it happens.
Reese's actions draw the attention of the NYPD, including by-the-book homicide Detective Joss Carter (Academy Award® nominee Taraji P. Henson – The Curious Case of Benjamin Button) and the morally compromised Detective Lionel Fusco (Kevin Chapman – Mystic River). With infinite crimes to investigate, Reese and Finch find that the right person, with the right information, at the right time, can change everything.
Person of Interest finished the 2012–13 season as TV's third most-watched drama (behind only NCIS and NCIS: Los Angeles), averaging 16.196 million viewers per episode, a +12% increase above the show's previous season (14.520 million). (Source: Nielsen Galaxy Explorer, Most Current, 9/24/12–5/22/13 vs. 9/19/11–5/23/12.)
Created by Jonathan Nolan (The Dark Knight trilogy), the series is executive produced by J.J. Abrams (Revolution, Fringe, Lost), Nolan, Greg Plageman (Cold Case) and Bryan Burk (Revolution, Fringe, Lost). Person of Interest is produced by Bonanza Productions Inc., in association with Bad Robot Productions and Warner Bros. Television.
Press Release:
THE BIG BANG THEORY BOLDLY GOES WHERE NO MAN HAS GONE BEFORE WITH LIMITED EDITION CO-BRANDED THE BIG BANG THEORY/STAR TREK™ AND THE BIG BANG THEORY/DC COMICS MERCHANDISE
SUPPORTING THE NEW COLLECTIONS, WARNER BROS. TEAMS UP WITH HOT TOPIC TO OFFER THE BIG BANG THEORY ULTIMATE FAN GIVEAWAY IN THEIR SECOND ANNUAL COMIC-CON SWEEPSTAKES
Fans Will Have a Chance to Win a "BIG BANGtastic" Trip to Comic-Con International: San Diego And Other Great Prizes, Including $500 Gift Cards from Hot Topic
Burbank, Calif. (May 14, 2013) – In a bold twist to bring The Big Bang Theory to a new frontier, Warner Bros. and CBS Consumer Products are launching an exclusive, limited edition co-branded collection of The Big Bang Theory/Star Trek merchandise for the first-time ever that includes Leonard, Sheldon, Howard and Raj's preferred version of "Rock, Paper, Scissors, Lizard Spock" themed product, as well as t-shirts and Funko bobble-heads featuring characters in Starfleet uniforms. This new co-branded collection of merchandise will be available only at Hot Topic stores nationwide and HotTopic.com from now until July. Hot Topic will also be the exclusive home to a new, limited edition The Big Bang Theory/DC Comics t-shirt, featuring Leonard, Sheldon, Howard and Raj in their favorite DC Comics Super Hero costumes.
In support of these exciting new collections, Warner Bros. Consumer Products and Warner Bros. Domestic Television Distribution have teamed up with Hot Topic to celebrate The Big Bang Theory airing 5 Nights a Week (check www.BigBangWeeknights.com for local listings) in off-network syndication. The partnership offers a second annual sweepstakes inviting fans to enter the "Ultimate Fan Giveaway" for an opportunity to attend the biggest pop culture convention in the world – the legendary Comic-Con in San Diego. Fans will also have the chance to win many great prizes, including the special edition DC Comics t-shirt and $500 Hot Topic gift cards. This year's partnership is offering an even bigger bang with a larger collection of exclusive Big Bang merchandise at Hot Topic locations nationwide.
From Monday, May 20, through Friday, May 31, avid fans and pop culture junkies can enter the contest either by watching The Big Bang Theory every weeknight in syndication (in select markets) and identifying Sheldon's special Hot Topic t-shirt online at www.BigBangContest.com or by visiting any Hot Topic store nationwide now through Sunday,
June 2, signing up to be a HT+1 rewards member and purchasing any The Big Bang Theory t-shirt, including the exclusive "Big Bang DC Comics" Comic-Con edition t-shirt only at Hot Topic. One lucky fan will receive an all-expenses paid, fun-filled getaway for two to Comic-Con in San Diego, CA – including two tickets to Comic-Con, round-trip airfare, three days/two nights hotel accommodations, ground transportation and special access to various events at the Warner Bros. booth.
"We're excited to pay-it-forward to The Big Bang Theory's legions of fans in this perfect alliance that brings together this pop-cult favorite with the iconic brands of Star Trek and DC Comics," said Karen McTier, Executive Vice President, Domestic Licensing and Worldwide Marketing for Warner Bros. Consumer Products. "We had such a great fan reaction and experience with this promotion last year that we're excited to team up with Hot Topic again to bring fans a bigger bang offering and more chances to win another out-of-this-world opportunity."
"We are thrilled to renew our partnership with Warner Bros. on such an exciting merchandise program," said Cindy Levitt, VP and General Merchandise Manager at Hot Topic. "We feel like we've created the perfect geek storm by combining The Big Bang Theory, Star Trek, DC Comics, Comic-Con and Hot Topic in this program and promotion, and we couldn't be happier that we can make it happen for our customers."
"We approach each and every initiative we endeavor from the perspective of giving back to the fans," said Lisa Gregorian, Chief Marketing Officer, Warner Bros. Television Group. "We know that fans of The Big Bang Theory and fans of Star Trek are going to go mad for this co-branded merchandise. We set out to deliver a truly unique co-branded opportunity and are thrilled to have gone where no man – or woman – has gone before."
As part of the promotion, Hot Topic stores will also feature an exciting array of merchandise from The Big Bang Theory spanning apparel, accessories, gift and novelties, and toys, including Funko bobbleheads of fan-favorites Leonard, Sheldon and Howard in Starfleet uniforms.
The more viewers tune in to The Big Bang Theory 5 Nights a Week on broadcast television (check www.BigBangWeeknights.com for local listings) and go to a Hot Topic retail store, the more chances they have to win.
In addition to the trip to Comic-Con, Warner Bros. Domestic Television Distribution and Hot Topic are offering viewers in 47 markets the opportunity to also win local prize packages that include $500 gift cards from Hot Topic. Markets include:
WPCH – ATLANTA, GA
KTBC – AUSTIN, TX
KBAK – BAKERSFIELD, CA
WUTB – BALTIMORE, MD
WTTO – BIRMINGHAM, AL
WCCB – CHARLOTTE, NC
WFLD – CHICAGO, IL
WSTR – CINCINNATI, OH
WACH – COLUMBIA, SC
KDFW – DALLAS, TX
KDVR – DENVER, CO
WKBD – DETROIT, MI
KFOX – EL PASO, TX
KMPH – FRESNO, CA
WWMT – GRAND RAPIDS, MI
WXLV – GREENSBORO, NC
WHNS – GREENVILLE, SC
WTIC – HARTFORD, CT
KHON – HONOLULU, HI
WTTV – INDIANAPOLIS, IN
WJXT – JACKSONVILLE, FL
WBXX – KNOXVILLE, TN
KVMY – LAS VEGAS, NV
KTTV – LOS ANGELES, CA
WBFS – MIAMI, FL
WDJT – MILWAUKEE, WI
WFTC – MINNEAPOLIS, MN
WNAB – NASHVILLE, TN
WTVZ – NORFOLK, VA
KOKH – OKLAHOMA CITY, OK
WOFL – ORLANDO, FL
WPHL – PHILADELPHIA, PA
KUTP – PHOENIX, AZ
WPGH – PITTSBURGH, PA
WPFO – PORTLAND, ME
WSJP – PUERTO RICO
WLFL – RALEIGH, NC
WFXR – ROANOKE, VA
KABB – SAN ANTONIO, TX
KICU – SAN FRANCISCO, CA
KCPQ – SEATTLE, WA
WCWW – SOUTH BEND, IN
KPLR – ST. LOUIS, MO
WMOR – TAMPA, FL
KQCW – TULSA, OK
WTTG – WASHINGTON, DC
About THE BIG BANG THEORY: Comedy has Expanded to 5 Nights a Week (check www.BigBangWeeknights.com for local listings)! The Big Bang Theory is the story of two brainy best friends who could tell you anything you want to know about quantum physics – but when it comes to dealing with everyday life here on Earth, they're lost in the cosmos. Leonard (Johnny Galecki) and Sheldon (Jim Parsons) are brilliant physicists – wizards in the laboratory, but socially inept outside of it. Enter their beautiful, free-spirited neighbor, Penny (Kaley Cuoco), who aims to teach them a thing or two about life. While Leonard spends his days looking for love, Sheldon is quite content video-chatting with platonic partner Amy Farrah Fowler (Mayim Bialik) or playing Star Trek 3D chess with their ever-expanding universe of friends, including fellow Caltech scientists Rajesh Koothrappali (Kunal Nayyar), Howard Wolowitz (Simon Helberg), and Howard's new wife, the adorable microbiologist Bernadette (Melissa Rauch). www.BigBangWeeknights.com
Created by Chuck Lorre (Two and a Half Men) and Bill Prady (Dharma & Greg), who also serve as executive producers along with showrunner Steven Molaro (The Class), The Big Bang Theory stars Emmy® and Golden Globe nominee Johnny Galecki (Roseanne), Emmy® and Golden Globe winner Jim Parsons (The Muppet Movie), Kaley Cuoco (Hop), Simon Helberg (A Serious Man), Kunal Nayyar (Ice Age: Continental Drift), Mayim Bialik (Blossom) and Melissa Rauch (True Blood). The Emmy®-nominated series is from Chuck Lorre Productions, Inc. in association with Warner Bros. Television.
THE BIG BANG THEORY and all related characters and elements are trademarks of and ©Warner Bros. Entertainment Inc.
(s12)
About STAR TREK: With an over 45-year history and more than 700 hours of content from six television series and twelve movies, Star Trek is an entertainment and pop culture icon across the world. With its visionary philosophy and thrill for adventure, the Star Trek universe only continues to broaden into new territories. Star Trek is licensed by CBS Consumer Products.
™ & ©2013 CBS Studios Inc. STAR TREK and related marks are trademarks of CBS Studios Inc. All Rights Reserved.
About Warner Bros. Consumer Products
Warner Bros. Consumer Products, a Warner Bros. Entertainment Company, is one of the leading licensing and retail merchandising organizations in the world.
About Hot Topic
Hot Topic is a mall- and web-based specialty retailer beloved by rebellious and expressive teens for more than 20 years. Hot Topic offers music and pop culture junkies band-related apparel and accessories, licensed merchandise, and fashion apparel and accessories. Hot Topic operates 621 stores in the U.S., Canada and Puerto Rico and an online store at hottopic.com. Find Hot Topic on Twitter (twitter.com/hottopic), Facebook (facebook.com/hottopic), YouTube (youtube.com/hottopic) and Instagram (instagram.com/hottopic).
About CBS Consumer Products
CBS Consumer Products manages worldwide licensing and merchandising for a diverse slate of television brands and series from CBS, CBS Television Studios and CBS Television Distribution, as well as from the company's extensive library of titles, Showtime and CBS Films. Additionally, the group oversees online sales of programming merchandise. For more information, visit www.cbsconsumerproducts.com.
Press Release:
Walmart Gives Superman Fans Exclusive Access to the First Screening of "Man of Steel"
Tickets to the June 13 advance screening on sale at Walmart on May 18
BENTONVILLE, AR, and BURBANK, CA – April 24, 2013 – Superman fans, mark your calendars! Walmart announced today that it has partnered with Warner Bros. to give its customers exclusive access to see Warner Bros. Pictures and Legendary Pictures' "Man of Steel" in theaters nationwide before the film's official release. This program marks the first time in entertainment history that a studio has partnered with a retailer to provide such an opportunity for fans.
Tickets for the exclusive screening of "Man of Steel," will go on sale in more than 3,700 Walmart stores starting at 8 a.m. on May 18. Customers will be able to purchase up to four tickets per visit, and have the option to choose between 2D or 3D showings, where applicable. The advance screening will take place in selected local theaters nationwide at 7 p.m. on June 13.
"We couldn't be more excited to give our customers and associates early access to one of the summer's most anticipated movies," said Laura Phillips, senior vice president of entertainment at Walmart U.S. "Walmart's premiere of 'Man of Steel' once again proves we have the ambition and studio partnerships to develop unique retail programs that give our customers access to the movies they love."
Dan Fellman, Warner Bros. Pictures president of domestic distribution, stated, "We are extremely pleased to partner with Walmart on this unprecedented initiative, which will allow devoted fans to be among the first to see 'Man of Steel.'  We know the movie delivers and believe this unique partnership will kick off strong word of mouth that, thanks to the reach and immediacy of social media, will propel moviegoers to theaters nationwide."
The director of "Man of Steel," Zack Snyder, added, "We have appreciated the unwavering support of the fans, and can't wait to share the movie with them. I am thrilled that Walmart is giving us this terrific opportunity to open the doors early."
Mobile App, Merchandise and More
In addition to being the first among their friends to see "Man of Steel," Walmart customers can also take advantage of the following offers:
Priority Purchase of Blu-ray Combo Pack or HD Digital Download:  Each ticket bought at Walmart will feature a code on the back that allows customers to pre-order their own Blu-ray Combo Pack or HD Digital Download of "Man of Steel," which will contain exclusive film content.
Official "Man of Steel Experience" Mobile App:  Fans can bring Superman to life with the official "Man of Steel Experience" augmented reality app. The app allows customers to take photos with the superhero, as well as unlock special photo frames by pointing their phone at "Man of Steel" signage in their local Walmart. To download the app please visit: Apple App Store or Google Play.
Press Release:
"Behind every great hero, there are a whole lot of villains." – Geoff Johns
NEW DOCUMENTARY NECESSARY EVIL: VILLAINS OF DC COMICS
LEGENDARY VILLAIN CHRISTOPHER LEE NARRATES
BURBANK, CA (March 26, 2013) – The Joker, Bane, Deathstroke, Darkseid and Lex Luthor — the scariest and most menacing villains in DC Comics' universe — take center stage in a brand new full-length documentary from Warner Bros. Home Entertainment (WBHE) and DC Entertainment (DCE). The joint announcement was made today by WBHE and DCE.
Christopher Lee, who has played the villain more times than almost any other actor, will provide his unique voice as narrator. His roles in more than 200 films include star turns as Dracula, the Mummy and Frankenstein's monster in Hammer horror classics, Count Dooku in Star Wars, and Saruman in The Lord of the Rings trilogy and The Hobbit films.
In this new documentary film, the malevolent, sometimes charismatic figures from DC Comics' hallowed rogues' gallery will be explored in depth, featuring interviews with the famed creators, storytellers and those who have crafted the personalities and profiles of many of the most notorious villains in comic book history.
Production begins March 30, to coincide with WonderCon at the Anaheim Convention Center March 29-31.
Noted Geoff Johns, best-selling author and DCE's Chief Creative Officer, "DC Comics is known for many things, but chief among them is the compelling, diverse and legendary society of super-villains who populate its universe. From the monstrous Solomon Grundy to the brutal Black Adam to the charismatic Sinestro, there is no single greater collection of villainy in all of fiction. These villains are hugely popular comic book characters in their own right and, quite honestly, many are often times more popular than some of our iconic super heroes."
Jeff Baker, WBHE's Executive Vice President and General Manager, Theatrical Catalog, added "The DC brand is enjoying a huge resurgence thanks to the entire leadership team at DC Entertainment which is driving opportunities not only for new theatrical properties, but for brand extensions as well. This new documentary will reinforce this evolving strategy and leverage DC assets across the entire studio landscape."
Johns also reiterated that this year's initiative will be a turning point for DCE. "It's time we deconstruct these complex and sinister antagonists and celebrate the role they play as the engine and energy of some of the greatest storytelling in comics. 2013 is the Year of the Villain at DC Comics."
On Saturday, March 30th, fans attending WonderCon are encouraged to come dressed as their favorite DC Comics' villain for an opportunity to be featured in the documentary Fans can join DCE at WonderCon at booth 801 with filming to take place Saturday from 10:30am – Noon. To find out more about where and what time to meet in the WonderCon DC Entertainment booth, keep checking the DC Comics Facebook (Facebook.com/DCComics) and Twitter sites (@DCComics).
Participation in upcoming 'cons' (Comic-Con International: San Diego and New York Comic Con) is anticipated, with a full release scheduled for later in the year. ­­­­­­