Actor DAVID MORRISSEY will sign at Forbidden Planet Liverpool on Saturday 22nd February from 12:00 – 14:00 in support of Friends of Observatory School.
Liverpool born David Morrissey began his acting career at the town's celebrated Everyman Theater. He has appeared in many movies and TV Productions, including Blackpool, Red Riding, Sense and Sensibility, and the 2008 Christmas special of Doctor Who as Jackson Lake, a man who believed himself to be The Doctor!
He is currently gaining a huge American fan base for his appearance as 'The Governor' in the massively popular TV series The Walking Dead.
Friends Of The Observatory School (FOTOS) was set up in March 2012 in order to raise funds for activities that would broaden the horizons of the school's special needs pupils with social, emotional and behavioural difficulties. These activities include holidays, after school rewards activities such as horse riding, make-up classes, music lessons and drama workshops. FOTOS has funded special treats such as a whole school trip to the pantomime, a music day, a trip to the cinema and artist workshops and are currently raising funds for a new school minibus.
See more information on The Observatory School here.
Please Note: The event is not ticketed and is first come first served. David Morrissey will ONLY be signing an exclusive autograph card, available at the event at a cost of £10.00. One card / signature per customer. Buying a card also entitles the customer to one photograph with David Morrissey. All money from the sale of the cards will go to benefit The Observatory School.
Forbidden Planet: Liverpool
92 Bold Street, Liverpool, L1 4HY
0151 707 1491
Press Release:
Hero Initiative celebrates the massive success of The Walking Dead 100 Project with two great book-signing events in the Greater Toronto Area.
On Saturday, November 23, Stadium Comics at 499 Main St. in Brampton, Ontario in the Shopper's World Mall will host artists Leonard Kirk, Agnes Garbowska and Richard Zajac from 10:00 a.m. to 5:00 p.m.
Just four days later on Wednesday, November 27, Paradise Comics at 3278 Yonge St. in Toronto will host Dale Keown, Leonard Kirk, Ty Templeton and Jim Zub from 3:00 to 7:00 p.m.
Fans will be able to get signatures in The Walking Dead 100 Project, Hero's new 120-page art book featuring today's top artists and their take on the zombie-filled world of The Walking Dead, the cultural-sensation hit comic from Robert Kirkman and Skybound Entertainment. The book is available in softcover for $13, and limited edition hardcover for $25. Proceeds benefit Hero Initiative, the charity that helps comic book creators in medical or financial need.
About The Hero Initiative
The Hero Initiative is the first-ever federally chartered not-for-profit corporation dedicated strictly to helping comic book creators in need. Hero creates a financial safety net for yesterday's creators who may need emergency medical aid, financial support for essentials of life, and an avenue back into paying work. It's a chance for all of us to give back something to the people who have given us so much enjoyment.
Since its inception, The Hero Initiative has had the good fortune to grant over $500,000 to the comic book veterans who have paved the way for those in the industry today. For more information, visit www.heroinitiative.org or call 626-676-6354.
The first ever, and hopefully annual, Walker Stalker Convention was held this weekend (Nov. 1-3, 2013) at the Atlanta Convention Center at Americasmart in Atlanta, Georgia. The convention was the brain child of Walker Stalker podcast hosts, Eric Nordhoff and James Frazier. The WSC brought in around 10,000 visitors. Not too shabby for their first at-bat.
I would like to give a big round of applause to everyone who had a hand in this event. There were a few minor hiccups, as can be expected at any convention. I heard a few grumblings about the lack of limitations at autograph tables (apparently, a guest at Andrew Lincoln's table had an obscene amount of items to be signed. A limit was later enforced as a result), and also some comments about the celebrity panels being conducted in a different building. Celebrity schedule conflicts are unpredictable and not the fault of any convention personnel. It's all in how they handle such surprises. Guests like Emma Bell and Lauren Cohan, unfortunately had to cancel. Norman Reedus had to cut his Sunday appearance in half. And Andrew Lincoln could only appear for one day. However, Lincoln and Reedus stayed long after they were supposed to on Saturday evening, and didn't leave until all fans in their queue had received and autograph. Class acts! Personal con experience and all things considered, those were indeed minor hiccups.
From the creators to the volunteers, you did a fantastic job this weekend, and I am grateful to have been given the opportunity to be a part of it. On behalf of Convention Scene and Walker Bait Productions, job very well done! Thank you!
The WSC featured more than 40 celebrity guests, including almost every member of The Walking Dead cast, as well as nearly 100 vendor booths. The vendors ranged from comic and toy collectibles to an on-site tattoo shop. A special VIP Meet & Greet and Zombie Bash were held on Saturday evening, along with a private concert featuring Emily Kinney, "Beth" on The Walking Dead. The WSC even provided a "Virtual Queue" for those who did not want to spend all day standing in line for autographs. You simply checked in at the Virtual Queue booth and when it was time for you to actually get into a celebrity line, a member of the volunteer staff would send you a text message. The concept reminded me of the "Fast Pass" access at Walt Disney World. Still, I chose to get the full experience, replete with eavesdropping and people watching, by standing in every line I could. Even with the wait time, the volunteers kept everything moving smoothly and efficiently. No complaints here.
Each celebrity guest that I spoke to had very positive things to say about WSC. "This Con is unique because of the focus on The Walking Dead and zombie culture," said actor Daniel Thomas May ["Allen" on The Walking Dead]. "There are just so many cast members and spectacular fans. You know, we use the hashtag on Twitter #TWDFamily for the The Walking Dead Family, and that's what this whole weekend has felt like. We're all just a bunch of family and it's so great."
Andrew "Drone" Cossan, who has done illustrations for LUCASFILM and TOPPS, was on hand at Marc Draven's Ink-Fusion Tattoo booth creating custom designs for guests looking for a permanent WSC souvenir. "I can crank out some pieces very quickly," he said. "It's easy to make con fans happy because you are giving them a character that they like and want." When asked about his WSC experience, Drone said, "It's been quite a trip. Compared to other cons, I am very impressed with the overall organization. They've been very accommodating and good about checking in on vendors and talent to make sure that everything is going smoothly and our needs are being met. And that's a good sign."
While I did have an opportunity to meet Greg Nicotero, one of my personal highlights was speaking with a different member of zombie culture royalty, the lovely Judith O'Dea. For the uninitiated, O'Dea portrayed the iconic "Barbara" in the film that started it all, George Romero's 1968 classic The Night of the Living Dead. "I have had an absolute ball," she gushed. "At the time, none of us who were a part of the film had any idea the effect it would have [on pop culture] and I am just in awe that we really were, and are a part of what has become The Walking Dead. And I would like to say how grateful I am to the fans for their long time support.  It's hard to believe, but it is all so exciting."
Crissy Thomas, founder of fan site BitchinDixons.com met up with other Bitchin Dixon members who had traveled from near and far to meet Norman Reedus, "Daryl" on The Walking Dead. And for those members who couldn't make the journey, Crissy collected gifts, cards, and letters that they had shipped to her and presented them to Reedus on their behalf. Thomas hopes to have even more Bitchin Dixons attend next year.
Did you hear that, Walker Stalkers? The fans and guests have spoken. It's time to start preparing for next fall! Congratulations.
The following images are (c)WalkerBaitProductions ** Additional images, including celebrity panels, can be found by visiting the Walker Stalker Con Flickr site.
CHARLIE ADLARD appears at the Forbidden Planet London Megastore on Saturday 2nd November from 1 – 2pm to sign THE ART OF CHARLIE ADLARD (Image Comics).
Comics superstar Charlie Adlard has defined the look of the modern day horror comic with his work on The Walking Dead.
This oversized art book delves into the full history of Charlie's amazing career, including an unprecedented look at the making of his 100th issue of The Walking Dead.
Charlie Adlard's original art is available for sale through Splash Page Comic Art. Click the link for details!
Forbidden Planet London Megastore
179  Shaftesbury Avenue, London, WC2H 8JR
Rock And Shock returns for their Tenth Anniversary show on October 18-20, 2013 at the DCU Center and Worcester Palladium! Guests include Robert Englund, Robert Patrick, Michael Rooker, John Ratzenberger, and many more! Featuring a Kevin Smith & Jason Mewes screening and performances by Danzig,  Twiztid with The R.O.C., Otep, Butcher Babies, and more!!
The convention doors will be open to the public at 5pm on Friday, October 18 and at 11am on Saturday, October 19 and Sunday, October 20 at the DCU Center located at 50 Foster St, Worcester, MA 01608.
Nightly live performances will take place at the Worcester Palladium, located at 261 Main Street, Worcester, one block over from the DCU Center. Door times for these events are listed below.
___________________________________________________
Guests Include:
Robert Englund
Robert Patrick
Michael Rooker
John Ratzenberger
Katharine Isabelle
Jordan Ladd
Twiggy Ramirez
Kane Hodder
Andrew Divoff
Jennifer Jostyn
Lew Temple
IronE Singleton
Jack Ketchum
Joe Knetter
Sarah French
James Balsamo
Gangrel
Maria Kanellis
and more TBA!
___________________________________________________
Performances by:
Thursday, 10/17 (pre-party) – Between the Buried & Me with The Faceless, The Contortionist, and The Safety Fire
Friday, 10/18 – Kevin Smith & Jason Mewes – Jay & Silent Bob's Super Groovy Cartoon Movie and Q&A
Saturday, 10/19 – Danzig with Doyle, Otep, Butcher Babies, Texas Hippie Coalition, Stolen Babies, and A Pale Horse Named Death
Sunday, 10/20 – Twiztid with The R.O.C., Blaze, Madchild, and Aqualeo
___________________________________________________
VIP PACKAGE
VIP packages are limited and are available at tickets.com and the Palladium box office.
($175 advance only)
Includes:
*Access to the movie on Friday and the concerts at The Palladium on Saturday & Sunday, as well as ALL 3 DAYS of the Rock & Shock Horror Convention next door @ The DCU Center.
*Access to the 10/17 Rock and Shock Pre-Party Concert w/ Between The Buried And Me
*Special Seating at the Jay & Silent Bob Super Groovy Cartoon Movie on Friday, Oct. 18th (Note: THE MOVIE ON FRIDAY IS RATED R. People under the age of 18 should have a parent or guardian with them for this event.)
*Access to the After Party on Friday, Oct. 18th (takes place at the Palladium after the movie)
*Reserved Seating at the Q&A's and Panels at the convention
*Special Laminate
*Exclusive R&S T-Shirt
*Swag Bag
*All VIP PACKAGE PURCHASERS WILL BE ENTERED TO WIN TICKETS TO MEET KEVIN SMITH & JASON MEWES
***Customers will be contacted via email about a week before the event with more info.***
___________________________________________________
CONVENTION ONLY TICKETS
Convention ONLY tickets are available at Ticketmaster, DCU Center Box Office & Palladium Box Office
3-day convention (ONLY $50 advance, $60 day of)
Friday only convention ($20 advance, $25 day of)
Saturday only convention ($20 advance, $25 day of)
Sunday only convention ($20 advance, $25 day of)
___________________________________________________
COMBO TICKETS – DCU CONVENTION CENTER & THE PALLADIUM
Combo tickets are available at tickets.com and the Palladium box office.
WEEKEND PASS – Convention / Movie / Concert ($90 advance / $105 day of)
***General Admission FLOOR Seating for the Movie on Friday, Oct. 18th Only, Saturday & Sunday events are both General Admission***
WEEKEND PASS – Convention / Movie / Concert ($80 advance / $95 day of)
***General Admission BALCONY Seating for the Movie on Friday, Oct. 18th Only, Saturday & Sunday events are both General Admission***
FRIDAY ONLY – Convention / Movie Combo – ($45 advance, $50 day of)
***FRIDAY ONLY GENERAL ADMISSION BALCONY SEATING *** Convention / Movie Combo JAY & SILENT BOB'S SUPER GROOVY CARTOON MOVIE and the JAY AND SILENT BOB GET OLD PODCAST w/ Kevin Smith and Jason Mewes
FRIDAY ONLY Convention / Movie Combo – ($35 advance, $40 day of)
***FRIDAY ONLY GENERAL ADMISSION FLOOR SEATING *** JAY & SILENT BOB'S SUPER GROOVY CARTOON MOVIE and the JAY AND SILENT BOB GET OLD PODCAST w/ Kevin Smith and Jason Mewes
SATURDAY ONLY (Convention + General Admission for Danzig – $35 advance, $40 day of)
SUNDAY ONLY (Convention + General Admission for Twiztid – $25 advance, $30 day of)

A picture from Walking Dead Season 4 Episode 1. (Photo taken by Gene Page)
The cast of the AMC hit show The Walking Dead, including Andrew Lincoln, Norman Reedus, Steven Yeun, Lauren Cohan, Danai Gurira, David Morrissey, Chad Coleman, Scott Wilson, Executive Producer and Showrunner Scott Gimple, Executive Producer Gale Anne Hurd, Executive Producer Robert Kirkman, Executive Producer David Alpert and Executive Producer and Special Effects Make-up Supervisor Greg Nicotero spoke at SDCC 2013, and Convention Scene's own Richard Oh was there.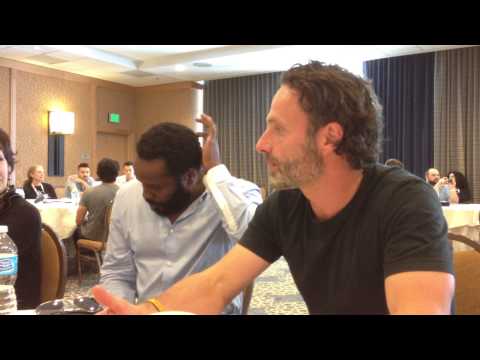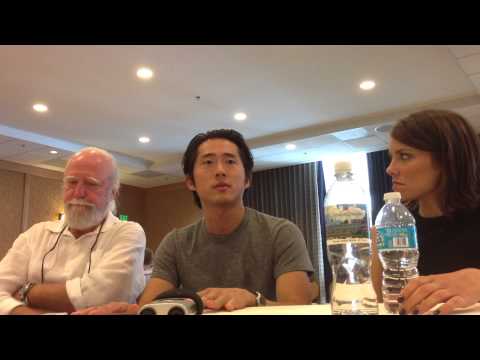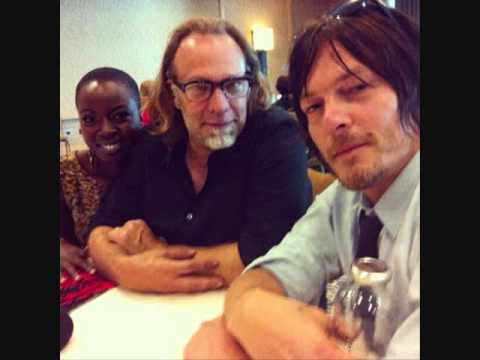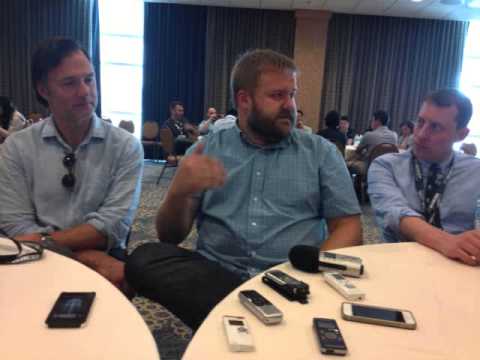 Artist Tony Moore signs at Collectibles Etc on Saturday June 8th from noon till 8:00 pm for the release of the new Deadpool collection! There will be a limited edition print for the first 100 people through the door! He will also draw head sketches for $20 apiece!
Collectibles Etc
115 N Locust Hill Dr, Lexington, KY 40509
859-269-6633
Sina Grace, Todd Nauck, and Jason Reeves appear at the Gusford Gallery on Friday May 31, 2013 from 6:00 – 9:00 PM!
Press Release:
Robert Kirkman's Eisner Award-winning comic book series, The Walking Dead, celebrated its 100th issue last July and the issue became the top-selling comic book of 2012. Last year, Skybound and The Hero Initiative gave the comic industry's leading artists and visionaries over 100 blank covered issues of The Walking Dead #100 to create a set of remarkable artwork originals to commemorate this special issue of the groundbreaking Skybound/Image Comics series. Regular The Walking Dead series artist Charlie Adlard is among the contributors and now, for the first and last time ever, all 106 of the original sketch covers will be on display together — but for one night only. All of the artists came together to benefit The Hero Initiative, the comic book industry's non-profit corporation helping comic creators in need. While The Walking Dead continues to break records in every form of media, it all started with the comic book and that will be celebrated at this special gallery show and auction.
To enhance the experience for attendees, The Walking Dead #100 original sketch cover artists Sina Grace (Not My Bag), Todd Nauck (Invincible Universe), and Jason Reeves (F-OO Fighters) will be in attendance to answer questions about their covers.
On Friday, May 31 at GUSFORD | los angeles from 6:00 – 9:00 PM, 7016 Melrose Avenue, Los Angeles, all comic fans are welcome to witness history in the making and in some cases, take a piece of it home. In addition to the once-in-a-lifetime experience of seeing all The Walking Dead #100 original sketch covers together for the first time ever, four covers will also be auctioned to benefit the industry's favorite charity at the same time. Two covers will be auctioned via eBay during the course of the event, and attendees can bid via their own mobile devices. Another cover will be auctioned live, on-site for attendees. And in an unprecedented move, a fourth cover will be created live that night by artist Todd Nauck for auction during the event. All attendees at the GUSFORD event can watch Nauck, a comic master, live at work during the event as he creates the final and 106th original sketch cover.
The remainder of the covers will be auctioned off via eBay starting June 4.
Amazingly enough, there is no cost to attend this comic lover's dream event. It's free and open to the public but if you feel like more celebrating, there will also be a cash bar in place and zombie-styled treats courtesy of event collaborator and neighboring shop, Golden Apple Comics. We want you to save your money to bid on the covers instead of an entrance fee. The event is a gift from GUSFORD | los angeles and Skybound to benefit The Hero Initiative and the fine work they do as the first-ever federally chartered non-profit corporation dedicated to helping comic legends in need and providing a safety net for them.
For information on the event and auction, please visit www.heroinitiative.org or call 626/676-6354. You can always find information for everything related to The Walking Dead at www.Skybound.com and www.TheWalkingDead.com
LAUREN COHAN of The Walking Dead TV show will be taking photos at Boston Comic Con 2013 with a limited number of fans SATURDAY ONLY of the convention (April 20th).
This exclusive event will be limited to only 60 people.
The cost is $80 for one photo taken with you and Lauren by a professional photographer.  Your personal photo will be printed out and autographed for you. Get tickets while they last.  This will set out quick!
PHOTO OPS will take place on SATURDAY ONLY some time between 1:00 pm and 3:00 pm.
This ticket does NOT include admission to The Boston Comic Con. Admission tickets are sold separately.
Lauren Cohan will also be autographing either one personal item or stock photo at the show for $40 on both Saturday and Sunday at their tables. This will be on a first come first serve basis. Tickets for this can NOT be purchased in advance.  In other words, ya gotta stand in line!
**UPDATE: Jon Bernthal has cancelled his appearance at Boston Comic Con**
About Boston Comic Con:
The Boston Comic Con is a 100% independently run comic book show committed to bringing the biggest and best comic creators to New England. Run by fans for fans, Boston Comic Con is not affiliated with any other convention tour or corporate interests. Hosting over 40,000 square feet of vendors selling comic books, toys, posters, trading cards, and other pop culture memorabilia, this is a destination event for geeks of any stripe. Next year's convention will be held Saturday April 20th and Sunday April 21st opening at 10:00 am each day at the Hynes Convention Center, 900 Boylston Street, Boston, MA. For more information please go to our website at www.bostoncomiccon.com and follow us on Twitter (@BostonComicCon) and Facebook!
Boston Comic Con has announced their schedule for the 2013 convention! This year's show includes gaming, trivia contests, cosplay tutorials, concerts, and of course Q&A panels with some of the most talented comic creators in the industry plus media guests Jason David Frank (Power Rangers) and The Walking Dead's Lauren Cohan! Panels are free with paid admission. Get tickets either at the door or online at the link!
SATURDAY APRIL 20TH
Main Lobby Panel Room
All Age Comics
12:00pm-12:45pm
Shelli Paroline, Braden Lamb, Andy Price
Power Ranger Q&A
1:00pm–1:45pm
Jason David Frank
How To Draw Like A Bad Ass
2:00pm–2:45pm
Frank Cho
DC Artists
3:00pm-3:45pm
Tony Daniel, Tom Raney, Aaron Lopresti
Marvel Artists
4:00pm-4:45pm
Carlos Pacheco, Mark Bagley, Mike Choi, Nick Bradshaw, Lauren Sankovitch
Writing Comics
5:00pm-5:45pm
Bill Willingham, Steve Niles, Tim Seeley
Female Creators
6:00pm-6:45pm
Amy Reeder, Colleen Doran, Ming Doyle, Lauren Sankovitch
Panel Room 109
Who Wants to Be a Millionaire
12:00pm-12:45pm
Trivia game about comics, sci-fi, TV, movies, etc.
Comics and Comics
2:00pm–2:45pm
Popular stand up comedy team showcases their Geek based humor
Nashville Superman
3:00pm–3:45pm
Country music singer, Allen Shervelle, sings songs about Superman
Panel Room 109
Meet The Legions
4:00pm-4:45pm
Star Wars 501st cosplay organization
Anime Trivia
5:00pm-5:45pm
Hosted by Isis Kain, The Anime Trivia Mistress
Panel Room 110
How to Create Suspense in Comics
12:00pm-12:45pm
Hosted by Neil Gibson, creator of the best selling UK based comic series Twisted Dark
So You Want to Be a Comic Book Artist
1:00pm–1:45pm
Former Dark Horse Comics editor, Phil Amara, as well as creators Jack Purcell, Erik Carlson, and more
Stop Waiting and Make Your Comic!
2:00pm–2:45pm
How to turn your ideas into reality with George Homeless
How to Pitch Your Comic to Publishers
3:00pm–3:45pm
Hosted by Anthony Del Col, co-creator of Kill Shakespeare
Star Wars Origami
4:00pm-4:45pm
Learn how to make Star Wars origami
Sell Your Comic To UnCreate Comics
5:00pm-5:45pm
Sell your comic to on-line publisher UnCreate Comics
Yaya Han: Costumes & Cosplay
6:00pm-6:45pm
Yaya shows you how to take cosplay to a whole new level
SUNDAY APRIL 21ST 
Main Lobby Panel Room
Kicking Monkeys
11:00am-11:45am
Bill Willingham and Frank Cho unveil their new project
Spotlight: Mike Mignola
12:00pm–12:45pm
Hellboy creator Mike Mignola
Spotlight: Amanda Conner & Jimmy Palmiotti
1:00pm–1:45pm
DC artists and writer Amanda Conner and Jimmy Palmiotti
Costume Contest
2:00pm-3:45pm
Hosted by cosplay favorite Yaya Han
Walking Dead Q&A
4:00pm-5:00pm
Lauren Cohan
**UPDATE: Jon Bernthal has cancelled his appearance at Boston Comic Con**
Panel Room 109
Who Wants to Be a Millionaire
12:00pm-12:45pm
Trivia game about comics, sci-fi, TV, movies, etc.
Comics and Comics
2:00pm–2:45pm
Popular stand up comedy team showcases their Geek based humor
Nashville Superman
3:00pm–3:45pm
Country music singer, Allen Shervelle, sings songs about Superman
Meet The Legions
4:00pm-4:45pm
Star Wars 501st cosplay organization
Panel Room 110
Comic Art Auction
1:00pm-3:00pm
2013 GAMING SCHEDULE
Magic: the Gathering
Star City Games Invitational Qualifier
Date: Saturday April 20, 11am
Registration: April 20, 10am-11am
Entry: $25
Prize: Based on attendance
Magic: the Gathering
Gatecrash Sealed Deck Tournament
Date: Sunday April 21, 11am
Registration: April 21, 10am-11am
Entry: $25
Prize: Based on attendance
Magic: the Gathering
8-Player Side Events: Booster Draft
Date: Saturday & Sunday April 20 & 21, as filled
Entry: $15
Format: 8-player, single elimination
Prizes: 8-4 pack prizes
Magic: the Gathering
8-Player Side Events: Win-a-box
Date: Saturday & Sunday April 20 & 21, as filled
Entry: $15
Format: 8-player, single elimination
Prize: Booster box for winner
Magic: the Gathering
8-Player Side Events: Standard and Modern
Date: Saturday & Sunday April 20 & 21, as filled
Entry: $15
Format: 8-player, single elimination
Prize: TBD
Magic: the Gathering
4-Player Commander
Date: Saturday & Sunday April 21 & 22, as filled
Entry: $5
Prize: 2 booster packs each time you eliminate another player
Yu-Gi-Oh
16 Man Booster Box
Hours, Saturday April 21: 11am, 2pm, 5pm
Hours, Sunday April 22: 11am, 2pm
Entry: $5