Kate Mulgrew, star of Star Trek: Voyager and Orange Is the New Black, appears at the Hotel Julien on Wednesday April 22, 2015 at 7:00 PM to sign her new memoir BORN WITH TEETH! Your book, purchased at River Lights, will include your ticket to the Book Signing Line. The color on your ticket will correspond to your place in line – Red ticket holders will have their books signed first, then Blue, and so forth. The earlier the book is purchased, the better your place in line!
These tickets guarantee that you will have a place in line to have your books signed, however, this event is free and open to the public and seats are available on a first come, first-served basis.
Books with tickets are $28.00 plus tax. Discounts do not apply. No books/tickets will be reserved without prepayment.
Books/tickets will be available for pick-up beginning April 14 to April 22 (we close at 6pm). Picking up your book before the event is required. We will not transport your book to the event.
Books will also be available for purchase at the event. These will include a Signing Line Ticket.
Those attending without Signing Line Tickets may join in at the end of the line.
We cannot guarantee that they will get to the signing table before the end of the event.
Hotel Julien Ballroom
200 Main Street, Dubuque, IA 52001
Third Place Books presents Kate Mulgrew, star of Star Trek: Voyager and Orange Is the New Black, with her new memoir Born with Teeth to Town Hall Seattle on Tuesday, April 21 at 7:00 pm. Tickets available at the link…
Tickets include entry for ONE PERSON and ONE COPY of Born with Teeth.
Purchase only as many tickets as you need to gain entry for your party. Additional copies of Born with Teeth will be available for sale at the event.
Tickets will not be mailed, you will receive an order confirmation that
will act as your ticket with instructions.
Books will not be available for pick-up until the night of the event.
SIGNING GUIDELINES :
-LIMIT OF TWO BOOKS PER PERSON
-NO PHOTOS OR MEMORABILIA ALLOWED, PLEASE DO NOT BRING IT TO THE EVENT
-CANDID PHOTOS ONLY, MEANING NO POSED PICTURES. STAFF WILL BE AVAILABLE AT THE SIGNING TABLE TO TAKE PHOTOS OF YOU WHILE YOUR BOOKS ARE SIGNED, BUT THERE WILL BE NO PAUSING TO POSE FOR PHOTOS.
-NO GIFTS PLEASE.
Town Hall
1119 8th Avenue, Seattle, WA 98101
Actress Kate Mulgrew appears in conversation with Michelle Richmond on Sunday April 19, 2015 at 4:00 PM! Tickets ($40) are available at the link… Presented by Books Inc.
Press Release:
Spend Sunday Afternoon at The Chapel with Golden Globe and EMMY nominated actress Kate Mulgrew discussing her memoir, Born with Teeth, with Michelle Richmond, New York Times-bestselling author of Golden State.
We know Kate Mulgrew for the strong women she's played–Captain Janeway on Star Trek; the tough-as-nails "Red" on Orange is the New Black. Now, we meet the most inspiring and memorable character of all: herself. By turns irreverent and soulful, laugh-out-loud funny and heart-piercingly sad, Born with Teeth is the breathtaking memoir of a woman who dares to live life to the fullest, on her own terms.
Golden Globe and EMMY nominee, Kate Mulgrew is an acclaimed fan-favorite actress whose performances span across television, film and stage.
Mulgrew can currently be seen on Netflix's engrossing hit series, Orange is the New Black. On the comedic drama about a woman imprisoned for transporting drug money Mulgrew stars as "Galina 'Red' Reznikov" who runs the prison's kitchen. The series was renewed for a second season and is based on author Piper Kerman's memoir Orange is the New Black: My Year in a Women's Prison about her real life experiences.
Mulgrew is internationally recognized for her famous portrayal of "Captain Janeway," in which she made Star Trek franchise history as the first female captain in a leading role. She starred on Star Trek: Voyager for seven seasons and earned three Saturn Awards and one Satellite Award for her role. Mulgrew also went on to voice the character of Janeway in the PS2 and PC game Star Trek: Voyager Elite Force and Star Trek: Voyager Elite Force 2.
Mulgrew received a Golden Globe nomination when she starred in Mrs. Columbo, the spin-off of the popular detective series. Previously, she had received recognition for her portrayal of "Mary Ryan" on the ABC soap Ryan's Hope and on the ABC sitcom Heartbeat, which earned the People's Choice Award for "Best New Drama." Other notable television performances include Cheers, Murphy Brown, St. Elsewhere, NTSF: SD: SUV for Adult Swim, The Black Donnellys, Mercy, and Warehouse 13. Her film appearances include Star Trek: Nemesis, Throw Momma from the Train, A Stranger is Watching, and Remo Williams: The Adventure Begins.
A classically trained theatre actress, Mulgrew toured throughout the United States as "Katharine Hepburn" in her one-woman stage play, Tea at Five, for which she was nominated for an Outer Critics Circle and Lucille Lortel Award.
In 2008, Mulgrew was awarded with an Obie for her performance as "Clytemnestra" in Iphigenia 2.0, an exuberant and modern retelling of Iphigenia. Her other theatre credits include Equus, The American Dream, The Sandbox, Our Leading Lady, Black Comedy, Titus Andronicus, The Exonerated, The Royal Family, The Film Society, What the Butler Saw, Hedda Gabler, Measure for Measure, The Real Thing, Another Part of the Forest, Major Barbara, Antony and Cleopatra, and Somewhere Fun.
About Michelle Richmond: Michelle Richmond is the author of Golden State, the New York Times bestseller The Year of Fog, the novels No One You Know and Dream of the Blue Room, the award-winning story collection The Girl in the Fall-Away Dress, and most recently the story collection Hum.
Michelle has received the Catherine Doctorow Innovative Fiction Prize (2012), the Hillsdale Award for Fiction from the Fellowship of Southern Writers (2009), the Associated Writing Programs Award, and the Mississippi Review Fiction Prize.
Event Signing Guidelines:
– Kate Mulgrew will sign copies of her book only no photos or memorabilia.
– Due to time constraints, Kate Mulgrew will not be taking posed photographs. Candid photos from the signing line will be allowed.
– No gifts please.
The Chapel
777 Valencia Street, San Francisco, CA 94110
Press Release:
Music, science and film come together in the stunning, multimedia work, Icarus at the Edge of Time, a collaboration by Philip Glass, Brian Greene, David Henry Hwang, and Al+Al.
Icarus at the Edge of Time is a mesmerizing tale set in outer space about a boy who challenges the awesome might of a black hole. Based on the children's book by physicist Brian Greene, this futuristic re-imagining of the classic myth takes audiences of all ages on a whirlwind voyage through space and time to the very edge of understanding.
Featuring an original score by Philip Glass, script adapted by Brian Greene and David Henry Hwang, and film created and directed by Al + Al, Icarus at the Edge of Time has been performed by orchestras around the world and narrated by acclaimed performers, such as John Lithgow, Liev Schreiber, Kal Pen and LeVar Burton.
At UCF Celebrates the Arts 2015 on Friday, April 10, 2015 at 7:30 PM, Icarus at the Edge of Time will be narrated by Kate Mulgrew (Star Trek: Voyager; Orange is the New Black) and the score will be performed by the UCF Symphony Orchestra, under the direction of conductor Art Pranno.
Icarus at the Edge of Time was commissioned and produced by World Science Festival (New York) with the Alfred P. Sloan Foundation, and Southbank Centre (London), with the Royal Society. Co-commissioned by Associazione Festival della Scienza, the Baltimore Symphony Orchestra and Glasgow's Concert Halls. Executive Producers: Tracy Day, World Science Festival, New York; Gillian Moore, Southbank Centre, London.
Ticket are FREE and available at the link…
Dr. Phillips Center for the Performing Arts
445 S. Magnolia Ave., Orlando, FL 32801
844.513.2014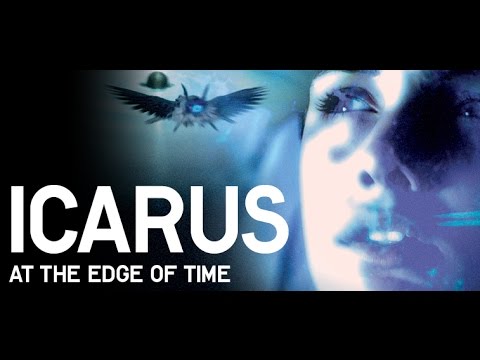 Press Release:
Kate Mulgrew, star of "Star Trek: Voyager" and "Orange is the New Black," joins Chicago Tribune "Balancing Act" columnist Heidi Stevens in conversation about Mulgrew's new memoir, "Born With Teeth" on Thursday, April 16, 2015 at 7:00 p.m. Known for playing strong women on screen, Mulgrew pulls back the curtain on her long career to reveal the personal struggles and triumphs behind it. A book signing will follow the discussion. Books will be available for purchase for $25 in advance with ticket for $28 at the event. Tickets available at the link…
About the speakers
Kate Mulgrew is an American actress, noted for her roles as Captain Kathryn Janeway on Star Trek: Voyager, Mary Ryan on Ryan's Hope, and, most recently, Galina "Red" Reznikov on Orange Is the New Black. She has performed in numerous television shows, theater productions, and movies. She is the winner of a Golden Satellite Award and a Saturn Award, and has been nominated for a Golden Globe and an Emmy. @thekatemulgrew
Heidi Stevens is a lifestyles reporter at the Chicago Tribune, where she reports on books, relationships, parenting and health. Stevens grew up in the northwest suburbs and studied journalism and political science at Eastern Illinois University. Her daily column runs Monday through Friday on chicagotribune.com and Sundays in the Tribune's Life & Style section. @HeidiStevens13
Venue SIX10
610 S. Michigan Ave Chicago, IL 60605
312.322.1725
Kate Mulgrew (Capt. Janeway on Star Trek: Voyager, Red on Orange Is The New Black) signs her new memoir BORN WITH TEETH at Barnes & Noble in Union Square on Wednesday April 15, 2015 at 7:00 PM.
Barnes & Noble – Union Square
33 East 17th Street, New York, NY 10003
212-253-0810
BEVERLY HILLS, CA, FEBRUARY 12, 2014– The Paley Center for Media today announced the full lineup of special guest panelists scheduled to appear forthe 31st annual ultimate TV fan festival, PALEYFEST: The William S. Paley Television Festival, which will take place March 13-28, 2014 at the Dolby Theatre at Hollywood & Highland.
The annual two week event will host more than 200 of the hottest stars and creative talents in media and will feature two reunion events: a 10th anniversary Lost reunion on March 16 and a Veronica Mars series reunion (the day prior to the March 14 nationwide release of the series-inspired movie), as well as honor standout series including Orange Is the New Black, How I Met Your Mother Farewell, Pretty Little Liars, Parks and Recreation, Sleepy Hollow, Mad Men, The Vampire Diaries, The Originals, Marvel's Agents of S.H.I.E.L.D., Masters of Sex, The Mindy Project, Community, Veep, and American Horror Story: Coven.
The full PALEYFEST 2014 panelist lineup is as follows (panelists to appear schedule permitting), plus additional panelists to be announced:
Thursday, March 13, 2014: Opening Night Presentation:Veronica Mars (7:00 pm)
Moderator: Alan Sepinwall, Television Critic, HitFix.com
Rob Thomas, Creator & Executive Producer
Kristen Bell, "Veronica Mars"
Jason Dohring, "Logan Echolls"
Enrico Colantoni, "Keith Mars"
Chris Lowell, "Stosh 'Piz' Piznarski"
Ryan Hansen, "Dick Casablancas"           
Percy Daggs III, "Wallace Fennel"
Additional panelists to be announced.
Friday, March 14, 2014,Orange Is the New Black (7:00 pm)
Moderator: TBA
Taylor Schilling, "Piper Chapman"
Jason Biggs, "Larry Bloom"
Laura Prepon,"Alex Vause"
Natasha Lyonne, "Nicky Nichols"
Kate Mulgrew, "Galina 'Red' Reznikov"
Danielle Brooks, "Tasha 'Taystee' Jefferson"
Uzo Aduba, "Suzanne 'Crazy Eyes' Warren"
Taryn Manning, "Tiffany 'Pennsatucky' Doggett"
Yael Stone, "Lorna Morello"
Laverne Cox, "Sophia Burset"
Michael Harney, "Sam Healy"
Lorraine Toussaint, "Vee"
Jenji Kohan, Creator & Executive Producer
Saturday, March 15, 2014,How I Met Your Mother Series Farewell
Moderator: TBA
Carter Bays, Creator & Executive Producer
Craig Thomas, Creator & Executive Producer
Pamela Fryman, Executive Producer
Josh Radnor, "Ted Mosby"
Alyson Hannigan, "Lily Aldrin"
Cobie Smulders, "Robin Scherbatsky"
Cristin Milioti, "The Mother"
Additional panelists to be announced.
Sunday, March 16, 2014:Pretty Little Liars (1:00 pm)
Moderator: Damian Holbrook, Senior Writer, TV Guide Magazine
Lucy Hale, "Aria Montgomery"
Troian Bellisario, "Spencer Hastings"
Shay Mitchell, "Emily Fields,
Sasha Pieterse, "Alison DiLaurentis"
Ian Harding, "Ezra Fitz"
Janel Parrish, "Mona Vanderwaal"
Keegan Allen, "Toby Cavanaugh"
I. Marlene King, Executive Producer
Oliver Goldstick, Executive Producer
Joseph Dougherty, Executive Producer

Sunday, March 16, 2014:Lost 10th Anniversary Reunion
Moderator: TBA
Josh Holloway, "James 'Sawyer' Ford"
Daniel Dae Kim, "Jin Kwon"
Yunjin Kim, "Sun Kwon"
Jorge Garcia, "Hugo 'Hurley' Reyes"
Emilie de Ravin, "Claire Littleton"
Ian Somerhalder, "Boone Carlyle"
Nestor Carbonell, "Richard Alpert"
Henry Ian Cusick, "Desmond Hume"
Malcolm David Kelley, "Walt Lloyd"
Damon Lindelof, Executive Producer
Carlton Cuse, Executive Producer
Additional panelists to be announced.
Tuesday, March 18, 2014: Parks and Recreation (7:00 pm)
Moderator: Kristin Dos Santos, Reporter, E! News and E! Online
Amy Poehler, "Leslie Knope"
Adam Scott, "Ben Wyatt"
Aubrey Plaza, "April Ludgate"
Chris Pratt, "Andy Dwyer"
Retta, "Donna Meagle"
Jim O'Heir, "Larry Gengurch"
Greg Daniels, Creator & Executive Producer
Michael Schur, Creator & Executive Producer
Wednesday, March 19, 2014: Sleepy Hollow (7:00 pm)
Moderator: TBA
Alex Kurtzman, Executive Producer
Roberto Orci, Executive Producer
Len Wiseman, Executive Producer
Mark Goffman, Executive Producer
Heather Kadin, Executive Producer
Ken Olin, Executive Producer
Tom Mison, "Ichabod Crane"
Nicole Beharie, "Lt. Abbie Mills"
Orlando Jones, "Capt. Frank Irving"
Katia Winter, "Katrina Crane"
Additional panelists to be announced.
Friday, March 21, 2014: Mad Men (7:00 pm)
Moderator: TBA
Jon Hamm, "Don Draper"
January Jones, "Betty Francis"
Elisabeth Moss, "Peggy Olson"
Vincent Kartheiser, "Pete Campbell"
Christina Hendricks, "Joan Harris"
John Slattery, "Roger Sterling"
Kiernan Shipka, "Sally Draper"              
Additional panelists to be announced.
Saturday, March 22, 2014: The Vampire Diaries & The Originals (7:00 pm)
The Vampire Diaries: Moderator, Kristin Dos Santos, Reporter, E! News & E! Online
Nina Dobrev, "Elena Gilbert / Katherine Pierce"
Paul Wesley, "Stefan Salvatore"
Ian Somerhalder, "Damon Salvatore"
Julie Plec, Executive Producer
Caroline Dries, Executive Producer
The Originals: Moderator: Jarett Wieselman, Senior Editor, BuzzFeed
Joseph Morgan, "Klaus Mikaelson"
Daniel Gillies, "Elijah Mikaelson"
Phoebe Tonkin, "Hayley"
Charles Michael Davis, "Marcel Gerard"
Leah Pipes, "Camille O'Connell"
Danielle Campbell, "Davina"
Julie Plec, Creator & Executive Producer
Michael Narducci, Coexecutive Producer
Sunday, March 23, 2014: Marvel's Agents of S.H.I.E.L.D. (1:00 pm)
Moderator: TBA            
Clark Gregg, "Phil Coulson"
Ming-Na Wen, "Melinda May"
Brett Dalton, "Grant Ward"
Chloe Bennett, "Skye"
Elizabeth Henstridge, "Jemma Simmons"
Iain De Caestecker, "Leo Fitz"
Jed Whedon, Executive Producer
Maurissa Tancharoen, Executive Producer
Jeph Loeb, Executive Producer
Jeffrey Bell, Executive Producer
Monday, March 24, 2014: Masters of Sex (7:00 pm)
Moderator: TBA
Michael Sheen, "Dr. William Masters"
Lizzy Caplan, "Virginia Johnson"
Caitlin FitzGerald, "Libby Masters"
Teddy Sears, "Dr. Austin Langham"
Michelle Ashford, Executive Producer
Sarah Timberman, Executive Producer
Additional panelists to be announced.
Tuesday, March 25, 2014: The Mindy Project (7:00 pm)
Moderator: Jarett Wieselman, Senior Editor, Entertainment, BuzzFeed.com
Mindy Kaling , "Mindy Lahiri" & Executive Producer
Chris Messina, "Danny Castellano"
Ed Weeks, "Jeremy Reed"
Ike Barinholtz, "Morgan Tookers" & Co-producer
Zoe Jarman, "Betsy Putch"
Beth Grant, "Beverly Janoszewski"
Xosha Roquemore, "Tamra Webb"
Adam Pally, "Peter Prentice"
Matt Warburton, Executive Producer
Wednesday, March 26: Community (7:00 pm)
Moderator: TBA
Joel McHale: "Jeff Winger"
Gillian Jacobs: "Britta Perry"
Yvette Nicole Brown: "Shirley Bennett"
Danny Pudi: "Abed Nadir"
Alison Brie: "Annie Edison"
Ken Jeong, "Ben Chang"
Jim Rash: "Dean Pelton"
Dan Harmon, Executive Producer
Chris McKenna, Executive Producer
Thursday, March 27, 2014: Veep (7:00 pm)
Moderator: TBA
Armando Iannucci, Executive Producer, Director, Writer
Julia Louis-Dreyfus, "Selina Meyer" & Producer
Tony Hale, "Gary Walsh"
Anna Chlumsky, "Amy Brookheimer"
Reid Scott, "Dan Egan"
Matt Walsh, "Mike McLintock"
Timothy Simons, "Jonah Ryan"
Sufe Bradshaw, "Sue Wilson"
Kevin Dunn, "Ben Cafferty"
Gary Cole, "Kent Davison"
Friday, March 28, 2014: Closing Night Presentation-American Horror Story: Coven
Moderator: TBA
Ryan Murphy, Creator & Executive Producer
Brad Falchuk, Creator & Executive Producer
Dante Di Loreto, Executive Producer
Tim Minear, Executive Producer
Sarah Paulson, "Cordelia Goode"
Evan Peters, "Kyle Spencer"
Frances Conroy, "Myrtle Snow"
Lily Rabe, "Misty Day"
Emma Roberts, "Madison Montgomery"
Denis O'Hare, "Spalding"
Angela Bassett, "Marie Laveau"
Gabourey Sidibe, 'Queenie"
Jamie Brewer, "Nan"
Additional panelists to be announced.
About The Paley Center for Media:
The Paley Center for Media seeks to preserve the past, illuminate the present, and envision the future through the lens of media. With the nation's foremost public archive of television, radio, and Internet programming, the Paley Center produces programs and forums for the public, industry professionals, thought leaders, and the creative community to explore the evolving ways in which we create, consume, and share news and entertainment. In an era of unprecedented change, the Paley Center advances the understanding of media and its impact on our lives. The Paley Center for Media was founded in 1975 by William S. Paley, a pioneering innovator in the industry. For more information, please visit www.paleycenter.org.
About the Citi Private Pass Program:
Through the Citi Private Pass program, Citi cardmembers enjoy access to more than 10,000 events each year across music, sports, dining, comedy and family entertainment. These experiences range from preferred tickets and early access to top concert tours and sporting events to curated special events such as youth clinics with sports heroes, and VIP concert experiences including pre-show performances and Q&A.
Garrett Wang, Chad Hardin, and Lee Wiley sign at Comics Plus on Saturday May 5, 2012 for Free Comic Book Day!
Press Release:
This year, Comics Plus memorializes its 25th year of being in business. Actor Garrett Wang, who played Harry Kim on the popular TV series Star Trek Voyager, has agreed to stop by and help us celebrate this momentous occasion. Come by and meet him in person, get an autograph, shake his hand or have your picture taken with him. 
In conjunction with the autograph signing, Comics Plus will also be celebrating the comic book art form with Free Comic Book Day. On this day, you can stop by the store and get a FREE comic book, no purchase necessary. Also, we have two comic book artists that will be stopping by to meet the public. Chad Hardin, who has worked for both Marvel and DC, and Lee Wiley, whose art is featured in various independent books, will both be on hand signing their works and taking artist commissions. 
Bring the kids by to see or take pictures of some of their favorite costumed personalities: Captain America, Catwoman, Spider-Man, and Supergirl and various Star Wars characters. 
We have a great day of festivities planned:
Star Trek Actor, Garrett Wang
Comic Artists: Chad Hardin, artist (Farscape, Marvel Apes, The Spirit, The Traveler, The Warlord, Web of Spider-man, Zatanna)
Lee Wiley, artist (Expiration Date, illopond anthology books: My Little Devil, Exodus, and The Adventures of Capt. Ellie: Space Pirate)
FREE Comics Books
Super Hero & Star Wars Characters
HUGE Store Sale

Don't miss out on this BIG party. Spread the word to all your friends.
Our gala event kicks off at 11am on MAY 5th and runs until 6pm at Comics Plus. Call 435-673-3229 or see their Facebook page for more information.
Robert Picardo appears on Saturday June 25, 2011 at 1:30pm for an autograph session.
Mr Picardo's works include:
– The Doctor on Star Trek Voyager
– Stargate - Richard Woolsley
– Call of Duty Black Ops – Robert McNamara
$20 signed photo!
If we can get 50 people RSVP on Facebook he will do a Q&A Session, if you are interested please email me at chris@4colorfantasies.com
4 Color Fantasies
7172 Archibald Ave, Rancho Cucamonga, CA
Press Release:
Star Trek: Voyager's Robert Picardo and producer/director/writer Dr. Harry Kloor will host the U.S. premiere of Quantum Quest, the 3-D computer animated Large Format adventure film, at the gala preview party of "Science With A Twist: An Evening Aboard The Enterprise" on Saturday night, January 22nd at the Louisville Science Center museum.
 
Quantum Quest interweaves animated sequences with stunning, actual space imagery captured from seven ongoing NASA and NASA/ESA space missions. In addition to Picardo, the film boasts an A-list voice cast including two Captain Kirks (veteran William Shatner and Chris Pine), two Jedi Knights (Mark Hamill and Samuel L. Jackson) and two Darth Vaders (James Earl Jones and Hayden Christensen) – a first for Hollywood and the galaxy. Quantum Quest will be released in Large Format and conventional theaters in spring, 2011. 
 
Quantum Quest is the first time that NASA's iconic Jet Propulsion Laboratory has ever initiated a film project and the first time that Apollo 11 astronaut Neil Armstrong, the first person to walk on the surface of the Moon, has participated in a feature film, lending his voice to one of the characters.
 
Combining solid, "real" science with Hollywood-style narrative story-telling, Quantum Quest is designed to communicate the excitement of space exploration and science discovery to students K through 12.  Quantum Quest will provide more free educational materials, prepared by leading educators, scientists, space and science organizations (including the Fleet Museum and the Planetary Society), than any previous Large Screen film.
 
"This is a stealth science education film disguised as fun Hollywood entertainment," says Dr. Kloor. "Whenever we talk about science, it's exact, but QQ's message is to tell kids – and grownups of all ages – that
science is cool." 
 
Dr. Harry Kloor, Ph.D. Physics, Ph.D. Chemistry, is a writer, director, producer, scientist, inventor, and national technology policy advisor.  Dr. Kloor has 15 years experience writing/developing films and TV series. In 1994, he earned the unique status of being the first and, to date, the only person to simultaneously earn two doctorates, one in Physics and the other in Chemistry, both from Purdue University.  This achievement was so singular that it gained national recognition in such publications as The New York Times and People. His writing credits include Star Trek:  Voyager and the animated series Godzilla, and Earth: Final Conflict, and he was a producer and played a key role in developing the hit TV series Earth: Final Conflict. Dr. Kloor is a recognized leader in bringing science to the public.  He founded a National Physics Outreach Program at Purdue University in 1991, forming partnerships with Marvel Entertainment and Paramount Pictures to use their iconic properties such as Spider-Man and Star Trek to advance science. Dr. Kloor has produced and directed a variety of commercials and industrial documentaries, published articles stories in various newspapers and scientific publications and sits on a range of advisory boards including Rocket Racing League (for which he was the Founding Advisor) and Signacert.  Dr. Kloor served as Science Advisor to the famed X Prize organization, and has worked in advancing science literacy to the public for over 20 years.
Louisville Science Center
727 West Main Street, Louisville, KY 40202