WonderCon's 25th anniversary took place last weekend, April 1st-3rd at the Moscone Center in San Francisco. As an attendee for many years, I was shocked to see how crowded the show was for the duration of the show. With Marvel making their first appearance at the show, as well as mainstays such as DC Comics, Image, and Aspen, the show definitely had a strong comic vibe. However, more than most years, especially with some of the most anticipated comic adapted movies coming out this summer, Wondercon also emphasized their entertainment presence. With Green Lantern cast members Ryan Reynolds and Blake Lively signing at the DC booth, to fan photo ops of Henry Cavill (newly cast as Superman in Zach Snyder's next project), Luke Evans, and Isabel Lucas for the new Immortals movie, and Lily Collins, Paul Bettany and Cam Gigandet promoting Priest, along with a surprise appearance from Brandon Routh joining costar Sam Huntington for Dylan Dog, this WonderCon almost felt like a pre San Diego Comic Con show. While it was definitely awesome to see the stars promoting their films, I do hope that Wonder Con can still retain it's own identity and not turn into a San Diego Comic Con part 2. And now, onto the photos!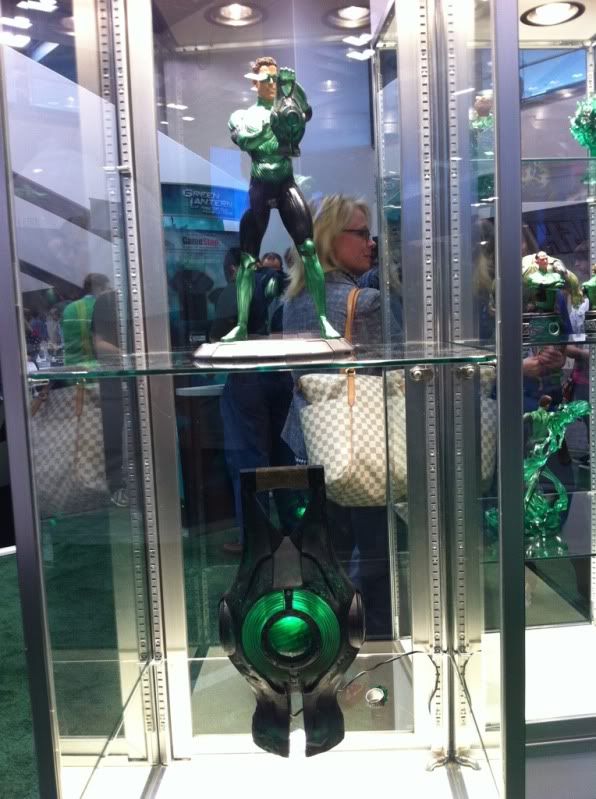 And of course, what good is a con without Cosplay? Here's some of the best ones I saw at the show:
Press Release:
WonderCon Schedule Released, Comics and Hollywood Stars Headline
Event's 25th Anniversary Promises to Be Most Spectacular to Date
SAN FRANCISCO, March 21, 2011 /PRNewswire-USNewswire/ — Comic-Con International (Comic-Con), the parent company of WonderCon, today released the much anticipated program schedule for the event, which will be held Friday through Sunday, April 1–3, at Moscone Center in San Francisco.
The popular convention features every major comic book publisher, as well as major Hollywood movie studios and stars of comics, movies, and television.
"This year's lineup is pretty spectacular," commented David Glanzer, WonderCon's Director of Marketing and Public Relations. "Programming is always at the heart of our shows, and I think this year's slate will prove to be among the most exciting yet."
Originally considered a regional show for Northern California, in recent years WonderCon has followed her sister event, the San Diego Comic-Con, in becoming a full-fledged national show attracting attendees and media from all over the country.
WonderCon 2011 features some of the premier stars of the comics world including Jason Aaron, Sergio Aragones, Berkeley Breathed, Tony Daniel, Mark Evanier, Adam Hughes, Robert Kirkman, Hope Larson, Bob Layton, Paul Levitz, Jeremy Love, Francis Manapul, Carla Speed McNeil, Terry Moore, Ryan Ottley, Joe Quesada, Frank Quitely, Amy Reeder, James Robinson, Seth, Bill Sienkiewicz, Len Wein, F. Paul Wison, Judd Winick, and Marv Wolfman.
Hollywood has a major presence at WonderCon this year as well, joining the action with an exclusive peek at Green Lantern with stars Ryan Reynolds, Blake Lively and Peter Sarsgaard; a Cowboys & Aliens discussion with director Jon Favreau; a special presentation on the movie Immortals featuring Henry Cavill (the new Superman) and Kellan Lutz; and appearances by V's Elizabeth Mitchell, Priest's Paul Bettany, Super's Rainn Wilson, Human Target's Mark Valley, and Breaking In's Christian Slater.
The complete WonderCon programming schedule can be found at http://www.comic-con.org/wc/wc_prog.php. WonderCon ticketing details and additional information about the Comic-Con family of conventions can be found at www.comic-con.org.
About WonderCon:
WonderCon, one of the country's best comics and popular arts conventions, is part of Comic-Con International (CCI), a nonprofit educational organization dedicated to creating awareness of, and appreciation for, comics and related popular art forms. The organization achieves its mission primarily through the presentation of conventions and events that celebrate the historic and ongoing contribution of comics to art and culture. In addition to San Francisco–based WonderCon each spring, CCI organizes San Diego Comic-Con each summer (the world's largest comics convention of its kind) and San Francisco's Alternative Press Expo (APE) each fall. On the web: WonderCon.org, Facebook.com/wondercon, Twitter.com/wondercon.
Via The Source, DC has announced their panel and signing schedule for C2E2 2011:
FRIDAY
GREEN LANTERN
4:30-5:30pm, Room 474
What's in store for Green Lantern's comics adventures in 2011? War! Join DC Executive Editor Eddie Berganza, Doug Mahnke, Tyler Kirkham, Ivan Reis, Joe Prado and others to get a sneak peak into the future of GL in the DCU!
DC NATION
6:30-7:30pm, Room 470b
The DC NATION returns to Chicago! Co-Publisher Dan DiDio and some of comics' top talents give you the inside scoop on what's new from DC Entertainment. DCU, VERTIGO and MAD will all be discussed, so come on by and join the nation!
Creator Signings  for Friday, 3/18:
2:30-3:30 PM
Christian Alamy, Doug Mahnke, Ivan Reis, Tyler Kirkham, Joe Prado, Rod Reis
3:30-4:30 PM
Tony Daniel, Scott Snyder, Ryan Benjamin, Gail Simone
3:30-4:30 PM
Yildiray Cinar, Kevin Maguire
4:30-5:30 PM
Paul Cornell, Don Kramer, Phil Hester
4:30-5:30 PM
Art Baltazar, Mike Norton, Franco
4:30-5:30 PM
Brian Azzarello, Bill Willingham
SATURDAY
DC UNIVERSE
11:30-12:30pm, Room 474
What will happen to your favorite DCU characters during this year's major events? Join DC Executive Editor Eddie Berganza and SVP – Sales Bob Wayne, along with Yildiray Cinar, Art Baltazar, Franco, Mike Norton, Kevin Maguire and others to hear about upcoming highlights from the DCU.
VERTIGO
1:30-2:30pm, Room 470b
Find out what compelling tales comics' edgiest imprint has in store for you in the months to come! Join Senior Group Editor Shelly Bond, Scott Snyder, Bill Willingham, and others for a discussion of your favorite VERTIGO titles.
DC ICONS
2:30-3:30pm, Room 474
DC's top heroes are the topic of this panel spotlight. Executive Editor Eddie Berganza, Tony Daniel, Paul Cornell, Scott Snyder, and Phil Hester lead the discussion on the latest Batman, Superman, and Wonder Woman news.
DRAWING DC
5:30-6:30pm, Room 474
Superstar artists Ivan Reis, Doug Mahnke and Tyler Kirkham show off their distinctive styles while drawing on a machine that projects their work on a giant screen. Check out this unique presentation that will give you an inside glimpse into the artistic process!
Creator Signing  for Saturday, 3/19:
12-1 PM
Bill Willingham
1-2 PM
Joe Prado, Ivan Reis, Rod Reis, Christian Alamy, Tyler Kirkham, Doug Mahnke
2-3PM
Brian Azzarello, Gene Ha
2-3 PM
Franco, Mike Norton
3-4 PM
Yildray Cinar, Kevin Maguire
4-5 PM
Tony Daniel, Scott Snyder, Ryan Benjamin, Gail Simone
4-5 PM
Paul Cornell, Don Kramer
SUNDAY
BRIGHTEST DAY
1:00-2:00pm, Room 474
Executive Editor Eddie Berganza, Ivan Reis, Joe Prado, and others will reveal insights and hints about the epic Brightest Day story – and where the event will lead next!
FABLES: THE FIRST 100 – ONE-ON-ONE WITH BILL WILLINGHAM
4:00-5:00pm, Room 470a
The mind behind Vertigo's mega-popular series comes to Chicago! Bill Willingham is joined by VP – Marketing, John Cunningham, for an in-depth look back at the first 100 issues of Fables – as well as a glimpse at what's to come!
Creator Signings for Sunday, 3/20:
12-1 PM
Jill Thompson, Bill Wilingham
12-1
Brian Azzarello, Gene Ha
1-2 PM
Ryan Benjamin, Tony Daniel, Gail Simone
1-2 PM
Paul Cornell, Don Kramer, Jamal Igle
2-3 PM
Joe Prado, Rod Reis, Christian Alamy, Tyler Kirkham, Doug Mahnke, Ivan Reis
2-3 PM
Franco, Mike Norton
Press Release:

DC COMICS HEADS TO NEW YORK COMIC CON
Dan DiDio, Jim Lee, Geoff Johns and J. Michael Straczynski Are Guests of Honor
Other Top Guests Headline Panels and In-Booth Signings!
Norwalk, CT, September 15, 2010: DC Comics has revealed some of the top guests who will be on hand to meet and greet fans at the annual New York Comic Con (NYCC) which will take place October 8 – 10, 2010 at the Jacob K. Javits Center in New York City. Acclaimed writer J. Michael Straczynski will join DC executive talent including co-publishers Dan DiDio and Jim Lee as well as superstar writer and Chief Creative Officer of DC Entertainment Geoff Johns as Guests of Honor. Other all-star DC creators who will be participating in various panels and activities at NYCC include John Arcudi, Art Baltazar, Matthew Clark, Amanda Conner, Tony Daniel, Shane Davis, David Finch, Franco, Derek Fridolfs, Adam Hughes, JT Krul, Francis Manapul, Sean Murphy, Dustin Nguyen, Jimmy Palmiotti, Joe Prado, Ivan Reis, Nicola Scott, Peter Snejbjerg, Scott Snyder, Peter J. Tomasi and Freddie Williams II.
Officials at DC note that many of the panels featuring their creators will include announcements and other "behind-the-scenes" information about DC Comics, Vertigo and WildStorm comics and graphic novels. In addition, DC staff members will welcome thousands of fans to DC's 3000 square foot booth centrally located on the convention floor which will feature talent signings, free giveaways and early peeks at the newest action figures, statues, busts and other amazing collectibles on display from DC Direct.
"We have worked closely with DC since our very first show and we are always eager and grateful to host the enormous talent that they bring to our show," notes Lance Fensterman, Vice President for ReedPOP and Show Manager for both NYCC and NYAF. "NYCC is only one of a handful of conventions where DC has a significant booth presence and so we want to make their participation as beneficial as possible. DC represents the total convergence of comics, movies and books into the pop culture mainstream and this is what NYCC is all about. We look forward to providing ample opportunity for our thousands of fans to meet, greet and interact with the biggest and most famous artists, writers and creators in the world today."
NYCC convention organizers note that movie and TV studio participation at NYCC is expected to be very strong this year, with announcements about guest appearances and previews coming very soon. Tickets for NYCC and NYAF may be purchased at www.nycomiccon.com. Other information about the shows, as well as news about ReedPOP, which also organizes Chicago Comic and Entertainment Expo (C2E2), is available at Lance Fensterman's blog, www.mediumatlarge.net.
DAN DIDIO was named Co-Publisher of DC Comics with Jim Lee in February 2010. Prior to his new role, he served as the Senior VP-Executive Editor, DC Universe for DC Comics. Since 2003, he has spearheaded such bestselling titles as Identity Crisis, Infinite Crisis, 52, and Final Crisis. Prior to joining DC, Dan worked in television for CBS and ABC public relations and program development. His writing can also be seen in The Outsiders.
JIM LEE is Co-Publisher of DC Comics. Prior to his current post, Lee served as Editorial Director, where he oversaw WildStorm Studios and was also the artist for many of DC Comics' bestselling comic books and graphic novels, including ALL STAR BATMAN AND ROBIN, THE BOY WONDER, BATMAN: HUSH, and SUPERMAN: FOR TOMORROW. He also serves as the Executive Creative Director for the DC Universe Online (DCUO) massively multiplayer action game from Sony Online Entertainment (SOE).
GEOFF JOHNS is the Chief Creative Officer for DC Entertainment as well as one of the most the most prolific and popular of contemporary comic book writers. He has written highly acclaimed stories starring Green Lantern, Superman, the Flash, Teen Titans, and the Justice Society of America, as well as the bestselling graphic novels BLACKEST NIGHT and INFINITE CRISIS. Johns has also written for various other media, including the acclaimed "Legion" episode of SMALLVILLE and the fourth season of ROBOT CHICKEN. He is writing the story of the DC Universe™ Online (DCUO) massively multiplayer action game from Sony Online Entertainment LLC (SOE) and co-producing the upcoming Green Lantern feature film.
J. MICHAEL STRACZYNSKI is the only comics writer in history to win the Eisner Award, the Hugo Award (twice), the Inkpot Lifetime Achievement Award, SFWA's Ray Bradbury Award and be nominated for a British Academy Award for Screenwriting (for Changeling). As a comics writer he has written The Amazing Spider-Man, Superman, Wonder Woman and Thor, among others; as a writer for TV and film, his credits include Ninja Assassin, Babylon 5, Jeremiah and Twilight Zone. He's worked with Clint Eastwood, Ron Howard, Steven Spielberg, Paul Greengrass and others. His current in-development credits include Forbidden Planet (for Warners), Shattered Union (for Disney/Bruckheimer), and Lensman (for Universal) More projects will be announced at NYCC. He never sleeps.
ABOUT REEDPOP: ReedPOP is a boutique group within Reed Exhibitions which is exclusively devoted to organizing events, launching and acquiring new shows, and partnering with premium brands in the pop culture arena. ReedPOP is dedicated to producing celebrations of popular culture throughout the world that transcend ordinary events by providing unique access and dynamic personal experiences for consumers and fans. The ReedPOP portfolio includes: New York Comic Con (NYCC), Chicago Comic and Entertainment Expo (C2E2), Penny Arcade Expo (PAX) East & West, Star Wars Celebration V, New York Anime Festival (NYAF), and UFC Fan Expo. The staff at ReedPOP is a fan based group of professionals producing shows for other fans, thus making them uniquely qualified to service those with whom they share a common passion. ReedPOP is focused on bringing its expertise and knowledge to world communities in North America, South America, Asia and Europe.
Get ready for C2E2 in Chicago this weekend, DC NATION
What's up DC Nation? This week we're on our way to the first ever C2E2 show in Chicago and our levels of anticipation are running very high. Not only is this a new show but we have a certifiably awesome list of talent making an appearance as well. Take a look:
Franco Aureliani, Mark Bagley, Art Baltazar, Ivan Brandon, Cliff Chiang, Amanda Conner, Tony Daniel, David Finch, Patrick Gleason, Geoff Johns, Andy Kubert, Paul Levitz, Doug Mahnke, Mike Norton, Jimmy Palmiotti, James Robinson, Stephane Roux, Ethan Van Sciver, Gail Simone, Peter Tomasi, Bill Willingham and many more!
You'll also notice that we're introducing some new panels at this show. There's a new "Drawing Batman" presentation with real live drawing, DC Nation will be a little different and this show will feature the first ever DC Nation Town Hall meeting with Dan Didio and Jim Lee. And because you demanded it C2E2 will be host to a DC talent search (information can be found at the DC booth).
Did I mention that we'll be giving away tons of great stuff at the panels and at the booth? Well we will be so make sure to come and see us as soon as you get to the show. And just so you know I am very, very excited to be just hours away from eating Chicago-style deep dish pizza. I will also totally not be bummed by whatever you guys decide to bring to the panels.
Our friends with the doughnuts in Seattle are still in the lead for this year's convention season but I'm thinking Chicago might have something up their sleeves…
So use this handy panel guide to start planning your C2E2 experience and we can't wait to see you there!
–
FRIDAY
DC NATION!
4:45-5:45 (Room E451)
SATURDAY
BRIGHTEST DAY
1:45-2:45 (Room E451)
DC UNIVERSE EDITORIAL PRESENTATION
3:15-4:15 (Room E451)
BATMAN: THE RETURN
4:45-5:45 (Room E451)
SUNDAY
DC NATION TOWN HALL MEETING
11:15-12:15 (Room E351)
FLASH / GREEN LANTERN: REVELATIONS
1:45-2:45 (Room E451)
DC KIDS: AWW YEAH!
3:00-4:00 (Room E351)
DRAWING BATMAN
3:15-4:15 (Room E451)