Press Release:
The Squad Up! Suicide Squad Cosplay Contest launches today from DC Entertainment and Warner Bros. and invites you to cosplay as your favorite squad member for a chance to win a trip to San Diego this July for Comic-Con International. Have you always wanted to build a Deadshot mask? Is Harley Quinn your spirit animal? Got a purple alligator-skinned coat in the back of your closet that you've been wondering what to do with? Then this contest is for you!
Here's how it works:
Assemble a costume based on the look of any of the following characters from Warner Bros.'s upcoming Suicide Squad film: Deadshot, The Joker, Harley Quinn, Colonel Rick Flag, Amanda Waller, Captain Boomerang, El Diablo, Killer Croc, Enchantress, Slipknot, and Katana.
Take a photo of yourself wearing your costume. Make sure it's a good quality photo that really shows off your costume!
You can find the full list of rules and conditions here. Trust us, you'll want to check them out. After the entry period, fans will be able to vote in two separate rounds and help us choose finalists in each of the character categories. Once we have our finalists, eleven different winners—one for each character—will be chosen.
We expect some heavy competition, but don't worry, we're here to help. At the link are some tips, as well as a gallery of characters to help with your costumes. Click on the photos to zoom in on them.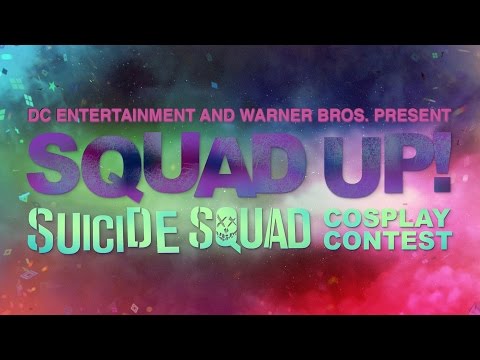 Voice actor Rob Paulsen welcomes Steve Blum (The Legend of Korra, Cowboy Bebop) and Troy Baker (Batman: Arkham Origins, The Last of Us) to Talkin' Toons LIVE on Tuesday February 18, 2014 at 8:00 PM at the Hollywood Improv!
Press Release:
The world-famous Hollywood Improv is proud to invite you to join Emmy and Annie award winner Rob Paulsen as he talks about his experiences in voice acting!
About Rob Paulsen:
Born in Detroit, Rob Paulsen spent his childhood in Livonia and Rochester, attending Junior and Senior high school in Grand Blanc, Michigan. Rob loved cartoons like most kids but aspired to be a professional hockey player. "Fortunately, thanks to some big, strong, kid from Winnipeg who drilled me so hard my ears are still ringing, I learned around age 18 I had neither the talent nor the temperament to make a living playing hockey. So, I turned to my other passions: singing and acting."
The goal of bringing absolute believability to a fictional character, live-action or animated, is what every actor strives for. Those who are committed to their career and who combine experience, passion and skill are likely to succeed.
Those gifted with exceptional talent who focus on maximizing their potential by finding their own niche, quickly break away from the pack. After years of honing their craft and consistently delivering memorable performances in which the character impacts an indelible image on the viewer, the public and the industry take notice, singling out the best.
"I'm getting paid to do what I got in trouble for in the 7th grade," jests Rob, who won a Daytime Emmy in 1999 as "Outstanding Performer in an Animated Program" for Pinky and The Brain (Warner Bros.) Though nominated twice previously, the victory was especially sweet due to some formidable competition – fellow nominees Louie Anderson, Ernest Borgnine, Dennis Franz and Jeffery Tambor. In addition to his Emmy, Rob won back-to-back Annie Awards in 1997 and 1998. "I absolutely love what I do and thank my lucky stars for twenty-five years of full-time employment in this business," he says.
"It's a treat to portray a complex character," Rob explains about Pinky, a goof-ball mouse with funny teeth, a head filled with clouds and an inane imagination that is punctuated with a staccato laugh. "Besides … where else could I find a job where emotional outbursts and odd exclamations like 'Egad!,' 'Narf!,' 'Poit!,' 'Splonk!,' and 'Zort!' are allowed and in fact, encouraged?" With over 2,000 half-hours of animation to his credit, Rob's versatility shines in his starring roles as the voices of Yakko, Pinky and Dr. Scratch 'n' Sniff in the Peabody and two-time Emmy award-winning series "Animaniacs."
Some of Rob's other well-known animated characters include Raphael of the "Teenage Mutant Ninja Turtles," Arthur in "The Tick," the title role in "The Mask" (for a WHOLE lot less dough than Mr. Carrey, thank you), the title role in "Mighty Max," Carl Wheezer in "Jimmy Neutron, Boy Genius," Jack Fenton in "Danny Phantom," Bobble in the "Tinkerbell" series of DVDs and hopefully more to come.
Paulsen's extensive credits include on-camera roles in numerous motion pictures including Body Double, Stewardess School, Eyes of Fire, The Perfect Match, and Warlocked. His television acting credits include guest-starring roles on MacGyver and St. Elsewhere. Additionally, he is one of the most sought-after voice actors in the commercial arena, performing in over 1000 commercial spots.
As passionate about "paying it forward" as he is about his lucrative career, Rob supports various charitable organizations, particularly those benefiting children and military veterans. Rob's volunteer work with GOALmodels has been particularly rewarding. GOALmodels, a high school program in Reseda, California, is designed to inspire 9th graders to set goals and overcome obstacles in life. Blending his life experiences with passion for his work, his presentations are informative, entertaining and inspiring. In his leisure time, Rob enjoys golf, riding his motorcycle and occasionally lacing up his skates for another chance to relive his past glory on the rink. He spends the majority of his free time with his wife, Parrish, and their two Yorkshire terriers, Pooshie and Tala.
Hollywood Improv
8162 Melrose Ave, Los Angeles, CA 90048
Jerry Robinson signs at Phantom of the Attic Comics on Saturday, August 20 from 2:00pm – 3:30pm!
Phantom of the Attic Comics
411 South Craig Street, Pittsburgh, PA
Jerry Robinson, legendary cartoonist and creator of the Joker for the Batman series, appears on Wednesday, June 29th from 7:00pm – 10:00pm to talk about his 70-year career and sign copies of his new books: the revised classic The Comics: An Illustrated History of Comic Strip Art, 1895-2010; the biography Jerry Robinson: Ambassador of Comics by Christopher Couch; and a two volume collection of Robinson's 1950s sci-fi feature Jet Scott.
Barnes & Noble Booksellers
2289 Broadway at 82nd Street, New York, NY
Jerry Robinson signs on Sunday, May 29th from 5:00-6:00pm! Mr Robinson is promoting Jerry Robinson: Ambassador of Comics & The Comics: An Illustrated History of Comic Strip Art.
Comicopia
464 Commonwealth Ave #13, Boston, MA 02215-2734