Press Release:
The Squad Up! Suicide Squad Cosplay Contest launches today from DC Entertainment and Warner Bros. and invites you to cosplay as your favorite squad member for a chance to win a trip to San Diego this July for Comic-Con International. Have you always wanted to build a Deadshot mask? Is Harley Quinn your spirit animal? Got a purple alligator-skinned coat in the back of your closet that you've been wondering what to do with? Then this contest is for you!
Here's how it works:
Assemble a costume based on the look of any of the following characters from Warner Bros.'s upcoming Suicide Squad film: Deadshot, The Joker, Harley Quinn, Colonel Rick Flag, Amanda Waller, Captain Boomerang, El Diablo, Killer Croc, Enchantress, Slipknot, and Katana.
Take a photo of yourself wearing your costume. Make sure it's a good quality photo that really shows off your costume!
You can find the full list of rules and conditions here. Trust us, you'll want to check them out. After the entry period, fans will be able to vote in two separate rounds and help us choose finalists in each of the character categories. Once we have our finalists, eleven different winners—one for each character—will be chosen.
We expect some heavy competition, but don't worry, we're here to help. At the link are some tips, as well as a gallery of characters to help with your costumes. Click on the photos to zoom in on them.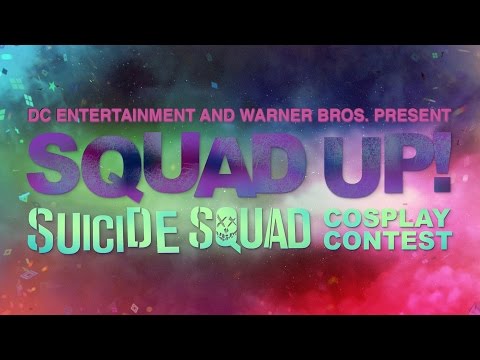 Alan Tudyk, PJ Haarsma, and Shannon Eric Denton sign the comic Spectrum #0 from the web-series Con Man at Earth-2 Comics on Saturday May 7, 2016 from 4:30 PM till 5:30 PM for Free Comic Book Day!
Note: Alan, PJ, and Shannon will only be signing the Free Comic Book Day Spectrum Issue #0. So please refrain from bringing other items to sign to make sure there is time to sign everyone's Spectrum Comic! Thanks!
**UPDATE**
Shea Fontana (DC Superhero Girls Writer), Sterling Gates (Adventures of Supergirl Writer) and Cat Staggs (Adventures of Supergirl, Wonder Woman '77  artist) sign from 11:00 AM till 1:00 PM.
Ryan Benjamin (Suicide Squad New 52 Cover Artist,  Batman Beyond) and Adam Glass (writer Suicide Squad New 52, Rough Riders, Supernatural TV Series) sign from 1:00 till 3:00 PM.
Sebastian Kadelcik and John Bring (Creators of Penguins vs Possums) sign from 2:00 till 4:00 PM.
Earth-2 Comics
15017 Ventura Blvd, Sherman Oaks, CA 91403
(818) 386-9590
Press Release:
DC Entertainment (DCE) has an exciting line-up of WonderCon 2016 fan signings taking place in its show stopping booth (#1602) beginning Friday, March 25 to Sunday, March 27 at The Los Angeles Convention Center. Comic book fans attending the three-day show will have the chance to meet their favorite artists and authors for signings – including Jim Lee, Scott Snyder, John Romita, Jr. and more – at the DCE booth.
A full schedule of WonderCon 2016 talent signings is available below:
Friday, March 25, 2016*
12:30-1:30: Amanda Conner, Jimmy Palmiotti and Ming Doyle
1:30-2:30: Dan Jurgens, Bernard Chang and Marv Wolfman
2:30-3:30: Dan Abnett and Paul Dini
3:30-4:30: Jason Fabok
4:30-5:30: Tim Seeley, Tom King and Mitch Gerads
5:30-6:30: John Romita, Jr.**
Saturday, March 26, 2016*
10:30-11:30: Babs Tarr and Gilbert Hernandez
11:30-12:30: Robert Venditti and Philip Tan
12:30-1:30: JT Krul and Gene Luen Yang
1:30-2:30: Jason Fabok**, Geoff Johns** and Steve Orlando
2:30-3:30: Tony Daniel and Ming Doyle
3:30-4:30: Jim Lee** and Amy Chu
4:30-5:50: Tom King, Tim Seeley and Mitch Gerads
5:30-6:30: Scott Snyder**, Danny Miki, Collin Kelly, Jackson Lanzig and James Tynion IV
Sunday, March 27, 2016*
10:30-11:30: Amy Chu and Steve Orlando
11:30-12:30: John Romita, Jr.**
12:30-1:30: Dan Jurgens and Bernard Chang
1:30-2:30: Annie Wu
2:30-3:30: Scott Snyder** Danny Miki and James Tynion IV
3:30-4:30: Amanda Conner, Jimmy Palmiotti and Robert Venditti
During the three-day convention, DCE's booth will serve as the go-to location for fans to mingle with some of the best comic writers and artists in the business with a robust schedule of talent signings, in addition to swag giveaways celebrating DC Comics and the upcoming feature film, Batman v Superman: Dawn of Justice. Plus, the booth will feature an impressive collection of items from DC Collectibles and Warner Bros. Consumer Products, and a towering, working Bat Signal made entirely of LEGO bricks in an homage to the Batman v Superman: Dawn of Justice movie from acclaimed exhibition, THE ART OF THE BRICK: DC COMICS.
* schedule is subject to change
** denotes a wristband is required
Tim Seeley signs at Graham Cracker Comics on Wednesday February 10th from noon till 3:00 PM to! Tim is the writer of the hit GRAYSON and now NEW SUICIDE SQUAD series for DC Comics and creator/writer on the Image series REVIVAL as well as the writer/artist/creator of the cult favorite HACK/SLASH comic series!
Graham Cracker Comics – Lakeview
5443 N. Broadway Chicago, IL 60647
(773) 561-5010
Ken Lashley (Secret Six, Suicide Squad) appears at Heroes Haven on Wednesday, December 23, 2015 from noon till 6:00 PM! Ken will be signing autographs, selling forty (40) pre-drawn sketches ($40), and taking commissions (prices vary).
Heroes Haven
4339 Gunn Hwy, Tampa, FL 33618
813-269-8859
Press Release:
The Mark Twain House & Museum goes into hyper drive with MARK MY WORDS V…IN A GALAXY FAR, FAR AWAY! In anticipation of the release of STAR WARS VII: THE FORCE AWAKENS, we have assembled a lineup of authors that write in the Star Wars Expanded Universe: novels, comics, reference books, children's books, and graphic novels.
With over 100 Star Wars titles between them, JASON FRY, JOHN OSTRANDER, MICHAEL STACKPOLE, RYDER WINDHAM and TIMOTHY ZAHN have staked out the farthest reaches of the Outer Rim with adventures and characters from the films and of their own.
Join us for the MARK MY WORDS author panel at Immanuel Congregational Church at 7:00 PM or "Jabba-size" your experience with our DEATH STAR DISCO & DESSERTS AFTER-PARTY at The Mark Twain House's Webster Bank Museum Center. It's going to be more fun than an Ewok celebration!
Tickets available at the link…
Event takes place on Friday November 6, 2015 at the Immanuel Congregational Church located at 10 Woodland Street, Hartford, CT 06105.
SEAN RYAN (Amazing Spider-Man Annual, New Suicide Squad, Flashpoint: Grodd of War) appears at Galaxy of Comics to sign his new comic ALL NEW ALL DIFFERENT NOVA #1 from Marvel on Wednesday, November 4th, 2015, from 4:00 PM to 7:00 PM!
Galaxy of Comics
17306 Saticoy Street, Van Nuys, CA 91406
(818) 578-8559
Press Release:
DC Entertainment (DCE) returns to New York Comic Con with an expansive booth featuring must-see costumes, props and collectibles alongside signings with leading writers and artists, special reveals and exclusive giveaways every day of the Con. In addition, DCE will also feature a robust schedule of fan-favorite panel programming. spanning every day of New York Comic from Thursday, October 8th to Sunday, October 11th at the Javits Convention Center.
Decades in the making, pop culture fans will have a once-in-a-lifetime opportunity to honor one of the comic industry's most influential works:
"DC Comics – The Dark Knight 30th Anniversary." Get an inside look at the legacy of the series that defined a generation with DCE Co-Publisher and Batman artist Jim Lee and the talent behind the forthcoming series THE DARK KNIGHT III: THE MASTER RACE, writer Brian Azzarello, and artists Klaus Janson and Andy Kubert. A must-attend for all Batman fans, the panel will also feature surprise guests, exclusive reveals and revelations. Friday, 11:00 am, Room 1D
As the first collection of groundbreaking new titles from DCE's creator-driven imprint Vertigo begin to debut next month, get a behind-the-scenes look at some of these thrilling new series at "VERTIGO: The New #1s." Join Vertigo Executive Editor Shelly Bond and the minds behind some of these groundbreaking stories including Lauren Beukes and Dale Halvorsen (SURVIVORS' CLUB), Holly Black (LUCIFER), Tom King (SHERIFF OF BABYLON), and Shaun Simon (ART OPS). Thursday, 4:00 pm, Room 1A21
DCE boasts the most iconic collection of Super Heroes in the world, and "DC Comics – Heroes To The Core" will enable fans to get closer to some of their favorite heroes with the minds that bring them all to life. Get a first look at all the explosive adventures that await these icons on the page with
DC Entertainment Co-Publisher Dan DiDio, Amanda Conner and Jimmy Palmiotti (HARLEY QUINN), Jeff King (CONVERGENCE), Trevor McCarthy (AQUAMAN), Greg Pak (ACTION COMICS), John Romita Jr. (SUPERMAN), Riley Rossmo (CONSTANTINE: THE HELLBLAZER), Pete Tomasi (SUPERMAN/WONDER WOMAN), Van Jensen (THE FLASH), and David Walker (CYBORG). Saturday, 12:15 pm, Room 1A06
A veritable who's who of Bat-talent will gather together in Gotham for "DC Comics – Batman: The Bat-Universe." Explore the latest adventures of the World's Greatest Detective with Scott Snyder and Greg Capullo (BATMAN), Amy Chu (POISON IVY: CYCLE OF LIFE AND DEATH), Khary Randolph (WE ARE ROBIN), Tom King and Tim Seeley (GRAYSON), Peter Tomasi (BATMAN: ARKHAM KNIGHT), and James Tynion IV (BATMAN ETERNAL), and be the first to witness never-before-seen art and breaking Batman news. Saturday, 1:30 pm, Empire Stage 1E
Dive into the most exciting and diverse stories ever told with a comic for every fan and every genre. "DC Comics – All Access" will include panelists Jimmy Palmiotti (HARLEY QUINN), Heath Corson and Gustavo Duarte (BIZARRO), Brenden Fletcher (BLACK CANARY, GOTHAM ACADEMY), Karl Kerschl (GOTHAM ACADEMY), Steve Orlando (MIDNIGHTER), Babs Tarr (BATGIRL), and Annie Wu (BLACK CANARY), who will all serve as guides to the expansive DC Universe. Sunday, 12:15 pm, Room 1A06
"Mad About MAD" – The country's #1-selling humor magazine (in a field of 1), MAD Magazine is dumber than ever! Join Editor John Ficarra, Art Director Sam Viviano, Peter Kuper, Tom Richmond and Jonathan Bresman for a ridiculous peek at what's happening at the magazine, and an epically, moronic Q&A. Sunday 2:30pm Room 1A21
FULL PANEL SCHEDULE
Thursday, October 8th
1:30-2:30pm DC Entertainment – Master Class: Art History
Panelists: Gustavo Duarte, Ivan Reis, Riley Rossmo, Babs Tarr
Location: Room 1A21
4:00-5:00pm VERTIGO: The New #1s
Panelists: Shelly Bond, Lauren Beukes, Holly Black, Dale Halvorsen, Tom King, Shaun Simon
Location: Room 1A21
Friday, October 9th
11:00am-12:00pm DC Comics – The Dark Knight 30th Anniversary
Panelists: Jim Lee, Brian Azzarello, Klaus Janson, Andy Kubert
Location: Room 1D
2:45-3:45pm DC Entertainment Spotlight on Scott Snyder
Panelist: Scott Snyder
Location: Room 1A21
Saturday, October 10th
12:15-1:15pm DC Comics – Heroes to the Core
Panelists: Dan DiDio, Jeff King, Trevor McCarthy, Greg Pak, John Romita Jr, Riley Rossmo, Pete Tomasi, Van Jensen, David Walker, Jimmy Palmiotti
Location: Room 1A06
1:30-2:30pm DC Comics – Batman: The Bat-Universe
Panelists: Greg Capullo, Amy Chu, Tom King, Khary Randolph, Tim Seeley, Scott Snyder, Peter Tomasi, James Tynion IV
Location: Empire Stage 1E
Sunday, October 11th
12:15-1:15pm DC Comics – All Access
Panelists: Heath Corson, Gustavo Duarte, Brenden Fletcher, Karl Kerschl, Steve Orlando, Jimmy Palmiotti, Babs Tarr, Annie Wu
Location: Room 1A06
2:30-3:30pm Mad about MAD
Panelists: John Ficarra, Ryan Flanders, Sam Viviano, Jonathan Bresman, Peter Kuper, Tom Richmond
Location: Room 1A21
Writers Frank Tieri and David Gallaher and artist Steve Ellis appear at Comic Book Jones on Wednesday April 22nd from 5:00 – 9:00 PM for a CONVERGENCE signing!
Comic Book Jones
2220 Forest Avenue, Staten Island, NY 10303-1700
781-448-1234
Writer Frank Tieri appears on Saturday, May 2, 2015 from noon till 6:00 pm at The Hall of Comics for Free Comic Book Day‬!
The Hall of Comics
3 Turnpike Rd, Southborough, MA 01772
(508) 485-1300