March 4th-6th marked the first time ever in it's 9 year history that Emerald City Comic Con kicked off on a Friday. Although it was my first time at this show, I've been told wonderful things, about the myriad of artists that flooded artist alley, the mobs of fans trying to meet creators, and how this show was truly a "comic centric" type of con, and not bombarded with Hollywood studios. I am happy to report that all of those things were true. With one of the biggest artist alley's I've seen, along with truly knowledgeable fans who lined up for commissions and autographs, Emerald City Comic Con is one of the best shows I've attended. It also doesn't hurt that Seattle had gorgeous weather that weekend, and had plenty of great restaurants within walking distance to the convention center. Here's a few photos from the show: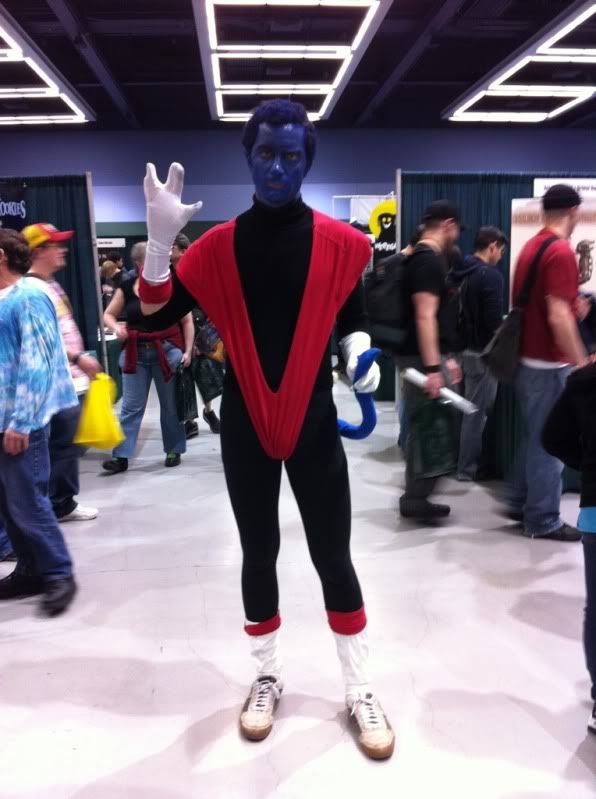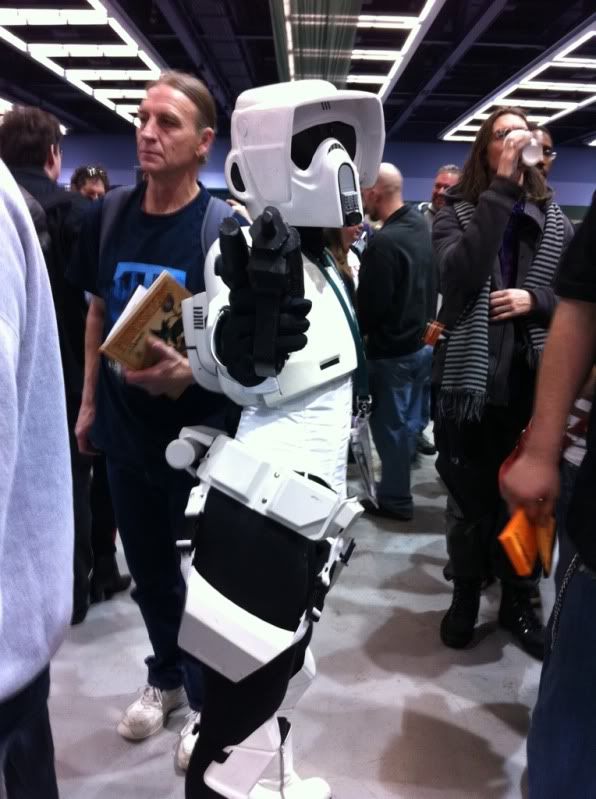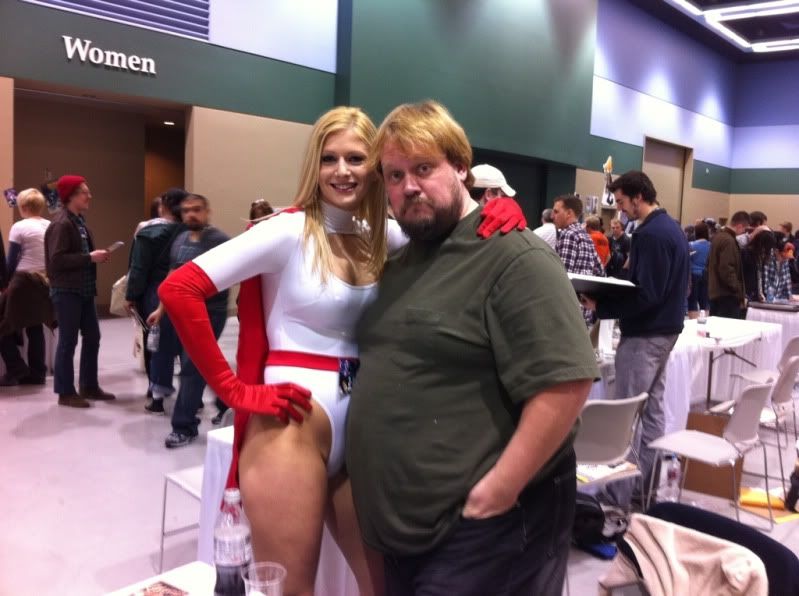 New York Comic Con is almost here and we know you're going to be spending a lot of time at the Marvel Booth (#1843). And why wouldn't you be? You'll have the chance to meet the legendary Stan Lee your favorite superstar Marvel creators like Joe Quesada, Jeph Loeb and Brian Michael Bendis and so many more!
Marvel always brings the best talent and the biggest announcements to New York and this year is no different. So clear those calendars True Believers because Marvel plans on keeping you busy! Between the star-studded appearances in the Marvel booth and the Earth-shattering announcements at all the Marvel panels, you won't have time for anything else!
Source: Marvel.com
Comments Off on NC – Fantastic Four Signing
Jonathan Hickman and Steve Epting sign at Heroes Aren't Hard To Find on Wednesday, September 22 from 3-7 pm for the debut of their new collaboration on Fantastic Four. The much talked about new storyline begins and Jonathan and Steve will be talking about the much hyped mystery.
Heroes Aren't Hard To Find
1957 E. 7th St, Charlotte, NC 28204
Emerald City ComiCon announces more guests for 2011 starting off with a pair of media guests from the Fox TV series Fringe, JOHN NOBLE (Dr. Walter Bishop) and JASIKA NICOLE (Astrid Farnsworth). Both actors will be appearing Saturday and Sunday only.
We also have some great animation media guests to announce, including modern animation legend BRUCE TIMM (DC Animated universe), SEAN "Cheeks" GALLOWAY (character designer for The Spectacular Spider-Man) and a trio of Pixar guests, TED MATHOT (Presto), DEREK THOMPSON (Wall-E) and JAMES S. BAKER (Up).
In the area of comic guests, we have another bunch of guests who've never been to ECCC, like LARRY HAMA (G.I. Joe), STEVE EPTING (Captain America) and TERRY & RACHEL DODSON (Uncanny X-Men), plus returning favorites like MIKE MIGNOLA (Hellboy), ADAM HUGHES (Wonder Woman), SKOTTIE YOUNG (Wonderful Wizard of Oz), DUSTIN NGUYEN (Batman), DARICK ROBERTSON (The Boys), BEN TEMPLESMITH (Choker) and so many more! View the complete list here…
Press Release:
NEW YORK COMIC CON ANNOUNCES FIRST ROUND OF GUESTS!
Comics Are "Heart and Soul" of Convention!
Norwalk, CT, July 9, 2010: New York Comic Con (NYCC) has today announced its first major round of comic guest appearances at this year's show which will take place at the Jacob K. Javits Center in New York City, October 8 – 10, 2010. Convention officials note that while the final NYCC guest list will span the pop culture universe, including authors, writers, film actors and directors, by far the largest contingent of guest appearances will be from the world of comics. A few of the many guests who have been revealed in today's announcement include: Adam Hughes, Steve McNiven, Steve Epting, Bob Layton and Greg Pak. Organizers note that Adam Hughes was also a guest at NYCC in 2008. Hughes has drawn for DC Comics, Marvel Comics, Dark Horse Comics, and many other companies, and he has also done work for Lucasfilm and Warner Bros. He is currently working on many projects, including a hardcover collection of his work for DC Comics.
In separate announcements, NYCC organizers have revealed that Stan Lee will be this year's "Spotlight" Guest of Honor at New York Comic Con and John Romita and John Romita, Jr. will be appearing together as Keystone Guests of Honor at the show.
"While New York Comic Con has certainly grown and evolved in new directions over the past five years, we remain a show which is dedicated to providing a home for the absolute best and most respected comic book talent," notes Lance Fensterman, Vice President for ReedPOP and Show Manager for NYCC. "Comics are the heart and soul of NYCC and we are enormously grateful to all the leading comic book celebrities who make themselves available to the thousands of fans who attend our show."
To date, the comic creators who will be participating in NYCC include: Amanda Conner * Ryan Dunlavey * Steve Epting * Michael Golden * Adam Hughes * Bob Layton * Steve McNiven * Greg Pak * Jimmy Palmiotti * Khoi Pham * Whilce Portacio * Ivan Reis * Allison Sohn * Ben Templesmith * Mark Texeira * Peter Tomasi * Jim Valentino * Fred Van Lente * Renee Witterstaetter *
For more information about each of the guests including bios and photos please go to: www.newyorkcomiccon.com/en/NYCC/Guests/. As previously announced, the 2010 New York Comic Con will now be co-located with the New York Anime Festival (NYAF) and will occupy the entire Jacob K. Javits Center in New York City. Tickets for NYCC and NYAF may be purchased at www.nycomiccon.com. Other information about the shows, as well as news about ReedPOP, which also organizes Chicago Comic and Entertainment Expo (C2E2), is available at Lance Fensterman's blog, www.mediumatlarge.net.
ABOUT REEDPOP: ReedPOP is a boutique group within Reed Exhibitions which is exclusively devoted to organizing events, launching and acquiring new shows, and partnering with premium brands in the pop culture arena. ReedPOP is dedicated to producing celebrations of popular culture throughout the world that transcend ordinary events by providing unique access and dynamic personal experiences for consumers and fans. The ReedPOP portfolio includes: New York Comic Con (NYCC), Chicago Comic and Entertainment Expo (C2E2), Penny Arcade Expo (PAX) East & West, Star Wars Celebration V, New York Anime Festival (NYAF), and UFC Fan Expo. The staff at ReedPOP is a fan based group of professionals producing shows for other fans, thus making them uniquely qualified to service those with whom they share a common passion. ReedPOP is focused on bringing its expertise and knowledge to world communities in North America, South America, Asia and Europe.
Comments Off on HeroesCon 2010 Debuting a Gallery Art Show
Press Release:
Heroes Con is for Lovers– Lovers of Art that is! Event Debuts Gallery Exhibition and Auction!
Golden, Texeira, Jusko and more headline show.
Charlotte, N.C. — The favorite show of both pros and fans alike is happening earlier in June this year–next weekend in fact–which just means the fun is happening sooner this year as well! And if that were not enough, the convention will be debuting a new gallery show on Friday AND continuing it's world-famous art auction on Saturday.
As usual, this show features a great guest list, which includes the likes of artist/writer Michael Golden, fine art painter Mark Texeira, illustrator Steve Scott and amazing painter Joe Jusko.
In addition to an outstanding artist alley and exhibitor list, Heroes this year will also be debuting a gallery show in connection with the convention, with a Friday night reception open to the public.
"Super! The Fine Art of Comics," which had a continuing run from April 28-June 6th at "Twenty-Two Gallery" in Charlotte will have a closing reception on Friday June 4th, starting at 7 p.m. and going until late! Pieces will still be available for final purchase at this time and includes works by Michael Golden, Mark Texeira, Steve Scott, Mark Bagley, Mark Brooks, Chris Brunner, Eric Canete, Steve Ditko, Steve Epting, Ron Garney, Randy Green, Sanford Greene, Cully Hamner, Tony Harris, Adam Hughes, Georges Jeanty, Casey Jones, Joe Jusko, Jack Kirby, Jason Latour, Ton Lyle, Jonboy Meyers, Jason Pearson, Brandon Peterson, Budd Root, Stephane Roux, Andy Smith, Brian Stelfreeze, Karl Story, Dexter Vines and Chrissie Zullo.
For more information on the gallery show, visit www.gallerytwentytwo.com or e-mail twenty-two@carolina.rr.com
Heroes Charlotte will be taking place June 4-6 at the Charlotte Convention. Other guests attending the show include Tim Sale, Mike Mignola, Frank Cho, Bill Willingham, Herb Trimpe, Brian Bolland, John Beatty, June Brigman, Buzz, J. Scott Campbell, Tommy Castillo, Jim Cheung, Renee Witterstaetter, Gary Friedrich, Craig Hamilton,Greg Horn, David Mack, Nathn Massengill, Mike McKone, Todd Nauck, Steve Niles, Alex Saviuk, Jim Starlin, Joe Staton, Billy Tucci, Ethan Van Scriver, Berni Wrightson, Robin Dale and many more.
For more information visit wwww.heroesonline.com
And don't forget the Heroes Con famous auction, taking place this year on Saturday night! Coupled with the show at Gallery Twenty-Two, this next weekend proves to be a real double-whammy for appreciators of sequential art!
For more information on Eva Ink Artists, appearances and commissions, contact: evaink@aol.com
May 24, 2010 by Colin Solan
Filed under Animation, Anime, Art Show, Collectibles, Comic Books, Convention News, Horror, Manga, Movies, North Carolina, Other, Science Fiction and Fantasy, Television, Top Stories, Webcomics
Comments Off on Heroes Con Welcomes New Guests & Old Friends
Press Release: Heroes Convention is preparing for one of the LARGEST Guest Lists in it's 28 year history this June 4-6!  Pack your bags and gas up the car, because this will be one of our greatest shows of all time!  Making their First Appearance at Heroes Con this year are J. Scott Campbell, Brian Bolland, Humberto Ramos, Jimmy Cheung, and Rob Liefeld!  They'll be joining the Heroes Con Family of regular All-Stars like Adam Hughes, Tony Harris, Frank Cho, Brandon Peterson, Mark Brooks, Tommy Lee Edwards, Phil Noto, Cully Hamner, and tons more!!
Long-time favorites like Ron Garney, Rick Leonardi, and Michael Golden are returning, as well as West Coast heavy-hitters like Mike Mignola, Tim Sale, Dustin Nguyen, Eric Canete, and Sean "Cheeks" Galloway.  It's insane!!  Now we just have to figure out where to put everybody!  One thing is for sure, this all points to a stellar Art Auction on Saturday night!!
Also in 2010, Indie Island is stronger than ever with Jill Thompson, Evan Dorkin, Scott Morse, Jim Mahfood, and Kate Beaton onboard!  Like in previous years, there will be lots of exclusive artwork for Indie Island and always the coolest t-shirts!  In addition to the new wave of Indie folks, we'll also host some of the all-time greats of the Independent Creators like James O'Barr, David Mack, Brian Pulido, and Joseph Michael Linsner!  It's a powerhouse lineup this year!!
And, yes, even with EVERY artist in the comics industry in attendance (nearly!), we also get to have some of the most awesome writers in the world at Heroes Con, like Bill Willingham, Mark Waid, Christos Gage, Steve Niles, Jeff Parker, and the legendary Roy Thomas!
One thing we always try to do is to bring in the Artists and Writers that we get the most requests for, and this year we're REALLY excited to have lined up several of the MOST requested of all time!  In addition to Campbell, Bolland, and Willingham, we can also confirm Kevin Maguire is finally making his first appearance at Heroes Con!  Joining Kevin in making their much-desired first appearance is Ben Templesmith, Todd Nauck, and Talent Caldwell!  It's great to have these guys at Heroes Con!
As always, we could stage a major Battle Royal between all the Heavy Hitters from DC and Marvel at the show!  This year, from Marvel Comics we have Steve Epting, Mike McKone, Tom Raney, Mike Choi, and Skrappy Skottie Young!  From DC Comics, we have the Ever-Lovin' Ethan Van Sciver, Mark Bagley, Billy Tucci, and Stephane Roux!  Lucky for us, if a Pier-Six Brawl should break out, we'll have grappler Mick Foley in the house to keep things under control!  Mick (better known to some as Cactus Jack or Mankind) will be here on Saturday to make a big announcement at the 12 Gauge Comics booth!
There'll be information and previews of exclusive art by J. Scott Campbell, Mike Mignola, and Skottie Young coming within the next few days!  There's also 2-3 surprise guests in the works that we can't announce just yet, so keep checking in!
See you at HEROES CONVENTION 2010, June 4-6!!!
Comments Off on C2E2 Announces More Guests of Honor and Featured Guests for 2010
MORE GUESTS OF HONOR AND FEATURED GUESTS ARE ADDED TO GROWING LIST OF APPEARANCES AT C2E2!
Announcement Comes at Start of C2E2 Holiday Tour
Norwalk, CT, December 15, 2009: Organizers of the Chicago Comic & Entertainment Expo (C2E2) have announced that four more Guests of Honor and five more Featured Guests have been added to the growing list of special guest appearances by popular writers, creators and artists at the new pop culture convention which is being launched April 16 – 18, 2010 at Chicago's McCormick Place Convention Center. Chuck Dixon, Steve Epting, Bob Layton, and David Lloyd will appear as Guests of Honor and Gene Ha, Mark Morales, Joshua Ortega, Khoi Pham, David Uslan, and Dexter Vines will appear as Featured Guests. Officials note that this brings the total number of Guests of Honor appearing at the new show to 12. The number of Featured Guests who have been lined up is 10.
"We are incredibly grateful to all the talented individuals, many of whom are the very best at what they do, who have committed to making an appearance at our show," notes Lance Fensterman, Group Vice President and Show Manager for C2E2. "We're going to deliver a spectacular show, a quality, professional event that brings top artists and creators from across the country together with their many fans – and this is still early in the game! As soon as 2010 kicks in we will have plenty more guests to announce so stay tuned!"
C2E2's announcement comes at the start of its Holiday Tour in Chicago, where Show Manager Lance Fensterman and representatives of the C2E2 team will be delivering prizes and gifts during a week-long meeting with fans, professionals, and retailers throughout the greater Chicago area. Details about the Holiday Tour are available at www.C2E2.com.
Daily, Weekend, and VIP Tickets to C2E2 are now also available at www.C2E2.com Daily and weekend tickets are currently priced at a discounted, early bird rate. Fans wishing to take advantage of his lower rate must order their tickets before December 31st, after which the cost will rise to standard pricing. For more information on tickets, guests, or C2E2 in general, beyond the official show site, fans are encouraged to visit C2E2's official blog, www.mediumatlarge.net, and follow C2E2 on Twitter at www.twitter.com/c2e2.
ABOUT CHUCK DIXON:
Born in Philadelphia, Chuck Dixon has more than 25 years of experience in the graphic novel field as an editor, writer, and publisher. He has contributed well over a thousand scripts to publishers including DC Comics, Marvel, Dark Horse, Hyperion and others featuring a range of characters from Batman to The Simpsons. His comic book adaptation of J.R.R. Tolkien's The Hobbit continues to be an international bestseller. Considered to be one of the most prolific writers in his field, this award-winning storyteller currently writes G.I. Joe for IDW, The Good the Bad and the Ugly and Stargate Universe for Dynamite, and The Simpsons for Bongo Comics along with many creator-owned projects for various publishers.
ABOUT STEVE EPTING:
With a career stretching back to First Comics, Steve Epting made his name with Marvel fans everywhere with a 50-issue run drawing Avengers in the early '90s. He also contributed art to various X-Men titles, including the Factor X series, part of the seminal Age of Apocalypse event. This was followed by a stint at DC Comics, working on their flagship Superman, as well as on an acclaimed run on Aquaman. After working on various CrossGen titles, including the Eisner-nominated El Cazador, which he co-created with writer Chuck Dixon, Steve returned to Marvel to embark on his first collaboration with writer Ed Brubaker on Captain America. The award-winning team of Brubaker and Epting then culminated Marvel's 70th Anniversary by redefining the origins of the Marvel Universe in The Marvels Project.
ABOUT GENE HA:
Gene Ha is a comic book artist mainly known for his superhero stories and covers. He started off drawing books such as Cyclops and Phoenix for Marvel and Starman for DC. He is best known for his collaborations with writer Alan Moore, Top 10 and its prequel, The Forty-Niners. Both projects won Eisners, the highest award in American comics. In 2008, he won his third Eisner for Justice League of America #11 with writer Brad Meltzer. He is currently doing a series of painted covers for DC's Blackest Night: JSA and Kevin Smith's Batman: Widening Gyre. Along with writer Bill Willingham, he's diligently working on Backroads for IDW, a modern fantasy graphic novel. Gene Ha's work has been reprinted in countries as far flung as Poland, France, Brazil, and Japan. Gene Ha lives outside Chicago in Berwyn, IL with his lovely wife Lisa and their two beagle bassets. Since college he's tried to avoid temptations that will distract him from drawing more comics, and thus never mastered using a game controller with more than one button. Sad but true. More info about him can be found at www.geneha.com and www.facebook.com/geneha.
ABOUT BOB LAYTON:
In 1978, with writing partner David Michelinie, Bob totally re-imagined Marvel's Invincible Iron Man, ultimately transforming it from a low-end book into one of Marvel's all-time best sellers. Their "Demon in a Bottle" storyline is now considered a milestone in comics history. Second only to his tenure on Iron Man, Bob is also known for his innovative contributions to the Valiant Comics line as Editor-in-Chief and Senior Vice President. Bob (with David Michelinie) returned to Marvel Comics and Iron Man in 2008, creating two, new limited series to be released in conjunction with the Iron Man motion picture. Marvel has recently released two hardback editions of Layton's classic Hercules series in conjunction with his new four-issue Hercules mini-series for 2009. Along with comics work, Bob and David Michelinie are currently collaborating on the development of properties for major motion pictures and television, including his highly successful web comic, Colony. For more, visit www.boblayton.com.
ABOUT DAVID LLOYD:
David Lloyd was born in North London and trained in advertising art before becoming a sequential artist in 1977. He first attracted attention working on Night Raven for Marvel UK, and later created the globally successful V for Vendetta with Alan Moore. He's worked on various stories in the Hellblazer series, Aliens, Marlowe: The Graphic Novel, Global Frequency, War Stories, and the acclaimed crime thriller, Kickback. For European publishers, he's drawn for a collection of war memoirs, Words of Stars, and produced his first limited-edition print, The Prizefighter. He's also written and illustrated a book on Sao Paulo. Currently he's helping launch an educational website in the UK called Cartoon Classroom. More information on Kickback and David's other past and present projects can be found at www.lforlloyd.com.
ABOUT MARK MORALES:
A graduate of New York's famed School of Visual Arts, Mark Morales is a longtime comics veteran. Over the course of his 15 year career, he has worked for Marvel Comics, DC Comics, Image Comics and various others, mostly as an inker. Through the years, Mark has worked on such titles as Uncanny X-Men, Secret Invasion, Justice League, New Avengers, Thor, Daredevil, and many others. Currently he is hard at work on Siege from Marvel Comics.
ABOUT JOSHUA ORTEGA:
Joshua Ortega is a Seattle-based writer whose work spans nearly the entire spectrum of the popular arts. He has written for every major American comic book company including Marvel, DC Comics, Dark Horse, Image, Top Cow, TOKYOPOP, Dynamite Entertainment, and more, working on high-profile properties such as Star Wars, Spider-Man, Star Trek, Frank Frazetta's Death Dealer, and Battlestar Galactica. A former journalist, Ortega is also the author of the critically acclaimed novel ((FREQUENCIES)), co-writer of the short film …loves Martha, and has worked on a wide variety of Xbox 360 titles for Microsoft Game Studios, including the smash hit Gears of War 2. He has been featured numerous times on NPR and has also appeared on G4 and Syfy in addition to many other major media outlets. Updates on his new work can be found at www.joshuaortega.com.
ABOUT KHOI PHAM:
Khoi Pham is a penciler for Marvel Comics. He is currently working with Dan Slott on Mighty Avengers and worked previously with Brian Bendis on Mighty Avengers: Secret Invasion. His other published work includes Incredible Hercules, X-Factor, What If? Spiderman: Other, 1602 Fantastick Four, and Marvel Comics Presents. He is also featured in Image's Wonderlost and Image's Outlaw Territory. Khoi is a founding member of Ten Ton Studios. Visit www.khoipham.com and www.tentonstudios.com.

ABOUT DAVID USLAN:
David Uslan began his career even before graduating from college as an intern with D.C. Comics, Walter Cronkite's production company and Wild Brain Animation Studios. Not long after graduating Mr. Uslan went to work for his mentor and father, Michael Uslan, where he assisted in developing and producing films including Batman Begins, The Dark Knight, Constantine, Catwoman, National Treasure and The Spirit. In 2007, Mr. Uslan became a partner in the formation of COG1 Entertainment, a renowned digital interactive production company. As senior vice president of development, Mr. Uslan is responsible for selecting, acquiring and developing properties for feature film, television, videogames and Digital Uses. Among projects acquired or developed by Mr. Uslan are the upcoming feature films Honor Thy Father, Mascot To The Rescue, Black Dawn and The Secret History of Tom Trueheart, the Internet reality series Price My Pride, animated series Kindergoth and Bob Monkey Giant Robot Arm, live action comedy series Hero Withdrawl, and the documentary series Mob's Greatest Hits.
ABOUT DEXTER VINES:
Dexter Vines is an American comic book artist and inker. He is most well known for being one half of the "eDex" team, along with artist Ed McGuiness. Vines is an Atlanta, Georgia native and is one of the comic industry's most respected inkers, having worked on a multitude of titles for both Marvel and DC. Some titles include Marvel's big 2007 summer event Civil War, Superman/Batman, The Hulk, and Wolverine: Old Man Logan.
ABOUT REED EXHIBITIONS POP CULTURE GROUP:
The Pop Culture Group at Reed Exhibitions owns and operates the New York Comic Con (NYCC), the Chicago Comic and Entertainment Expo (C2E2), and the New York Anime Festival (NYAF). New York Comic Con was launched in 2006 and quickly became a dominant presence in the pop culture world of public events. In 2009, 452 companies exhibited at NYCC for a total of 84,000 square feet of paid exhibit space, and it has been ranked by Crain's New York Business as the second-largest annual event in NYC. C2E2, which will debut April 16 – 18 at Chicago's McCormick Place Convention Center, is modeled after NYCC and will provide fans the opportunity to meet and greet their favorite writers, creators, and artists, as well as to see, hear and learn about the latest and greatest in comics, graphic novels, anime, manga, video games, toys, movies, and television. The Pop Culture Group also operates the recently-launched Star Wars Celebration in partnership with the Lucasfilm Ltd. and UFC Fan Expo. Additionally, it holds a strategic partnership with Penny Arcade Expo (PAX) in 2008 and will work closely with PAX on the launch of PAX East in Boston in 2010.
Comments Off on Marvel Announces SDCC Signing Schedule
Marvel has announced their booth signings schedule for Comic-Con and have included a nice, printable version as well which you can find below:
Find out when your favorite creators are signing at San Diego Comic-Con (Booth #2429).

For all the latest news, announcements and interviews, plus live panel blogging, video features and much more, visit Marvel.com's San Diego Comic-Con 2009 Hub Page!
WEDNESDAY
7:00 – 8:00 PM

7:30 – 8:30 PM
MATT FRACTION

"IRON MAN 2" VIDEO GAME SIGNING

C.B. CEBULSKI
CHRISTINA STRAIN
MARK BROOKS

SPECIAL PREVIEW NIGHT SIGNING
THURSDAY
10:00 AM – 11:00 AM

11:00 AM – 12:00 PM

1:00 – 2:00 PM
JIM MCCANN
KIERON GILLEN
PATRICK SCHERBERGER
REILLY BROWN
JOE QUESADA
BRIAN REBER
DANIEL WAY
JEROMY COX
MARJORIE LIU
PETER DAVID
2:00 – 3:00 PM
3:00 – 4:00 PM
4:00 – 5:00 PM
DENNIS CALERO
LAURA MARTIN
LEINIL FRANCIS YU
MARK TEXEIRA
CHRIS GAGE
EDGAR DELGADO
MATT FRACTION
PHIL JIMENEZ
FRANK TIERI
HOWARD CHAYKIN
HUMBERTO RAMOS
MIKE BENSON
5:00 – 6:00 PM
5:00 – 6:00 PM
6:00 – 7:00 PM
C.B. CEBULSKI
J. SCOTT CAMPBELL
OLIVIER COIPEL
SANA KEDA
ART ADAMS
JEPH LOEB
JEPH LOEB
FRIDAY
9:00 – 10:00 AM
10:00 – 11:00 AM
11:00 AM – 12:00 PM
PATRICK SCHERBERGER
REILLY BROWN
TODD NAUCK
VICTOR OLAZABA
ADAM GLASS
DANIEL WAY
MIKE BENSON
VICTOR GISCHLER

SPECIAL DEADPOOL
SIGNING

JOE QUESADA
12:00 – 1:00 PM
1:00 – 2:00 PM
1:30 – 2:00 PM
CHRIS BACHALO
MARK BROOKS
PAUL JENKINS
TIM TOWNSEND
JASON AARON
JOE CASEY
MARIO ALBERTI
NATHAN FOX
*STAN LEE*
2:00 – 3:00 PM
3:00 – 4:00 PM
4:00 – 5:00 PM
BOB LAYTON
GREGG HUWIT Z
MATT BANING
SEAN MCKEEVER
CHRIS YOST
CRAIG KYLE
GREG JOHNSON
JAMIE SIMONE
STEVE BLUM
STEVE GORDON
FRED TATASCIORE
NOLAN NORTH

SPECIAL MARVEL ANIMATION/
NICKTOONS SIGNING

DENYS COWAN
JOHN ROMITA JR.
KEN LASHLEY
REGGIE HUDLIN
5:00 – 6:00 PM
6:00 – 7:00 PM
6:00 – 7:00 PM
JEPH LOEB
MATT FRACTION
SIMONE BIANCHI
TERRY DODSON
JEPH LOEB
MASAO MARUYAMA
WARREN ELLIS
SATURDAY
9:00 – 10:00 AM
10:00 – 11:00 AM
11:00 AM – 12:00 PM
CHRISTINA STRAIN
EMILY WARREN
RON LIM
TODD NAUCK
JOE KELLY
MARC GUGGENHEIM
PHIL JIMENEZ
STEPHANIE BUSCEMA
*SPECIAL IRON MAN 2
SIGNING*
12:00 – 1:00 PM
1:00 – 2:00 PM
1:00 – 2:00 PM
AUDREY LOEB
DEXTER VINES
JEPH LOEB
JOE QUESADA
JEROME OPEÑA
RICK REMENDER
JEPH LOEB
1:30 – 2:30 PM
2:30 – 3:30 PM
4:00 – 5:00 PM
MATT FRACTION
"IRON MAN 2" VIDEO
GAME SIGNING
TOM KENNY
DAVE BOAT
TRAVIS WILLINGHAM
MIKEY KELLEY
CHARLIE ADLER
STEVE BLUM
TED BIASELLI
ALIMI BALLARD

SPECIAL SUPER HERO
SQUAD SIGNING

FRANK TIERI
LEINIL FRANCIS YU
PETER DAVID
SEAN CHEN
5:00 – 6:00 PM
6:00 – 7:00 PM
ED BRUBAKER
JOHN ROMITA JR.
PAUL JENKINS
STEVE EPTING
CHRIS YOST
CRAIG KYLE
MIKE CHOI
SONIA OBACK
SUNDAY

10:00 – 11:00 AM
11:00 AM – 12:00 PM
12:00 – 1:00 PM
ALEXANDER IRVINE
DENNIS CALERO
JOHN ROMITA JR.
MIKE MCKONE
OLIVIER COIPEL
PAUL TOBIN
RAYMOND FEIST
RON LIM
DAVID YARDIN
STEVE EPTING
STUART MOORE
TRAVIS CHAREST
1:00 – 2:00 PM
2:00 – 3:00 PM
3:00 – 4:00 PM
CHRISTINA STRAIN
COLLEEN COOVER
LAURA MARTIN
MARJORIE LIU
BILL REINHOLD
JASON AARON
JIM MCCAN
MATT FRACTION
C.B. CEBULSKI
DAVID FINCH
GURIHIRU
*Ticketed Event
Comments Off on Where to Find the "Special Guests" at Comic-Con International
Comic-Con International has updated their Special Guest List page with appearance information:
We've poured through our various schedules and listings to pull together the listed appearances of our guests throughout the convention. This information now follows the guest's bio. These listings may not reflect all of their potential appearances. Some guests may also appear at company booths in the Exhibit Hall and other locations as well.
The Special Guest List for this year's 40th Anniversary of the convention includes:
» Michael "Doc" Allred
» Kevin J. Anderson
» Sergio Aragonés
» Ray Bradbury
» Brom
» Gene Colan
» Nicola Cuti
» Kevin Eastman
» Steve Epting
» Mark Evanier
» June Foray
» Ramona Fradon
» Hunter Freberg
» Stan Freberg
» Gary Gianni
» Jimmy Gownley
» Russ Heath
» Brian Herbert
» James Jean
» Geoff Johns
» Eric Jones
» Kazu Kibuishi
» Dennis Kitchen
» John Kricfalusi
» Hope Larson
» Jim Lee
» Francis Manapul
» Dwayne McDuffie
» Doug Moench
» Sheldon "Shelly" Moldoff
» Fabio Moon
» Patrick Oliphant
» Bryan Lee O'Malley
» Stephan Pastis
» David Petersen
» Darick Robertson
» Jerry Robinson
» Mike Royer
» Stan Sakai
» Lew Sayre Schwartz
» Seth
» Bill Sienkiewicz
» Gail Simone
» Leonard Starr
» J. Michael Straczynski
» Richard Thompson
» Lewis Trondheim
» Ramón Valdiosera Berman
» Jerry Vanderstelt
» Charles Vess
» Landry Walker
» Bill Willingham
» Gene Yang
» Leinil Yu