New Man of Steel and Star Trek Into Darkness posters! And it's only Monday!
George Takei signs at Midtown Comics on Wednesday December 5th from 9:00 – 11:00 pm!
JUST ADDED: Kevin Keller's creator, writer and artist Dan Parent will also be in attendance.
Press Release:
Midtown Comics is honored to welcome legendary actor, Star Trek helmsman and internet sensation, George Takei! Join us as we celebrate the release of the all new Kevin Keller #6 from Archie Comics and get your copy signed by George at our Times Square store on Wednesday December 5th starting at 9pm.
*Purchase of Kevin Keller #6 is required to attend the signing.
*Tickets to this event will be limited! PLEASE ARRIVE EARLY!
Midtown Comics
200 W 40th St Fl 2, New  York, NY 10018-1709
Press Release:
This Halloween, Geek Girls do not have to sacrifice fashion for a cheap costume they'll wear only once. Actress Ashley Eckstein, the voice of Ahsoka Tano on Star Wars: The Clone Wars and founder of the female sci-fi apparel line, Her Universe™, revealed today her line of fashionable costume hoodies, tops and a Hot Topic exclusive TARDIS dress dubbed "everyday cosplay" just in time for the Halloween season. Whether you're a fan of Star Wars, Star Trekor Doctor Who, Her Universe has you covered to be the stylish one this fall and all year long. And now, until October 22nd (for guaranteed 10/31 delivery), Her Universe (www.heruniverse.com) is offering FREE GROUND SHIPPING on any order of $50.00 or more.
"I have a tub full of Halloween costumes that I have spent a lot of money on which I've only worn once," said Eckstein. "My goal for our 'everyday cosplay' line is for girls to be able to wear these fashionable costumed looks on Halloween and all year round! I've always been a savvy shopper and I try to get the most for my money."
New to the "everyday cosplay" line from Her Universe is the Star Trek Spock zip-up hoodie featuring the famous original series blue uniform top where fangirls, with the hood up, can be their favorite Vulcan, complete with pointy ears. Also new this fall season is the Star Wars: The Clone Wars Ahsoka Tano adult tunic top which complements the already released Ahsoka tunic for young girls and the very popular Princess Leia costume hoodie - perfect for any Halloween party or everyday wear. For female Whovians, Eckstein has collaborated with retailer Hot Topic to create Her Universe's first
fashionably-fun, stylized dress based on Doctor Who's beloved time-traveling TARDIS – available online NOW at Hot Topic and at Hot Topic retail stores. And what better way to accessorize all of these pieces than with the new Her Universe Star Wars Halloween Tote Bag featuring all-new original art by renowned artist Katie Cook – perfect for fans of any age for school, work, shopping and, of course, trick or treating! Katie's very popular Her Universe Halloween Tote Bag sold out last year at record speed! The bags are only available for a limited time, so get them while supplies last.
"I was thrilled when Ashley asked me to do another Halloween bag design," said Katie. "I'll take any chance I get to draw Darth Vader in a silly costume! Ashley and I came up with the idea for this year's bag at Celebration a few weeks ago and I couldn't wait to come home and get started on it."
All of these "everyday cosplay" pieces for Halloween and beyond can be found on heruniverse.com with the Doctor Who TARDIS dress available NOW online at Hot Topic and Hot Topic retail stores. Eckstein can be seen wearing many of the "everyday cosplay" pieces as co-host for MTV Geek's coverage (mtv.com/geek/) of New York Comic Con October 11th-14th.
About Her Universe 
Her Universe was launched in 2009 by actress and entrepreneur Ashley Eckstein, and her partner, The Araca Group, known as one of the most innovative theatrical production and merchandise companies in the world. Her Universe was created to directly address the expanding market of female fans by entering into its first agreement with Lucas Licensing to develop and produce a line of female-centered Star Warsapparel and accessories. The success of that line was followed up with a collection for the Syfy network including such shows as Battlestar Galactica and with BBC America for Doctor Who and with CBS Consumer Products for Star Trek. You can learn more about Her Universe and purchase the current line of fangirl apparel and accessories by going to www.heruniverse.com and by following Eckstein on Facebook(facebook.com/HerUniverse) and Twitter (twitter.com/HerUniverse).
About Katie Cook
Katie Cook is an illustrator and writer that lives in Michigan. She has done work for Lucasfilm, The Jim Henson Company, Marvel Comics and more. Her websites are www.katiecandraw.com and www.gronkcomic.com
Press Release:
'Star Trek: The Next Generation,' 'Stand By Me' Star Wil Wheaton Added To Wizard World Austin Comic Con Lineup
Eighth Cast Member To Join 25-Year 'TNG' Reunion At Austin Convention Center, October 26-28
NEW YORK and AUSTIN, September 26, 2012 – Wil Wheaton, who starred as a teenager in the classic coming-of-age film Stand By Me in 1986 and a year later earned an important role in "Star Trek: The Next Generation," will appear at next month's Wizard World Austin Comic Con.  Wheaton joins seven other "TNG" cast members in a celebration of the 25th anniversary of the start of the landmark series, Oct. 26-28 at the Austin Convention Center.
Wheaton portrayed Wesley Crusher, son of Dr. Beverly Crusher (played by Gates McFadden) in the show.  Other fellow "TNG" cast members scheduled for Austin include Patrick Stewart (Capt. Picard), Jonathan Frakes (Commander William T. Riker), LeVar Burton (Lt. Commander Geordi La Forge), Michael Dorn (Lieutenant Worf), Marina Sirtis(Counselor Deanna Troi) and Brent Spiner (Lt. Commander Data).
Wheaton is also known for popular roles as Joey Trotta in Toy Soldiers (1991) and portraying himself on the series "The Big Bang Theory."  He is an avid blogger, with frequent postings at Wil Wheaton Dot Net and WWdN: In Exile.
In addition to Wheaton and the rest of the "TNG" crew, top celebrities scheduled to attend include Eliza Dushku ("Buffy The Vampire Slayer," True Lies), WWE® Superstar CM Punk®, Dean Cain ("Lois & Clark: The New Adventures of Superman," "90210"), Anthony Michael Hall (Sixteen Candles, Weird Science), Michael Rooker ("The Walking Dead," Cliffhanger) and the Boondock Saints trio of Norman Reedus, Sean Patrick Flanery and David Della Rocco, among others.
Wizard World Austin Comic Con, produced by Wizard World, Inc. (WIZD.PK), will bring together thousands of fans of all ages to celebrate the best in pop-fi, pop culture, movies, graphic novels, comics, toys, video gaming, television, sci-fi, gaming, original art, collectibles, contests and more.  Admission is free for kids 10 and under, and Sunday, Oct. 28, is "Kids Day," with an array of programming specially designed for children.
For more on the 2012 Wizard World Austin Comic Con, visit http://www.wizardworld.com/home-tx.html.
About Wizard World:
Wizard World produces Comic Cons and pop culture conventions across North America that celebrate graphic novels, comic books, movies, TV shows, gaming, technology, toys and social networking. The events often feature celebrities from movies and TV, artists and writers, and events such as premieres, gaming tournaments, panels, and costume contests.
The full event schedule can be found at www.wizardworld.com.
***** SAVE THE 2012-13 DATES *****
September 28-30, 2012 – Wizard World Ohio Comic Con
October 26-28, 2012 – Wizard World Austin Comic Con
November 30 – December 2, 2012 – Wizard World New Orleans Comic Con
February 22-24, 2013 – Wizard World Portland Comic Con
May 30 – June 2, 2013 – Wizard World Philadelphia Comic Con
August 8-11, 2013 – Wizard World Chicago Comic Con
Sean David Kenney signs at Third Coast Comics on Friday, September 7, 2012 from 12:00pm to 3:00pm promoting his new book, Captain Pike Found Alive.
Press Release:
Sean David Kenney is best known for his role in Star Trek as the crippled Christopher Pike in "The Menagerie" (the healthy Pike was played by Jeffrey Hunter), and as Lieutenant DePaul in "Arena" and "A Taste of Armageddon." After his roles on Star Trek and a few other small parts, including his first bit part in "The Impossible Years"(1968), Kenney featured in several films beginning with "How's Your Love Life"(1971), "The Corpse Grinders" (1972), "Terminal Island" (1973), and continuing until "Slumber Party '57" (1976), which is his final film to date.
Third Coast Comics
6234 North Broadway, Chicago, IL 60660
Press Release:
LOS ANGELES COMIC BOOK AND SCIENCE FICTION CONVENTION PRESENTS TRACY SCOGGINS (BABYLON 5), ARLENE MARTEL (STAR TREK), MARTA KRISTEN (LOST IN SPACE), JULIE ADAMS (CREATURE FROM THE BLACK LAGOON) RIKKI SIMONS (INVADER ZIM) APPEARING AUGUST 19, 2012
Los Angeles, CA-July 24, 2012-The LOS ANGELES COMIC BOOK AND SCIENCE FICTION CONVENTION presents The Women of Science Fiction Television and Film featuring Special Guests appearing at the AUGUST 19, 2012 show to sign autographs:
TRACY SCOGGINS starred as Capt. Elizabeth Lochley in Babylon 5 and Crusade as well as the films Babylon 5: The River of Souls, Babylon 5: A Call To Arms, and Babylon 5: The Lost Tales. TRACY was Cassandra in Highlander The Series, starred as Cat Grant in nineteen episodes of Lois and Clark: The New Adventures of Superman, Gilora Rijal in an episode of Star Trek: Deep Space Nine, and Marie-Diane in The Secret Adventures of Jules Verne.
ARLENE MARTEL starred in the classic Star Trek episode Amok Time as T'Pring who is bethrothed from childhood to be the future wife of Spock in the classic Star Trek episode Amok Time. ARLENE starred in the classic Outer Limits episode Demon with a Glass Hand and in two classic Twilight Zone episodes What You Need and Twenty Two.
MARTA KRISTEN starred as Judy Robinson in the Lost in Space Television series and Battle Beyond The Stars Movie.
JULIE ADAMS starred as Kay Lawrence in one of the most popular and iconic Science Fiction Movies of the 1950′s, Creature From The Black Lagoon. JULIE also guest starred in many Television series such as Kolchak: The Night Stalker, One Step Beyond, Alfred Hitchcock Presents, Rod Serling's Night Gallery, and The Incredible Hulk. JULIE is making an encore appearance at the Convention this year and will be signing copies of her book The Lucky Southern Star: Reflections From The Black Lagoon.
Also appearing will be Animator/Artist RIKKI SIMONS, the Voice of Gir, Bloaty and Mongo in the Nickelodeon animated series Invader Zim. RIKKI and his wife TAVISHA have co-created together many graphic novels such as Super Information Hijinks: Reality Check, Ranklechick and His Three Legged-Cat and Shutterbox. A free DVD of the short independent Horror Film Dead Kansas will be given away while supplies last.
The LOS ANGELES COMIC BOOK AND SCIENCE FICTION CONVENTION is the real deal with an incredible track record serving the Comic Book Collecting community for 35 years. REGULAR ADMISSION is only $8.00, five years and under are free. EARLY ADMISSION is only $12.00. Show Hours are 10:00 A.M.-5:00 P.M. The August 19, 2012 Convention is located at the Shrine Auditorium Expo Center, 700 West 32nd Street, in Los Angeles, CA (across from USC College). The Dealers Room features over one hundred tables of Comic Books, Toys, Trading Cards, DVDs, and many other Collectibles. Check www.comicbookscifi.com for more information on the signing times for all Guests.
NCM Fathom and CBS TV are coming together to present a special one night event to celebrate the 25th Anniversary of Star Trek: The Next Generation.
Star Trek: The Next Generation 25th Anniversary Event In Select Movie Theaters Nationwide
Monday, July 23rd at 7:00 PM (local time)
Only One Night!
This summer "boldly go where no one has gone before" and don't miss the only opportunity to see two of the most popular Next Generation episodes, Ep. 106 "Where No One Has Gone Before" and Ep. 114 "Datalore" on the big screen.
This special event will include exclusive looks at the massive restoration of season one, never-before-seen interviews with the original cast members and behind-the-scenes looks at the artists who created the original FX elements and photography during the making of the show. Audiences will also be privy to an unseen sneak-peak of "Measure of a Man."
Set in the 24th century, The Next Generation was created by Gene Roddenberry over 20 years after the original Star Trek series. The Next Generation became the longest running series of the Star Trek franchise, consisting of 178 episodes over 7 seasons. Star Trek: The Next Generation 25th Anniversary Event is the first opportunity to see this transcendent digital presentation like no man before, in movie theaters, on Monday, July 23rd at 7:00 PM (local time) with additional late night showings at select movie theater locations. Check your local listings for details.
Don't miss seeing the futuristic world created in the past.
TICKETING*
Tickets are on sale now! Enter your zip code to find your nearest participating theater and to purchase tickets today. Limited seats available – so buy your tickets early!
THEATERS
Click here for a list of participating theaters.
*Check back often if ticketing is not yet available for your nearest theater location as updates are being made daily. Please note: Theater locations are subject to change.
Via Wizard World:
PHILADELPHIA, 3 June 2012 – For the first time together in one location, the five captains from the five "Star Trek" television series appeared today at Wizard World Philadelphia Comic Con at the Pennsylvania Convention Center.  From L to R, William Shatner, Patrick Stewart, Avery Brooks, Kate Mulgrew and Scott Bakula. (Tomlin Campbell photo for Wizard World).
And here's a video of the panel: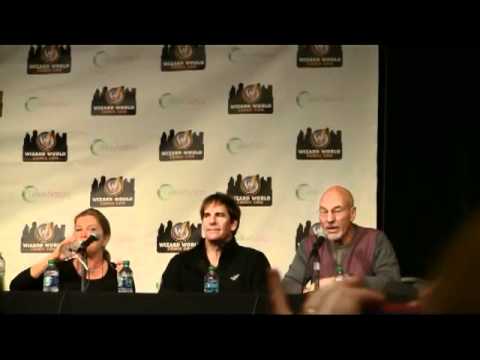 Emerald Knights Comics hosts a charity event for the Shriner's Hospital Los Angeles on Saturday June 9th from 12-7PM. It will be a day of games, signings, photo opportunities and a custom RPG by writer Keith Baker. Over 40 Cosplayers and members of the 501st Legion will be on hand for photos.
Scheduled to appear:
Maria Olsen (Paranormal Activity 3, Percy Jackson & the Olympians: The Lightning Thief)
Marilyn Ghigliotti (Clerks, Alien Armageddon)
Mark Ryan (Charlie's Angels, The Prestige, Transformers)
Ricco Ross (Aliens, Doctor Who (TV), Babylon 5 (TV), Wishmaster)
Aaron Smolinski (Superman, The Outer Limits (TV), Wishmaster 3)
Isaac Singleton Jr. (Galaxy Quest, Planet of the Apes (2001), Pirates of the Caribbean: Curse of the Black Pearl, X-Files (TV))
Robert Mammana (Star Trek: The Next Generation (TV), Star Trek: Voyager (TV), Flight Plan)
Members of the Guild: Jeff Lewis, Sandeep Parikh, Vincent Caso, Robin Thorsen
Ticket prices: 1 Ticket = $5 3 Tickets = $10 6 Tickets = $15 10 Tickets = $20 Wristband for all day fun = $30
*Additional charges may apply.
Emerald Knights Comics will also have a silent auction that will run from June 1st to June 9th.
Emerald Knights Comics and Games
4116 W. Burbank Blvd, Burbank, CA 91505
Artist J.K. Woodward signs at Friendly Neighborhood Comics on Saturday, June 16, 2012 12:00pm until 4:00pm!
Woodward collaborated with A. David Lewis on the indie comic Mortal Coils and Michael Colbert on the Digital Webbing Presents series Crazy Mary where he still does covers and promises to do another full story. IDW noticed his work on Crazy Mary and offered him a gig doing a CSI:NY limited series and he followed in short order with a standout story in BOOM! Studios' Zombie Tales series. When Peter David was re-launching his owner created series Fallen Angel at IDW, James was a natural choice for Peter's dark world of magic, violence and redemption.
His painted work eventually caught the attention of Marvel editor, Mike Marts who chose him to illustrate X-men Origins:The Beast which was released September 2008.
Woodward illustrates various series for IDW and BOOM! Studios. His next series is the Star Trek / Dr Who crossover.
As a special bonus, anyone purchasing Star Trek / Dr Who will be entered into a free raffle to win an original painting by J.K.!
Friendly Neighborhood Comics
191 Mechanic Street (Route 140), Bellingham, MA 02019