NCM Fathom and CBS TV are coming together to present a special one night event to celebrate the 25th Anniversary of Star Trek: The Next Generation.
Star Trek: The Next Generation 25th Anniversary Event In Select Movie Theaters Nationwide
Monday, July 23rd at 7:00 PM (local time)
Only One Night!
This summer "boldly go where no one has gone before" and don't miss the only opportunity to see two of the most popular Next Generation episodes, Ep. 106 "Where No One Has Gone Before" and Ep. 114 "Datalore" on the big screen.
This special event will include exclusive looks at the massive restoration of season one, never-before-seen interviews with the original cast members and behind-the-scenes looks at the artists who created the original FX elements and photography during the making of the show. Audiences will also be privy to an unseen sneak-peak of "Measure of a Man."
Set in the 24th century, The Next Generation was created by Gene Roddenberry over 20 years after the original Star Trek series. The Next Generation became the longest running series of the Star Trek franchise, consisting of 178 episodes over 7 seasons. Star Trek: The Next Generation 25th Anniversary Event is the first opportunity to see this transcendent digital presentation like no man before, in movie theaters, on Monday, July 23rd at 7:00 PM (local time) with additional late night showings at select movie theater locations. Check your local listings for details.
Don't miss seeing the futuristic world created in the past.
TICKETING*
Tickets are on sale now! Enter your zip code to find your nearest participating theater and to purchase tickets today. Limited seats available – so buy your tickets early!
THEATERS
Click here for a list of participating theaters.
*Check back often if ticketing is not yet available for your nearest theater location as updates are being made daily. Please note: Theater locations are subject to change.
Via Wizard World:
PHILADELPHIA, 3 June 2012 – For the first time together in one location, the five captains from the five "Star Trek" television series appeared today at Wizard World Philadelphia Comic Con at the Pennsylvania Convention Center.  From L to R, William Shatner, Patrick Stewart, Avery Brooks, Kate Mulgrew and Scott Bakula. (Tomlin Campbell photo for Wizard World).
And here's a video of the panel: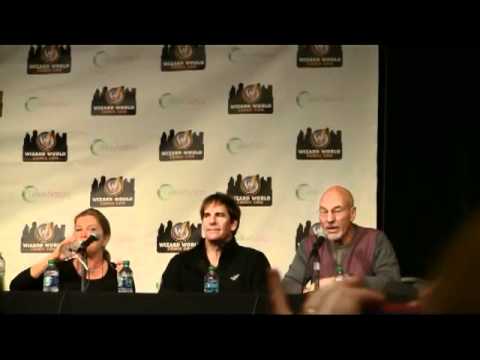 Emerald Knights Comics hosts a charity event for the Shriner's Hospital Los Angeles on Saturday June 9th from 12-7PM. It will be a day of games, signings, photo opportunities and a custom RPG by writer Keith Baker. Over 40 Cosplayers and members of the 501st Legion will be on hand for photos.
Scheduled to appear:
Maria Olsen (Paranormal Activity 3, Percy Jackson & the Olympians: The Lightning Thief)
Marilyn Ghigliotti (Clerks, Alien Armageddon)
Mark Ryan (Charlie's Angels, The Prestige, Transformers)
Ricco Ross (Aliens, Doctor Who (TV), Babylon 5 (TV), Wishmaster)
Aaron Smolinski (Superman, The Outer Limits (TV), Wishmaster 3)
Isaac Singleton Jr. (Galaxy Quest, Planet of the Apes (2001), Pirates of the Caribbean: Curse of the Black Pearl, X-Files (TV))
Robert Mammana (Star Trek: The Next Generation (TV), Star Trek: Voyager (TV), Flight Plan)
Members of the Guild: Jeff Lewis, Sandeep Parikh, Vincent Caso, Robin Thorsen
Ticket prices: 1 Ticket = $5 3 Tickets = $10 6 Tickets = $15 10 Tickets = $20 Wristband for all day fun = $30
*Additional charges may apply.
Emerald Knights Comics will also have a silent auction that will run from June 1st to June 9th.
Emerald Knights Comics and Games
4116 W. Burbank Blvd, Burbank, CA 91505
Artist J.K. Woodward signs at Friendly Neighborhood Comics on Saturday, June 16, 2012 12:00pm until 4:00pm!
Woodward collaborated with A. David Lewis on the indie comic Mortal Coils and Michael Colbert on the Digital Webbing Presents series Crazy Mary where he still does covers and promises to do another full story. IDW noticed his work on Crazy Mary and offered him a gig doing a CSI:NY limited series and he followed in short order with a standout story in BOOM! Studios' Zombie Tales series. When Peter David was re-launching his owner created series Fallen Angel at IDW, James was a natural choice for Peter's dark world of magic, violence and redemption.
His painted work eventually caught the attention of Marvel editor, Mike Marts who chose him to illustrate X-men Origins:The Beast which was released September 2008.
Woodward illustrates various series for IDW and BOOM! Studios. His next series is the Star Trek / Dr Who crossover.
As a special bonus, anyone purchasing Star Trek / Dr Who will be entered into a free raffle to win an original painting by J.K.!
Friendly Neighborhood Comics
191 Mechanic Street (Route 140), Bellingham, MA 02019
Writer Tony Lee signs the Forbidden Planet Variant launch issue of STAR TREK: THE NEXT GENERATION / DOCTOR WHO – ASSIMILATION at The Forbidden Planet Megastore on Wednesday 30th May from 6:00 to 7:00pm.
The two greatest science-fiction properties of all time cross over for the first time in history!
When the Federation's most terrifying enemy strikes an unholy alliance with one of the Doctor's most hated antagonists, the result is devastation on a cosmic scale! Spanning the ends of space and time itself, Captain Jean-Luc Picard and the crew of the USS Enterprise find themselves joining forces with the Doctor and his companions, with the fate of the galaxy hanging in the balance!
Comic writer Tony Lee's work includes both the ongoing tenth and eleventh doctor comics and 'Doctor Who: The Forgotten' for IDW as well as 'Rat Trap', a 5th Doctor adventure for Big Finish. His graphic novel Hope Falls is being developed into a screenplay for Future Films and Danger Academy is currently being developed into a cartoon series for American TV.
Forbidden Planet  London Megastore
179 Shaftesbury Avenue, London, WC2H 8JR
Garrett Wang, Chad Hardin, and Lee Wiley sign at Comics Plus on Saturday May 5, 2012 for Free Comic Book Day!
Press Release:
This year, Comics Plus memorializes its 25th year of being in business. Actor Garrett Wang, who played Harry Kim on the popular TV series Star Trek Voyager, has agreed to stop by and help us celebrate this momentous occasion. Come by and meet him in person, get an autograph, shake his hand or have your picture taken with him. 
In conjunction with the autograph signing, Comics Plus will also be celebrating the comic book art form with Free Comic Book Day. On this day, you can stop by the store and get a FREE comic book, no purchase necessary. Also, we have two comic book artists that will be stopping by to meet the public. Chad Hardin, who has worked for both Marvel and DC, and Lee Wiley, whose art is featured in various independent books, will both be on hand signing their works and taking artist commissions. 
Bring the kids by to see or take pictures of some of their favorite costumed personalities: Captain America, Catwoman, Spider-Man, and Supergirl and various Star Wars characters. 
We have a great day of festivities planned:
Star Trek Actor, Garrett Wang
Comic Artists: Chad Hardin, artist (Farscape, Marvel Apes, The Spirit, The Traveler, The Warlord, Web of Spider-man, Zatanna)
Lee Wiley, artist (Expiration Date, illopond anthology books: My Little Devil, Exodus, and The Adventures of Capt. Ellie: Space Pirate)
FREE Comics Books
Super Hero & Star Wars Characters
HUGE Store Sale

Don't miss out on this BIG party. Spread the word to all your friends.
Our gala event kicks off at 11am on MAY 5th and runs until 6pm at Comics Plus. Call 435-673-3229 or see their Facebook page for more information.
Press Release:
San Diego, CA (November 2, 2011)—Are you a comics fan who loves your local comics store? Are you willing to "die" to protect your retailer? Prove it, with the Star Trek "Be A Redshirt" contest! Starting today, the Comic Book Legal Defense Fund (CBLDF), IDW Publishing and CBS Consumer Products are giving Star Trek fans a chance to "Be a Redshirt" on the cover of an upcoming STAR TREK comic.
Originating in the classic Star Trek episodes and expanding to pop culture at large, a "redshirt" is a character that dies soon after being introduced. With the "Be a Reshirt" contest, the winning fan will have the honor of "dying" while heroically saving their retailer. The grand prizewinner will be featured as a "redshirt" on an upcoming cover of IDW's new STAR TREK ongoing series, placing themselves between their local retailer and a phaser blast. The "Be a Redshirt" contest is open to any comics reader who thinks their local retailer is the best in the business.
"As redshirts are famous for always catching the phaser in Star Trek episodes, and as comic fans can be so loyal in defending their local retailer, it's the perfect contest," said Dirk Wood, IDW's Director of Retailer Marketing, "And partnering with the CBLDF is perfect, because no one knows more about defending retailers than they do."
To enter the "Be A Redshirt" contest, fans must e-mail their explanation in 300 words or less about why their retailer is the best to IDW at contests@IDWPublishing.com with the subject: Save My Retailer. The winning fan and their retailer will be depicted on a limited-edition variant cover of STAR TREK. This special cover will be limited to only 300 copies: 100 each to the winning fan and their retailer, plus 100 to CBLDF to help them continue the important and challenging work of defending retailers everywhere. The winning fan will also receive the original art, by the Sharp Brothers.
Launched in September, IDW's new STAR TREK ongoing series explores the new Star Trek universe, following the events of the game-changing, blockbuster 2009 film. Joining forces with Star Trek writer/producer Roberto Orci, IDW and CBS explore the vast implications of the alternate timeline created by the film in this new, monthly, ongoing comics series that reimagines classic Star Trek episodes.
Under the creative direction of Orci, fan-favorite STAR TREK writer Mike Johnson and artists Stephen Molnar and Joe Corroney bring this alternate universe to life and begin the countdown to the highly anticipated Star Trek sequel. Following alternate-reality versions of "Where No One Has Gone Before" and "Galileo 7," STAR TREK #5 kicks off a two-part re-imagining of "Operation: Annihilate." This gripping episode brings Captain Kirk comes face to face with ghosts from his past when a rescue mission reunites him with the last person he expects to see.
In addition to print, STAR TREK comics are also available digitally through a variety of free apps, including, through the Apple's iTunes: the Star Trek Comics app, the Comics by comiXology app and the IDW Comics app.
Star Trek star Walter Koenig signs his new comic book Things to Come on November 19th at 2 p.m.
Dark Delicacies
3512 W. Magnolia, Burbank, CA 91505
William Shatner signs at Amoeba Music on Friday October 14th at 6pm!
Press Release:
The legendary and prolific William Shatner joins Amoeba in celebrating the release of his new space-themed concept album, Seeking Major Tom (out October 11 on Cleopatra Records) with a signing at Amoeba Hollywood!
PURCHASE ONE OF THE FOLLOWING SHATNER ITEMS starting October 11 at Amoeba Hollywood:
- Seeking Major Tom (LP or CD),
- The Captains (DVD)
- Shatner Rules (Book)
And receive a ticket to attend the signing on 10/14.
Limit 2 (of the above) items and signing tickets per person.
Only these items will be signed by Mr. Shatner.
SIGNING IS LIMITED – first come, first served.
-       No personal photos with Mr. Shatner (Amoeba will have staff photographer taking event/fan shots and we'll post online after the event).
Seeking Major Tom info:
William Shatner returns to the final frontier of music recording with this space-themed concept album that boldly goes where no man has gone before – available on both 2-CD and 3-LP set!
• Features distinctive interpretations of classic, intergalactic anthems by David Bowie, Queen, Deep Purple, Elton John, Pink Floyd, Black Sabbath and more!
• Includes guest appearances by Zakk Wylde, Sheryl Crow, Ritchie Blackmore, Lyle Lovett, Steve Miller and Peter Frampton PLUS members of The Strokes, The Kinks, Tangerine Dream, Alice In Chains, Deep Purple, Yes, MC5 and more!
The Captains info:
Since first soaring onto television screens in the 1960s, Star Trek has become one of the most beloved franchises of all time. Now, the original Captain Kirk, William Shatner, travels around the globe to interview the elite group of actors (Chris Pine, Patrick Stewart, Avery Brooks, Kate Mulgrew and Scott Bakula) who have portrayed the role of Starship Captain, giving fans an exclusive behind-the-scenes look at the pop culture phenomenon as well as the men and women who made it so.
Shatner Rules: Your Guide to Understanding the Shatnerverse and the World at Large info:
This collection of rules, illustrated with stories from Bill's illustrious life and career, will show you how Bill became WILLIAM SHATNER, larger than life and bigger than any role he ever played. Shatner Rules is your guide to becoming William Shatner. Or more accurately, beautifully Shatneresque.
Because let's face it… Shatner does rule, doesn't he?
Amoeba Music
6400 Sunset Blvd, Los Angeles, CA 90028
William Shatner signs on Thursday October 6, 2011 at 12:30 PM!
About this Author
William Shatner is the author of nine Star Trek ® novels, including the New York Times bestsellers The Ashes of Eden and The Return. He is also the author of several nonfiction books, including Get a Life! and I'm Working on That. In addition to his role as Captain James T. Kirk, he stars as Denny Crane in the hit television series from David E. Kelley, Boston Legal — a role for which he has won two Emmy Awards and a Golden Globe. More information is available at williamshatner.com.
Barnes & Noble
555 Fifth Avenue, New York, NY 10017
212-697-3048