Press Release:
Big Wow Comic Fest arrives to the San Jose Convention Center on April 18-19, 2015, bringing two days of comic books, art, collectable toys, sci-fi, fantasy, and celebrity FUN! Many of the nation's best vendors of all things cool and collectible will tempt your wallets with the perfect gifts for geeks, nerds, fans and true collectors, everywhere!
As the original comic-friendly show, we have fantastic comic book creator guests spanning all decades and genres! This year we are pleased to welcome as our Featured Guests:
Jim Steranko (Legendary artist of Captain America & Nick Fury: Agent of SHIELD)
Neal Adams (Legendary Illustrator of Superman, Batman, Avengers, X-Men, and lots more)
Dave Gibbons (Co-Creator of the classic comic "Watchman" made into a major Motion Picture)
Fan-Favorites: Art Adams (X-Men, Godzilla, and more), Bill Morrison (The Simpsons, Futurama, Disney Poster Artist), Stan Sakai (Usagi Yojimbo), Herb Trimpe (Co-Creator of Wolverine) and over 75 more confirmed and added to our website!
Meet, get autographs, and learn the secrets of Show Biz from our spectacular CELEBRITY GUESTS:
Tom Felton (Harry Potter's "Draco Malfoy" and Dawn of the Planet of the Apes)
Daniel Cudmore (X-Men's "Colossus", and Twilight's "Felix")
Jake Lloyd (Star Wars: The Phantom Menace's "Anakin Skywalker" and Jingle All The Way)
Also appearing will be Richard Hatch (Battlestar Galactica), Gary Graham (Alien Nation, Star Trek: Enterprise), George "The Giant" (Big Fish), John Stanley (Creature Features) and more.
Admission is only:
•  1 Day Adult (15 and older) $25.00 and 2 Day Adult $35.00
• 1 Day Child (8-14) $10.00 and 2 Day Child $15.00 Children under 8 are Free!
Save $5.00 off tickets by purchasing them online at www.bigwowcomicfest.com or at participating comic book retailers.
Press Release:
Music, science and film come together in the stunning, multimedia work, Icarus at the Edge of Time, a collaboration by Philip Glass, Brian Greene, David Henry Hwang, and Al+Al.
Icarus at the Edge of Time is a mesmerizing tale set in outer space about a boy who challenges the awesome might of a black hole. Based on the children's book by physicist Brian Greene, this futuristic re-imagining of the classic myth takes audiences of all ages on a whirlwind voyage through space and time to the very edge of understanding.
Featuring an original score by Philip Glass, script adapted by Brian Greene and David Henry Hwang, and film created and directed by Al + Al, Icarus at the Edge of Time has been performed by orchestras around the world and narrated by acclaimed performers, such as John Lithgow, Liev Schreiber, Kal Pen and LeVar Burton.
At UCF Celebrates the Arts 2015 on Friday, April 10, 2015 at 7:30 PM, Icarus at the Edge of Time will be narrated by Kate Mulgrew (Star Trek: Voyager; Orange is the New Black) and the score will be performed by the UCF Symphony Orchestra, under the direction of conductor Art Pranno.
Icarus at the Edge of Time was commissioned and produced by World Science Festival (New York) with the Alfred P. Sloan Foundation, and Southbank Centre (London), with the Royal Society. Co-commissioned by Associazione Festival della Scienza, the Baltimore Symphony Orchestra and Glasgow's Concert Halls. Executive Producers: Tracy Day, World Science Festival, New York; Gillian Moore, Southbank Centre, London.
Ticket are FREE and available at the link…
Dr. Phillips Center for the Performing Arts
445 S. Magnolia Ave., Orlando, FL 32801
844.513.2014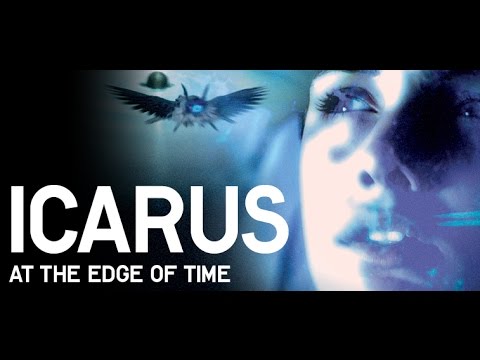 Press Release:
Kate Mulgrew, star of "Star Trek: Voyager" and "Orange is the New Black," joins Chicago Tribune "Balancing Act" columnist Heidi Stevens in conversation about Mulgrew's new memoir, "Born With Teeth" on Thursday, April 16, 2015 at 7:00 p.m. Known for playing strong women on screen, Mulgrew pulls back the curtain on her long career to reveal the personal struggles and triumphs behind it. A book signing will follow the discussion. Books will be available for purchase for $25 in advance with ticket for $28 at the event. Tickets available at the link…
About the speakers
Kate Mulgrew is an American actress, noted for her roles as Captain Kathryn Janeway on Star Trek: Voyager, Mary Ryan on Ryan's Hope, and, most recently, Galina "Red" Reznikov on Orange Is the New Black. She has performed in numerous television shows, theater productions, and movies. She is the winner of a Golden Satellite Award and a Saturn Award, and has been nominated for a Golden Globe and an Emmy. @thekatemulgrew
Heidi Stevens is a lifestyles reporter at the Chicago Tribune, where she reports on books, relationships, parenting and health. Stevens grew up in the northwest suburbs and studied journalism and political science at Eastern Illinois University. Her daily column runs Monday through Friday on chicagotribune.com and Sundays in the Tribune's Life & Style section. @HeidiStevens13
Venue SIX10
610 S. Michigan Ave Chicago, IL 60605
312.322.1725
Kate Mulgrew (Capt. Janeway on Star Trek: Voyager, Red on Orange Is The New Black) signs her new memoir BORN WITH TEETH at Barnes & Noble in Union Square on Wednesday April 15, 2015 at 7:00 PM.
Barnes & Noble – Union Square
33 East 17th Street, New York, NY 10003
212-253-0810
Author John Jackson Miller appears at Powers Comics on Saturday, March 14th to sign comics and novels including his latest STAR TREK: THE NEXT GENERATION: TAKEDOWN!
Powers Comics & Collectibles
2180 S Ridge Road, Green Bay, WI 54304
(920) 884-8483
Artist Adam Hughes appears at Conquest Comics for a signing on Wednesday February 25th from 5:30-7:30 PM and Saturday February 28th from noon till 2:00 PM. Conquest Comics will have three variations of Adam's variant cover of SPIDER-GWEN #1 available both through the shop and via their website. Please contact the store for more details.
Conquest Comics
659 Route 9 Bayville, NJ 08721
732-551-2164
Legendary comic writer Marv Wolfman will be signing at the Forbidden Planet Megastore on Sunday 8th February at 4:00 PM as part of a rare visit to the UK.
Marv Wolfman has created more characters that have gone on to television, animation, movies and toys than any other comics creator since Stan Lee. Marv is the writer-creator of Blade, the Vampire Hunter, Bullseye, the prime villain in the 2003 movie, Daredevil, Deathstroke, the main villain in the first two seasons of the hit Arrow TV show, which he created for DC's best-selling comic, New Teen Titans which was also adapted into two runaway hit shows on the Cartoon Network and is now being done as a live-action pilot for Fox. Some of his other characters have been seen in Man of Steel as well as The Guardians of The Galaxy. His Titan character Cyborg will be seen in four upcoming DC movies, starting with 2015's Superman vs. Batman: Dawn of Justice.
Marv writes video games. His script for his most recent published game: Epic Mickey 2, was nominated for a WGA writing award for Outstanding Video-game Script. He has also written the video games for Green Lantern: Rise of the Manhunters, Superman Returns, DCU-MMO, Flash and Dark Knight among others. He also writes animation and has story-edited many shows including Transformers, Adventures of Superman, Monster Force and more.
Marv also writes novels; his adaptation of Superman Returns won the industry's "Scribe" award. He is currently writing a novelization for Titan Books in London. His first non-fiction book, Homeland, The Illustrated History of The State of Israel won the National Jewish Book Award among others. Marv is also a recipient of the Will Eisner Hall of Fame Award.
Marv was Editor-in-Chief at Marvel Comics, senior editor at DC Comics and founding editor of Disney Adventures magazine and created many characters for these companies and others. Marv was also Editorial Director for 15 graphic albums for the educational market, targeting high school students who read with a 3rd -5th grade level. He was given a special commendation by the White House for his work on three anti-drug comics for the "Just Say No" program.
Marv is married to his lovely wife, Noel, a Director of Production at Blizzard Entertainment, and has a wonderful daughter, Jessica, from his first marriage. Marv & Noel also have an obstreperous Keeshond dog named Elle Dee Deux (L.D.) who is currently chewing on everything that is and isn't nailed down.
Forbidden Planet London Megastore
179 Shaftesbury Avenue, London, WC2H 8JR
Author, actor and literacy advocate LeVar Burton (Reading Rainbow, Roots, Star Trek: The Next Generation) appears at Barnes & Noble on Saturday December 20, 2014 at 11:00 AM to read his new children's book and sign copies.
Barnes & Noble – Media City Center
Burbank Town Center, 731 N San Fernando Blvd., Burbank, CA 91502
818-558-1383
Author, actor and literacy advocate LeVar Burton (Reading Rainbow, Roots, Star Trek: The Next Generation) appears at Barnes & Noble on Friday November 21, 2014 at 7:00 PM to read his new children's book and sign copies. He'll also be hosting a Q&A after the signing.
Special Instructions
This event will be updated with special instructions for reserving your copy of The Rhino Who Swallowed a Storm in the next week. Please check back with the store for instructions.
Barnes & Noble
4001 California Avenue, Bakersfield, CA 93309
661-631-2575
Actor Jeffrey Combs and legendary illustrator Graham Humphreys will appear at Comicazi on Thursday October 30th!
Combs will sign limited-edition art prints (which commemorate his "Nevermore" Halloween play at the Somerville Theater) on October 30, 2014, from noon till 1:00 PM.
Humphreys will sign posters of of Re-Animator, Bride of Re-Animator, and more, from noon till 2:00 PM.
Comicazi 
407 Highland Avenue, Somerville, MA 02144
617-666-2664