Kate Mulgrew appears at the Free Library of Philadelphia on Tuesday, April 28, 2015 at 7:30PM! Tickets are available at the link!
Kate Mulgrew is best known for her roles as Captain Kathryn Janeway on Star Trek: Voyager and Russian gangster Galina "Red" Reznikov on Orange Is the New Black. For these and her other diverse roles in dozens of television, film, and theater productions she has earned an Obie Award, a Saturn Award, and Emmy and Golden Globe nominations. Mulgrew's behind-the-scenes story is as compelling as any of her roles. A mother at 22, she was allowed only a brief glimpse of her newborn daughter before giving her up for adoption. Twenty years later they were reunited. Born With Teeth tells these and the other transcendent stories of a passionate life and career.
Signing Guidelines:
– Ms Mulgrew will only sign copies of her new book. No photographs, DVDs or memorabilia permitted.
– Photos: you can lean in to the signing table for a photo, but due to time constraints, posed photos aren't possible.
Free Library of Philadelphia – Central Library
1901 Vine Street, Philadelphia, PA 19103
215-686-5322
Author John Jackson Miller appears at Book World on Saturday, April 4th, from 1:00 till 3:00 pm, to sign Star Wars: A New Dawn, as well as his many other Star Wars and Star Trek novels. He has also written for comic books, including Iron Man and Avengers. Don't miss the chance to meet this popular author!
Book World
1136 Main Street, Stevens Point, WI 54481
(715) 344-5311
Kate Mulgrew, star of Star Trek: Voyager and Orange Is the New Black, signs her new memoir Born with Teeth at Barnes & Noble on Sunday April 26, 2015 at 2:00 PM!
Barnes & Noble – Eton Chagrin Boulevard
28801 Chagrin Blvd, Woodmere, OH 44122
216-765-7520
Kate Mulgrew, star of Star Trek: Voyager and Orange Is the New Black, appears at the Hotel Julien on Wednesday April 22, 2015 at 7:00 PM to sign her new memoir BORN WITH TEETH! Your book, purchased at River Lights, will include your ticket to the Book Signing Line. The color on your ticket will correspond to your place in line – Red ticket holders will have their books signed first, then Blue, and so forth. The earlier the book is purchased, the better your place in line!
These tickets guarantee that you will have a place in line to have your books signed, however, this event is free and open to the public and seats are available on a first come, first-served basis.
Books with tickets are $28.00 plus tax. Discounts do not apply. No books/tickets will be reserved without prepayment.
Books/tickets will be available for pick-up beginning April 14 to April 22 (we close at 6pm). Picking up your book before the event is required. We will not transport your book to the event.
Books will also be available for purchase at the event. These will include a Signing Line Ticket.
Those attending without Signing Line Tickets may join in at the end of the line.
We cannot guarantee that they will get to the signing table before the end of the event.
Hotel Julien Ballroom
200 Main Street, Dubuque, IA 52001
Third Place Books presents Kate Mulgrew, star of Star Trek: Voyager and Orange Is the New Black, with her new memoir Born with Teeth to Town Hall Seattle on Tuesday, April 21 at 7:00 pm. Tickets available at the link…
Tickets include entry for ONE PERSON and ONE COPY of Born with Teeth.
Purchase only as many tickets as you need to gain entry for your party. Additional copies of Born with Teeth will be available for sale at the event.
Tickets will not be mailed, you will receive an order confirmation that
will act as your ticket with instructions.
Books will not be available for pick-up until the night of the event.
SIGNING GUIDELINES :
-LIMIT OF TWO BOOKS PER PERSON
-NO PHOTOS OR MEMORABILIA ALLOWED, PLEASE DO NOT BRING IT TO THE EVENT
-CANDID PHOTOS ONLY, MEANING NO POSED PICTURES. STAFF WILL BE AVAILABLE AT THE SIGNING TABLE TO TAKE PHOTOS OF YOU WHILE YOUR BOOKS ARE SIGNED, BUT THERE WILL BE NO PAUSING TO POSE FOR PHOTOS.
-NO GIFTS PLEASE.
Town Hall
1119 8th Avenue, Seattle, WA 98101
Kate Mulgrew, star of Star Trek: Voyager and Orange Is the New Black, appears at Book Passage to sign her new memoir Born with Teeth on Monday, April 20, 2015 at 7:00 pm! Tickets and additional information available at the link…
Book Passage
51 Tamal Vista Blvd, Corte Madera, CA 94925
(415) 927-0960
Actress Kate Mulgrew appears in conversation with Michelle Richmond on Sunday April 19, 2015 at 4:00 PM! Tickets ($40) are available at the link… Presented by Books Inc.
Press Release:
Spend Sunday Afternoon at The Chapel with Golden Globe and EMMY nominated actress Kate Mulgrew discussing her memoir, Born with Teeth, with Michelle Richmond, New York Times-bestselling author of Golden State.
We know Kate Mulgrew for the strong women she's played–Captain Janeway on Star Trek; the tough-as-nails "Red" on Orange is the New Black. Now, we meet the most inspiring and memorable character of all: herself. By turns irreverent and soulful, laugh-out-loud funny and heart-piercingly sad, Born with Teeth is the breathtaking memoir of a woman who dares to live life to the fullest, on her own terms.
Golden Globe and EMMY nominee, Kate Mulgrew is an acclaimed fan-favorite actress whose performances span across television, film and stage.
Mulgrew can currently be seen on Netflix's engrossing hit series, Orange is the New Black. On the comedic drama about a woman imprisoned for transporting drug money Mulgrew stars as "Galina 'Red' Reznikov" who runs the prison's kitchen. The series was renewed for a second season and is based on author Piper Kerman's memoir Orange is the New Black: My Year in a Women's Prison about her real life experiences.
Mulgrew is internationally recognized for her famous portrayal of "Captain Janeway," in which she made Star Trek franchise history as the first female captain in a leading role. She starred on Star Trek: Voyager for seven seasons and earned three Saturn Awards and one Satellite Award for her role. Mulgrew also went on to voice the character of Janeway in the PS2 and PC game Star Trek: Voyager Elite Force and Star Trek: Voyager Elite Force 2.
Mulgrew received a Golden Globe nomination when she starred in Mrs. Columbo, the spin-off of the popular detective series. Previously, she had received recognition for her portrayal of "Mary Ryan" on the ABC soap Ryan's Hope and on the ABC sitcom Heartbeat, which earned the People's Choice Award for "Best New Drama." Other notable television performances include Cheers, Murphy Brown, St. Elsewhere, NTSF: SD: SUV for Adult Swim, The Black Donnellys, Mercy, and Warehouse 13. Her film appearances include Star Trek: Nemesis, Throw Momma from the Train, A Stranger is Watching, and Remo Williams: The Adventure Begins.
A classically trained theatre actress, Mulgrew toured throughout the United States as "Katharine Hepburn" in her one-woman stage play, Tea at Five, for which she was nominated for an Outer Critics Circle and Lucille Lortel Award.
In 2008, Mulgrew was awarded with an Obie for her performance as "Clytemnestra" in Iphigenia 2.0, an exuberant and modern retelling of Iphigenia. Her other theatre credits include Equus, The American Dream, The Sandbox, Our Leading Lady, Black Comedy, Titus Andronicus, The Exonerated, The Royal Family, The Film Society, What the Butler Saw, Hedda Gabler, Measure for Measure, The Real Thing, Another Part of the Forest, Major Barbara, Antony and Cleopatra, and Somewhere Fun.
About Michelle Richmond: Michelle Richmond is the author of Golden State, the New York Times bestseller The Year of Fog, the novels No One You Know and Dream of the Blue Room, the award-winning story collection The Girl in the Fall-Away Dress, and most recently the story collection Hum.
Michelle has received the Catherine Doctorow Innovative Fiction Prize (2012), the Hillsdale Award for Fiction from the Fellowship of Southern Writers (2009), the Associated Writing Programs Award, and the Mississippi Review Fiction Prize.
Event Signing Guidelines:
– Kate Mulgrew will sign copies of her book only no photos or memorabilia.
– Due to time constraints, Kate Mulgrew will not be taking posed photographs. Candid photos from the signing line will be allowed.
– No gifts please.
The Chapel
777 Valencia Street, San Francisco, CA 94110
Press Release:
Big Wow Comic Fest arrives to the San Jose Convention Center on April 18-19, 2015, bringing two days of comic books, art, collectable toys, sci-fi, fantasy, and celebrity FUN! Many of the nation's best vendors of all things cool and collectible will tempt your wallets with the perfect gifts for geeks, nerds, fans and true collectors, everywhere!
As the original comic-friendly show, we have fantastic comic book creator guests spanning all decades and genres! This year we are pleased to welcome as our Featured Guests:
Jim Steranko (Legendary artist of Captain America & Nick Fury: Agent of SHIELD)
Neal Adams (Legendary Illustrator of Superman, Batman, Avengers, X-Men, and lots more)
Dave Gibbons (Co-Creator of the classic comic "Watchman" made into a major Motion Picture)
Fan-Favorites: Art Adams (X-Men, Godzilla, and more), Bill Morrison (The Simpsons, Futurama, Disney Poster Artist), Stan Sakai (Usagi Yojimbo), Herb Trimpe (Co-Creator of Wolverine) and over 75 more confirmed and added to our website!
Meet, get autographs, and learn the secrets of Show Biz from our spectacular CELEBRITY GUESTS:
Tom Felton (Harry Potter's "Draco Malfoy" and Dawn of the Planet of the Apes)
Daniel Cudmore (X-Men's "Colossus", and Twilight's "Felix")
Jake Lloyd (Star Wars: The Phantom Menace's "Anakin Skywalker" and Jingle All The Way)
Also appearing will be Richard Hatch (Battlestar Galactica), Gary Graham (Alien Nation, Star Trek: Enterprise), George "The Giant" (Big Fish), John Stanley (Creature Features) and more.
Admission is only:
•  1 Day Adult (15 and older) $25.00 and 2 Day Adult $35.00
• 1 Day Child (8-14) $10.00 and 2 Day Child $15.00 Children under 8 are Free!
Save $5.00 off tickets by purchasing them online at www.bigwowcomicfest.com or at participating comic book retailers.
Press Release:
Music, science and film come together in the stunning, multimedia work, Icarus at the Edge of Time, a collaboration by Philip Glass, Brian Greene, David Henry Hwang, and Al+Al.
Icarus at the Edge of Time is a mesmerizing tale set in outer space about a boy who challenges the awesome might of a black hole. Based on the children's book by physicist Brian Greene, this futuristic re-imagining of the classic myth takes audiences of all ages on a whirlwind voyage through space and time to the very edge of understanding.
Featuring an original score by Philip Glass, script adapted by Brian Greene and David Henry Hwang, and film created and directed by Al + Al, Icarus at the Edge of Time has been performed by orchestras around the world and narrated by acclaimed performers, such as John Lithgow, Liev Schreiber, Kal Pen and LeVar Burton.
At UCF Celebrates the Arts 2015 on Friday, April 10, 2015 at 7:30 PM, Icarus at the Edge of Time will be narrated by Kate Mulgrew (Star Trek: Voyager; Orange is the New Black) and the score will be performed by the UCF Symphony Orchestra, under the direction of conductor Art Pranno.
Icarus at the Edge of Time was commissioned and produced by World Science Festival (New York) with the Alfred P. Sloan Foundation, and Southbank Centre (London), with the Royal Society. Co-commissioned by Associazione Festival della Scienza, the Baltimore Symphony Orchestra and Glasgow's Concert Halls. Executive Producers: Tracy Day, World Science Festival, New York; Gillian Moore, Southbank Centre, London.
Ticket are FREE and available at the link…
Dr. Phillips Center for the Performing Arts
445 S. Magnolia Ave., Orlando, FL 32801
844.513.2014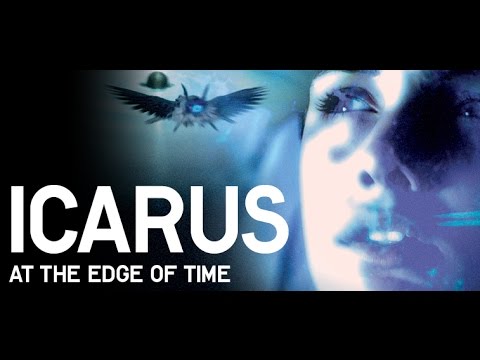 Press Release:
Kate Mulgrew, star of "Star Trek: Voyager" and "Orange is the New Black," joins Chicago Tribune "Balancing Act" columnist Heidi Stevens in conversation about Mulgrew's new memoir, "Born With Teeth" on Thursday, April 16, 2015 at 7:00 p.m. Known for playing strong women on screen, Mulgrew pulls back the curtain on her long career to reveal the personal struggles and triumphs behind it. A book signing will follow the discussion. Books will be available for purchase for $25 in advance with ticket for $28 at the event. Tickets available at the link…
About the speakers
Kate Mulgrew is an American actress, noted for her roles as Captain Kathryn Janeway on Star Trek: Voyager, Mary Ryan on Ryan's Hope, and, most recently, Galina "Red" Reznikov on Orange Is the New Black. She has performed in numerous television shows, theater productions, and movies. She is the winner of a Golden Satellite Award and a Saturn Award, and has been nominated for a Golden Globe and an Emmy. @thekatemulgrew
Heidi Stevens is a lifestyles reporter at the Chicago Tribune, where she reports on books, relationships, parenting and health. Stevens grew up in the northwest suburbs and studied journalism and political science at Eastern Illinois University. Her daily column runs Monday through Friday on chicagotribune.com and Sundays in the Tribune's Life & Style section. @HeidiStevens13
Venue SIX10
610 S. Michigan Ave Chicago, IL 60605
312.322.1725