Press Release:
DC Entertainment is pulling out all the stops in 2016 to make Comic-Con International: San Diego an event to remember for the multitude of fans attending July 20-24. The greatest Super Heroes and Super-Villains in comics and pop culture, the hottest artists and writers, exciting events and panels along with some of the most popular movie stars in Hollywood will all combine to make the DC booth (#1915) the place to be every day of the convention.
Comic-Con International: San Diego 2016 will be the launch pad for a yearlong celebration of DC's famed Amazonian Super Hero. DC celebrates the 75th anniversary of Wonder Woman with a variety of activities commemorating her iconic evolution on and off the page. On Saturday, July 23 from 3:00 – 4:00pm in Room 6DE, fans will be treated to some of the creative talent at the heart of Wonder Woman's past, present and future, along with a few surprise guests at the "Wonder Woman 75" panel.
Rare Wonder Woman costumes and props will be on display in the booth, including the original costume worn by Lynda Carter in the 1970s "Wonder Woman" television series as well as the costume donned by star Gal Gadot in the upcoming "Wonder Woman" 2017 feature film. Wonder Woman herself, Gal Gadot, will accompany her co-stars Chris Pine (Capt. Steve Trevor) and Connie Nielsen (Queen Hippolyta) to the DC booth for an autograph session, Saturday from 12:15 to 1:00pm. Wristbands for the Wonder Woman cast signing will be extremely limited and will be distributed beginning at 6am Saturday morning at the Sails Pavilion with the WB queue via lottery.
The excitement surrounding Wonder Woman's 75th isn't just limited to the show floor. Beginning Wednesday evening, fans will also have a one-of-a-kind opportunity to take a photo in the cockpit of Wonder Woman's iconic invisible jet, located on the corner of Island and 6th, just outside the San Diego Convention Center in the Gaslamp district. Illuminating at night, this unique experience will also feature larger-than-life Wonder Woman art pieces being created live onsite, with art inspired by her history and upcoming film, by female artists throughout the weekend.
For fans that like to root for the bad guys, the "Worst Heroes Ever" will be in full effect at Comic-Con with a host of "Suicide Squad"-related activities. Throughout the weekend, the DC booth will feature costumes and props from the movie, in theaters August 5th. Comic fans will get a big dose of Suicide Squad, courtesy of the DC – Suicide Squad: Most Wanted panel on Friday from 11:15am-12:15pm in Room 6DE. The Harley Quinn team of Jimmy Palmiotti and Amanda Conner will be joined by artist Mauricet (HARLEY AND HER GANG OF HARLEYS), along with writer Rob Williams and legendary artist Jim Lee, the team bringing fans new adventures of these villains-turned-heroes in SUICIDE SQUAD: REBIRTH, on sale August 3rd.
On Saturday, fans will be lining up early to make sure they meet and get autographs from the cast of "Suicide Squad" when they make their appearance at the DC booth from 1:15 – 2:00pm. Cast members will include: Margot Robbie (Harley Quinn), Will Smith (Deadshot), Jared Leto (The Joker), Joel Kinnaman (Col. Rick Flag), Viola Davis (Amanda Waller), Jai Courtney (Captain Boomerang), Jay Hernandez (El Diablo), Adewale Akinnuoye-Agbaje (Killer Croc), Scott Eastwood (Lieutenant GQ Edwards), Cara Delvingne (Enchantress),  Adam Beach (Slipknot) and Karen Fukuhara (Katana). As with the "Wonder Woman" cast signing, wristbands will be extremely limited; they will be distributed Saturday morning beginning at 6am at the Sails Pavilion with the WB queue via lottery system.
Scheduled nearly every hour of the Con, the DC booth will also host an array of appearances and autograph sessions for some of the best artists and writers in comics including, but not limited to, Scott Snyder (ALL STAR BATMAN, AMERICAN VAMPIRE), Tom King (BATMAN, SHERIFF OF BABYLON), Liam Sharp and Nicola Scott (WONDER WOMAN), Peter Tomasi and Pat Gleason (SUPERMAN), Hope Larson and Rafael Albuquerque (BATGIRL), Amanda Conner and Jimmy Palmiotti (HARLEY QUINN), Julie and Shawna Benson (BATGIRL AND THE BIRDS OF PREY) and Dan Jurgens (ACTION COMICS, BATMAN BEYOND).
Ever wanted to "Be The Batman?" Then come to the DC booth for a hands-on demo of "Batman: Arkham VR," the first virtual reality experience that allows players to put on the cape and cowl of Gotham's Dark Knight like never before. From Rocksteady Studios, "Batman: Arkham VR" immerses players into the gritty world of Gotham City through the eyes of the World's Greatest Detective. And if that's not enough Batman, the booth with also feature a life-sized LEGO Batman statue. Demos for Batman: Arkham VR will also require wristbands, available at the Sails Pavilion beginning Thursday at 6am.
For fans of DC Super Hero Girls, it's time once again to "Get Your Cape On" and mingle with the young heroes from "Super Hero High" in real life! The DC Super Hero Girls will be on hand to pose for pictures and give autographs to fans throughout the weekend. DC Super Hero Girls character Katana will also dazzle fans in the booth with her exhibitions of expert swordplay. Following the success of the New York Times best-selling original graphic novel DC SUPER HERO GIRLS: FINALS CRISIS, the heroes return in the upcoming original graphic novel DC SUPER HERO GIRLS Vol. 2: HITS & MYTHS and the original animated direct-to-DVD movie DC SUPER HERO GIRLS: HERO OF THE YEAR.
Any self respecting fan knows that no comic book convention is complete without cosplay, and the DC booth is the go-to spot for some awesome cosplay get-togethers every single day:
Thursday, July 21, 2:30pm – DC Comics Bombshells cosplay celebration
Friday, July 22, 5pm – Suicide Squad "Squad Up" cosplay celebration

Location: Island and 6th Avenue, near Invisible Jet display

Saturday, July 23, 5:00pm – Wonder Woman cosplay contest
Sunday, July 24, 2:30pm – DC Super Hero Girls cosplay contest
All cosplayers who attend will be awarded a special custom DC Fans medal for participating (while supplies last).
The DC booth will also include a green screen where fans pose in backgrounds from their favorite DC comic characters, films and games, including the Suicide Squad movie, the Wonder Woman comic, DC REBIRTH, DC Super Hero Girls and the Injustice video game.
Fans will also be treated to a series of must-attend panels spotlighting DC's iconic characters, and sneak peeks of yet-to-be released series. Highlights include:
Fans jaws are still agape and minds blown from the biggest comics event of 2016: DC's linewide REBIRTH relaunch! Join moderators Dan DiDio and Jim Lee along with some of the industry's most creative talent to see what's to come! (Saturday – 5:30, Room 6DE).
Presented as "Comics for Dangerous Humans," dive into the disruptive new pop-up imprint from My Chemical Romance front man and Eisner Award-winning writer Gerard Way, DC's YOUNG ANIMAL. Joined by an experimental group of collaborators, Way will unleash a collection of bold new stories that will take the medium to places never before seen (Friday – 5:30, Room 5AB).
After more than 75 years of stories, the Batman family of comics has never been hotter! Join the DC talent behind your favorite Dark Knight tales for an exclusive look at what's next for the World's Greatest Detective and his crime fighting colleagues! With Tom King (BATMAN), Scott Snyder (ALL STAR BATMAN), Julie and Shawna Benson (BATGIRL AND THE BIRDS OF PREY) and James Tynion IV (DETECTIVE COMICS) among others, this is the best time to explore the gritty streets of Gotham City! Room: 6DE
Be there as top talent from the genre-defying Vertigo imprint such as SUICIDERS: KINGS OF HELL.A. writer/artist Lee Bermejo, LUCIFER artist Lee Garbett and SHERIFF OF BABYLON writer Tom King discuss what's to come in their current series (Thursday – 4:30, Room 8).
Always the most hilarious panel at the Con, the MAD Magazine panel led by longtime editor John Ficarra and his "Usual Gang Of Idiots" including longtime artist Sergio Aragones and GOODNIGHT BATCAVE artist Tom Richmond will be one not to miss (Thursday – 6:00, Room 5AB).
Highlighted by stunning new Wonder Woman 75th anniversary figures, the DC Collectibles panel will unveil their latest line of action figures, statues, props and more (Thursday – 10:00, Room 9).
The Graphitti Designs booth #2314 will also once again carry highly collectible, exclusive variant comic books available for SDCC attendees only. All titles will be on sale beginning Wednesday Preview Night, July 20. DARK KNIGHT III: THE MASTER RACE #5 features an exclusive cover from BATGIRL artist Rafael Albuquerque and sells for $15 and is limited to two (2) copies per customer. Additional variants include BATMAN #1, WONDER WOMAN #1, and SUPERMAN #1 featuring art by Jim Lee and imprinted on silver foil, each selling for $10. JUSTICE LEAGUE #1 also receives the exclusive convention variant treatment, featuring cover art by Tony Daniel imprinted on silver foil and selling for $10.
Download the new DC All Access mobile app for a complete list of panels, behind-the-scenes coverage and in-depth interviews directly from DC's web series, "DC All Access." The app is available for free at the Apple App Store or the Google Play Store.
Press Release:
The Squad Up! Suicide Squad Cosplay Contest launches today from DC Entertainment and Warner Bros. and invites you to cosplay as your favorite squad member for a chance to win a trip to San Diego this July for Comic-Con International. Have you always wanted to build a Deadshot mask? Is Harley Quinn your spirit animal? Got a purple alligator-skinned coat in the back of your closet that you've been wondering what to do with? Then this contest is for you!
Here's how it works:
Assemble a costume based on the look of any of the following characters from Warner Bros.'s upcoming Suicide Squad film: Deadshot, The Joker, Harley Quinn, Colonel Rick Flag, Amanda Waller, Captain Boomerang, El Diablo, Killer Croc, Enchantress, Slipknot, and Katana.
Take a photo of yourself wearing your costume. Make sure it's a good quality photo that really shows off your costume!
You can find the full list of rules and conditions here. Trust us, you'll want to check them out. After the entry period, fans will be able to vote in two separate rounds and help us choose finalists in each of the character categories. Once we have our finalists, eleven different winners—one for each character—will be chosen.
We expect some heavy competition, but don't worry, we're here to help. At the link are some tips, as well as a gallery of characters to help with your costumes. Click on the photos to zoom in on them.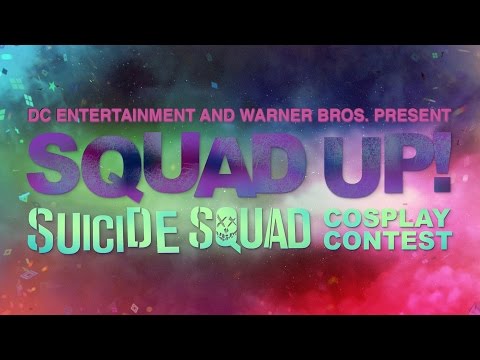 Corey Taylor appears at Barnes & Noble on Tuesday September 15, 2015 at 7:00 PM! Founding Member of Slipknot and Stone Sour, Corey Taylor will sign his new book: You're Making Me Hate You.
The Shoppes at Three Fountains
4550 University Avenue, West Des Moines, IA 50266
515-221-9171
Press Release:
BookPeople is thrilled to present Slipknot frontman Corey Taylor and lead singer of Lamb of God, Randy Blythe, for a joint signing of their new books You're Making Me Hate You and Dark Days on Tuesday September 1, 2015 at 7:00 PM! This is a book signing only. Tickets are required to join the signing line. See the event guidelines below.
EVENT & TICKET GUIDELINES
-This event is a SIGNING only. Taylor & Blythe will not give a public talk. They will, however, be very happy to meet you!
-Tickets are required to join the signing line.
-Tickets are only available with the purchase of a copy of You're Making Me Hate You and/or Dark Days.
-The line for the signing will form first come, first serve the day of the event.
-Tickets must be presented to join the signing line at this event.
-No memorabilia will be signed.
ABOUT COREY TAYLOR
Corey Taylor is the New York Times bestselling author of Seven Deadly Sins and A Funny Thing Happened on the Way to Heaven. The lead singer of the hard rock bands Slipknot and Stone Sour, Corey has earned eleven platinum records, forty-three gold records, and a Grammy Award.
ABOUT YOU'RE MAKING ME HATE YOU
Corey Taylor has had it. Had it with the vagaries of human behavior and life in this postmodern digital blanked-out waiting room that passes for a world. Reality TV, awful music, terrible drivers, megamalls, airports, family reunions, bad fashion choices, other people's monstrous children, and badly-behaved "adult" human beings are warping life in the twenty-first century into an often-unbearable endurance test of one's patience, fortitude, and faith. "You're Making Me Hate You" is a blisteringly funny diatribe that skewers the worst aspects of human behavior with a knowing eye for every excruciating detail, told in the vivid way that only Corey Taylor can.
Like his previous bestselling forays, "You're Making Me Hate You" is an unflinching glimpse into the mind of Corey Taylor, who spares no one from his seething gaze. Make no mistake: this is not the Corey Taylor you run into at meet-and-greets or in line at the coffee shop. This is not the kind and cuddly guy who kisses babies and takes pictures with your mom while leaving a voicemail for that distant cousin in college. This is not the loveable scamp who can poke just as much fun at himself as he does at the various rubes around him, though to be fair he does save one chapter for a brutal and lacerating self-analysis. This is Corey Motherfucking Taylor. This is the Great Big Mouth. This is that bastard you wonder about when you listen to Slipknot and Stone Sour.
ABOUT RANDY BLYTHE
Randy Blythe was born in Alabama and studied at the University of Alabama at Birmingham and the University of Alabama. He edited Aura from 1986 to 1988, co-founded Birmingham Poetry Review and co-edited that publication from 1988 to 1998, and assistant-edited Birmingham Poetry Review from 1998 to 2008. In addition to his work as a teacher, writer, and editor, he was a plumber for many years in Birmingham, a cattle farmer on his family's land in Etowah County, Alabama, and a drummer in rock, jazz, blues, and country bands. He lives in Birmingham and continues to teach composition, literature, and creative writing. He has published poems in numerous little magazines, among them The Laurel Review, Tar River Poetry, South Carolina Review, Chicago Quarterly Review, and Black Warrior Review. This is his first full-length collection.
ABOUT DARK DAYS
On June 27, 2012, the long-running, hard-touring, and world-renowned metal band lamb of god landed in Prague for their first concert there in two years. Vocalist D. Randall "Randy" Blythe was looking forward to a few hours off a rare break from the touring grind in which to explore the elegant, old city. However, a surreal scenario worthy of Kafka began to play out at the airport as Blythe was detained, arrested for manslaughter, and taken to Pankraacutec Prison, a notorious 123-year-old institution where the Nazis' torture units had set up camp during the German occupation of then-Czechoslovakia, and where today hundreds of prisoners are housed, awaiting trial and serving sentences in claustrophobic, sweltering, nightmare-inducing conditions.
Two years prior, a 19-year-old fan died of injuries suffered at a lamb of god show in Prague, allegedly after being pushed off stage by Blythe, who had no vivid recollection of the incident. Stage-crashing and -diving being not uncommon occurrences, as any veteran of hard rock, metal, and punk shows knows, the concert that could have left him imprisoned for years was but a vague blur in Blythe's memory, just one of the hundreds of shows his band had performed over their decades-long career.
At the time of his arrest Blythe had been sober for nearly two years, having finally gained the upper hand over the alcoholism that nearly killed him. But here he faced a new kind of challenge: jailed in a foreign land and facing a prison sentence of up to ten years. Worst of all, a young man was dead, and Blythe was devastated for him and his family, even as the reality of his own situation began to close in behind Pankraacutec Prison's glowering walls of crumbling concrete and razor wire.
What transpired during Blythe's incarceration, trial, and eventual acquittal is a rock 'n' roll road story unlike any other, one that runs the gamut from tragedy to despair to hope and finally to redemption. While never losing sight of the sad gravity of his situation, Blythe relates the tale of his ordeal with one eye fixed firmly on the absurd (and at times bizarrely hilarious) circumstances he encountered along the way. Blythe is a natural storyteller and his voice drips with cutting humor, endearing empathy, and soulful insight.
BookPeople
603 N Lamar Blvd, Austin, TX 78703
(512) 472-5050
Corey Taylor appears at Barnes & Noble on Sunday July 12, 2015 at 1:00 PM! Founding Member of Slipknot and Stone Sour, Corey Taylor will sign his new book: You're Making Me Hate You.
Barnes & Noble – Galleria Shopping Center
3225 W 69th Edina, MN 55435
952-920-0633
Corey Taylor (Slipknot) and Randall "Randy" Blythe (Lamb of God) present and sign their latest books, You're Making Me Hate You and Dark Days: A Memoir at Book Soup on Sunday, July 19, 2015 at 4:00 PM!
In the tradition of the late great George Carlin, New York Times bestselling author and lead singer of Slipknot and Stone Sour Corey, Taylor sounds off in hilarious fashion about the many vagaries of modern life that piss him off.   Whether it's people's rude behavior in restaurants and malls, the many indignities of air travel, eye-searingly terrible fashion choices, dangerously clueless drivers, and–most of all–the sorry state of much modern music, Taylor's humor and insight cover civil society's seeming decline–sparing no one along the way, least of all himself.  Holding nothing back and delivered in Taylor's inimitable voice, You're Making Me Hate You is a cathartic critique of the strange world in which we find ourselves. (Da Capo Press)
In 2010, a nineteen-year-old super-fan rushed the stage during a Lamb of God concert in Prague. To protect himself, singer Randy Blythe pushed the fan away. Unbeknownst to Blythe, the young man hit his head on the floor when he fell and later died from the injury. Blythe was promptly incarcerated on charges carrying a prison term of five to ten years. Thirty-seven days later, he was released on bail to await trial. Although legal experts told him not to return to the Czech Republic to face the charges, Blythe explained that he "could not run away from this problem while the grieving family of a dead young man searched hopelessly for answers that [he] might help provide."  After a five-day trial, he was acquitted on March 5, 2013.  In Dark Days, Blythe tells the story of his incarceration and the wild life that led up to it. As he explains, "Most substance abuse books end with the author getting sober. My book starts there." (Da Capo Press)
EVENT GUIDELINES:
Those wishing to get books signed will be asked to purchase at least one copy of the author's most recent title from Book Soup. For each purchased copy of the newest title, customers may bring up to three copies from home to be signed. This policy applies to all Book Soup events unless otherwise noted. Save your Book Soup receipt; it will be checked when you enter the signing line.
Book Soup
8818 Sunset Blvd, W. Hollywood, CA 90069
310.659.3110
Corey Taylor appear at Book Revue on Thursday, July 9th, 2015 at 7:00 PM to speak about and sign his new book, You're Making Me Hate You.
In the tradition of the late great George Carlin, New York Times bestselling author and lead singer of Slipknot and Stone Sour Corey Taylor sounds off in hilarious fashion about the many vagaries of modern life that piss him off.
Whether it's people's rude behavior in restaurants and malls, the many indignities of air travel, eye-searingly terrible fashion choices, dangerously clueless drivers, and—most of all—the sorry state of much modern music, Taylor's humor and insight cover civil society's seeming decline—sparing no one along the way, least of all himself.
Holding nothing back and delivered in Taylor's inimitable voice,You're Making Me Hate You is a cathartic critique of the strange world in which we find ourselves.
IMPORTANT!
All books signed at Book Revue events must be purchased at Book Revue. If you purchase the book prior to the event please save your receipt. If you have purchased the book from somewhere else you can still get your book signed, we just ask that you make a purchase in our store of equal or greater value to that of the book.
Book Revue
313 New York Avenue, Huntington, NY 11743
631-271-1442
Corey Taylor appears at Bookends on Monday, July 6th at 6:00 PM! Founding Member of Slipknot and Stone Sour, Corey Taylor will sign his new book: You're Making Me Hate You. Each Person attending must purchase one or more books.
Bookends
211 E. Ridgewood Avenue, Ridgewood, NJ 07450
201-445-0726
Slipknot and Stone Sour frontman Corey Taylor appears at 4th World Comics on Wednesday July 17th from 4-6pm!! He's supporting his new comic book "House of Gold and Bones" from Dark Horse comics.
33 Route 111, Smithtown, NY 11787
Press Release:
COREY TAYLOR TO PEN HOUSE OF GOLD & BONES COMIC!
A multimedia presence includes two upcoming Stone Sour albums and more!
October 10, NEW YORK, NY—Grammy-nominated musician and best-selling author Corey Taylor, the lyricist and lead singer of Slipknot and Stone Sour, is setting down the microphone and putting ink and images to paper in his new project with Dark Horse Comics—House of Gold & Bones!
With stunning covers from Jason Shawn Alexander (Empty Zone, Abe Sapien), this limited four-issue series marks Corey Taylor's debut in the comics genre. "I've been a die-hard fan of comics, on every level, my entire life," says Taylor. "This has been a dream of mine for years now, and this project was tailor made for a comic, no pun intended. I couldn't have picked a better company than Dark Horse to make this a reality. I have loved several of their titles for many years, going back to '92. If we can get this crazy world out of my head and onto the canvas, it'll be the best thing I've ever attempted. And with Dark Horse, I have every confidence that's exactly what we'll do."
House of Gold & Bones is a unique multimedia experience which includes two Stone Sour albums via Roadrunner Records (release date for Part 1 is October 22, with Part 2 following in 2013), videos, online presence, creative album packaging, live shows, and now the Dark Horse Comics series. Each element will follow and expand on the story. Taylor, already an internationally best-selling author, courtesy of last year's Seven Deadly Sins, wrote the story—as well as the lyrics for the twenty-three tracks that make up the two albums—as a linear story line. The Stone Sour songs set the tone and follow the action, with Taylor's House of Gold & Bones comic expanding on the story.
Corey Taylor will be signing in the Dark Horse Booth at New York Comic Con Saturday, October 12 at 3 p.m.
Stone Sour's House of Gold & Bones Part 1 album is on sale October 22, 2012!
House of Gold & Bones issue #1 is on sale April 17, 2013!
Check out the exclusive interview with Corey Taylor on USAToday!
About Dark Horse
Founded in 1986 by Mike Richardson, Dark Horse Comics has proven to be a solid example of how integrity and innovation can help broaden a unique storytelling medium and establish a small, homegrown company as an industry giant. The company is known for the progressive and creator-friendly atmosphere it provides for writers and artists. In addition to publishing comics from top talent such as Frank Miller, Mike Mignola, Neil Gaiman, Brian Wood, Gerard Way, Felicia Day, and Guillermo del Toro, and comics legends such as Will Eisner, Neal Adams, and Jim Steranko, Dark Horse has developed its own successful properties, including The Mask, Ghost, Timecop, and SpyBoy. Its successful line of comics and products based on popular properties includes Star Wars, Mass Effect, Buffy the Vampire Slayer, Aliens, Conan, Emily the Strange, Tim Burton's Tragic Toys for Girls and Boys, Serenity, and Domo. Today Dark Horse Comics is the largest independent comic book publisher in the US and is recognized as one of the world's leading publishers of both creator-owned content and licensed comics material.