Press Release:
One of the most popular events that Heritage Auctions ever launched was accepting consignments and offering direct sales At Comic-Con International in San Diego.
For over 20 years we offered an incredible assortment of Comic character collectibles while maintaining our auction presence.
Heritage has decided to continue the tradition!
As in past years, we will again extend clients the opportunity to offer comic art, comic books and collectibles on their behalf at our booths  Items offered for sale at the show, sell at the convention. No waiting, no buyer's premium, no angst, instant gratification!
A Flat 15% commission, no buyer's premium. You can bring and pick up your consignment at the show.
Let us explain how this works, after over 30+ years of setting up at conventions, one thing has always been certain, collectors have always found their way to our booths to visit, view art, rest and invariably ask if we would offer their collectibles while at the show. We found this to be a win/win situation: great for our friends and great for us also. In recent years, we extended this opportunity to you, our clients, with great success and do so again. You do not have to attend the convention to participate!  However, you do need to contact us  to discuss consignments.
Please contact us with questions for more details. Consignments are being accepted NOW
We already have commitments for great animation art, an outstanding array of Silver age and Golden age comic art by luminaries including: Frazetta, Kirby, Ditko, Infantino, etc. as well as what promises to be a great selection of strip art by McCay, Herriman, Foster, Raymond, etc
.
Please visit us at booths 4302, 4304, 4306 near Artists Alley. Stay tuned for more information on items we will be offering! We look forward to your participation.
Press Release:
The Squad Up! Suicide Squad Cosplay Contest launches today from DC Entertainment and Warner Bros. and invites you to cosplay as your favorite squad member for a chance to win a trip to San Diego this July for Comic-Con International. Have you always wanted to build a Deadshot mask? Is Harley Quinn your spirit animal? Got a purple alligator-skinned coat in the back of your closet that you've been wondering what to do with? Then this contest is for you!
Here's how it works:
Assemble a costume based on the look of any of the following characters from Warner Bros.'s upcoming Suicide Squad film: Deadshot, The Joker, Harley Quinn, Colonel Rick Flag, Amanda Waller, Captain Boomerang, El Diablo, Killer Croc, Enchantress, Slipknot, and Katana.
Take a photo of yourself wearing your costume. Make sure it's a good quality photo that really shows off your costume!
You can find the full list of rules and conditions here. Trust us, you'll want to check them out. After the entry period, fans will be able to vote in two separate rounds and help us choose finalists in each of the character categories. Once we have our finalists, eleven different winners—one for each character—will be chosen.
We expect some heavy competition, but don't worry, we're here to help. At the link are some tips, as well as a gallery of characters to help with your costumes. Click on the photos to zoom in on them.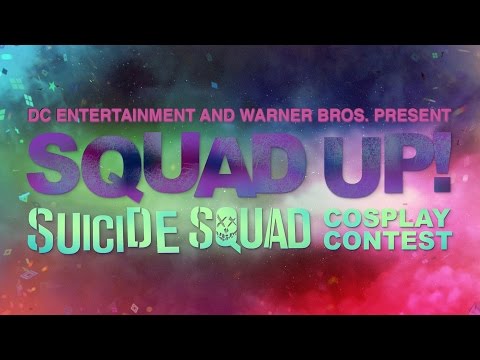 Collider is offering a free trip for two to SDCC 2016. The winner of their contest will receive:
Airfare for two to San Diego, California
Two badges to the San Diego Comic-Con
Accommodations at a hotel located on the SDCC shuttle route.
$250 gift card for "a little extra spending money"
The contest ends June 30 and is only available to residents of the continental United States.
For more information and to enter, visit Collider.
Press Release:
WORLD PREMIERE OF "STAR TREK BEYOND" TO DEBUT IN IMAX® AT SAN DIEGO COMIC-CON®
THE FIRST-EVER OUTDOOR IMAX PREMIERE EVENT WILL INCLUDE APPEARANCES BY THE FILM'S CAST AND CREW, AND A LIVE CONCERT PERFORMANCE BY THE SAN DIEGO SYMPHONY ORCHESTRA HOLLYWOOD, CA
(May 20, 2016) – Paramount Pictures, Skydance, Bad Robot and director Justin Lin today announced that the world premiere of "STAR TREK BEYOND" will play in the immersive IMAX® format at Comic-Con International: San Diego, in partnership with the San Diego Symphony Orchestra and IMAX Corporation, on Wednesday, July 20, at the Embarcadero Marina Park South.
The red carpet event at San Diego Comic-Con, which marks the first-ever open-air IMAX world premiere, will feature special appearances by Lin and the "STAR TREK BEYOND" filmmakers and cast, as well as a live concert performance of Academy Award®-winning composer Michael Giacchino's film score by the San Diego Symphony Orchestra. Lin made the announcement at the STAR TREK FAN EVENT, where all fans in attendance were invited.
"I am thrilled to celebrate the premiere of the film together with the fans at Comic-Con and excited for everyone there to experience Michael Giacchino's incredible score played live," said Lin.
Added David Glanzer, spokesperson for Comic-Con International: "We are both privileged and excited that Paramount Pictures, Skydance and Bad Robot have chosen to honor fans by having the world premiere of the next chapter of Star Trek at Comic-Con this summer."
"What better way to show appreciation for the constant support of IMAX fans worldwide than by partnering with our friends at Paramount, Skydance, Bad Robot and the San Diego Symphony Orchestra on this ultimate Comic-Con world premiere," said Greg Foster, Senior Executive Vice President, IMAX Corp. and CEO of IMAX Entertainment.
As a special event for this year's Comic-Con attendees, fans will have the chance to attend the world premiere of "STAR TREK BEYOND." Details about ticket distribution will be announced prior to the 2016 convention.
"STAR TREK BEYOND," the highly anticipated next installment in the globally popular Star Trek franchise, created by Gene Roddenberry and reintroduced by J.J. Abrams in 2009, returns with director Justin Lin ("The Fast and the Furious" franchise) at the helm of this epic voyage of the U.S.S. Enterprise and her intrepid crew. In "Beyond," the Enterprise crew explores the furthest reaches of uncharted space, where they encounter a mysterious new enemy who puts them and everything the Federation stands for to the test.
From Paramount Pictures and Skydance, "STAR TREK BEYOND" is a Bad Robot, Sneaky Shark, Perfect Storm Entertainment production. The film stars John Cho, Simon Pegg, Chris Pine, Zachary Quinto, Zoë Saldana, Karl Urban, Anton Yelchin and Idris Elba. Directed by Justin Lin, the third film in the franchise series is produced by J.J. Abrams, Roberto Orci, Lindsey Weber, and Justin Lin; and executive produced by Jeffrey Chernov, David Ellison, Dana Goldberg, and Tommy Harper. Based upon "Star Trek" created by Gene Roddenberry, the screenplay is written by Simon Pegg & Doug Jung.
The IMAX® release of "STAR TREK BEYOND" will be digitally re-mastered into the image and sound quality of The IMAX Experience® with proprietary IMAX DMR® (Digital Re-mastering) technology. The crystal-clear images, coupled with IMAX's customized theatre geometry and powerful digital audio, create a unique environment that will make audiences feel as if they are in the movie.
"STAR TREK BEYOND" opens in theaters and IMAX® beginning July 22, 2016.
About Paramount Pictures Corporation
Paramount Pictures Corporation (PPC), a global producer and distributor of filmed entertainment, is a unit of Viacom (NASDAQ: VIAB, VIA), a leading content company with prominent and respected film, television and digital entertainment brands. Paramount controls a collection of some of the most powerful brands in filmed entertainment, including Paramount Pictures, Paramount Animation, Paramount Television, Paramount Vantage, Paramount Classics, Insurge Pictures, MTV Films, and Nickelodeon Movies. PPC operations also include Paramount Home Media Distribution, Paramount Pictures International, Paramount Licensing Inc., and Paramount Studio Group.
Chuck Rozanski from Mile High Comics provided regular updates from the San Diego Comic-Con, and we have them gathered in one place for you.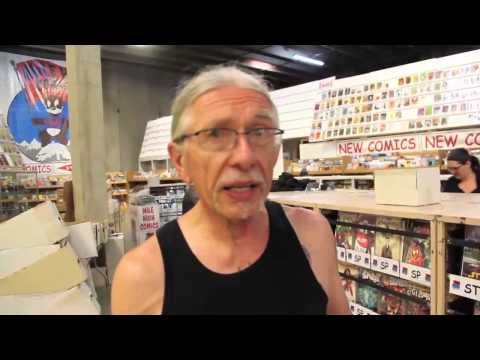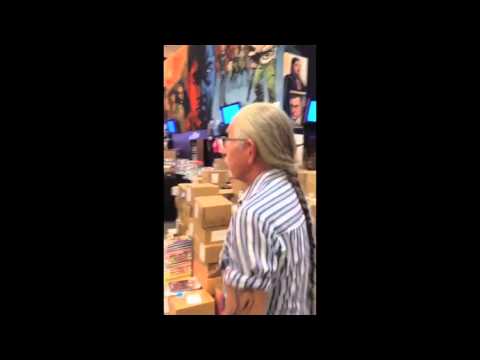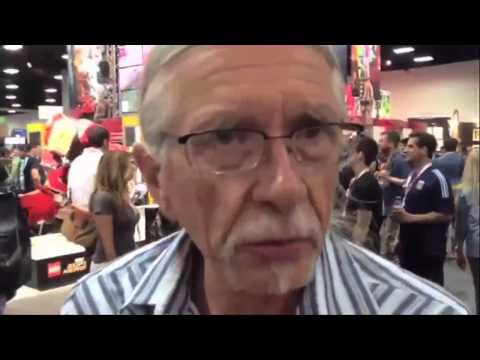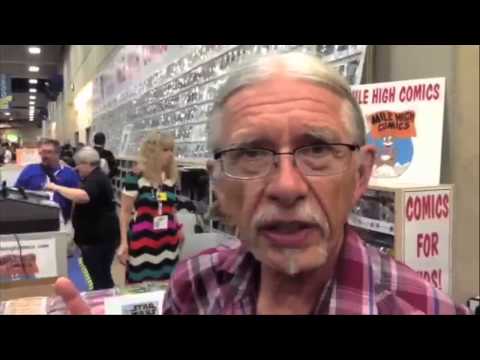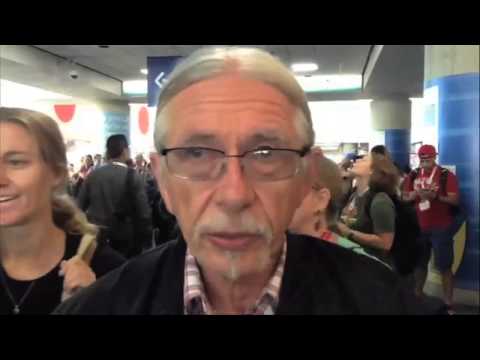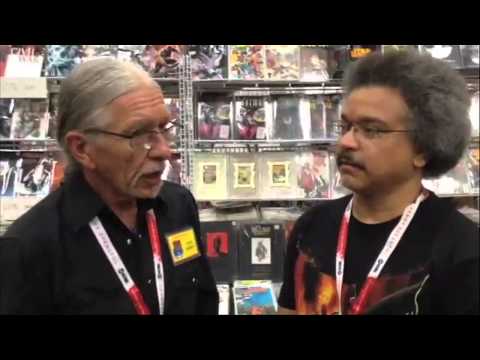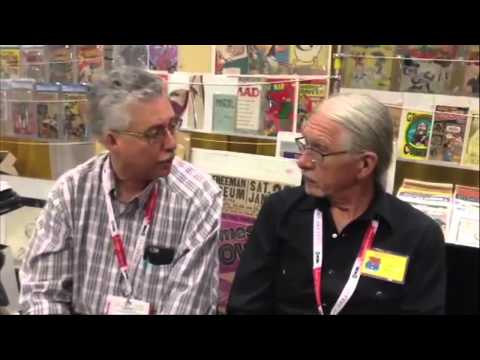 Next year's Deadpool film emerged as one of the highlights of this year's San Diego Comic Con. Here are the full panel, interviews including one with Rob Liefeld, and the leaked trailer (NOTE: The trailer is not work-friendly or kid-safe.)
Ryan Reynolds, Morena Baccarin, TJ Miller & Brianna Hildebrand's DEADPOOL Interview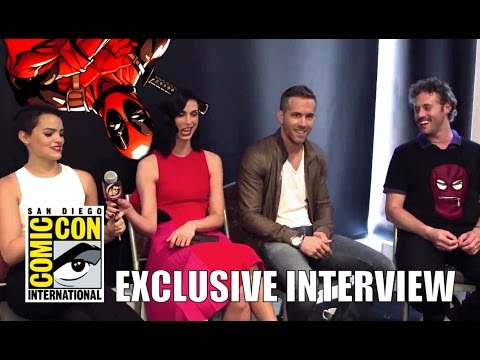 It wasn't until I got home, I realized my keys, wallet and kidney was missing. #Gambit. #deadpool pic.twitter.com/gFsYHBGcX5

— Ryan Reynolds (@VancityReynolds) July 12, 2015
"Now THAT's the way to end a panel." – @RealStanLee #HallH #SDCC pic.twitter.com/KGXwm3Soas

— 20th Century Fox (@20thcenturyfox) July 12, 2015
I love my team. @nottjmiller @ginacarano @missmorenab @VancityReynolds @briannahilde #Deadpool #SDCC2015 pic.twitter.com/OJs8RUeykW

— Ed Skrein (@edskrein) July 12, 2015
When they announced 'could all the super heroes come to the stage' it was a surreal and unforgettable moment 🙌🏼 #SDCC pic.twitter.com/uimfXcAhU6

— Ed Skrein (@edskrein) July 12, 2015
Be sure to keep coming back for more as we curate the best videos from the 2015 San Diego Comic-Con.
Marvel will be streaming live from the San Diego Comic-Con from 9:30AM to 7 PM PT each day (5PM on Sunday), and you can watch it right here: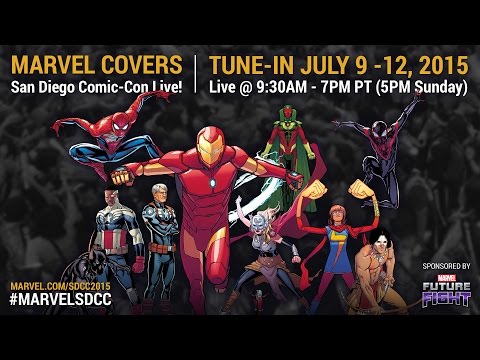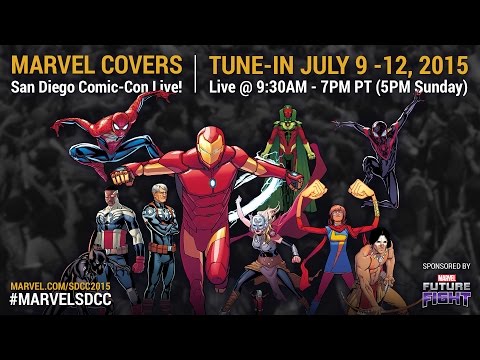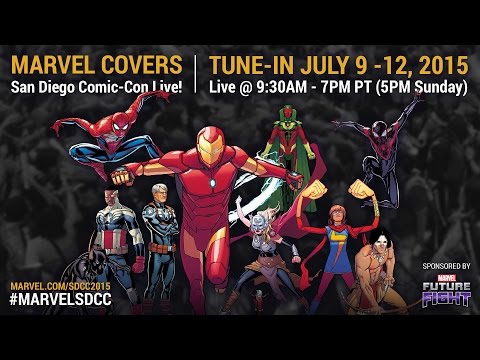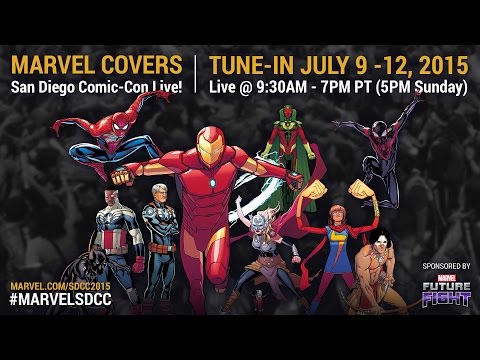 Press Release:
"BEST. WEEKEND. EVER."
WARNER BROS. TELEVISION TALENT DESCRIBE COMIC-CON IN THREE WORDS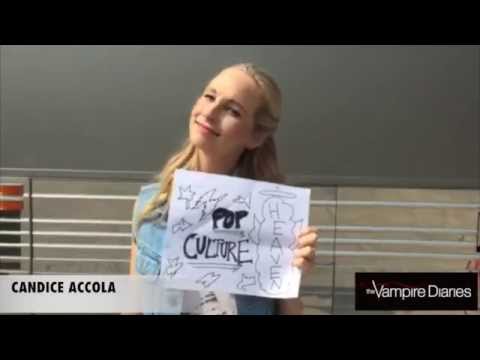 It's finally Comic-Con week and Warner Bros. Television talent are just as excited as the fans! They'll have lots to say at their panels at SDCC, but for now…they're expressing their excitement in just three words.
Left to their own devices with little instruction and only a cell phone for filming, some of TV's biggest stars embraced the challenge: Share your Comic-Con experience in three words.The team at WBTV assembled the fun challenge in one super video.
Stars that participated in the rogue camera challenge include:
Supernatural's Jared Padalecki and Jensen Ackles
The Vampire Diaries' Ian Somerhalder, Paul Wesley, Candice Accola and Michael Malarkey
Mike Tyson Mysteries' Mike Tyson
The Flash's Candice Patton, Carlos Valdes and Danielle Panabaker
Arrow's Katie Cassidy and Paul Blackthorne
The 100's Eliza Taylor
The Originals' Charles Michael Davis
Person of Interest's Kevin Chapman
Gotham's Ben McKenzie, David Mazouz and Camren Bicondova
Blindspot's Jaimie Alexander
and the entire cast of iZOMBIE: Rose McIver, Malcolm Goodwin, Rahul Kohli, Robert Buckley and David Anders.
And feel free to share YOUR three words for Comic-Con on social media! Use #WBSDCC so we won't miss it.
Press Release:
This morning, Ryan Reynolds and the cast of the upcoming film from 20th Century Fox, DEADPOOL, announced their appearance at this year's Comic Con in San Diego with a nod to The Merc's favorite TV Show, The Golden Girls, by tweeting the theme song. Below, find all the tweets from the DEADPOOL cast in order:
Hey #SDCC, Thank you for being a friend… pic.twitter.com/Kl52TtOPio

— Ryan Reynolds (@VancityReynolds) July 8, 2015
Travel down the road and back again…. #SDCC #Deadpool https://t.co/nQVy47vLFt

— Gina Carano (@ginacarano) July 8, 2015
. @ginacarano @VancityReynolds @deadpoolmovie "Your heart is true, you're a pal and a confidant…" pic.twitter.com/vAVbLTIY0n

— t.j. miller (@nottjmiller) July 8, 2015
.@nottjmiller And if you threw a party, invited everyone you knew… #SDCC #Deadpool pic.twitter.com/z4l9m7ZAF4

— Morena Baccarin (@missmorenab) July 8, 2015
.@missmorenab You would see, the biggest gift would be from me… pic.twitter.com/s2FpAxY30Q

— Brianna Hildebrand (@briannahilde) July 8, 2015
.@briannahilde And the card attached would say… pic.twitter.com/4s7W3vYyES

— Ed Skrein (@edskrein) July 8, 2015
@edskrein Eat me. https://t.co/BjDq8Y5khO

— Ryan Reynolds (@VancityReynolds) July 8, 2015
——————————
DEADPOOL
Action-Adventure
Release: February 12, 2016
Director: Tim Miller
Screenplay by: Paul Wernick & Rhett Reese
Producers: Simon Kinberg, Lauren Shuler Donner, Ryan Reynolds
Cast: Ryan Reynolds, Morena Baccarin, Ed Skrein, T.J. Miller, Gina Carano, Brianna Hildebrand
SYNOPSIS
Based upon Marvel Comics' most unconventional anti-hero, DEADPOOL tells the origin story of former Special Forces operative turned mercenary Wade Wilson, who after being subjected to a rogue experiment that leaves him with accelerated healing powers, adopts the alter ego Deadpool. Armed with his new abilities and a dark, twisted sense of humor, Deadpool hunts down the man who nearly destroyed his life.
DEADPOOL Official Socials
Website: http://www.foxmovies.com/deadpool
Facebook: https://www.facebook.com/DeadpoolMovie
Twitter: https://twitter.com/deadpoolmovie
Instagram: https://instagram.com/DeadpoolMovie/
Pinterest: https://www.pinterest.com/DeadpoolMovie/