Next year's Deadpool film emerged as one of the highlights of this year's San Diego Comic Con. Here are the full panel, interviews including one with Rob Liefeld, and the leaked trailer (NOTE: The trailer is not work-friendly or kid-safe.)
Deadpool Full Panel

Ryan Reynolds, Morena Baccarin, TJ Miller & Brianna Hildebrand's DEADPOOL Interview

MTV interviews Ryan Reynolds

MTV interviews Ed Skrein

JoBlo interviews Rob Liefeld

Bootleg Copy of the Trailer
https://www.youtube.com/watch?v=UUE8VHwMV6k
It wasn't until I got home, I realized my keys, wallet and kidney was missing. #Gambit. #deadpool pic.twitter.com/gFsYHBGcX5

— Ryan Reynolds (@VancityReynolds) July 12, 2015
"Now THAT's the way to end a panel." – @RealStanLee #HallH #SDCC pic.twitter.com/KGXwm3Soas

— 20th Century Fox (@20thcenturyfox) July 12, 2015
I love my team. @nottjmiller @ginacarano @missmorenab @VancityReynolds @briannahilde #Deadpool #SDCC2015 pic.twitter.com/OJs8RUeykW

— Ed Skrein (@edskrein) July 12, 2015
When they announced 'could all the super heroes come to the stage' it was a surreal and unforgettable moment 🙌🏼 #SDCC pic.twitter.com/uimfXcAhU6

— Ed Skrein (@edskrein) July 12, 2015
Press Release:
This morning, Ryan Reynolds and the cast of the upcoming film from 20th Century Fox, DEADPOOL, announced their appearance at this year's Comic Con in San Diego with a nod to The Merc's favorite TV Show, The Golden Girls, by tweeting the theme song. Below, find all the tweets from the DEADPOOL cast in order:
Hey #SDCC, Thank you for being a friend… pic.twitter.com/Kl52TtOPio

— Ryan Reynolds (@VancityReynolds) July 8, 2015
Travel down the road and back again…. #SDCC #Deadpool https://t.co/nQVy47vLFt

— Gina Carano (@ginacarano) July 8, 2015
. @ginacarano @VancityReynolds @deadpoolmovie "Your heart is true, you're a pal and a confidant…" pic.twitter.com/vAVbLTIY0n

— t.j. miller (@nottjmiller) July 8, 2015
.@nottjmiller And if you threw a party, invited everyone you knew… #SDCC #Deadpool pic.twitter.com/z4l9m7ZAF4

— Morena Baccarin (@missmorenab) July 8, 2015
.@missmorenab You would see, the biggest gift would be from me… pic.twitter.com/s2FpAxY30Q

— Brianna Hildebrand (@briannahilde) July 8, 2015
.@briannahilde And the card attached would say… pic.twitter.com/4s7W3vYyES

— Ed Skrein (@edskrein) July 8, 2015
@edskrein Eat me. https://t.co/BjDq8Y5khO

— Ryan Reynolds (@VancityReynolds) July 8, 2015
——————————
DEADPOOL
Action-Adventure
Release: February 12, 2016
Director: Tim Miller
Screenplay by: Paul Wernick & Rhett Reese
Producers: Simon Kinberg, Lauren Shuler Donner, Ryan Reynolds
Cast: Ryan Reynolds, Morena Baccarin, Ed Skrein, T.J. Miller, Gina Carano, Brianna Hildebrand
SYNOPSIS
Based upon Marvel Comics' most unconventional anti-hero, DEADPOOL tells the origin story of former Special Forces operative turned mercenary Wade Wilson, who after being subjected to a rogue experiment that leaves him with accelerated healing powers, adopts the alter ego Deadpool. Armed with his new abilities and a dark, twisted sense of humor, Deadpool hunts down the man who nearly destroyed his life.
DEADPOOL Official Socials
Website: http://www.foxmovies.com/deadpool
Facebook: https://www.facebook.com/DeadpoolMovie
Twitter: https://twitter.com/deadpoolmovie
Instagram: https://instagram.com/DeadpoolMovie/
Pinterest: https://www.pinterest.com/DeadpoolMovie/
WonderCon's 25th anniversary took place last weekend, April 1st-3rd at the Moscone Center in San Francisco. As an attendee for many years, I was shocked to see how crowded the show was for the duration of the show. With Marvel making their first appearance at the show, as well as mainstays such as DC Comics, Image, and Aspen, the show definitely had a strong comic vibe. However, more than most years, especially with some of the most anticipated comic adapted movies coming out this summer, Wondercon also emphasized their entertainment presence. With Green Lantern cast members Ryan Reynolds and Blake Lively signing at the DC booth, to fan photo ops of Henry Cavill (newly cast as Superman in Zach Snyder's next project), Luke Evans, and Isabel Lucas for the new Immortals movie, and Lily Collins, Paul Bettany and Cam Gigandet promoting Priest, along with a surprise appearance from Brandon Routh joining costar Sam Huntington for Dylan Dog, this WonderCon almost felt like a pre San Diego Comic Con show. While it was definitely awesome to see the stars promoting their films, I do hope that Wonder Con can still retain it's own identity and not turn into a San Diego Comic Con part 2. And now, onto the photos!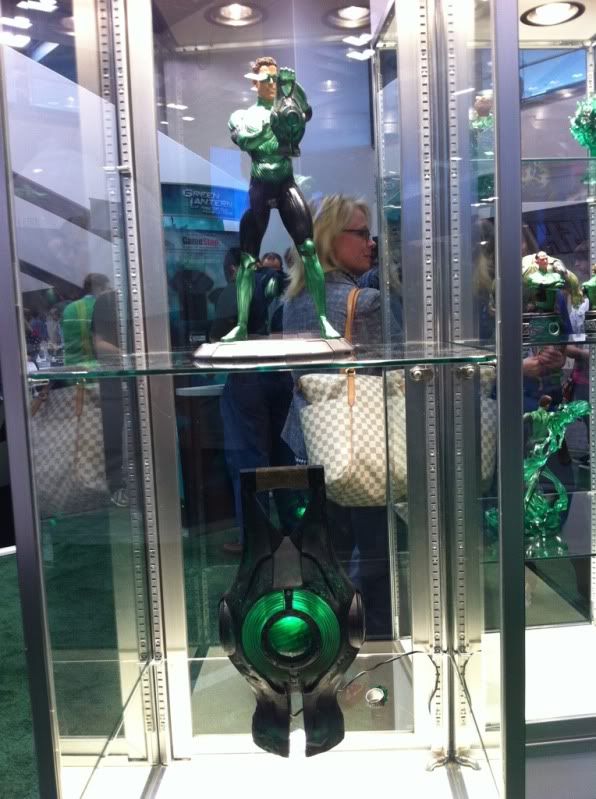 And of course, what good is a con without Cosplay? Here's some of the best ones I saw at the show:
Press Release:
WonderCon Schedule Released, Comics and Hollywood Stars Headline
Event's 25th Anniversary Promises to Be Most Spectacular to Date
SAN FRANCISCO, March 21, 2011 /PRNewswire-USNewswire/ — Comic-Con International (Comic-Con), the parent company of WonderCon, today released the much anticipated program schedule for the event, which will be held Friday through Sunday, April 1–3, at Moscone Center in San Francisco.
The popular convention features every major comic book publisher, as well as major Hollywood movie studios and stars of comics, movies, and television.
"This year's lineup is pretty spectacular," commented David Glanzer, WonderCon's Director of Marketing and Public Relations. "Programming is always at the heart of our shows, and I think this year's slate will prove to be among the most exciting yet."
Originally considered a regional show for Northern California, in recent years WonderCon has followed her sister event, the San Diego Comic-Con, in becoming a full-fledged national show attracting attendees and media from all over the country.
WonderCon 2011 features some of the premier stars of the comics world including Jason Aaron, Sergio Aragones, Berkeley Breathed, Tony Daniel, Mark Evanier, Adam Hughes, Robert Kirkman, Hope Larson, Bob Layton, Paul Levitz, Jeremy Love, Francis Manapul, Carla Speed McNeil, Terry Moore, Ryan Ottley, Joe Quesada, Frank Quitely, Amy Reeder, James Robinson, Seth, Bill Sienkiewicz, Len Wein, F. Paul Wison, Judd Winick, and Marv Wolfman.
Hollywood has a major presence at WonderCon this year as well, joining the action with an exclusive peek at Green Lantern with stars Ryan Reynolds, Blake Lively and Peter Sarsgaard; a Cowboys & Aliens discussion with director Jon Favreau; a special presentation on the movie Immortals featuring Henry Cavill (the new Superman) and Kellan Lutz; and appearances by V's Elizabeth Mitchell, Priest's Paul Bettany, Super's Rainn Wilson, Human Target's Mark Valley, and Breaking In's Christian Slater.
The complete WonderCon programming schedule can be found at http://www.comic-con.org/wc/wc_prog.php. WonderCon ticketing details and additional information about the Comic-Con family of conventions can be found at www.comic-con.org.
About WonderCon:
WonderCon, one of the country's best comics and popular arts conventions, is part of Comic-Con International (CCI), a nonprofit educational organization dedicated to creating awareness of, and appreciation for, comics and related popular art forms. The organization achieves its mission primarily through the presentation of conventions and events that celebrate the historic and ongoing contribution of comics to art and culture. In addition to San Francisco–based WonderCon each spring, CCI organizes San Diego Comic-Con each summer (the world's largest comics convention of its kind) and San Francisco's Alternative Press Expo (APE) each fall. On the web: WonderCon.org, Facebook.com/wondercon, Twitter.com/wondercon.
Press Release:
"Green Lantern" Shines Bright at WonderCon
Stars of the Upcoming Film—Ryan Reynolds, Blake Lively, Peter Sarsgaard—Kick Off the Weekend and the Super Hero's Multi-Platform Presence at the Con
WonderCon 2011
BURBANK, Calif.–Fans attending on Friday, April 1st, the first day of WonderCon, will be treated to a special "Green Lantern" talent signing and panel featuring the stars of the upcoming Warner Bros. Pictures feature film: Ryan Reynolds, Blake Lively and Peter Sarsgaard. The signing begins at 4 p.m., followed by the panel discussion at 5.
The highly anticipated "Green Lantern" movie, in theatres on June 17, 2011, will be the first live-action feature film to star the popular DC Comics character. The film relates the origin story of alter ego Hal Jordan (Reynolds), a test pilot and the first human chosen to wear the ring that provides him his superpowers.
Following the opening day panel, Hal Jordan and the Green Lantern Corps will have a deep and diverse presence throughout the weekend due to the combined efforts of DC Entertainment (DCE) and the various divisions of Warner Bros. Entertainment, including Warner Home Video (WHV), Warner Bros. Interactive Entertainment (WBIE) and Warner Bros. Consumer Products (WBCP).
WHV will present the World Premiere of the Blu-ray and DVD feature "Green Lantern: Emerald Knights" on Friday evening in the Esplanade Ballroom, immediately followed by a panel discussion featuring filmmakers and voice cast members. Panelists will also take part in an autograph session on Saturday. The all new DC Universe Animated Original Movie weaves six interlocking stories of the Green Lantern Corps' rich mythology around preparations for an attack by an ancient enemy.
Also on Friday, DC Comics will host a panel about the Green Lantern comic books and the 2011 War of the Green Lanterns crossover event. The DC booth will host Green Lantern-themed signings and giveaways throughout the weekend.
WBIE and DCE will showcase "Green Lantern: Rise of the Manhunters," an action-adventure videogame that will be available in conjunction with the theatrical release of "Green Lantern." Throughout the Con, visitors to the DC Comics booth will be able to get hands-on time with the game that delivers an immersive experience for Green Lantern fans of all ages.
WBCP's worldwide licensing program for the highly anticipated "Green Lantern" film has already taken the industry by storm. Product manufacturers around the world have come together to capture and unleash the power of Green Lantern, who lit the way at this year's Toy Fair, with master toy licensee Mattel bringing to life a comprehensive toy line inspired by the upcoming film. Visitors at WonderCon will get a sneak peek of the toy line, along with the opportunity to be "chosen" to win some of the popular products, long before they hit retail shelves.
All this and more begins with the "Green Lantern" signing at 4 p.m. and panel at 5 p.m. on Friday, April 1, 2011. WonderCon opens the doors to the main floor at noon. The event runs all weekend, through Sunday, April 3rd, at the Moscone Center in San Francisco. Go to http://www.comic-con.org/wc/ for tickets to the "Green Lantern" opening day panel and for information about all of the Warner Bros.- and DC Entertainment-related events.
About the feature film "Green Lantern"
"Green Lantern" stars Ryan Reynolds, Blake Lively, Peter Sarsgaard, Mark Strong, Jay O. Sanders, Temuera Morrison, Taika Waititi, Jon Tenney, Angela Bassett and Tim Robbins. Martin Campbell directs the film from a screenplay by Greg Berlanti & Michael Green & Marc Guggenheim and Michael Goldenberg, story by Greg Berlanti & Michael Green & Marc Guggenheim, based upon characters appearing in magazines published by DC Comics. The film is being produced by Donald De Line and Greg Berlanti. Herbert W. Gains and Andrew Haas serve as executive producers. The film will open in 3D and 2D on June 17, 2011. "Green Lantern" will be distributed worldwide by Warner Bros. Pictures, a Warner Bros. Entertainment Company. www.greenlantern.com.
About "Green Lantern: Emerald Knights"
As the battle approaches, Hal Jordan (voiced by Nathan Fillion) mentors new recruit Arisia (Elisabeth Moss) in the history of the Green Lantern Corps, telling tales of Avra (the first Green Lantern) and several of Hal's comrades, including Abin Sur, Kilowog, Laira and Mogo. In the end, Arisia must rise to the occasion to help Hal, Sinestro and the entire Green Lantern Corps save the universe from the destructive forces of Krona. The cast also features actor/spoken word artist Henry Rollins, Jason Isaacs, legendary professional wrestler "Rowdy" Roddy Piper, Arnold Vosloo, Kelly Hu and Wade Williams. Bruce Timm is executive producer, and the directors are Lauren Montgomery, Jay Oliva and Christopher Berkeley. Penned by comic book luminaries Geoff Johns, Dave Gibbons, Peter J. Tomasi, Eddie Berganza, Alan Burnett, Todd Casey and Michael Green & Marc Guggenheim, "Green Lantern: Emerald Knights" will be distributed June 7, 2011 by Warner Home Video as part of the build up to the release of the highly anticipated live action film, "Green Lantern," in theatres June 17.
About "Green Lantern: Rise of the Manhunters"
The game is inspired by the feature film. Players will utilize over a dozen constructs and take flight across the deepest parts of the universe to restore intergalactic order by wielding the ultimate weapon: the Green Lantern power ring. The game will be available this summer for Xbox 360® video game and entertainment system from Microsoft, PlayStation® 3 computer entertainment system, Wii™ and Nintendo DS™ and delivers an immersive experience for Green Lantern fans that the entire family will enjoy. For more information, visit www.greenlanternvideogame.com.
The Green Lantern Corps oath becomes the theme for these 4 posters representing Hal Jordan, Carol Ferris, Sinestro, and Hector Hammond for the 2011 Green Lantern film starring Ryan Reynolds, Blake Lively, Mark Strong, and Peter Sarsgaard, respectively.
First up, the official Warner Bros. highlights package:

Ryan Reynolds reciting the Green Lantern oath:

The Green Lantern Press Conference:

Ryan Reynolds interview:

Blake Lively interview:

We're still on the lookout for the trailer shown at the panel.
UPDATED: With High Resolution Image and Press Release

Press Release:
ENTERTAINMENT WEEKLY'S SPECIAL COMIC-CON PREVIEW
THIS WEEK'S SPECIAL ISSUE HAS THE EXCLUSIVE FIRST LOOK AT RYAN REYNOLDS AS GREEN LANTERN
New York – Ryan Reynolds is Hollywood's newest superhero, as he prepares to star in next summer's Green Lantern. This week's issue of Entertainment Weekly, which is the third annual Comic-Con Preview issue, takes a look at whether Reynolds' power ring (and his six-pack abs) can save the universe.
As he was propelled at 60 feet a second on a wire to create the illusion he can fly, Reynolds opens up about the perils of flying at high speed. "The first time you do it, you're deeply considering an adult diaper," he admits. He's spent countless hours training for elaborately choreographed fight scenes and maintained a monklike diet. "It's all part of the job, so I guess I can't complain," he says. "You spend one day a week eating what you want and the other six days eating drywall and wood chips."
Since being created in 1940, Green Lantern has been one of the most beloved characters in the DC Comics stable of heroes, but beyond a hardcore audience of fanboys, he's basically known as just a guy in a green suit with a magical ring. "Green Lantern doesn't enjoy the familiarity or renown of, say, Batman or Spider-Man," producer Donald De Line acknowledges. "We have to make the movie stand on its own."
Figuring out the right way to bring the story to the screen wasn't simple. In 2004, reports surfaced that a zany comedic take on Green Lantern was in the works, but fanboys didn't like it and the project quickly died. Greg Berlanti, a comic-book fan and TV producer (Brothers & Sisters), wrote a screenplay and pitched Warner Bros. an outline for a grand trilogy. "I had to convince them this was the most valuable property they hadn't tapped into and that it wasn't just a cartoony thing about a guy with a magic ring," says Berlanti. "Of all the comic-book movies, there hadn't been something with an Americana feeling on earth and an epic feeling in space."
Reynolds got hooked by the notion that power-ring slinging intergalactic do-gooder Hal Jordan's ring can conjure anything he dreams up. And the actor already had experience in the superhero realm, playing the acerbic Deadpool in X-Men Oirins: Wolverine and flirted with playing the Flash. Though a Deadpool spin-off is in development, Reynolds foresees no problem juggling two superhero characters. "Green Lantern is a totally different bag of tricks," he says. "I wouldn't think twice about playing a cop in one movie and an FBI agent in another one."
With Reynolds' wife, Scarlett Johansson, playing Black Widow in the Iron Man franchise, he says, "We have a lot of comic books lying around the house – more than the average young married couple."
The actor reflects on the burden of carrying a superhero movie on his shoulders: "The pressure is all on me," he says. "I try not to think too much about that." He muses about the merchandising blitz that this summer tentpole movie will eventually unleash, a bonanza of green-hued products, each with his face plastered on it. "There'll be the Green Lantern hubcaps," he says drily. "The Green Lantern terry-cloth onesie. The Green Lantern prostate check." For his part, there's just one souvenir he wants when it's all over: "I'm definitely leaving with a ring," he says. "And maybe an ulcer."
PLUS: AN EXCLUSIVE COMIC-CON PREVIEW
Each July, Hollywood offers sneak peeks at the hottest movies and TV shows at Comic-Con, the ultimate comic-book convention. This week's issue offers an early look at some of this year's coolest stuff, including Thor. Comic-book history might have been very different if Thor didn't have a hammer but instead fought evil with, say, needle-nose pliers. "The look of the hammer was the very first conversation I had the day I started the job," says director Kenneth Branagh. "We had conversations about Thor's hammer the night before we started shooting. We had conversations about the hammer – the look of the hammer, how to shoot it – on the set. We're still talking about the hammer." Other exclusive sneak peeks include Sucker Punch, Buffy the Vampire Slayer: Season 8 Motion Comic, Tron: Legacy, Paul, Don't Be Afraid of the Dark, Scott Pilgrim Vs. The World, The Expendables, and more.