Comments Off on WA – Nonplayer #2 Signing
Writer/artist Nate Simpson signs Nonplayer #2 at Destiny City Comics on Sunday, June 7, 2015 from 2:00pm – 4:00pm!
Destiny City Comics
218 St Helens Ave, Tacoma, WA 98402
(253) 234-7112
Comments Off on MD – Nonplayer #2 Signing
Nate Simpson appears at Third Eye Comics on Saturday, June 13th from 11:00 am – 1:00 pm to sign NONPLAYER #2!
Third Eye Comics
2027-A West Street, Annapolis, MD 21401
(410) 897-0322
Comments Off on WA – Nonplayer #2 Signing
Nate Simpson appears at Arcane Comics on Friday, June 5th from 6:00 – 9:00 pm to sign NONPLAYER #2!
Arcane Comics
5809 15th Avenue NW, Seattle, WA 98107
(206) 781-4875
Comments Off on WA – Nonplayer #2 Signing
Nate Simpson appears at Comics Dungeon on Wednesday, June 3rd from 4:00 – 6:00 pm to celebrate Nonplayer's return! Copies of #1 and #2 will be available for sale!
Mid-21st century America doesn't have much to offer Dana Stevens, but there's plenty for her to live for inside Warriors of Jarvath, the world's most popular full-immersion online game. In the real world, she's a tamale delivery girl who still lives with her mom, but inside the game she's an elite assassin. When she gets the drop on King Heremoth, a celebrity non-player character, she thinks she's finally got a shot at fame. But when she slays Queen Fendra, the King's reaction is disconcertingly realistic. Something's amiss in Jarvath, and the effects may reverberate well beyond the boundaries of the game.
Comics Dungeon
319 NE 45th St, Seattle, WA 98105
(206) 545-8373
WonderCon's 25th anniversary took place last weekend, April 1st-3rd at the Moscone Center in San Francisco. As an attendee for many years, I was shocked to see how crowded the show was for the duration of the show. With Marvel making their first appearance at the show, as well as mainstays such as DC Comics, Image, and Aspen, the show definitely had a strong comic vibe. However, more than most years, especially with some of the most anticipated comic adapted movies coming out this summer, Wondercon also emphasized their entertainment presence. With Green Lantern cast members Ryan Reynolds and Blake Lively signing at the DC booth, to fan photo ops of Henry Cavill (newly cast as Superman in Zach Snyder's next project), Luke Evans, and Isabel Lucas for the new Immortals movie, and Lily Collins, Paul Bettany and Cam Gigandet promoting Priest, along with a surprise appearance from Brandon Routh joining costar Sam Huntington for Dylan Dog, this WonderCon almost felt like a pre San Diego Comic Con show. While it was definitely awesome to see the stars promoting their films, I do hope that Wonder Con can still retain it's own identity and not turn into a San Diego Comic Con part 2. And now, onto the photos!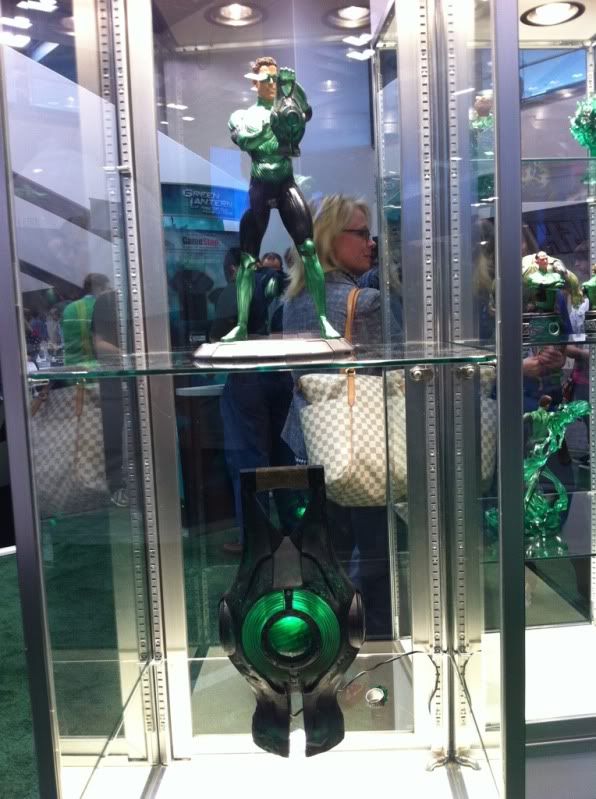 And of course, what good is a con without Cosplay? Here's some of the best ones I saw at the show:
Creator
Nate Simpson
debuts the first issue of his new series
Nonplayer
on Wednesday, April 6 from 5:00 – 7:00pm at Comics Dungeon!
Combining references to massively multi-player online roleplaying games and science fiction/fantasy mainstays with exquisite illustration, Simpson's NONPLAYER is planned as a six-issue miniseries, with the first installment scheduled to be out on April 6th.
NONPLAYER is the story of Dana Stevens, a young woman who retreats from the dismal workaday world of the future into the digital fantasy realm of Jarvath, where she's a fearless warrior. Dana is not alone in her pursuits, however, and before long her adventures begin to cat-and-mouse back and forth between the two worlds.
NONPLAYER, a 32-page full-color science fiction and fantasy comic will be in stores April 6, 2011, for $2.99. For more information, visit www.nonplayercomic.com.
 
Comics Dungeon
250 NE 45th St, Seattle, WA