Artist Thom Zahler appears at Carol & John's Comic Shop on Saturday April 18, 2015 from noon until 2:00 pm to sign FREE copies of his My Little Pony comic book featuring Twilight Sparkle from IDW. He'll also have other books to sell and sign, like his Love and Capes graphic novel series and other My Little Pony collections.
Carol & John's Comic Shop
17462 Lorain Avenue, Cleveland, OH 44111
(216) 252-0606
Press Release:
Green Brain Comics celebrates the 14th Annual Free Comic Book Day on Saturday May 2, 2015!
Fifty different Free Comic Book Day (FCBD) comics will be available. Three FCBD comics per person!
No gimmicks, no tricks, no strings attached. Like every year, there are comics for every age, taste, and reading level.
Bring a canned food item to donate to Gleaners Community Food Bank and get an extra FCBD comic! Show up in costume, and get another FCBD comic!
Special Guests include:
*Dave Acosta
*Jay Fosgitt
*James Anderson
*Jesse Rubenfeld
*Slack Jaw Punks (podcasting)
As always:
*Door Prizes
* Live DJ sets, courtesy of Underground Resistance
Green Brain Comics
13936 Michigan Ave, Dearborn, MI 48126
313-582-9444
Collectors Corner celebrates Free Comic Book Day on Saturday May 2nd from 9:00 AM – 9:00 PM!
First 50 People in line will get a FREE Movie Pass to see AVENGERS 2 Age Of Ultron in theaters Saturday evening!
In Addition the First 50 People in Line will get a Free Collectors Corner re-usable Bag with CC Logo filled with merchandise with a retail value of over $25.00 including Trade Paperbacks, Comics & more!
Additionally the First 100 Persons in line will have a 1 in 100 chance to WIN a $150 Shopping Spree, Details Below –
SHOPPING SPREE : WIN a $150 Shopping Spree – Randomly inserted onto one of the CC re-useable BAGS will be a $150 CC Gift Card, like a GOLDEN TICKET!
#'s 51-100 In Line will also Get a Free Collectors Corner re-usable Bag with CC Logo filled with merchandise with a retail value of over $20.00 including Trade Paperbacks, Comics & more!
+ The First 100 Persons In Line will Receive a $20 CC FCBD Gift Certificate Good as $20 Cash towards any Purchase of $100 or more on Free Comic Book Day with Discounts Applied!
25 FREE COMICS for Each and Every Customer Attending the Event – Choose 5 from every FCBD Title offered from every publisher while supplies last in front of the store along with Some Titles creators are producing exclusively for CC + BONUS 20 FREE BACK ISSUE COMICS per person from Back Issue BOXES Behind the Store, offered to everyone in addition to this years full lineup FCBD COMICS!
FREE PIZZA for everyone – (12:00 NOON til 3:00 PM)
Scheduled Creator Appearances :
(ALL Creators appear 9:00 AM – 5:00 PM Unless noted otherwise)
Creators will be Signing & Sketching Free!
(Complete List will be updated as we add creators up through April 2015, some will not be announced until closer to the Event)
CONFIRMED – To Be Announced
CONFIRMED CREATORS – Many More To Be Announced!
Tyler Jenkins – Artist : Peter Panzerfaust, Rat Queens
Rachel Deering – Writer/Letterer : In The Dark
Justin Jordan – Writer : Luther Strode, Deep State, Spread.
Sara Richard – Jem and the Holograms, My Little Pony, Deadpool
Michael S. Bracco (Birth & Novo)
Nathan Getz (No One)
Tony Calandra (No One)
PLB Studios (MD Eastern Shore Based Comic Publisher)
Kata Kane (Altar Girl)
Monica G. (Glitter Kiss)
& many, many more!
So much more To be Announced so Stay Tuned…
COSPLAYER Character Appearances : Deadpool, Psylocke, Supergirl, Storm, Batgirl, Black Cat, Magneto, Hawkeye, Spider-man & Wonder Woman.
SUPER ART FIGHT 1PM Behind the Store in the parking lot!
COMIC BOOK COSPLAY CONTEST : Starts at 3:00 PM Sign Up at the Counter.
Prizes (Best Overall) : 1st $75 CC Gift Card, 2nd $25 CC Gift Card, 3rd $25 CC Gift Card
Free Membership Drive with Incentives to Sign Up for Membership or a Subscription Box – All Day at the counter.
Outside Behind the Store – Activities TBA, Local Vendors TBA
Outside Behind the Store – CC SALE Tent, with Comics, Games, Graphic Novels & Toys ranging from $1 to $5, Crazy Prices & Amazing Deals.
+ STORE-WIDE SALE :
In the Store – ALL Trade Paperbacks & Graphic Novels 20% Off.
In the Store – ALL Back Issues in the Display Cases 50% Off.
In the Store – In the BACK ISSUES VAULT : ALL COMICS 50% Off.
In the Store – All Toys, Statues & Models 20% Off.
In the Store – All T-Shirts 2 for $35.
In the Store – All USED Softcover Trade Paperbacks $5 Each or 7 for $30.
In the Store – All Board Games & RPG Games & Accessories 20% Off.
In the Store All – $1 BACK ISSUES SALE with All Comics normally $1 Each will be JUST 50 Cents EACH 3 for $1 & MAKE A BOX for $60 or 2 BOXES for $100.
CC ARMY STORE TOUR – VISIT Both Stores, Bring your receipt from CC Baltimore to CC Bel Air or vice versa to receive an addition 5% off your total Purchase at either location!
All you need is your receipt from your purchase at either store, the stores are 25 Minutes apart so it's east to do and worth the drive!
Join us for FCBD at Collectors Corner for the Largest and most Exciting FCBD Event in Maryland!
Collectors Corner
7911 Harford Road, Baltimore, MD 21234
Press Release:
Attendants of Seattle's renowned Emerald City Comicon are in for surprise announcements, exceptional signings and a weekend full of fun from IDW! Taking place this weekend from March 27th – March 29th at the Washington State Convention Center, come by the IDW booth (#1802) to stock up on your collection, meet your favorite creators, and score a truly outrageous exclusive. Additionally, Top Shelf can be found at booth #1225, where you can meet the creative team behind the hit satire God Is Disappointed in You, Mark Russell and Shannon Wheeler!
Available exclusively at the IDW booth, grab yourself a copy of the book that's got everyone talking, Jem & The Holograms, with a variant cover by Agnes Garbowska! The cover can be purchased for $5, limit 3 per customer.
The IDW booth will be packed all weekend long with talent from across the industry signing their acclaimed work:
Friday March 27th  
11:00 – 12:00 Orphan Black – Jody Houser
12:00 – 1:00 Samurai Jack, Powerpuff Girls – Andy Suriano, Derek Charm
1:00 – 2:00 D4VE, The Bigger Bang – Ryan Ferrier, D.J. Kirkbride
2:00 – 3:00 Jem & The Holograms – Agnes Garbowska, Sara Richard *Check out the show exclusive variant!
3:00 – 4:00 Dirk Gently – Chris Ryall, Tony Akins
4:00 – 5:00 Godzilla: Cataclysm – Cullen Bunn
5:00 – 6:00 Kill Shakespeare – Conor McCreery
6:00 – 7:00 Nelvana of the Northern Lights  – Hope Nicholson
Saturday March 28th  
10:00 – 11:00 Skylanders – David A. Rodriguez
11:00 – 12:00 Edward Scissorhands – Kate Leth, Drew Rausch
12:00 – 1:00 Dirk Gently – Chris Ryall, Tony Akins
1: 00 – 2:00 The Fly: Outbreak – Brandon Seifert
2:00 – 3:00 My Little Pony, Jem & The Holograms – Sara Richard
3:00 – 4:00 Wild Blue Yonder – Zach Howard
4:00 – 5:00 Teenage Mutant Ninja Turtles & More! – Erik Burnham, Paul Allor
5:00 – 6:00 Judge Dredd – Darick Robertson
6:00 – 7:00 Transformers – Mairghread Scott, Andrew Griffith, Livio Ramondelli
Sunday March 29th
10:00 – 11:00 My Little Pony – Amy Mebberson, Georgia Ball, Ted Anderson, Agnes Garbowska
11:00 – 12:00 Powerpuff Girls – Derek Charm
12:00 – 1:00 G.I. Joe Cover Art – Jeffrey Veregge, Drew Johnson
1:00 – 2:00 Amelia Cole, Artful Daggers  – D.J. Kirkbride, Adam P. Knave, Sean E. Williams
3:00 – 4:00 Dungeons & Dragons: Legends of Baldur's Gate – Max Dunbar
And don't miss out on the panels that are sure to be a highlight of your weekend!
IDW: 2015 and Beyond
Friday, 1:00 – 2:00 Room Hall C (TCC 301)
IDW invites you to join in their first big panel of 2015! Join VP of Marketing Dirk Wood, Editor-in-Chief/Chief Creative Officer Chris Ryall, alongside editor Sarah Gaydos, Erik Burnham of Ghostbusters fame, and Jody Houser, writer of the hit Orphan Black comic for a spirited chat filled with announcements, hijinks and Q&A!
God is Disappointed in You (The Sequel), with Mark Russell & Shannon Wheeler
3:00 Room Hall C (TCC 301)
Last year's standing-room-only hot ticket returns — now with even more Biblical bewilderment! God Is Disappointed in You, published by Top Shelf, is the tongue-in-cheek "condensed" version of the Bible you never knew you needed — hilariously modern, but surprisingly authentic — packed with cartoons by Eisner-award-winner Shannon Wheeler (The New Yorker, Too Much Coffee Man). Join him and author Mark Russell (writer of DC Comics' upcoming Prez) for an hour of unforgettable irreverence, including Q&A, audience sketches, and the hilarious-yet-accurate "ten-minute Bible." PLUS: a taste of the Audie-nominated audiobook, read by Dr. Venture himself, James Urbaniak (The Venture Bros), and an exclusive announcement about the upcoming sequel!
Kevin Eastman: A Life With Turtles
Sunday, 3:30 – 4:20 Hall F (TCC 304)
Join the legendary co-creator of the Teenage Mutant Ninja Turtles and he talks about his long career in both comics and Hollywood, and how he brings his beloved Turtles to the world in a variety of media!
IDW Presents: The New Class of Licensed Comics
Sunday, 4:00 – 5:00 Room Hall C (TCC 301)
Transformers, Adventure Time, Star Trek, Orphan Black, My Little Pony: Friendship is Magic… What do these comics all have in common? They're all licensed comics, and although some may STILL look down on them, they're also home to some of the best talent telling the best stories around. Come hear about the good (and the sometimes challenging) aspects of working on books like these, from host Editor Sarah Gaydos (Star Trek, Disney, Edward Scissorhands), with special guests Kate Leth (Bravest Warriors, Edward Scissorhands), Corinna Bechko (Star Wars, Planet of the Apes, Once Upon a Time), Jody Houser (Orphan Black), Editor Shannon Waters (of BOOM!), Chris Roberson (Aliens, Star Trek), and Gabriel Hardman (Planet of the Apes, Star Wars).
Sara Richard (cover artist of Jem, My Little Pony, and more!) appears at Comics Dungeon on Wednesday April 1st from 3:00 – 6:00 PM!
Sara has also illustrated "Kitty and Dino" which was nominated for a 2013 Eisner Award (Best Publication for Young Readers) and has been steadily working on variant covers for My Little Pony: Friendship is Magic as well as doing cover work for Marvel and an upcoming Tarot deck for DC Comics!
Comics Dungeon
319 NE 45th St, Seattle, WA 98105
(206) 545-8373
Babs Tarr, Katie Cook, and many more appear at Double Midnight Comics on Saturday, May 2, 2015 for Free Comic Book Day!
Double Midnight Comics
245 Maple Street, Manchester, NH 03103
603-669-9636
Every pony is unique! If you lived in Equestria, what would your CUTIE MARK be? The Cutie Marks Crusaders can help you find out! MY LITTLE PONY–FRIENDSHIP IS MAGIC: ADVENTURES OF THE CUTIE MARK CRUSADERS is coming to DVD on February 24, 2015 in the U.S. and Canada from Shout! Factory Kids in collaboration with Hasbro Studios. Offered as a bonus feature is a fun new sing-along and coloring sheets!
I was ten years old when I got my first My Little Pony doll. Back then, the ponies had sad, dreamy looking eyes with round faces. I collected a number of them, my favorite being the one with shamrocks on its butt; the phrase "cutie mark" hadn't come along yet. The most exciting thing you could expect to do with your pony was brush its hair. Soon after, a cartoon series premiered. As a kid in the '80s I can tell you, it was pretty lame. Fast forward 20 years. I was married with a little girl who was in love with My Little Pony. For years, I've watched this child obsess over every detail of every pony. The toys evolved in appearance and developed an incredibly in-depth back story. By 2010, animator and writer Lauren Faust (The Power Puff Girls) gave the world My Little Pony–Friendship is Magic, bringing the franchise a commercial success never imagined. Here is some information about the new DVD:
"In EQUESTRIA, obtaining a CUTIE MARK is an important coming-of-age moment for a young Pony. After all, Ponies acquire their CUTIE MARKS only after they discover a unique characteristic about themselves, setting them apart from all other Ponies. So when Sweetie Belle, Scootaloo and Apple Bloom meet, they instantly become friends and make it their mission to find their CUTIE MARKS! They are the Cutie Mark Crusaders!"
My daughter is 16.5 years old now and a Junior in High School. I wish you could have seen her face when I told her that I'd been tasked with reviewing this DVD! We watched it together and she provided detailed commentary during and after every episode. That right there was worth every moment.
As a family who were long-time fans of The Power Puff Girls, it was easy to fall in love with the Friendship is Magic series. In fact, the characters of Sweetie Bell, Scootaloo and Apple Bloom are essentially a redux of the PPG's Blossom, Bubbles and Buttercup characters. But, the pop culture references don't stop there. Parents watching this series with their children will be entertained by look-a-like Ponies that pop up in every episode. Any cartoon that can find a way to work in 'Doctor Whooves' gets two thumbs up from me. Keep an eye out on this DVD for the 'cast' of The Big Lebowski at the bowling alley.
These Generation 4 My Little Pony characters are a lot of fun to watch no matter what your age. Each character, as expressed by their Cutie Mark, represents an aspect of friendship. The series offers good moral messages for young children. Though, its most impressive to me how this series has touched so many teens and even adults with its inside humor and positive messages. Having spawned an entire sub-culture of fans across the globe, My Little Pony has united many people in a fandom that will be around for many, many years to come. It is a far cry from the Pony days of my youth. I, for one, am glad to see this franchise re-imagined for a new generation. The target demographic is young girls aged 4-7, however this series is one that is highly enjoyed by every member of my household regardless of age or gender. I would highly recommend this DVD to those interested in joining the Pony movement. With 5 individual episodes and approx. 110 minutes running time, The Adventures of the Cutie Mark Crusaders will win your family over!
"For even more Pony fun, PlayDate Digital has announced the new Cutie Pox Storybook App. When Apple Bloom becomes impatient waiting for her Cutie Mark, she decides to take things into her own hooves! In this interactive story book, follow Apple Bloom and the fillies as they learn that taking the easy path toward your goals isn't always the best way. Enter the world of Equestria in this story book adventure full of excitement, humor and friendship! The release of "Cutie Mark Crusaders" marks the first of a series of planned collaborations between PlayDate Digital and Shout! Factory to cross-promote My Little Pony–Friendship is Magic stories and media. In this collaboration, products contain promotional material highlighting a variety of products. In addition, Shout! Factory and PlayDate will host contests and offer value-added bonus material."
Episodes: The Cutie Mark Chronicles, The Cutie Pox, Flight to the Finish, Pinkie Pride, and Twilight Time.
Bonus Features: Sing-Along, Coloring Sheets, and More!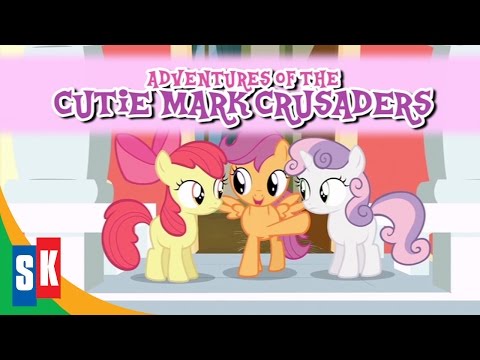 Also available on DVD from Shout! Factory Kids: My Little Pony Equestria Girls: Rainbow Rocks; My Little Pony Equestria Girls; My Little Pony-Friendship is Magic: Spooktacular Pony Tales; My Little Pony-Friendship is Magic: The Keys of Friendship; My Little Pony-Friendship is Magic: A Dash of Awesome; My Little Pony-Friendship is Magic: A Pony for Every Season; My Little Pony-Friendship is Magic: Princess Twilight Sparkle; My Little Pony-Friendship is Magic: Pinkie Pie Party; My Little Pony-Friendship is Magic: Adventures in the Crystal Empire; My Little Pony-Friendship is Magic: Royal Pony Wedding; My Little Pony-Friendship is Magic: Season Three; My Little Pony-Friendship is Magic: Season Two; My Little Pony-Friendship is Magic: Season One; My Little Pony-Friendship is Magic: The Friendship Express; My Little Pony The Complete Series (Classic); My Little Pony: Escape from Catrina and Other Adventures; My Little Pony: Classic Movie Collection; My Little Pony: A Very Minty Christmas; My Little Pony: Twinkle Wish Adventure.
About Hasbro Studios:
Hasbro Studios is responsible for entertainment brand-driven storytelling for Hasbro across television, film, commercial productions and short-form content. It develops, produces and distributes TV shows based on Hasbro's world class brands, including TRANSFORMERS, MY LITTLE PONY, LITTLEST PET SHOP and FAMILY GAME NIGHT. Many of these shows air on Discovery Channel Family Channel and on networks in more than 180 territories globally. Since its formation in 2009, the studio has received nine Daytime Emmy wins.
On the film side, the studio has developed and produced a number of features based on Hasbro's brands. In addition to partnering with leading studios, the company intends to make movies based on new and existing Hasbro brands for audiences globally through Allspark Pictures film label. Films in development or planned for release include OUIJA (Universal), CANDY LAND (Sony), GI JOE 3 (Paramount), JEM AND THE HOLOGRAMS (Universal and Allspark Pictures), MAGIC: THE GATHERING (21st Century Fox), and an animated feature based on MY LITTLE PONY (Allspark Pictures).
About Shout! Factory:
Shout! Factory, LLC is a diversified multi-platform entertainment company devoted to producing, uncovering, preserving and revitalizing the very best of pop culture. Founders Richard Foos, Bob Emmer and Garson Foos have spent their entire careers sharing their music, television and film favorites with discerning consumers the world over. Shout! Factory's DVD and Blu-Ray offerings serve up feature films, classic and contemporary TV series, animation, live music and comedy specials in lavish packages crammed with extras. Shout's audio division boasts GRAMMY nominated box sets, new releases from storied artists, lovingly assembled album reissues and indispensable "best of" compilations. In addition, Shout! Factory maintains a vast digital distribution network which delivers video and audio content to all the leading digital service providers in North America. Shout! Factory also owns and operates Timeless Media Group, Biograph Records, Majordomo Records, HighTone Records and Video Time Machine. These riches are the result of a creative acquisition mandate that has established the company as a hotbed of cultural preservation and commercial reinvention. Shout! Factory is based in Santa Monica, California. For more on Shout! Factory, visit shoutfactory.com
Cover artist Sara Richard (My Little Pony: Friendship is Magic) appears at I Like Comics on Wednesday, March 18, 2015 from 3:00 – 6:00 PM to celebrate the release of Jem and the Holograms #1! IDW Publishing is releasing the classic '80s cartoon as a "truly outrageous" ongoing series. Sara will also be doing sketches is bringing prints, sketchbooks and original art for purchase.
9 x 12 & Sketch Cover Head sketches:
Pencil: $20
Color: $50
I Like Comics
2101 E 4th Plain, Vancouver, Washington 98661
(360) 852-8890
Legendary comic writer Marv Wolfman will be signing at the Forbidden Planet Megastore on Sunday 8th February at 4:00 PM as part of a rare visit to the UK.
Marv Wolfman has created more characters that have gone on to television, animation, movies and toys than any other comics creator since Stan Lee. Marv is the writer-creator of Blade, the Vampire Hunter, Bullseye, the prime villain in the 2003 movie, Daredevil, Deathstroke, the main villain in the first two seasons of the hit Arrow TV show, which he created for DC's best-selling comic, New Teen Titans which was also adapted into two runaway hit shows on the Cartoon Network and is now being done as a live-action pilot for Fox. Some of his other characters have been seen in Man of Steel as well as The Guardians of The Galaxy. His Titan character Cyborg will be seen in four upcoming DC movies, starting with 2015's Superman vs. Batman: Dawn of Justice.
Marv writes video games. His script for his most recent published game: Epic Mickey 2, was nominated for a WGA writing award for Outstanding Video-game Script. He has also written the video games for Green Lantern: Rise of the Manhunters, Superman Returns, DCU-MMO, Flash and Dark Knight among others. He also writes animation and has story-edited many shows including Transformers, Adventures of Superman, Monster Force and more.
Marv also writes novels; his adaptation of Superman Returns won the industry's "Scribe" award. He is currently writing a novelization for Titan Books in London. His first non-fiction book, Homeland, The Illustrated History of The State of Israel won the National Jewish Book Award among others. Marv is also a recipient of the Will Eisner Hall of Fame Award.
Marv was Editor-in-Chief at Marvel Comics, senior editor at DC Comics and founding editor of Disney Adventures magazine and created many characters for these companies and others. Marv was also Editorial Director for 15 graphic albums for the educational market, targeting high school students who read with a 3rd -5th grade level. He was given a special commendation by the White House for his work on three anti-drug comics for the "Just Say No" program.
Marv is married to his lovely wife, Noel, a Director of Production at Blizzard Entertainment, and has a wonderful daughter, Jessica, from his first marriage. Marv & Noel also have an obstreperous Keeshond dog named Elle Dee Deux (L.D.) who is currently chewing on everything that is and isn't nailed down.
Forbidden Planet London Megastore
179 Shaftesbury Avenue, London, WC2H 8JR
Tara Strong, Daran Norris, Butch Hartman, Ray DeLaurentis, and more appear at A-PAEC Theater on Saturday February 21, 2015 at 11:00 AM!
Press Release:
Have you ever wondered how cartoons get their voices? Well your wish has been ranted! On February 21, 2015 you are invited to see a LIVE PERFORMANCE of Nickelodeon's hit, classic cartoon "THE FAIRLY ODD PARENTS". You'll get to watch and meet the actors who have given life to COSMO, WANDA and TIMMY TURNER plus many others for the last 17 years! Series creator, Butch Hartman and Producer/Head Writer Ray DeLaurentis will be there to answer any questions and sign autographs. This SPECTACULAR show will take place on Agoura High School's PAEC's Main Stage. Ticket prices are $18.00 ages 6 to adult; $15.00 ages 5 and under.
This event will begin at 11am and end at 1pm with a one hour autograph session from 1 to 2pm with all the characters. This fun, exciting event is for the whole family! You will laugh so much your cheeks will hurt! Pizza and lots of other treats will be available for purchase. This is all to benefit the Theatre Arts Boosters club. We raise funds so we can do exceptional theater here at Agoura High School.
Tickets available at the link…
Performing Arts Education Centers – Agoura High School
28545 West Driver Avenue Agoura Hills CA 91301
(818) 591-1209 Ext 2