Press Release:
As many of you know, we like to really bring the Third Eye Comics experience to the floor of any convention we set up at, and with how awesome AwesomeCon is shaping up to be — we really put together something special for you this year!
We've got a HUGE space loaded with cool stuff for you to snag, and, we've got a roster of all-star comic creators signing at the booth all throughout the day!
Here is the official schedule for the Third Eye Booth at AwesomeCon on Saturday 4/19/14!
11AM-12PM: Chris Pyrate (Bartkira) – Artist of the new Third Eye 2014 Summer T-Shirt! Purchase one of these limited run shirts, and get it signed by the artist!
12PM-1PM Joe Keatinge & Leila del Duca – Get issue #1 of their new series SHUTTER (From IMAGE COMICS) signed at the Third Eye Booth & get a 15% off discount on the SHUTTER TPB this Fall!
1PM-2PM: JUSTIN JORDAN (STRANGE TALENT OF LUTHER STRODE, GREEN LANTERN NEW GUARDIANS, DEAD BODY ROAD)
2PM-2:30PM: JIM ZUB (SKULLKICKERS, SAMURAI JACK, PATHFINDER)
3PM-4PM: FRANK J. BARBIERE (SOLAR MAN OF THE ATOM, FIVE GHOSTS, WHITE SUITS) & FRED VAN LENTE (MAGNUS ROBOT FIGHTER, INCREDIBLE HERCULES, ARCHER & ARMSTRONG)
4PM-5PM: CARLA SPEED MCNEIL (MY LITTLE PONY FRIENDS FOREVER, FINDER)
We'll have tons of great books available for sale by these talented folks at the Third Eye booth during their signings!
All signings take place on Saturday, but the Third Eye booth will be at AwesomeCon all 3 days Friday, Saturday and Sunday! Make sure you get your tickets online to avoid long purchase lines!
Amy Mebberson (My Little Pony) signs at Beach Ball Comics on Saturday May 3rd from 11:00 am till 2:00 pm for Free Comic Book Day!
Beach Ball Comics
3024 W Ball Rd Ste G, Anaheim, CA 92804
Special guest Gail Simone joins Marjorie Liu, Shelli Paroline, Braden Lamb, Blair Shedd, Sara Richard, Roger Andrews, and many more appear at Double Midnight Comics on Saturday May 3, 2014 for Free Comic Book Day!
Press Release:
How do we top 2013′s Free Comic Book Day? BY DOUBLING IT! Our 2014 Free Comic Book Day will be DOUBLED, with our usual one in Manchester and one at our new location in Concord! We will be featuring special guests, events and of course, exclusive free comics at each, as well as special sales too! Additionally, we will have a number of local artists, fantastic cosplayers, contests and a wide variety of free comics!
Special Artist/Writer Guests include:
Gail Simone (Batgirl, Red Sonja, Birds of Prey)
Marjorie Liu (Astonishing X-Men, X-23)
Shelli Paroline (Adventure Time)
Braden Lamb (Adventure Time)
Blair Shedd (Doctor Who)
Sara Richard (My Little Pony)
Alex de Campi (My Little Pony, Grindhouse) – Appearing in Manchester from 5-7!
Roger Andrews (Super Hero Squad)
Ransom Getty (Guardians of the Globe)
Artists include:
Scott Hamilton
Dan Larson
Amanda Dufresne
Nicole Hansche
David Leblanc
Jerry Fleming
Don Higgins
Juli O'Malley
Kendra Lee Saunders
Jason Casey
Matt Bessette
Bexx Fine
Jeremy Mchugh
Janella Mele
Angela Costello
Dennis Burke
Clark Drew
Peter Vinton Jr
Ben Gibson
Michelle Pinard
NOTE: free sketches are at the discretion of the artist and not guaranteed.
Cosplay Guests include:
Nicole Marie Jean (cosplayer extraordinaire)
Bellechere (world renown cosplayer)
501st New England Garrison
Ghostbusters of New Hampshire
New England Brethren of Pirates
Special Guests:
Rhode Island Comic Con
Terror Con
Pop Culture Expo
Spectacular Batcycle (Concord)
Bumblebee 1977 Chevy Camaro from Transformers
BBQ? Of course! Our grill master and BBQ expert Jareb will be back, making some fantastic grub in Manchester!
We also want to have the biggest group of cosplayers we can amass, so we will have extra goodies to everyone that comes in costume, as well as the BIGGEST Free Comic Book Day costume contest in the US!
We will also be having a HUGE after party in Concord when all is said and done, with a few more surprises. What could we possibly have up our sleeves?
Double Midnight Comics
245 Maple St, Unit 11, Manchester, NH 03103
Press Release:
The 2014 convention season gets rolling for IDW Publishing this month at the London Super Comic Convention in the U.K.! Bringing their infamous selection of great creator-owned titles, licensed comics, and stunning art books, IDW is excited to kick off their 15th anniversary year in London!
Throughout the convention you'll be able 
to stock up on everything from single issues you might have missed to Artist's Editions at the IDW booth located in the Central Publisher Spotlight Arena.
Join IDW CCO & Editor-in-Chief Chris Ryall and VP of Marketing Dirk Wood at the booth all weekend, and don't miss their IDW Publishing Panel, featuring Dave Gibbons of Watchmen fame! Among all sorts of other hijinx, the panel will include the grand reveal of pages from IDW's upcoming Dave Gibbons' Watchmen: Artifact Edition!
LONDON SUPER COMIC-CON 2014
IDW EVENT SCHEDULE!
Come to IDW's booth for the greatest mix of creator-owned comics, licensed comics, mind boggling art books and Artist's Editions you'll find anywhere! Signings by Stephen Mooney (Half Past Danger) and Vassilis Gogtzilas (The Adventures of Augusta Wind)! Come find an employee at the IDW booth for details! And ask about pre-signed My Little Pony comics from Katie Cook! And check the show's Portfolio Review schedule, to get your artwork reviewed by Chris Ryall!
SIGNING AT THE IDW BOOTH!
Saturday March 15th 
14:00 – 15:00  The Adventures of Augusta Wind – Vassilis Gogtzilas
15:00 – 16:00  Half Past Danger – Stephen Mooney
Sunday March 16th 
12:00 – 13:00  Half Past Danger – Stephen Mooney
14:00 – 15:00 The Adventures of Augusta Wind – Vassilis Gogtzilas
And don't miss the BIG IDW Panel!
Saturday March 15th 
IDW Invades!
16:00 PM – 16:45 PM, Panel Room 2
Take a behind-the-scenes look at some of the amazing projects coming from IDW in 2014 with your hosts IDW Editor-in-Chief and CCO Chris Ryall, VP of Marketing Dirk Wood, and very special guest Dave Gibbons! With major announcements, an open Q&A, plenty of prizes to win, and a chance to be among the first to hear first-hand what you can expect from IDW this year, this panel cannot be missed!
2014 is set to be a huge year for IDW, come be a part of it starting with London Super Comic-Con!
London Super Comic Convention is taking place on March 15 & 16, at the Excel Centre in London.
www.londonsupercomicconvention.com
Todd Nauck, Bill Morrison, Brian Buccellato, Drew Johnson, Tone Rodriguez, and Tony Fleecs appear at Metropolis Comics on Wednesday February 26, 2014 from 5:00 till 8:00 pm to benefit the Michael Morones Foundation!
Metropolis Comics
16509 Bellflower Blvd, Bellflower, CA 90706
562-263-0277
Emerald City ComiCon's newsletter has some major updates for their 2014 convention with new guests, tickets available for sale, and more!
Tickets Now In Stores!
Tickets to the 2014 Emerald City Comicon are now on sale in stores. And while you're buying, don't forget that we've expanded Friday into a full day of fun (10am-7pm). More than half of the show's tickets have already been sold, so stop waiting. Get your ticket for all three days right now! [Tickets Are On Sale Here]
A Reminder from the Committee for Line Reductions
The Committee for Line Reductions would like to note that starting this year, if you buy your ticket online, we're mailing your badge to you about a month before the show. If you buy your ticket at your local comic book store, you'll exchange that ticket for a badge at that same store anytime in March. Either way, you won't need to wait in a line to trade in your ticket at the show! This has been a reminder from the Committee for Line Reductions.
So. Many. GUESTS!
Over the past few weeks, we've added more special guests than we can possibly list.
Here's just a few of our new celebrity guests and voice actors: Cary Elwes (The Princess Bride), John de Lancie (Star Trek: The Next Generation), Lance Reddick (Fringe), Alan Tudyk (Firefly, Frozen), Bill Farmer (Voice of Goofy) and Nancy Cartwright (Voice of Bart Simpson). The complete list of celebrities is here: [Celebrity Guests] and the voice actors are here: [Voice Talent]
As for our special guests, recent additions include Kelly Sue DeConnick (Captain Marvel), Jason Aaron (Thor), Peter David (X-Factor), Don Rosa (Donald Duck), Katie Cook (My Little Pony), Matt Fraction (Fantastic Four), Frank Cho (Liberty Meadows), Ed McGuinness (Nova) and DOZENS more! [Check out the full list of guests here]
Follow us on Facebook and Twitter to find out who we're adding next!
More Hotels!
While we've expanded our deals into more hotels, half of them are now sold out! Make sure to hit our hotels page and reserve your room before they're all booked up! [Find Hotel Deals Here]
More Comics!
Every week, we're adding more free comics to our website. A new Tales From The Con is posted every Wednesday. You can also read the ongoing adventures of the Emerald City Crusader and Emerald City Crusaderette in our very own webcomic, Emerald City Cusader Chronicles, new pages are posted every Tuesday and Thursday. [Read our comics! Yes, COMICS!!]
Press Release:
Over the weekend of November 1st – 3rd downtown Los Angeles will be taken over by one of the fastest growing conventions: Stan Lee's Comikaze Expo. For IDW's first appearance at the show, the publisher is bringing along some very special guests and exclusives.
On Saturday November 2nd at 10:30 AM in room 308AB join Editor-in-Chief Chris Ryall, Special Projects Editor Scott Dunbier, and IDW President Greg Goldstein as they set the stage for IDW's upcoming 15th year anniversary. Bring some questions, and come prepared for a lively discussion in a unique town hall format. You just might walk away with a free book! With sneak peeks, and a few tricks up their sleeves, this will not be a panel to miss!
Be sure to stop by the IDW booth (712) to pick up the Comikaze exclusive variant of Mars Attacks/Judge Dredd #3 by John McCrea featuring Stan (The Man) Lee! Along with this special $10 variant, IDW will have a library's worth of your favorite books to stock up on! And watch the IDW Facebook and Twitter feeds for special deals on books throughout the show!
Throughout the convention the IDW booth will also host a number of great signings:
Friday November 1st
3:00 – 4:00 Godzilla: Rulers of Earth – Chris Mowry
5:00 – 6:00 Kill Shakespeare – Conor McCreery
Saturday November 2nd
12:00 – 1:00 Transformers – Livio Ramondelli, Mairghread Scott
1:00 – 2:30 The Other Dead – Joshua Ortega, Digger T. Mesch, and Special Guest Kevin Eastman (of TMNT fame!)
3:00 – 4:00 My Little Pony – Tony Fleecs
4:00 – 5:00 Kill Shakespeare – Conor McCreery
5:00 – 6:00 Amelia Cole & The Unknown World – D.J. Kirkbride
Sunday November 3rd
12:00 – 1:00 Transformers – Livio Ramondelli, Mairghread Scott
1:00 – 2:00 My Little Pony – Tony Fleecs
5:00 – 6:00 Godzilla: Rulers of Earth – Chris Mowry
Stan Lee's Comikaze is set to have its biggest year yet, and IDW is excited to be a part of it!
About IDW
IDW is an award-winning publisher of comic books, graphic novels and trade paperbacks, based in San Diego, California. Renowned for its diverse catalog of licensed and independent titles, IDW publishes some of the most successful and popular titles in the industry, including: Hasbro's The TRANSFORMERS, G.I. JOE and MY LITTLE PONY; Paramount's Star Trek; Nickelodeon's Teenage Mutant Ninja Turtles; 2000AD's Judge Dredd; The Rocketeer; Toho's Godzilla; Wizards of the Coast's Magic: The Gathering and Dungeons & Dragons; and the Eisner-Award winning Locke & Key series, created by best-selling author Joe Hill and artist Gabriel Rodriguez. IDW is also home to the Library of American Comics imprint, which publishes classic comic reprints, Yoe! Books, a partnership with Yoe! Studio, and the multiple award-winning Artist's Edition imprint.
IDW's critically- and fan-acclaimed series are continually moving into new mediums. Currently, Jerry Bruckheimer Films and Disney are creating a feature film based on World War Robot; Dwayne "The Rock" Johnson and Warner Brothers are producing a film based on Ashley Wood's Lore; and Michael Bay's Platinum Dunes and Sony are bringing Zombies vs. Robots to film.
Mike Kunkel, Chris Moreno, Tony Fleecs, Scott Rogers, and Aaron Sowd sign at Collectors Paradise on Saturday September 14th from noon till 3pm!
Press Release:
Hero Initiative and Collector's Paradise present Young Comic Reader Day at Collector's Paradise San Fernando Valley store.
Joining Hero and the store will be the following creators (others interested please contact Collector's Paradise):
- Mike Kunkel – Herobear & the Kid, Billy Batson & The Magic of Shazam
- Tony Fleecs – My Little Pony
- Chris Moreno – Toy Story
- Scott Rogers – BedBug
- Aaron Sowd – artist, Simpsons Ride @ Universal, Clone Wars, Hoodwinked
At the store, all artists will be doing FREE sketches to anyone who signs up for Hero Initiative's Ralphs Club program. Hero Initiative is a fantastic charity that needs funds to operate, and the Ralphs Club program allows them to receive funds on an ongoing basis without any cost to yourself. A percentage of every purchase you make as a registered Hero Initiative Ralphs Club member will go directly to this great charity organization.
In addition to the creators, we'll have:
- Spider-Man in costume – Everyone's favorite costumed character, who is our frequent guest for Free Comic Book Day, has promised to swing by and take photos with the kids.
- Prizes for any kids who come to the event wearing comic book-related costumes.
- All kinds of snacks and beverages for the kids.
Collector's Paradise
7131 Winnetka Ave, Winnetka, CA 91306
Press Release:
Granitecon 2013 is just over five weeks away! Join us September 28th and 29th at the Radisson Center of New Hampshire! To celebrate ten years of Granitecon we're expanding to two days, moving to the larger Expo Center and assembling our largest guest list ever! Expect all sorts of fun events, signings and more!
Guests include:
Chris Giarrusso – Mini Marvels
Ben Templesmith – Ten Grand, 30 Days of Night
Ethan Van Sciver – Green Lantern, Batman
Arthur Suydam – Marvel Zombies
Katie Cook – My Little Pony
Art Baltazar – Tiny Titans
Ron Marz – Witchblade, Green Lantern
Mark Texiera – Ghost Rider
David Petersen – Mouse Guard
Dan Parent – Archie Comics
Craig Rousseau – The Perhapanauts
Plus Voice Actors Including:
Jess Harnell – Animaniacs, The Cleveland Show
Rob Paulsen – Teenage Mutant Ninja Turtles, Animaniacs
Jim Cummings – Winnie the Pooh, Star Wars: The Clone Wars
Grey Delisle – Avatar: The Last Airbender, Scooby-Doo, Fairly OddParents


See the full guest list and buy tickets at www.granitecon.com!
Make sure to follow Granitecon on Twitter @granitecon and Like us on Facebook!
Press Release:
MY LITTLE PONY EQUESTRIA GIRLS FULL-LENGTH FEATURE FILM COMING TO BLU-RAY AND DVD AUGUST 6, 2013
Brand New Full-Length Feature by Hasbro Studios Introduces Whole New Dimension of My Little Pony
Los Angeles, CA – My Little Pony Equestria Girls, the full-length feature introducing an exciting dimension to the incredibly popular My Little Pony brand, is coming to Blu-ray and DVD in the US and Canada on August 6th from Shout! Factory Kids, in collaboration with Hasbro Studios. The DVD, which includes outstanding bonus features, is priced at $16.99 SRP and the Blu-ray/DVD/Digital combo at $24.97 SRP. My Little Pony: Equestria Girls is now available for pre-order at Amazon.com, Target.com
and Walmart.com.
When Twilight Sparkle's crown is stolen from the Crystal Empire, she pursues the thief, Sunset Shimmer, into an alternate world where she finds herself turned into…a teenage girl! To regain her crown and return to Equestria, Twilight must learn how to fit into this strange, new world and defeat Sunset Shimmer in a competition to become crowned Princess of the Fall Formal at Canterlot High. Luckily, she will have the assistance of Spike and five teenage girls who remind her of a certain group of ponies back home.
For more information on My Little Pony: Equestria Girls, please visit www.mlpeg.com.
My Little Pony: Equestria Girls Trailer: http://www.youtube.com/mylittlepony.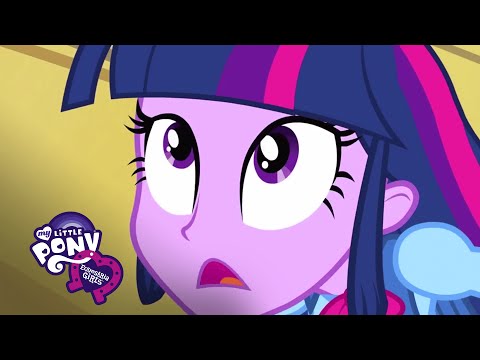 Bonus Features:
Through The Mirror Of Equestria Girls
Karaoke Songs
Pony-fy Yourself
Printable Movie Poster
Also available on DVD from Shout! Factory Kids:
My Little Pony: Friendship is Magic – Princess Twilight Sparkle
My Little Pony: Friendship Is Magic – Pinkie Pie Party
My Little Pony: Friendship Is Magic – Adventures in the Crystal Empire
My Little Pony: Friendship Is Magic – Season One
My Little Pony: Friendship Is Magic – Season Two
My Little Pony: Friendship Is Magic – Royal Pony Wedding
My Little Pony: Friendship Is Magic – The Friendship Express
My Little Pony – Twinkle Wish Adventure
About Hasbro Studios:
Hasbro Studios is the Los Angeles-based entertainment division of Hasbro, Inc. (NASDAQ: HAS). The studio is responsible for entertainment brand-driven storytelling for the company across television, film, commercial productions and short-form. It develops, produces and distributes TV shows based on Hasbro's world class brands, including TRANSFORMERS, MY LITTLE PONY, LITTLEST PET SHOP and FAMILY GAME NIGHT. Many of these shows air on Hub Network, a U.S. television network for kids and their families, that is a joint venture between Hasbro and Discovery Communications (NASDAQ: DISCA, DISCB, DISCK). Hasbro Studios shows can also be seen on networks in more than 170 countries globally. Since its formation in 2009, the studio has received seven Daytime Emmy wins and 16 nominations. On the film side, the studio is developing and producing a number of features based on Hasbro's brands, including TRANSFORMERS 4 (Paramount), STRETCH ARMSTRONG (Relativity Media) and CANDY LAND (Sony). The studio team also oversees the production of commercials that feature Hasbro's brands as well production of short-form content that can be seen on all of the major digital and social media platforms globally.
About Shout! Factory:
Shout! Factory, LLC is a diversified multi-platform entertainment company devoted to producing, uncovering, preserving and revitalizing the very best of pop culture. Founders Richard Foos, Bob Emmer and Garson Foos have spent their entire careers sharing their music, television and film favorites with discerning consumers the world over. Shout! Factory's DVD and Blu-Ray™ offerings serve up feature films, classic and contemporary TV series, animation, live music and comedy specials in lavish packages crammed with extras. Shout's audio division boasts GRAMMY®-nominated box sets, new releases from storied artists, lovingly assembled album reissues and indispensable "best of" compilations. In addition, Shout! Factory maintains a vast digital distribution network which delivers video and audio content to all the leading digital service providers in North America. Shout! Factory also owns and operates Timeless Media Group, Biograph Records, Majordomo Records, HighTone Records and Video Time Machine. These riches are the result of a creative acquisition mandate that has established the company as a hotbed of cultural preservation and commercial reinvention. Shout! Factory is based in Santa Monica, California. For more on Shout! Factory, visit shoutfactory.com