Press Release:
MY LITTLE PONY EQUESTRIA GIRLS FULL-LENGTH FEATURE FILM COMING TO BLU-RAY AND DVD AUGUST 6, 2013
Brand New Full-Length Feature by Hasbro Studios Introduces Whole New Dimension of My Little Pony
Los Angeles, CA – My Little Pony Equestria Girls, the full-length feature introducing an exciting dimension to the incredibly popular My Little Pony brand, is coming to Blu-ray and DVD in the US and Canada on August 6th from Shout! Factory Kids, in collaboration with Hasbro Studios. The DVD, which includes outstanding bonus features, is priced at $16.99 SRP and the Blu-ray/DVD/Digital combo at $24.97 SRP. My Little Pony: Equestria Girls is now available for pre-order at Amazon.com, Target.com
and Walmart.com.
When Twilight Sparkle's crown is stolen from the Crystal Empire, she pursues the thief, Sunset Shimmer, into an alternate world where she finds herself turned into…a teenage girl! To regain her crown and return to Equestria, Twilight must learn how to fit into this strange, new world and defeat Sunset Shimmer in a competition to become crowned Princess of the Fall Formal at Canterlot High. Luckily, she will have the assistance of Spike and five teenage girls who remind her of a certain group of ponies back home.
For more information on My Little Pony: Equestria Girls, please visit www.mlpeg.com.
My Little Pony: Equestria Girls Trailer: http://www.youtube.com/mylittlepony.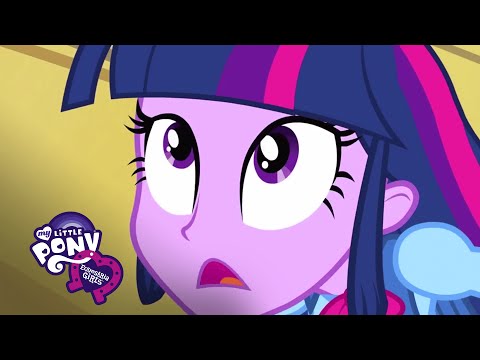 Bonus Features:
Through The Mirror Of Equestria Girls
Karaoke Songs
Pony-fy Yourself
Printable Movie Poster
Also available on DVD from Shout! Factory Kids:
My Little Pony: Friendship is Magic – Princess Twilight Sparkle
My Little Pony: Friendship Is Magic – Pinkie Pie Party
My Little Pony: Friendship Is Magic – Adventures in the Crystal Empire
My Little Pony: Friendship Is Magic – Season One
My Little Pony: Friendship Is Magic – Season Two
My Little Pony: Friendship Is Magic – Royal Pony Wedding
My Little Pony: Friendship Is Magic – The Friendship Express
My Little Pony – Twinkle Wish Adventure
About Hasbro Studios:
Hasbro Studios is the Los Angeles-based entertainment division of Hasbro, Inc. (NASDAQ: HAS). The studio is responsible for entertainment brand-driven storytelling for the company across television, film, commercial productions and short-form. It develops, produces and distributes TV shows based on Hasbro's world class brands, including TRANSFORMERS, MY LITTLE PONY, LITTLEST PET SHOP and FAMILY GAME NIGHT. Many of these shows air on Hub Network, a U.S. television network for kids and their families, that is a joint venture between Hasbro and Discovery Communications (NASDAQ: DISCA, DISCB, DISCK). Hasbro Studios shows can also be seen on networks in more than 170 countries globally. Since its formation in 2009, the studio has received seven Daytime Emmy wins and 16 nominations. On the film side, the studio is developing and producing a number of features based on Hasbro's brands, including TRANSFORMERS 4 (Paramount), STRETCH ARMSTRONG (Relativity Media) and CANDY LAND (Sony). The studio team also oversees the production of commercials that feature Hasbro's brands as well production of short-form content that can be seen on all of the major digital and social media platforms globally.
About Shout! Factory:
Shout! Factory, LLC is a diversified multi-platform entertainment company devoted to producing, uncovering, preserving and revitalizing the very best of pop culture. Founders Richard Foos, Bob Emmer and Garson Foos have spent their entire careers sharing their music, television and film favorites with discerning consumers the world over. Shout! Factory's DVD and Blu-Ray™ offerings serve up feature films, classic and contemporary TV series, animation, live music and comedy specials in lavish packages crammed with extras. Shout's audio division boasts GRAMMY®-nominated box sets, new releases from storied artists, lovingly assembled album reissues and indispensable "best of" compilations. In addition, Shout! Factory maintains a vast digital distribution network which delivers video and audio content to all the leading digital service providers in North America. Shout! Factory also owns and operates Timeless Media Group, Biograph Records, Majordomo Records, HighTone Records and Video Time Machine. These riches are the result of a creative acquisition mandate that has established the company as a hotbed of cultural preservation and commercial reinvention. Shout! Factory is based in Santa Monica, California. For more on Shout! Factory, visit shoutfactory.com
Elena "Yamino" Barbarich signs at Chapel Hill Comics on Saturday, July 6, from 5-7pm!
Press Release:
Chapel Hill Comics is proud to announce that as part of our 10th/35th Anniversary Festivities , we will host Elena "Yamino" Barbarich for a signing event on Saturday, July 6, from 5-7pm! We commissioned Elena to create an exclusive cover for My Little Pony Micro-Series #5: Pinkie Pie, and she will be on hand to sign the comic! This is a single issue story which can be read by My Little Pony Fans regardless of whether they have picked up other comics in the series.
We'll also have copies of Elena's cover to Adventure Time #3!
Plus, we will also have lots of stock on hand of other issues of My Little Pony and Adventure Time, for those of you who want to catch up!
Chapel Hill Comics
316 W Franklin Street, Chapel Hill, NC 27516
(919) 967-4439
Chris Schweizer, Tony Fleecs, Matt Frank, Chad Thomas, Evan Bryce, and Yehudi Mercado appear at Rogues Gallery on Saturday, June 22nd from 10:00 am until 6:00 pm!
Press Release:
All-Ages Awesomeness 3 is Saturday, June 22nd! It's our third annual all-ages events, featuring a whole bunch of creators who will sketch, sign and talk with kids about making comics!
Our guests this year are:
Tony Fleecs - Artist on My Little Pony: Rainbow Dash, plus lots more!
Matt Frank - Artist on Godzilla: Rulers of Earth and Transformers Spotlights, designer for Kaiju Combat and lots more!
Chris Schweizer - Creator of the Crogan Adventures series, covers for Adventure Time and lots of other cool projects!
Chad Thomas - Worked on Archie's Megaman and has done covers for Kaboom!'s Adventure Time, plus lots more!
Evan Bryce – Wide variety of comics work, art teacher and some of the wildest, coolest color prints in the universe!
Yehudi Mercado – Creator of Buffalo Speedway and Pantalones, TX!, with a ton of cool prints featuring Adventure Time and lots more!
The event will run from 10 AM – 6 PM! Tell your friends! Tell your enemies! The coolest all-ages event all year!
Rogues Gallery
1601 S IH-35 #360, Round Rock, TX 78664
Tony Fleecs and Amy Mebberson appear at Emerald Knights Comics on Sunday June 30, 2013 at 1:00 pm to sign the EKC exclusive My Little Pony #8 Variant Cover!
Emerald Knights Comics and Games 
4116 W. Burbank Blvd, Burbank, CA 91505
Artist AMY MEBBERSON appears at Flying Colors Comics for a special MY LITTLE PONY event on Saturday May 11 at noon.
Spread the word to MLP fans, Bronies and all lovers of deliciously animated art to be HERE Saturday May 11.
Flying Colors Comics
2980 Treat Blvd (at Oak Grove Rd), Concord, CA 94518
Neil Vokes, Dan Parent, Thom Zahler, Jamar Nicholas, and many more sign at Captain Blue Hen Comics on Saturday May 4, 2013 for Free Comic Book Day!
Neil Vokes Winner of the "Iron Man" Award for appearing all day at all of our Free Comic Book Day celebrations
Neil King of Smarty Pants Comics
Buz and Ken of Living Corpse
Ben Harvey comics artist
Kevin Bolk and Sarah Martinez Interrobang webcomics
FUBAR: Jeff McComsey and others
Dan Parent Archie Comics
Scott Roberts Patty Cake and Spongebob Squarepants Comics
Zenescope Entertainment Ralph Tedesco, Joe Brusha, Anthony Spay
Jamar Nicholas Fist Stick Knife Gun
AJ Janavel web strip Must Be This Tall
Thom Zahler Love and Capes and My Little Pony Micro-Series #1: Twilight Sparkle
Appearances:
BATMOBILE from 1966 TV show
Members of the 501st Legion
Spidey
Bats
Captain Blue Hen Comics
280 E. Main Street, Newark, DE 19711
302-737-3434
Press Release:
IDW Publishing is pleased to announce a packed slate of panels, signings, and exclusive items being offered at this year's  WonderCon, being held at the Anaheim Convention Center in Anaheim, CA from March 29-31.  IDW can be found at Booth #709 all weekend long, selling books, giving out high fives, and trying not to disrupt surrounding booths with the blinding light of their awesomeness.
Signing Schedule – Booth #709
Friday March 29th
1:00 – 2:00 Godzilla – Chris Mowry
2:00 – 3:00 The Colonized, Zombies vs Robots, Kiss – Chris Ryall
3:00 – 4:00 My Little Pony – Amy Mebberson, Heather Nuhfer, Tony Fleecs (Check out the Wonder Con Exclusive My Little Pony Comic!)
4:00 – 5:00 Star Trek: TNG/Doctor Who, Doctor Who: Prisoners of Time – Scott Tipton, David Tipton
5:00 – 6:00 Adventures of Augusta Wind – J.M. DeMatteis
6:00 – 7:00 The Crow: Death and Rebirth – John Shirley
Saturday March 30th
11:00 – 12:00 The Rocketeer: Cargo of Doom – Mark Waid
11:00 – 12:00 Artist's Edition Meet & Greet! – Scott Dunbier & Guests
2:00 – 3:00 My Little Pony – Amy Mebberson, Heather Nuhfer, Tony Fleecs (Check out the Wonder Con Exclusive My Little Pony Comic!)
3:00 – 4:00 Star Trek: Countdown Into Darkness, Star Trek Ongoing – Mike Johnson
4:00 – 5:00 Transformers "Jam" Signing – John Barber, Livio Ramondelli, Mairghread Scott, Chris Metzen, Flint Dille
5:00 – 6:00 G.I. JOE: Cobra Files – Mike Costa
Sunday March 31st
12:00 – 1:00 Star Trek: TNG/Doctor Who, Doctor Who: Prisoners of Time – Scott Tipton, David Tipton
1:00 – 2:00 Transformers "Jam" Signing – John Barber, Livio Ramondelli, Mairghread Scott
2:00 – 3:00 Love and Capes – Thom Zahler
Convention Exclusives
Will Eisner's The Spirit Artist's Edition: Limited, Signed & Numbered – $300.00
Gil Kane's Amazing Spider-Man: Limited, Signed & Numbered – $250.00 (Signed by Stan Lee, John Romita, Gerry Conway, and Roy Thomas!)
Dave Stevens' Rocketeer: Artist's Edition: Limited – $125.00
MAD Artist's Edition: Limited – $175.00
Teenage Mutant Ninja Turtles Ultimate Collection, Vol. 4: Limited Edition – $50.00
My Little Pony #6 Convention Variant Cover – $10.00
Transformers Spotlight: Bumblebee: Convention Variant Cover – $5.00
Panel Schedule
Friday, March 29th
5:30–6:30 IDW: Spotlight on Artist's Editions!
The IDW Artist's Edition Panel this year will include several announcements of upcoming books, including one with a surprise guest star in attendance! Senior Editor Scott Dunbier will be on hand to talk about all things Artist's Edition related and will have several cool prizes for lucky attendees–Hoo Hah! Room 208B
Saturday, March 30th
12:30-1:30 IDW: The Big Panel!
Join Chief Creative Officer and Editor-in-Chief Chris Ryall and VP of Marketing Dirk Wood, along with a cavalcade of IDW creators, past, present and future…including Scott Dunbier, John Barber and Star Trek scribe Mike Johnson! Announcements, prizes, Q&A, semi-professional wrestling, and more! Room 208B
Sunday, March 31st
2:30-3:30 IDW: Behind the Hasbro Titles
Join Editor John Barber along with a veritable who's who of creators on all your favorite Hasbro books! Mike Costa of G.I. JOE fame! Mairghread Scott, Livio Ramondelli, and more from Transformers! Amy Mebberson and Heather Nuhfer from My Little Pony! Announcements and inside info you won't believe! Room 208B
About IDW
IDW is an award-winning publisher of comic books, graphic novels and trade paperbacks, based in San Diego, California. Renowned for its diverse catalog of licensed and independent titles, IDW publishes some of the most successful and popular titles in the industry, including: Hasbro's The TRANSFORMERS and G.I. JOE, Paramount's Star Trek; HBO's True Blood; the BBC's DOCTOR WHO; Toho's Godzilla; and comics and trade collections based on novels by worldwide bestselling author, James Patterson. IDW is also home to the Library of American Comics imprint, which publishes classic comic reprints; Yoe! Books, a partnership with Yoe! Studio.
IDW's critically- and fan-acclaimed series are continually moving into new mediums. Currently, Warner Brothers and Barry Sonnenfeld are attached to adapt LORE into a feature film starring Dwayne "The Rock" Johnson and Jerry Bruckheimer Films and Disney are creating a feature film based on World War Robot, with Michael Bay's Platinum Dunes and Sony bringing Zombies vs. Robots to film.
Amy Mebberson, Heather Nuhfer, and Tom Zahler sign at Beach Ball Comics on Saturday April 6, 2013 at 1:00 pm!
Beach Ball Comics
3024 W Ball Rd Ste G, Anaheim, CA 92804
Press Release:
Attention all Bronies and Pegasisters! Boston Comic Con has dipped its toes into the variant comic marketplace and its first ever exclusive offering is from IDW's My Little Pony #6. Featuring a stellar cover from Agnes Garbowska, this comic is limited to 1,000 copies and can be purchased only at the convention! No pre-orders available on this exclusive! You have to be at Boston Comic Con to get these! Come get them signed by Agnes at the show! These comics will be $15 each or 2 for $20. First come, first serve!
Boston Comic Con 2013 Guests include: Mark Bagley, Eric Basaldua, Nick Bradshaw, Mark Brooks, Jim Calafiore, Amanda Conner, Tony Daniel, Colleen Doran, Ming Doyle, Joe Eisma, Braden Lamb, Norman Lee, Joseph Michael Linsner, David Mack, Ed McGuinness, Mike Mignola, Steve Niles, Carlos Pacheco, Jimmy Palmiotti, Shelli Paroline, George Perez, Amy Reeder, Don Rosa, Craig Rousseau, Alex Saviuk, Tim Sale, Tim Seeley, Jeff Shultz, William Stout, Marcio Takara, Lee Weeks, Bill Willingham, Charles Paul Wilson III, JK Woodward, and Chrissie Zullo! Tell your friends!!
Tickets are $25 per day or $40 for the weekend and available through Eventbrite at the link!
Artist alley and vendor table registration is also open. Forms can be found on the Boston Comic Con website.
About Boston Comic Con:
The Boston Comic Con is a 100% independently run comic book show committed to bringing the biggest and best comic creators to New England. Run by fans for fans, Boston Comic Con is not affiliated with any other convention tour or corporate interests. Hosting over 40,000 square feet of vendors selling comic books, toys, posters, trading cards, and other pop culture memorabilia, this is a destination event for geeks of any stripe. Next year's convention will be held Saturday April 20th and Sunday April 21st opening at 10:00 am each day at the Hynes Convention Center, 900 Boylston Street, Boston, MA. For more information please go to our website at www.bostoncomiccon.com and follow us on Twitter (@BostonComicCon) and Facebook!
GraniteCon welcomes My Little Pony comic artists Katie Cook and Amy Mebberson for their show on September 28-29, 2013!
Attending her very first Granitecon is Katie Cook, writer of 'My Little Pony: Friendship is Magic' (which has become one of the biggest selling comics of the year!) and creator of the webcomic Gronk!
Also on hand will be Amy Mebberson, cover artist for 'My Little Pony: Friendship is Magic', as well as Disney comic artist regular, who's worked on The Muppets, Darkwing Duck, Finding Nemo, Monsters Inc, and many, many more!