Inker Jay Leisten (Uncanny Avengers, Uncanny X-Men, Mighty Avengers) appears at Challengers Comics on Wednesday, October 1st from 5:00 – 7:00 pm to sign DEATH OF WOLVERINE!  Jay is a dedicated comic professional and has worked for just about every publisher. He'll have original art, prints and is available for sketches.
Challengers Comics 
1845 N. Western Ave, Chicago, IL 60647
(773) 278-0155
Charles Soule, creator of Letter 44 and writer of Death of Wolverine, Thunderbolts, She-Hulk, Inhuman, and many more appears at Comix Experience on Wednesday, October 1st from 4:00 – 7:00 pm!
Comix Experience
305 Divisadero Street, San Francisco, CA 94117
(415) 863-9258
Writer Charles Soule appears at The Comic Bug to sign DEATH OF WOLVERINE on Saturday, September 27th at 7:00 – 10:00 pm!
Mr. Soule will also be signing anything and everything else from his impressive body of work (LETTER 44, SWAMP THING, SUPERMAN/WONDER WOMAN, SHE-HULK, RED LANTERNS, INHUMAN, and many, many more!)
In addition, we'll be giving the first 100 attendees of the evening a FREE DEATH OF WOLVERINE PINT GLASS featuring awesome artwork by JEFF STOKELY!
The Comic Bug
1807 Manhattan Beach Boulevard, Manhattan Beach, CA 90266
(310) 372-6704
Charles Soule announced on his Twitter that he had to cancel this appearance.
Marvel-exclusive writer Charles Soule (Inhuman, She-Hulk) appears at Larry's Comics on Wednesday September 17, 2014 from 4:00 – 7:00 PM to sign DEATH OF WOLVERINE #1-3! Logan finally meets his end in what is being billed as the single most important X-Men event of the decade. 
Larry's Comics
68 Lakeview Avenue, Lowell, MA 01850
(978) 459-5323
Artist J.G. Jones signs at Fat Jack's Comicrypt on Wednesday September 3rd from 5:00 – 7:00 PM and writer Charles Soule signs on Thursday September 4th from 3:00 – 6:00 PM!
Fat Jack's Comicrypt
2006 Sansom Street, Philadelphia, PA 19103
215-963-0788
On July 23-27th, San Diego was host to the 2014 San Diego Comic Con! After 10 years of attending this show, I was definitely looking forward to seeing what sort of amazing spectacles Comic Con had in store for me this year. After a week of recovery from the show, I had to admit, compared to all the other Comic Cons, this one was a bit more low key. There weren't many major announcements on the movie front, and while there were some exciting TV shows on hand, I definitely didn't feel the major buzz I typically do at SDCC.
However, like all previous Comic Cons, it's a great time to mingle with artists, writers, and friends you never get to mingle with anywhere else outside of SDCC. It was fun watching the stars come on the show floor, watching artists draw some amazing commissions, and seeing the amazing exhibits some of the booths displayed, including all of the Batman cowls celebrating the Caped Crusader's 75th birthday, as well as some very cool props from the latest movies. While it lacked that extra spark that San Diego usually brings to the table, it still was, is and always will be THE place to be. And now, on to some of the sights I saw during the weekend.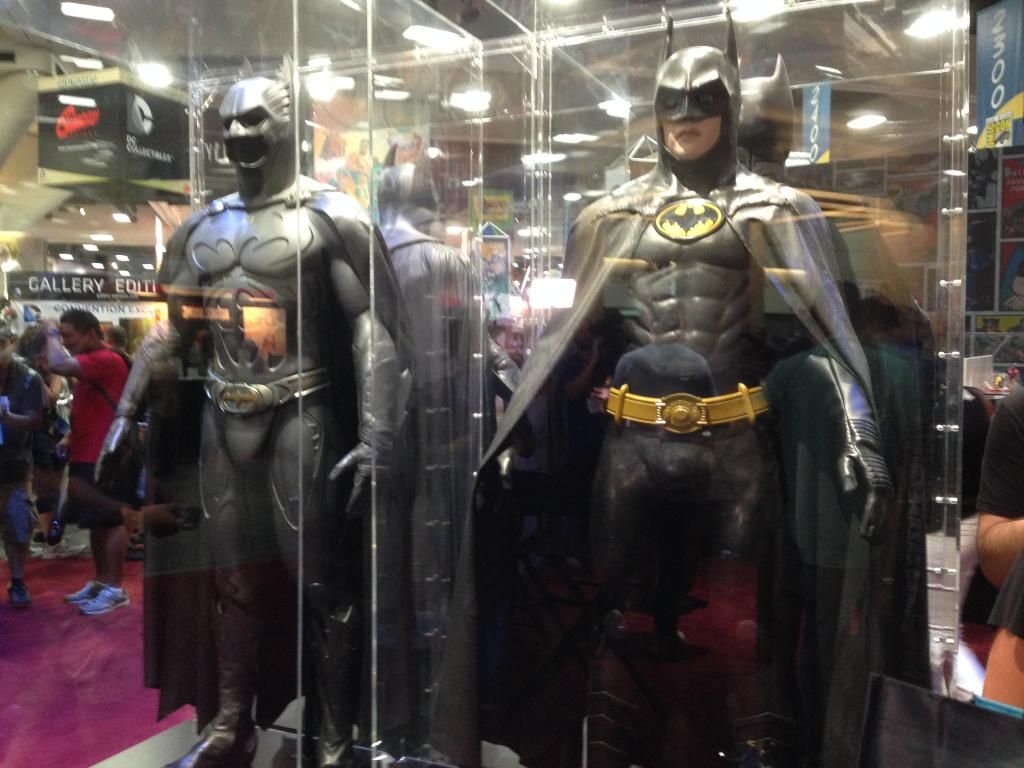 I didn't take a lot of cosplay pics this year, but here's a few that stood out!
Press Release:
Celebrity appearances, artist meet-and-greets, a film festival, a Cosplay costume contest, the first official after party and Cosplay Harbor Cruise are among many activities lined up for this year's Boston Comic Con. Boston Comic Con will bring its first three-day convention to the Seaport World Trade Center Friday August 8 through Sunday August 10, 2014. In the seven years since its founding, Boston Comic Con has grown from a one-day show that attracted an estimated 900 comic book enthusiasts to last year's record turnout of more than 23,000, which organizers expect to top this year.
"The community in Greater Boston that loves comic books and related television and film is tremendous and growing," said Nick Kanieff, a founder of Boston Comic Con. "We are home to some of the industry's most talented artists and devoted fans, all of which will join us in great numbers this August. Boston Comic Con has just enough of a celebrity touch to bring in ardent fans while still honoring the artists and writers who are the backbone of the industry."
The 2014 Boston Comic Con will feature celebrity appearances by Jason Momoa of "Game of Thrones"; John Barrowman of "Doctor Who," "Torchwood" and "Arrow"; Sean Astin of "The Goonies" and "The Lord of the Rings" trilogy; James Marsters of "Buffy the Vampire Slayer" and "Angel"; Katie Cassidy of "Arrow"; Eve Myles of "Torchwood"; Jewel Staite of "Firefly"; Sam Witwer of "Being Human"; and Darryl McDaniels, aka DMC, of Run-DMC, one of the founding fathers of the hip hop and rap movement, who is producing his own comic about a rap superhero. Celebrities will also participate in panel discussions, Q&As, photo ops, and signing autographs throughout the three-day convention.
Among the 200+ comic book creators taking part in the convention are well known artists such as artist Greg Capullo and writer Scott Snyder, who together produced legendary Batman story arcs as The Court of Owls, Death of the Family and Zero Year for DC Comics. Indie sensation Jeff Smith, creator of the fantasy epic Bone, makes rare appearance at this year's convention. Also featured is artist Adam Kubert, best known for his work with Marvel Comics on Wolverine, Incredible Hulk, Ultimate Fantastic Four, and X-Men. He is both a graduate of and an instructor at the famed Kubert School, founded by his father, legendary artist Joe Kubert. Other creators include Skottie Young, whose current project, Rocket Raccoon ties in with Marvel's summer blockbuster Guardians of the Galaxy, fan-favorite Gail Simone, writer of Batgirl, Birds of Prey, and Wonder Woman, and Mark Waid who is the most prolific writer of popular characters such as Superman, Spider-Man, and Daredevil.
Participating Boston-area artists include husband and wife team Shelli Paroline and Braden Lamb, Joe Quinones, Maris Wicks, Ming Doyle, Norman Lee, Sara Richard, and several others.
Boston Comic Con is especially proud of its showcase of 14 top women creators including: Christy Blanch, Danica Brine, Katie Cook, Danielle Corsetto, Ming Doyle, Dawn Griffin, Rebekah Isaacs, Shelli Paroline, Sara Richard, Gail Simone, Cat Staggs, Babs Tarr, Maris Wicks, and Chrissie Zullo.
"Boston Comic Con is at the forefront of supporting local artists, especially women creators. It is truly an organic, home-grown event that has gained popularity over the past few years," said Kanieff, a Framingham resident who is also an avid collector. "We welcome everyone, from families with young children, to college students, to older comic book fans. There is something for everyone at Boston Comic Con."
New This Year
The first Boston Comic Con Cosplay Harbor Cruise will take place on Saturday, August 9 from 8 p.m. to 11 p.m. The cruise will be hosted by Ivy Doomkitty, international costume designer and cosplayer, and features noted cosplayers including Nicole Marie Jean, Destiny Nickelsen, and Bethany Maddock. After the harbor cruise, Boston Comic Con will host the official "after party" at Laugh Boston, at the Westin Waterfront Hotel. Also new this year, a limited number of tickets will be sold to allow early entry on the first day of Boston Comic Con, Friday, August 8 at 1 p.m., one hour before the general admission at 2 p.m.
Additionally, Marvel editor C.B. Cebulski will be on hand to provide portfolio reviews for aspiring comic artists. And this year's exclusive t-shirt features Rocket Raccoon drawn by Guardians of the Galaxy artist Nick Bradshaw with colors by Rich Woodall.
"Not only is Boston Comic Con drawing interest from the area's extensive comic book community, but it's becoming a destination event that brings tourists to Boston," said Kanieff. "The growing excitement around this convention demonstrates the strength and vibrancy of the creative community we have here in Boston and in the surrounding region."
More information about events, artists and celebrity guests can be found on www.bostoncomiccon.com. General admission and VIP tickets are on sale now, as are tickets for celebrity photo ops. Boston Comic Con is also accepting entries for this year's film festival.
For information on ticket sales please visit: www.bostoncomiccon.com.
Writer Nathan Edmondson appears at Barnes & Noble to sign Black Widow: The Finely Woven Thread on Saturday August 2, 2014 at 2:00 PM!
Barnes & Noble – Glendale Americana
The Americana at Brand, 210 Americana Way, Glendale, CA 91210
818-545-9146
Marvel will be broadcasting live from the San Diego Comic-Con each day via YouTube, and we have their live stream for you right here.
Chris Eliopoulos appears at Barnes & Noble to sign Marvel Universe Avengers Earth's Mightiest Heroes on Saturday August 9, 2014 at 2:00 PM!
Barnes & Noble
765 Route 17 South, Paramus, NJ 07652
201-445-4589