Writers Chris Sims and Chad Bowers appears at Borderlands Comics & Games on Saturday, August 8, 2015 from noon till 7:00 PM to sign X-Men '92!
Borderlands Comics & Games
1434 Laurens Road, Greenville, SC 29607
(864) 235-3488
Writer DAN SLOTT will be signing SPIDER-VERSE (HC), Amazing Spider-Man #1 and #2 and Amazing Spider-Man Vol. 3 at the Forbidden Planet London Megastore on Wednesday 22nd July from 5 – 7pm!
In the SPIDER-VERSE, the evil Inheritors begin exterminating spider-characters throughout the multiverse, and every single Spider-Man ever is needed to save the day! An inter-dimensional spider-army gathers to fight Morlun and his deadly family, but none of them is safe as the Prophecy comes to fruition! What will this brutal war for survival mean for Peter Parker and the rest of the spiders?
And don't miss issues #1 and #2 of Spider-Man 2099, and the continuation of the story in Vol. 3- back by popular demand!
Dan Slott is an American comic-book writer best known for Avengers: Initiative, Mighty Avengers, She-Hulk, Superior Spider-Man. He's currently the sole writer of Amazing Spider-Man and The Silver Surfer. He's renowned for injecting humour into typically serious superhero books.
Forbidden Planet London Megastore
179 Shaftesbury Avenue, London, WC2H 8JR
0207 420 3666
Marvel will be streaming live from the San Diego Comic-Con from 9:30AM to 7 PM PT each day (5PM on Sunday), and you can watch it right here: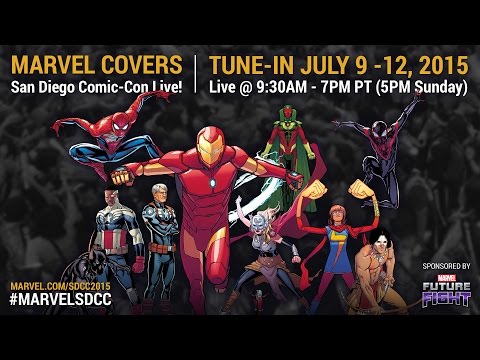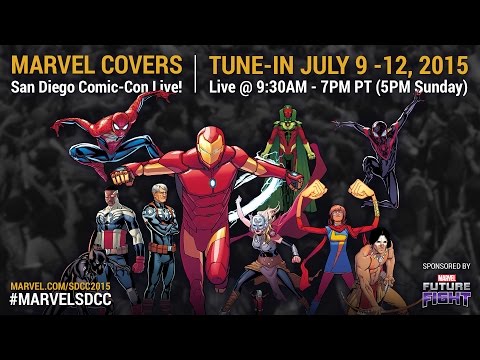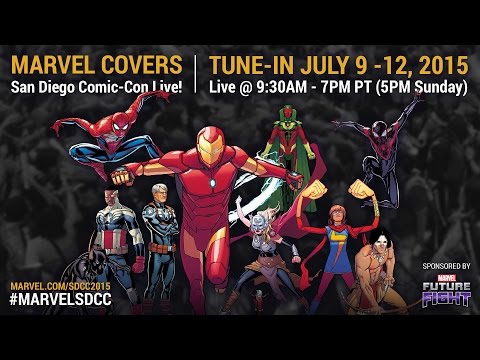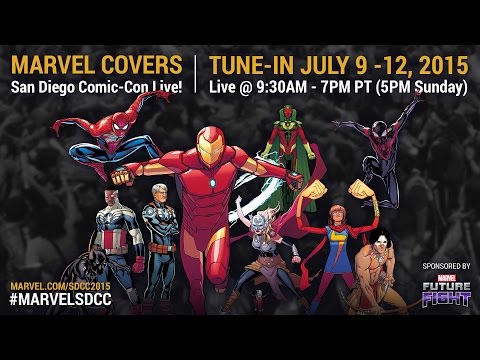 Artist Brent Schoonover appears at Source Comics & Games on Wednesday, July 15, 2015 to sign ANT-MAN ANNUAL #1!
Source Comics & Games
2057 Snelling Ave North, Roseville, MN 55113
651-645-0386
Chad Bowers and Chris Sims appear at Punk Monkey Comics on Friday June 26, 2015 from 2:00 till 7:00 PM to sign X-MEN '92 #1!
Punk Monkey Comics
4711 Forest Dr Suite 24, Columbia, SC 29206
(803) 743-4575
Artist Chris Sprouse (Superman, Tom Strong, Midnighter) appears at Laughing Ogre Comics on Saturday, June 20, 2015 from 2:00 – 4:00 pm to sign SECRET WARS: THORS!
Laughing Ogre Comics
4258 N. High Street Columbus, OH 43214
(614) 267-6473
Professional photo ops with Boston Comic Con's Media Guests Billie Piper, Elvira: Mistress of the Dark, Thomas Jane, Robin Lord Taylor, Hayley Atwell, Brett Dalton, and Stan Lee are now available at the link! *UPDATE: Gillian Anderson had to cancel.*
Please note: Prices, times, and guests are subject to change and do not include taxes or fees, so be sure to check the schedule at the show to verify times. You are welcome to have up to 4 individuals & any children under 3 in one photo op (not counting the celebrities) for one price.Please ensure you have valid admission into the convention before purchasing photo ops.
Unless otherwise specified, guests will NOT be appearing in costume
In order to reduce the wait time for our customers we have implemented a "group" system for some very popular guests, meaning the photo op is subdivided into smaller sessions. While the photo op itself might start at 5pm, for example, your actual ticket may have a later time of 5:30 or 6:00 posted on it. Tickets are sold on a first come, first served basis and these photo ops may last up to 2 hours, so please arrive only a few minutes before the time printed on your ticket! Arriving any earlier will not be useful to you as you will be asked to come back for the time on your ticket.
On-site sales will be cash only. You are encouraged to pre-purchase as sessions can sell out and you avoid the ATM line-ups.
LAST DAY FOR REFUNDS: emails that were time stamped no later than midnight EST Sunday, July 26th, 2015. We will be unable to offer refunds after that time unless a guest has to postpone their appearance.
About Boston Comic Con:
The Boston Comic Con is a 100% independently run comic book show committed to bringing the biggest and best comic creators to New England. Run by fans for fans, Boston Comic Con is not affiliated with any other convention tour or corporate interests. Hosting over 120,000 square feet of vendors selling comic books, toys, posters, trading cards, and other pop culture memorabilia, this is a destination event for geeks of any stripe. This year's convention will be held Friday July 31st, Saturday August 1st, and Sunday August 2nd at the Seaport World Trade Center, 200 Seaport Blvd, Boston, MA 02210. For more information please go to our website at www.bostoncomiccon.com and follow us on Twitter (@BostonComicCon) and Facebook!
Guests include: Stan Lee, Billie Piper, Hayley Atwell, Robin Lord Taylor, Brett Dalton, Thomas Jane, Elvira, Eduardo Risso, Humberto Ramos, Jose Luis Garcia-Lopez, Tony Moore, Jason Latour, Joelle Jones, Steve Lieber, Annie Wu, Franco Aureliani, J. Bone, Frank Brunner, Michael Cho, Jeff Dekal, Evan Dorkin, Sara Dyer, Gerry Duggan, Mike Henderson, Mike Kunkel, John Layman, Stacey Lee, Laura Martin, Phil Noto, Dan Panosian, Yanick Paquette, Jeff Parker, Andrew C. Robinson, Kurtis J. Wiebe, Joshua Williamson, Brian Azzarello, Nick Bradshaw, Eric Canete, Frank Cho, Amanda Conner, Jimmy Palmiotti, Andy Belanger, Stephanie Buscema, Dave Johnson, Joe Prado, Tim Sale, Amy Reeder, Don Rosa, Stephane Roux, Frank Tieri, Todd Nauck, and more!
Tickets are now available for purchase. Please note that this year tickets will be sold ONLINE ONLY, there will not be any on-site ticket sales.
Deadpool Writer, Actor and Comedian Brian Posehn appears at Chapel Hill Comics for a signing on Saturday, June 13th from 1:00pm to 3:00pm.
Chapel Hill Comics
316 W Franklin Street, Chapel Hill, NC 27516
(919) 967-4439
Mike Norton (artist of Revival, Battlepug, Young Justice, and more) appears at Defiant Comics on Saturday, June 27, 2015 to sign the first issue of the Secret Wars tie-in, Years of Future Past, starring the X-Men!
Defiant Comics
7234 Madison Street, Forest Park, IL 60130
(708) 771-3339
Artist Scott Koblish appears at Phat Collectibles on Saturday, June 27th at 2:00 pm to sign the first issue of SECRET WARS: X-MEN '92!
Phat Collectibles
1201 S. Euclid Street, Anaheim, CA 92804
(714) 808-9355