June 23, 2016 by Colin Solan
Filed under Animation, Collectibles, Comic Books, Convention News, Europe, Movies, Other, Science Fiction and Fantasy, Television, Video Games
Press Release:
The Star Wars Celebration Autograph Hall, presented in cooperation with Entertainment Legends, will be the place for fans to meet their favorite stars from Star Wars.
Scheduled to sign all three days of Celebration, July 15-17:
Mark Hamill (Luke Skywalker)
Carrie Fisher (Princess Leia)
Anthony Daniels (C-3PO; Dannyl Faytonni, Attack of the Clones)
Jeremy Bulloch (Boba Fett, The Empire Strikes Back & Return of the Jedi; Lt. Sheckil, The Empire Strikes Back; Captain Colton, Revenge of the Sith)
Ray Park (Darth Maul)
Peter Mayhew (Chewbacca)
Daniel Logan (Young Boba Fett, Attack of the Clones)
In addition to these stars of Celebration, every day of the show will have a different line-up of featured autograph guests. Don't miss this chance to meet them in person for an autograph or photo opportunity.
Sign up and pre-pay for your Celebration photo op with your favorite Star Wars stars.
View information on how the autograph and photograph process will work onsite in the Celebration Autograph Hall.
Scheduled to sign Friday, July 15:
Kenny Baker – after 13:00. (R2-D2; Paploo, Return of the Jedi)
Michael Carter (Bib Fortuna, Return of the Jedi)
Ken Colley (Admiral Piett, The Empire Strikes Back & Return of the Jedi)
Sean Crawford (Yak Face, Return of the Jedi)
Tim Dry (J'Quille, Return of the Jedi )
Scheduled to sign Saturday, July 16:
Al Lampert (Daine Jir, A New Hope)
Kenny Baker (R2-D2; Paploo, Return of the Jedi)
Rusty Goffe (Jawa, Kabe, A New Hope)
Garrick Hagon (Biggs, A New Hope)
Robert Watts (Producer, original trilogy; AT-ST Pilot Return of the Jedi)
Scheduled to sign Sunday, July 17
Paul Blake (Greedo, A New Hope)
Mike Edmonds (Ugnaught, The Empire Strikes Back; Logray, Jabba puppeteer, Return of the Jedi)
Alan Harris (Leia's escort & war room, A New Hope; Bossk, stormtrooper, Bespin Guard, Hoth Rebel, The Empire Strikes Back)
Chris Muncke (Captain Khurgee, A New Hope)
Simon Williamson (Max Rebo, Gamorrean Guard, Mon Cal officer, Return of the Jedi)
Any guest at Star Wars Celebration may have to reschedule or cancel for personal or professional reasons.
June 22, 2016 by Colin Solan
Filed under Animation, Collectibles, Comic Books, Comic Strips, Convention News, Cosplay, Europe, Gaming, Movies, Other, Science Fiction and Fantasy, Television, Top Stories, Video Games
Press Release:
With Star Wars Celebration Europe 2016 set to launch in less than a month, we wanted to share a sneak peek at some of the panels being planned for the Celebration Stage, home of the biggest shows and brightest stars of the weekend! This is where fans will go to spend separate hours with Mark Hamill, Carrie Fisher and Anthony Daniels, get the latest news and info on Rebels Season 3, and grab some super-secret glimpses of the upcoming Rogue One: A Star Wars Story. If that weren't enough, the stage will also host special screenings of A New Hope and The Force Awakens, as well as many other guests and not-to-be-missed Celebration attractions. A few surprises still to come on this stage, so be sure to stick around for the final day of the show. Make the Celebration Stage your number one stop in London this July!!
Seats at the Celebration Stage will be in high demand. Look for our Star Wars Celebration Navigation Guide, coming next week on www.starwarscelebration.com for helpful tips and tricks to help you see your favorite shows!
Friday, July 15:
11:30-12:30
An Hour With Mark Hamill
Start your Celebration weekend off in the best possible way, by spending time with the Jedi Master himself. Mark Hamill will chat with the audience, answer questions, and tell stories from his years in entertainment and from his point of view portraying the pivotal character of Luke Skywalker in the Star Wars universe.
16:00-17:00
Rogue One: A Star Wars Story
Secret mission? What plans? What are you talking about? Find out, when Gareth Edwards – director of the upcoming Rogue One: A Star Wars Story – joins Lucasfilm president Kathleen Kennedy and some special guests for a revealing can't-miss Rogue One panel! Also streamed to the Galaxy Stage and BTSS
18:00-19:30
Star Wars Celebration Europe Cosplay Championship
Enjoy the best cosplay in the galaxy live on the Celebration Stage. The Celebration Europe Cosplay Championships, hosted by Warwick Davis and Mark Daniel, will entertain, and possibly inspire you to get started with your own Star Wars cosplay. The Championships will feature celebrity judges who know quite a bit about the art of Star Wars costumes: Dave Filoni (Executive Producer, Star Wars Rebels) and Steve Sansweet (Rancho Obi-Wan).
20:30-23:00
Screening: Star Wars: A New Hope
The story that started the theatrical saga of Star Wars, as well as the most recent, epic movie for the big screen, will play for fans at Celebration Europe Friday and Saturday evenings. Tonight, relive the excitement of seeing Star Wars: A New Hope in a theater, surrounded by your fellow fans. Bring your lightsaber and get ready to cheer for your heroes, and boo the Dark Lord of the Sith, Darth Vader. Or perhaps cheer for Darth if you lean toward the dark side….
Saturday, July 16:
12:00-13:00
The Creatures, Droids & Aliens of Star Wars: The Force Awakens
Take a deep dive into the Pinewood Studios-based Star Wars creature shop, where Creative Supervisor Neal Scanlan and team designed and built every alien, beast and droid from Star Wars: The Force Awakens! Step-by-step, the process of crafting amazing creatures and droids like Maz Kanata, BB-8, the luggabeast, Unkar Plutt and Supreme Leader Snoke will be explored; from design and sculpting, to fabrication and animatronics, to painting and puppeteering. The panel will culminate in a live demo of one of the creature shop's incredible Star Wars characters!
14:00-15:00
Anthony Daniels, Without Protocol
It's always bright and shiny when our favorite protocol droid takes the stage. Don't miss Anthony Daniels, the human behind C-3PO. Expect the unexpected as Daniels and host Warwick Davis have a marvelous time, sometimes at the expense of unsuspecting audience members.
16:00-18:00
Star Wars Rebels Season 3
Still recovering from the epic Star Wars Rebels Season 2 finale? Feel like you have more questions than answers about what the future holds for the crew of the Ghost? Fear not! Star Wars Rebels Executive Producer and Supervising Director Dave Filoni will be joined by special guests to share highly-guarded sneak peeks at what's to come in Star Wars Rebels season 3 including a screening of the first two episodes!
19:00-20:00
Meet the Creators: The Minds Behind EA's Star Wars Games
Join us for a roundtable discussion about what's it's like to create Star Wars games. The creative leaders behind Star Wars Battlefront, Star Wars: Galaxy of Heroes, Star Wars: The Old Republic and other upcoming Star Wars video games from EA will share behind-the-scenes stories and reveal news about the future of Star Wars games at EA.
21:00-23:30
Screening: Star Wars: The Force Awakens
The story that started the theatrical saga of Star Wars, as well as the most recent, epic movie for the big screen, will play for fans at Celebration Europe Friday and Saturday evenings. Tonight, plan to stay after hours to watch your most beloved characters new and old in The Force Awakens, presented in theatrical quality on the Celebration Stage.
Sunday, July 17:
11:00-12:00
Carrie Fisher: The Princess Diaries
Buckle up. Our favorite Princess is coming and she will certainly have something to say. Join Carrie Fisher, the force behind Princess Leia in the Star Wars movies, for an hour of insights into the world of one of our favorite characters on and off the screen.
13:00-14:00
Ray Park Unleashed
Ray Park, the actor and champion martial artist behind the iconic character of Darth Maul, will take the stage for an hour of insights and interaction. Always two there are – Park will share the stage with Celebration Host and Sith apprentice Warwick Davis.
SPOILERS: I do get into spoiler-territory here, so if you haven't seen it yet, you might want to skip this part.
I have to say… I have very mixed feelings about Star Wars: The Force Awakens. I go way back with Star Wars… all the way back to 1977. Because my cousin wanted to see it, our whole family went to our local theater and saw the original. I was hooked. Naturally, I've seen every Star Wars movie since. But… like a lot of fans, I found the prequels a little wanting and felt that they tarnished Star Wars's reputation. I was eager to see what Director J.J. Abrams and the folks at Disney had cooked up to take the bad taste of the prequels out of our mouths. For months as the trailers rolled out, I crossed my fingers and said, "Let it be good… let it be good… let it be good." Having seen it, though, I came away disappointed. While I loved the new characters, especially Daisy Ridley's Rey, I felt like the original characters really got the short end of the stick. All these years later, and either everything is the same or changed for the negative. Han and Leia broken up? Say it ain't so! Stormtroopers running around…still?! Han back to being a smuggler…. really?! After becoming a military leader? And the movie robs us of the chance to see Han, Leia, and Luke all sharing the screen again.
So as far as the older characters go, I almost wish they had just set it farther into the future and just said the originals died happy deaths. Despite all my misgivings, I am still looking forward to Episode VIII. Hopefully, the next movie will be more about charging forward and less about looking back. I want to see the next chapter of Rey, Finn, Poe, and Kylo Ren, and I want to see Luke Skywalker kick some butt!
Although I did not love the new movie, I still jumped at the chance to receive a copy of the Blu-ray Combo Pack to review. Deleted scenes, behind-the-scenes stuff, it's packed with goodies!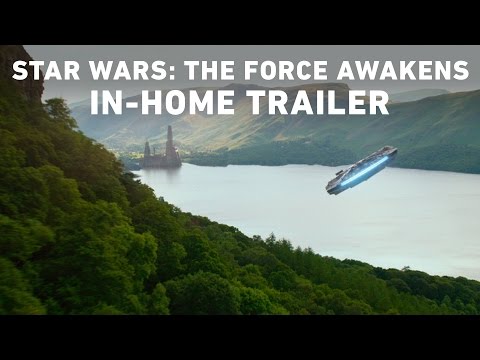 Arriving early on Digital HD April 1, 2016
Bring it home on Blu-ray™ Combo Pack and DVD on April 5, 2016
Including new in-depth bonus offering fans the chance to experience more
BURBANK, Calif. (March 3, 2016)—Star Wars: The Force Awakens shattered box office records upon its debut to become the cinematic event of a generation with over $926 million domestic and $2.05 billion worldwide. As announced this morning by Chairman and Chief Executive Officer Robert A. Iger at The Walt Disney Company's Annual Meeting of Shareholders, the epic movie will be available to own early on Digital HD and Disney Movies Anywhere on April 1. It comes home on Blu-ray Combo Pack and DVD on April 5.
Discover the complete story behind the making of Star Wars: The Force Awakens with in-depth documentary and bonus material that will take fans on an exciting journey behind the scenes.  Secrets will be revealed through extensive footage, never-before-seen deleted scenes, and exclusive interviews with the actors and filmmakers. Bonus features include*:
Secrets of The Force Awakens: A Cinematic Journey – For the first time, discover the complete story behind the making of The Force Awakens, revealed through in-depth footage and exclusive interviews with the actors and filmmakers in this feature documentary.
The Story Awakens: The Table Read – Cast members familiar and new reflect on the memorable day they all first came together to read the movie's script.
Building BB-8 – See how the filmmakers brought the newest droid to the screen, creating an instant fan favorite in the Star Wars universe.
Crafting Creatures – Watch movie magic as the filmmakers bring a cast of new creatures to life.
Blueprint of a Battle: The Snow Fight – Go deeper into the epic, climactic lightsaber battle between Rey and Kylo Ren.
John Williams: The Seventh Symphony – The legendary composer shares personal insights of his work on Star Wars and The Force Awakens.
ILM: The Visual Magic of The Force – An insider's look into the remarkable digital artistry of the movie's visual effects.
Force For Change – Heroes come in all shapes and sizes. See how the Star Wars: Force for Change initiative has united Star Wars fans all over the globe to help others.
Plus Deleted Scenes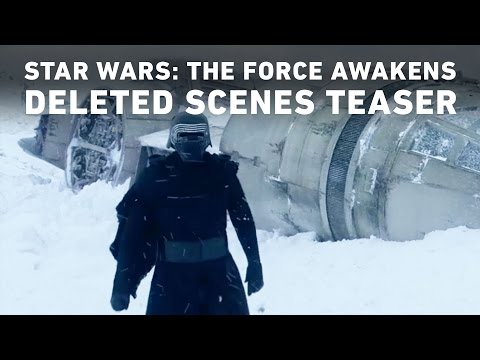 * Digital bonus offerings may vary by retailer
Star Wars: The Force Awakens saw the eagerly anticipated reteaming of original Star Wars stars Harrison Ford, Carrie Fisher, and Mark Hamill, along with Anthony Daniels, the only actor to have been in all seven Star Wars films, and Peter Mayhew. The returning cast was joined by newcomer Daisy Ridley, who beat out fierce competition to take the principal role of Rey; BAFTA Rising Star Award winner John Boyega (Attack the Block, Imperial Dreams) as reluctant stormtrooper Finn; Emmy® nominee Adam Driver (Lincoln, Girls) as the villainous Kylo Ren, and Golden Globe® winner Oscar Isaac (Inside Llewyn Davis, The Bourne Legacy) as Resistance pilot Poe Dameron.
Star Wars: The Force Awakens was directed by J.J. Abrams and written by Lawrence Kasdan & J.J. Abrams and Michael Arndt. Lucasfilm president and eight-time Academy Award® nominee Kathleen Kennedy and J.J. Abrams, along with his longtime producing partner Bryan Burk, are the film's producers.
Having established a musical legacy with his iconic scores for the previous six films in the Star Wars Saga, acclaimed composer John Williams returned to score Star Wars: The Force Awakens, ultimately garnering his 50th Oscar® nomination for it. 
DISC SPECIFICATIONS:
FEATURE RUN TIME:                            Approximately 136 min.
RATING:                                                 PG-13 in U.S.; PG in CE; G in CF
ASPECT RATIO:                                     Blu-ray Feature Film = 2.40:1
DVD Feature Film = 2.40:1  
AUDIO:                                                   Blu-ray = English 7.1 DTS-HDMA, English 2.0 Descriptive Audio, French and Spanish 5.1
Dolby Digital Language Tracks
DVD = English, French and Spanish 5.1 Dolby Digital, English 2.0 Descriptive Audio Language Tracks
LANGUAGES:                                        English, French & Spanish
SUBTITLES:                                            English SDH, French & Spanish
SOCIAL MEDIA:
Facebook: http://www.facebook.com/StarWarsMovies
Twitter: https://twitter.com/StarWars
Website:  http://www.starwars.com/the-force-awakens/
Instagram: http://instagram.com/StarWarsMovies
ABOUT STAR WARS: THE FORCE AWAKENS:
Lucasfilm and visionary director J.J. Abrams join forces to take you back again to a galaxy far, far away as Star Wars returns to the big screen with Star Wars: The Force Awakens. The film stars Harrison Ford, Mark Hamill, Carrie Fisher, Adam Driver, Daisy Ridley, John Boyega, Oscar Isaac, Lupita Nyong'o, Andy Serkis, Domhnall Gleeson, Anthony Daniels, Peter Mayhew and Max Von Sydow. Kathleen Kennedy, J.J. Abrams and Bryan Burk are producing with Tommy Harper and Jason McGatlin serving as executive producers. The screenplay is written by Lawrence Kasdan & J.J. Abrams and Michael Arndt.
ABOUT LUCASFILM LTD.
Lucasfilm Ltd., a wholly-owned subsidiary of The Walt Disney Company, is a global leader in film, television and digital entertainment production. In addition to its motion-picture and television production, the company's activities include visual effects and audio post-production, cutting-edge digital animation, interactive entertainment software, and the management of the global merchandising activities for its entertainment properties including the legendary STAR WARS andINDIANA JONES franchises. Lucasfilm Ltd. is headquartered in northern California.
Lucasfilm, the Lucasfilm logo, STAR WARS and related properties are trademarks and/or copyrights, in the United States and other countries, of Lucasfilm Ltd. and/or its affiliates. © & TM 2015 Lucasfilm Ltd. All rights reserved.
ABOUT DISNEY MOVIES ANYWHERE (DMA):
Disney Movies Anywhere (DMA) is an engaging and family-friendly cloud-based digital movie service that makes it simple to buy your favorite Disney, Pixar, Marvel and Star Wars movies once and watch them anywhere.  With DMA you can explore Disney's library of over 450 eligible digital movies, discover hours of new and exclusive short-form content, and watch your digital movies from the comfort of the living room or across multiple mobile devices.  Using the free DMA apps and website, you can connect your DMA account with participating providers including iTunes, Amazon Video, VUDU, Microsoft Movies and TV and Google Play and unlock access to your eligible movie collections across platforms and devices –  iPhone, iPad, iPod Touch, Apple TV/Airplay, Amazon's Fire tablets, Fire TV and Fire TV Stick, Microsoft Movies and TV service on Windows and Microsoft Xbox devices, Android mobile and tablet devices and Android TV, Chromecast and the Roku®platform.  In addition, you can redeem Digital Copy codes found in Disney, Pixar and Marvel Blu-rays and DVDs, as well as earn Disney Movie Rewards points with every digital purchase.
ABOUT THE WALT DISNEY STUDIOS:
For over 90 years, The Walt Disney Studios has been the foundation on which The Walt Disney Company was built. Today, the Studio brings quality movies, music and stage plays to consumers throughout the world. Feature films are released under the following banners: Disney, including Walt Disney Animation Studios and Pixar Animation Studios; Disneynature; Marvel Studios; Lucasfilm; and Touchstone Pictures, the banner under which live-action films from DreamWorks Studios are distributed. The Disney Music Group encompasses the Walt Disney Records and Hollywood Records labels, as well as Disney Music Publishing. The Disney Theatrical Group produces and licenses live events, including Disney on Broadway, Disney On Ice and Disney Live!.
Comments Off on CA – Talkin' Toons w/ The Joker
Voice actor Rob Paulsen welcomes MARK HAMILL (Luke Skywalker, The Joker, and many more!) to Talkin' Toons LIVE on Tuesday March 18, 2014 at 8:00 PM at the Hollywood Improv!
Get tickets at the link! **SOLD OUT!**
Press Release:
The world-famous Hollywood Improv is proud to invite you to join Emmy and Annie award winner Rob Paulsen as he talks about his experiences in voice acting!
About Rob Paulsen:
Born in Detroit, Rob Paulsen spent his childhood in Livonia and Rochester, attending Junior and Senior high school in Grand Blanc, Michigan. Rob loved cartoons like most kids but aspired to be a professional hockey player. "Fortunately, thanks to some big, strong, kid from Winnipeg who drilled me so hard my ears are still ringing, I learned around age 18 I had neither the talent nor the temperament to make a living playing hockey. So, I turned to my other passions: singing and acting."
The goal of bringing absolute believability to a fictional character, live-action or animated, is what every actor strives for. Those who are committed to their career and who combine experience, passion and skill are likely to succeed.
Those gifted with exceptional talent who focus on maximizing their potential by finding their own niche, quickly break away from the pack. After years of honing their craft and consistently delivering memorable performances in which the character impacts an indelible image on the viewer, the public and the industry take notice, singling out the best.
"I'm getting paid to do what I got in trouble for in the 7th grade," jests Rob, who won a Daytime Emmy in 1999 as "Outstanding Performer in an Animated Program" for Pinky and The Brain (Warner Bros.) Though nominated twice previously, the victory was especially sweet due to some formidable competition – fellow nominees Louie Anderson, Ernest Borgnine, Dennis Franz and Jeffery Tambor. In addition to his Emmy, Rob won back-to-back Annie Awards in 1997 and 1998. "I absolutely love what I do and thank my lucky stars for twenty-five years of full-time employment in this business," he says.
"It's a treat to portray a complex character," Rob explains about Pinky, a goof-ball mouse with funny teeth, a head filled with clouds and an inane imagination that is punctuated with a staccato laugh. "Besides … where else could I find a job where emotional outbursts and odd exclamations like 'Egad!,' 'Narf!,' 'Poit!,' 'Splonk!,' and 'Zort!' are allowed and in fact, encouraged?" With over 2,000 half-hours of animation to his credit, Rob's versatility shines in his starring roles as the voices of Yakko, Pinky and Dr. Scratch 'n' Sniff in the Peabody and two-time Emmy award-winning series "Animaniacs."
Some of Rob's other well-known animated characters include Raphael of the "Teenage Mutant Ninja Turtles," Arthur in "The Tick," the title role in "The Mask" (for a WHOLE lot less dough than Mr. Carrey, thank you), the title role in "Mighty Max," Carl Wheezer in "Jimmy Neutron, Boy Genius," Jack Fenton in "Danny Phantom," Bobble in the "Tinkerbell" series of DVDs and hopefully more to come.
Paulsen's extensive credits include on-camera roles in numerous motion pictures including Body Double, Stewardess School, Eyes of Fire, The Perfect Match, and Warlocked. His television acting credits include guest-starring roles on MacGyver and St. Elsewhere. Additionally, he is one of the most sought-after voice actors in the commercial arena, performing in over 1000 commercial spots.
As passionate about "paying it forward" as he is about his lucrative career, Rob supports various charitable organizations, particularly those benefiting children and military veterans. Rob's volunteer work with GOALmodels has been particularly rewarding. GOALmodels, a high school program in Reseda, California, is designed to inspire 9th graders to set goals and overcome obstacles in life. Blending his life experiences with passion for his work, his presentations are informative, entertaining and inspiring. In his leisure time, Rob enjoys golf, riding his motorcycle and occasionally lacing up his skates for another chance to relive his past glory on the rink. He spends the majority of his free time with his wife, Parrish, and their two Yorkshire terriers, Pooshie and Tala.
Hollywood Improv
8162 Melrose Ave, Los Angeles, CA 90048
Comments Off on Official Pix Booth Autograph Schedule for SDCC
Official Pix has revealed the guests who will be signing at their booth at Comic-Con International.
Battlestar Galactica:
Edward James Olmos
Michael Hogan
James Callis
Chuck:
Zachery Levi
Adam Baldwin
Star Wars:
Mark Hamill
Matthew Wood
Anthony Forrest
Matt Lanter
Catherine Taber
James A Taylor
Ashley Eckstein
Dee Bradley Baker
Tom Kane
All actors and artists are subject to professional appearances. Check the site before traveling for any last minute updates. Check the booth for exact signing times. Special guests charge a fee for their autograph and or photograph opportunity. Inquire at the event for fees.
Comments Off on Comic-Con International Programming: Saturday
The Saturday programming schedule for SDCC is now available.
While I suspect that Saturday may end up being a day of surprises, it nevertheless features such guests as Ludacris, Rebecca Romijn, Jim Lee, Joe Quesada, Stan Lee, Dave Gibbons, Mike Mignola, Dan DiDio, James Jean, Matt Groening, Gerard Way, Woody Harrelson, Ray Bradbury, J. Michael Straczynski, Kevin Smith, Zachary Quinto, Marc Silvestri, Zack Snyder, Mark Hamill, and Thomas Jane.
Here are some of the panels that got my attention:

10:00-11:30 The Black Panel— By now you must have heard about the massive amount of fun The Black Panel is! 2009's panel will be the one that puts all others to shame. This year's panel includes Ludacris, Michael Jai White (Black Dynamite), Kel Mitchell (Kenan & Kel, The Brash Brothers), Prodigal Sunn (The Wu Tang Clan), Reggie Hudlin (Black Panther animated series), Denys Cowan (Black Panther animated series), and as always some surprise guests! Moderated by Michael Davis. Room 5AB
10:00-11:00 IDW: Angel on the Rise— With L.A. back from Hell, what's next for IDW's Angel comics? Fans of the show and the tall, dark, and brooding fangster can find out who's still fighting, who's been eaten, and what sinister forces are still to come during this panel featuring Juliet Landau (Angel writer/actress), Brian Lynch (Angel: After the Fall), Peter David (Fallen Angel), plus the reveal of the all-new monthly Angelwriter and more! Room 7AB
10:00-11:00 Chuck Screening and Q&A— Chuck returns to Comic-Con! executive producers and co-creators Josh Schwartz (Gossip Girl) and Chris Fedak are joined by series stars Zachary Levi (upcoming Alvin and the Chipmunks ), Yvonne Strahovski (upcoming I Love You Too), Joshua Gomez (Without a Trace), Ryan McPartlin (Super Capers), Mark Christopher Lawrence ( The Pursuit of Happyness ), Vik Sahay ( This Is Wonderland ) , Scott Krinsky ( The O.C. ), Sarah Lancaster ( Everwood ) , and Adam Baldwin (Serenity) for a Q&A to discuss season three and screen an exclusive retrospective highlight reel. Plus, don't miss a special surprise from some of your favorite characters! Produced by College Hill Pictures, Wonderland Sound and Vision in association with Warner Bros. Television, Chuck airs Mondays at 8:00 PM ET/PT on NBC. Ballroom 20
10:15-11:15 Eastwick Pilot Screening and Q&A— Be among the first to see the pilot of the highly anticipated series Eastwick. Based on the John Updike novel and the hit film The Witches of Eastwick, this sexy and bold comedic drama centers on three young witches whose powers are awakened when a mysterious man moves to town. Be careful what you wish for—the perfect man truly may be the Devil! Series stars Rebecca Romijn ( X-Men), Lindsay Price ( Lipstick Jungle), Jaime Ray Newman (Veronica Mars), and Paul Gross (Due South ) join creator/executive producer Maggie Friedman (Related) and director/executive producer David Nutter (Terminator: The Sarah Connor Chronicles) to answer questions from the audience after this exclusive sneak peek. Produced by Warner Bros. Television, Eastwick airs Wednesdays at 10:00 PM ET/PT this fall on the ABC Television Network. Room 6A
11:00-12:00 Lost: The Final Season Begins, with Damon Lindelof and Carlton Cuse— In appreciation of all the fan support through five seasons of Lost, co-creator/executive producer Damon Lindelof and executive producer Carlton Cuse will pay homage to all the fans at their final Comic-Con appearance for Lost. Questions will be answered. Fun will be had. And you won't want to miss the surprises in store for the audience! Hall H
11:30-12:30 The Stories of DC Universe Online featuring Jim Lee and Marv Wolfman— Jim Lee (Batman: Hush) and Marv Wolfman (The New Teen Titans) have joined forces to help create DC Universe Online. Jim, Marv, and key members of the development team from Sony Online Entertainment talk about how storylines are being built into this upcoming online action game at every level. Room 5AB
11:30-12:30 Marvel: Dark Reign— The Cabal has taken over the Marvel Universe and forever changed it. Now, Norman Osborn has his LIST and is taking everyone down who stands in his way. What lies on the horizon? Find out here as the creators behind the madmen and women putting the Marvel Heroes through their paces answer your questions and let you in on what happens next! Joe Quesada, Rick Remender (Dark Reign: The List), Matt Fraction (Invincible Iron Man), Jason Aaron (Dark Reign: The List), Frank Tieri (Dark Reign: Made Men), Joe Casey (Dark Reign: Zodiac), Marvel editor Alejandro Arbona, and others shed some light on Dark Reign! Room 6A
11:30-12:30 Activision/Marvel: Ultimate Alliance 2— Marvel and Activision have a long history of bringing some of the world's most popular and beloved comic book storylines to video games and their fans. That pedigree will continue with a number of Stan Lee's famed Marvel characters inspired by Mark Millar's Civil War storyline, brought to life in Marvel: Ultimate Alliance 2. Learn first-hand the various facets that go into transforming a comic book's storyline into a captivating video game, including voice work, writing, development, and creativity, all the while evolving with the high-definition environment of the gaming world. Join Stan Lee, game voice-over actors Armin Shimmerman and Fred Tatasciore, and members from Activision's development studio, Vicarious Visions, to gain insight and a preview of the imagination, creative process and technology used to develop some of the most advanced superhero games ever. Indigo Ballroom / Hilton Bayfront
12:00-1:00 CBLDF Master Sessions: The Heroic Figure with Dave Gibbons— As the co-creator of Watchmen and Martha Washington, Dave Gibbons established himself as a master of creating immediately iconic heroes. Bring your sketchbooks and follow along as he shows you his creative process for creating dynamic, heroic figures at this live art demonstration! The original art from this session will be auctioned off on Saturday night at the CBLDF's auction! Room 30CDE
12:30-1:30 Spotlight on Gary Gianni— "Monsters, Cowboys, Ghosts and Pirates" is the theme of a chat and slide show presented by Comic-Con special guest Gary Gianni (The Monster Men). Geof Darrow (Shaolin Cowboy) and Mike Mignola (Hellboy) will also be on hand to add commentary. Comics, books, and movies will be discussed. Room 4
12:30-1:30 Sanctuary— Before Sanctuary returns for an all-new season, don't miss your chance to go inside the action and behind the scenes. Join stars Amanda Tapping (Dr. Helen Magnus) and Robin Dunne (Dr. Will Zimmerman) as well as executive producers Martin Wood and Damian Kindler for an exclusive conversation about one of television's most innovative shows. Moderated by Michael Logan, TV Guide. Indigo Ballroom / Hilton Bayfront
12:45-2:00 DCU Editorial Presentation— Senior VP/executive editor DCU Dan DiDio, senior story editor—DCU Ian Sattler, and countless DCU talent are gathering for a discussion that's not to be missed. Now that Blackest Night is upon us, what lies ahead for your favorite heroes? Got a question for your favorite DCU creator? Come on by! There's no greater gathering of top-tier creative talent! Room 6A
1:00-2:00 Spotlight on James Jean— The Eisner Award–winning artist and painter is a first-time Comic-Con special guest. James Jean has won multiple awards and acclaim for his work as a comics cover artist, on titles such as Fables and Umbrella Academy. Now he's entered a new phase of his career, as he concentrates on gallery shows, book projects, and painting. Room 7AB
1:30-2:30 Miramax: Extract— Mike Judge, the creator of such comedy classics as Office Space, Beavis and Butthead and King of the Hill is back with his latest film Extract starring Jason Bateman (Arrested Development), Mila Kunis (Forgetting Sarah Marshall), and Kristen Wiig (Saturday Night Live). Join Judge and his cast for a discussion and first look at scenes from their new film. Hall H
1:30-3:00 Glee— When FOX aired a special preview of its subversive new comedy musical series Glee after the American Idol finale, the response was through the roof, and fans have hungered for another episode ever since. The wait is over! Stars Matthew Morrison, Lea Michele and Cory Monteith and the producers of the FOX hit present a sneak preview screening of a never-before-broadcast episode with panel discussion to follow. Don't Stop Believin', Comic-Con fans! Glee is here! Indigo Ballroom / Hilton Bayfront
1:45-2:30 The Simpsons— Now entering its record-breaking 21st season on the air, The Simpsons is the longest-running series in the history of American television and a household name around the world. Get a behind-the-scenes look at what's coming up in the Simpsonverse, including never-before-seen highlights from the upcoming "Treehouse of Horror XX," with a panel including Simpsons creator Matt Groening, showrunner Al Jean, executive producer Matt Selman, and supervising director Mike Anderson. Ballroom 20
2:15-3:15 Warehouse 13— This summer, the unknown has an address in the new Syfy Original Series, Warehouse 13. Stars Eddie McClintock (Pete Lattimer), Joanne Kelly (Myka Bering), Saul Rubinek (Artie Nielsen), Allison Scagliotti (Claudia Donovan), Jack Kenny (executive producer/showrunner) and David Simkins (executive producer) reveal confidential information. Room 6A
2:15-3:15 Gerard Way— The creator of The Umbrella Academy talks about the next arc of his award-winning series with Gabriel Bá, announces his new project, and fields questions from the audience. Room 6DE
2:45-3:45 V Pilot Screening and Q&A— Already one of the most talked-about new series of the upcoming television season, catch a special screening of the pilot episode of V, a re-imagining of the groundbreaking miniseries, followed by a Q&A with stars Elizabeth Mitchell (Lost), Morris Chestnut (The Cave), Joel Gretsch (The 4400), Morena Baccarin(Firefly), and Scott Wolf (Go), along with executive producers Scott Peters (The 4400), Jeffrey Bell (Alias), Steve Pearlman (Related) and Jace Hall (Chadam). From HDFilms in association with Warner Bros. Television, V will premiere midseason on the ABC Television Network. Ballroom 20
2:45-3:45 Sony Pictures: Zombieland and 2012— Sony Pictures previews two exciting new movies at Comic-Con!
Zombieland —What if the Zombies won? Columbus (Jesse Eisenberg) has made a habit of running from what scares him. Tallahassee (Woody Harrelson) doesn't have fears. If he did, he'd kick their ever-living ass. In a world overrun by zombies, these two are perfectly evolved survivors. But now, they're about to stare down the most terrifying prospect of all: each other. Also starring Emma Stone and Abigal Breslin as two sisters who seem to constantly cause even more trouble for our erstwhile heroes. Appearing on stage: Woody Harrelson, Jesse Eisenberg, Emma Stone, and director Ruben Fleischer.
2012—Director Roland Emmerich has tried to destroy civilization before, but nothing you've seen will prepare you for what he has in store for the world in 2012. Never before has a date in history been so significant to so many cultures, so many religions, scientists, and governments. 2012 is an epic adventure about a global cataclysm that brings an end to the world and tells of the heroic struggle of the survivors. Roland will be onstage to reassure us it's all make-believe…we hope.
Hall H
3:15-4:15 Heroes: Exclusive First Look at "Redemption" and Q&A with Tim Kring and Castmembers— Fasten your seatbelts and get ready for an amazing roller coaster ride as Heroes debuts a trailer for "Volume 5: Redemption." Participate in a Q&A session with creator Tim Kring and some of the cast. Indigo Ballroom / Hilton Bayfront
3:30-4:30 Spotlight on Ray Bradbury— The legendary fantasy and science fiction writer is once again a Comic-Con special guest, as he was for the very first show in 1970. Ray Bradbury will discuss his new books, plays, and other projects with his long-time friend, writer and producer Arnold Kunert, and biographer Sam Weller. Room 6BCF
3:30-4:30 Boondock Saints II: All Saints Day— In the sequel to the cult classic The Boondock Saints, director Troy Duffy brings back Sean Patrick Flanery (Suicide Kings, Powder), Norman Reedus (American Gangster, Blade 2), and Billy Connolly (The Last Samurai) and introduces Carlo Berardinucci, Clifton Collins Jr. (Star Trek, Crank 2) as a new partner-in-crime, and Julie Benz (Rambo, Punisher 2, Saw) as the sexy FBI operative who is hot on their trail. Join Troy and the cast for a panel discussion about the new film and the world premiere of the trailer. Room 6DE
4:00-5:00 Fringe Screening and Q&A— Fringe cast members Anna Torv (upcoming The Pacific), Josh Jackson (Shutter), and John Noble (The Lord of the Rings: The Return of the King) appear with consulting producers Alex Kurtzman and Robert Orci (Transformers: Revenge of the Fallen) and executive producers Jeff Pinkner (Lost) and J. H. Wyman (Keen Eddie) for a Q&A with fans and an exclusive video presentation. Join the discussion of this critically acclaimed thriller, which explores the ever-blurring line between science fiction and reality, where hybrid monsters tear through sewers, thieves walk through walls and portals open to worlds unknown. From Bad Robot Productions in association with Warner Bros. Television, Fringe airs Thursdays at 9:00 PM ET/PT this fall on FOX, premiering September 17. Fringe: The Complete First Season will be released on DVD and Blu-ray Hi Def September 8. Ballroom 20
4:00-5:00 Paramount Pictures and Marvel Entertainment: Iron Man 2— Paramount Pictures and Marvel Entertainment present the sequel to the blockbuster film based on the legendary Marvel superhero Iron Man. Directed by Jon Favreau, Iron Man 2 stars Robert Downey Jr. Joining Downey in the cast are Gwyneth Paltrow, Don Cheadle, Scarlett Johansson, Sam Rockwell, Jon Favreau, Clark Gregg, John Slattery, Mickey Rourke, and Samuel L. Jackson. Hall H
4:30-5:30 Introducing the World's First Digi-Novel: Level 26: Dark Origins— With his first major project since CSI, visionary creator and director Anthony E. Zuiker (creator, CSI), introduces the Digi-Novel, an industry redefining multiplatform media property that will revolutionize modern storytelling by allowing readers to move seamlessly from books to film to the web—an unprecedented undertaking in the publishing industry. Zuiker, designer Marc Ecko (founder, Ecko Enterprises), web creators Greg Goodfried and Miles Beckett (co-creators, lonelygirl15), and actors Daniel Buran (CSI) and Michael Ironside (Terminator Salvation) offer a preview presentation and Q&A session! Room 5AB
4:30-5:30 Top Cow: Comics & Multimedia— Marc Silvestri (Dark Avengers/Uncanny X-Men: Utopia), Matt Hawkins (president of Top Cow), and Filip Sablik (publisher of Top Cow) hit you with a hurricane of exciting news and announcements from comics, film, television, anime, and much more! Joining them will be Milo Ventimiglia (Heroes, Berserker) and Robert Kirkman (The Walking Dead)! Don't miss major announcements regarding the Witchblade feature film, Witchblade anime, and Darkness video game! Plus a major casting announcement for The Darkness film and a special surprise guest or two! Room 7AB
4:45-5:45 Spotlight on J. Michael Straczynski— Triple Eisner-nominated and Comic-Con special guest J. Michael Straczynski presents a freewheeling discussion about his work in comics (Brave and the Bold, Thor, Amazing Spider-Man), television (Babylon 5), movies (Changeling, Ninja Assassin, Forbidden Planet, Lensman and more) and anything else that comes to mind. Every year JMS's talks are a focus of heated conversation, and that's just between us and law enforcement when they show up midway through… Room 6A
4:45-5:55 Human Target Pilot Screening and Q&A— Join Human Target stars Mark Valley (Fringe), Chi McBride (Pushing Daisies) and Jackie Earle Haley (Watchmen), the show's executive producers Jon Steinberg (Jericho), Brad Kern (Lois & Clark: The New Adventures of Superman) and Peter Johnson (Supernatural: Origins Comic Book Series), and co-creator of the original Human Target comic, Len Wein (Swamp Thing), for an exclusive Q&A and a screening of the highly anticipated pilot based on the popular DC Comics title about a mysterious agent for hire who assumes different identities, literally becoming a human target on behalf of his clients. From Bonanza Productions Inc. in association with Wonderland Sound and Vision, DC Comics and Warner Bros. Television, Human Target will air Wednesdays at 9:00 pm ET/PT beginning in January 2010 on FOX. Room 6BCF
5:00-6:00 Adventures in Voice Acting Workshop— Here's an opportunity for attendees interested in the voice-acting profession to get firsthand advice and experience from the pros in an intimate yet dynamic and exciting setting. Learn directly from some of the best voice actors and directors in the world. This one-hour class covers practical dubbing techniques, important issues such as studio protocol, and what to expect at your first audition. You'll also get some inside information on how to break in and what the industry is really like. This truly is a once-in-a-lifetime opportunity for fans and aspiring voice actors to interact with some of the most accomplished members of the industry. Panelists include Michele Rodriguez (Lost), Steve Blum (Wolverine), Lance Henriksen (Aliens), and special surprise guests. Room 30CDE
5:15-6:15 True Blood Panel and Q&A session— Just as it seemed things were settling down in the backwoods Louisiana town of Bon Temps, deadly new twists and evil forces have begun to threaten Sookie Stackhouse and everyone around her. Mixing romance, suspense, mystery, and humor, True Blood kicked off its 12-episode second season on June 14 on HBO. The series, which earned a Golden Globe nomination for Best Television Series—Drama for its debut season, follows the romance between waitress Sookie Stackhouse (Anna Paquin, the X-Men films; Golden Globe-winner for True Blood season one; Oscar-winner for The Piano), who can hear people's thoughts, and her soul mate, 173-year-old vampire Bill Compton (Stephen Moyer, The Starter Wife). Alan Ball (creator of the Emmy-winning HBO series Six Feet Under) created and serves as executive producer of the series, which is based on the best-selling Sookie Stackhouse novels by Charlaine Harris. The series also features Nelsan Ellis (The Soloist) as Lafayette Reynolds, Rutina Wesley (How She Move) as Tara Thornton; Sam Trammell (Medium, Law & Order: Criminal Intent) as Sam Merlotte; Michelle Forbes (In Treatment, Battlestar Galactica) as Maryann Forrester; Alexander SkarsgÃ¥rd (Generation Kill) as Eric Northman and Deborah Ann Woll (The Mentalist) as Jessica Hamby. Moderated by Kate Hahn of TV Guide. Ballroom 20
5:15-6:45 Kevin Smith— Direct from New York City, where he's directing the new Warner Bros. film A Couple of Dicks starring Bruce Willis, Seann William Scott, and Tracy Morgan, Kevin Smith returns to the Hall H stage for his annual report to the masses. And remember: he flew in just for YOU. Hall H
5:30-6:30 Archaia: New Titles— Come hear about the great titles Archaia has in store, including Awakening (with writer Nick Tapalansky and artist Alex Eckman-Lawn), The Killer (with writer Matz), and The God Machine (with creator Chandra Free). Then: You've watched him for three seasons on NBC's Heroes playing Sylar and on the big screen as Spock in the new Star Trek movie, but what do actor Zachary Quinto and his colleagues at media production company Before the Door Pictures have to do with Archaia? Find out exclusively at this panel, which will feature Quinto, Corey Moosa and Neal Dodson of Before the Door Pictures, plus appearances by top-secret special guests with additional announcements! Room 5AB
5:30-6:30 American Original: Birth of an Original— Jeff Katz (Booster Gold, Freddy vs. Jason vs. Ash), president and founder of American Original, Marc Silvestri (Dark Avengers/Uncanny X-Men: Utopia), and Matt Hawkins (president of Top Cow) give you the 411 on the genesis of their "Nerd Machine"! Find out what's coming from American Original first, and get introduced to their mix of talent from a spectrum of comics, film, television, sports entertainment, and animation! Plus enough surprise guests to fill a three-ring circus! Room 7AB
5:55-7:00 The Vampire Diaries Pilot Screening and Q&A— The Vampire Diaries stars Nina Dobrev (Degrassi: The Next Generation), Paul Wesley (Killer Movie), and Ian Somerhalder (Lost) appear with executive producer/writer Kevin Williamson (Scream), writer Julie Plec (Kyle XY), and executive producer Bob Levy (Gossip Girl), as the series makes its Comic-Con debut with a screening of the much-talked-about pilot, followed by a Q&A. This edgy and romantic new drama, in which two vampire brothers—one good, one evil—are at war for the soul of one girl, is based upon the bestselling book series of the same name. Lynette Rice of Entertainment Weekly moderates. From Bonanza Productions Inc., Outerbanks Entertainment and Alloy Entertainment in association with Warner Bros. Television and CBS Television Studios, The Vampire Diaries airs Thursdays at 8:00 PM ET/PT this fall on The CW, premiering September 10. Room 6BCF
6:30-7:30 Black Dynamite— He's super cool and he knows kung-fu! When "The Man" murders his brother and floods the ghetto with adulterated malt liquor, Black Dynamite is the one hero willing to fight all the way from the blood-soaked city streets to the hallowed halls of the Honky House. Michael Jai White (The Dark Knight) stars as Black Dynamite, a gun toting, nunchuck-wielding ladies' man and soul brother. Director and writer Scott Sanders (Think as Thieves) is joined by cast members including Arsenio Hall, Tommy Davidson (In Living Color), Byron Minns (Undisputed), Salli Richardson-Whitfield (I am Legend), moderator Elvis Mitchell, and more! Room 5AB
8:30-12:15 Watchmen: Director's Cut—Live with Zack Snyder! Plus Sneak Peek of Batman: Arkham Asylum with Mark Hamill & Kevin Conroy— Get the ultimate inside track on two landmark Warner Bros. releases with the world premiere screening of Watchmen: Director's Cut and a first-look panel for the breakout Warner Bros. Interactive Entertainment game Batman: Arkham Asylum. The festivities will open with a Batman: Arkham Asylum panel led by the benchmark voices of Batman and the Joker, Kevin Conroy (Batman: The Animated Series) and Mark Hamill (Star Wars), as well as award-winning writer Paul Dini (Batman: The Animated Series). Then Watchmen director Zack Snyder, legendary illustrator Dave Gibbons and actor Jackie Earle Haley discuss the nuances of the film's Director's Cut— which hit stores on July 21. And for the pièce de résistance, Snyder will host a BD Live Community event—providing a real-time, in-person director's commentary for Comic-Con attendees (and BD Live viewers at home) as the film rolls. Audience members will have the opportunity to ask questions of Snyder via computer kiosks within the room, making for an entirely interactive viewing experience. Room 6BCF
10:00-12:00 Give 'Em Hell Malone Screening and Panel— Catch an exclusive early screening of the upcoming noir-action film Give 'Em Hell Malone, followed by a Q&A with stars Thomas Jane (The Punisher) and Chris Yen, along with director Russell Mulcahy (Highlander) and writer Mark Hosack. Room 6DE