Author Joe Hill (Locke & Key, Strange Weather, N0S4A2, Horns) appears in conversation with Monte Bohanan at the Music Hall Loft on Friday, January 12, 2018 at 7:00 PM.
Tickets available at the link…
The Music Hall Loft
131 Congress Street, Portsmouth, NH 03801
603-436-2400
JOE HILL (Locke & Key, The Fireman, Horns) appears at Joseph-Beth Booksellers on Friday, October 27th at 7:00 PM to sign his new book STRANGE WEATHER! Tickets available at the link…
Joseph-Beth Booksellers
161 Lexington Green Circle, Lexington, Kentucky 40503
(859) 273-2911
JOE HILL (Locke & Key, The Fireman, Horns) appears at Barnes & Noble on Thursday, October 26th at 7:00 PM to sign his new book STRANGE WEATHER!
Barnes & Noble Upper West Side
2289 Broadway, New York, New York 10024
(212) 362-8835
JOE HILL (Locke & Key, The Fireman, Horns) appears at Books-A-Million on Wednesday, October 25th at 6:00 PM to sign his new book STRANGE WEATHER!
Books-A-Million
430 Gorham Road, South Portland, ME 04106
(207) 253-5587
Author Joe Hill (The Fireman, NOS4A2, Heart-Shaped Box, Horns) appears at Gibson's Bookstore on Tuesday, October 24, 2017 at 7:00 PM to present his new book Strange Weather: Four Short Novels!
Gibson's Bookstore
45 S Main St, Concord, NH 03301
(603) 224-0562
Joe Hill, #1 New York Times bestselling author of The Fireman, appears at the Coolidge Corner Theatre on Monday October 23rd at 6:00 PM to present Strange Weather; a collection of four chilling novels. A signing will follow at Brookline Booksmith across the street. Tickets available at the link…
Event Guidelines:
Tickets may be purchased online or in-store.
If you purchase a copy of Strange Weather, you may pick up your book at Brookline Booksmith following the reading or before the end of November 2017.
The reading will take place at the Coolidge Corner Theatre at 6pm.
The line at the theatre will form at 5:30pm.
Present your printed Eventbrite ticket for entry to the theatre.
Joe's reading at the theatre will last one hour.
Recording video during the theatre event is not permitted.
Joe will sign books (including his previous titles) at Brookline Booksmith at 7pm, after the reading.
Joe will personalize signatures on request.
Joe will take photos with customers at the signing.
Customers with more than three books will be asked to wait at the end of the signing line.
Elderly customers and those with pregnancies, small children, or disabilities will be given priority in the signing line. Please notify a Booksmith staff member for assistance.
Coolidge Corner Theatre
290 Harvard Street, Brookline, MA 02446-2908
617-566-6660
Joe Hill appears at Haverhill Public Library to talk about NOS4A2 with special guest Christopher Golden on Monday May 12th at 7:00 pm!
Press Release:
Haverhill Public Library is excited to announce that New York Times Bestselling Author Joe Hill will be here May 12th! Joe will be talking NOS4A2, our 2014 Haverhill Reads book! Demand will be high and space limited, so register now via our events calendar! We're also excited to announce that NYT Bestseller Christopher Golden will be here too!!
Don't forget to check the events calendar for other great Haverhill Reads programs May 12-22nd!
Pick up your copy of NOS4A2 now, we have lots of copies–but add your name to the holds list if they're all checked out.
Joe Hill is the author of Heart Shaped Box, 20th Century Ghosts, Horns (soon to be a film starring Daniel Radcliffe), NOS4A2, and the Locke and Key comic book series!
Haverhill Public Library
99 Main Street, Haverhill, MA 01830
978) 373-1586
Writer Joe Hill appears at Stairway to Heaven to sign his latest graphic novel Locke & Key: Alpha & Omega on Saturday, February 8th from 4:30 to 5:30! Joe says on his blog, "You can find Stairway down the steps, beneath Water Street Books. I might do some bad doodles, you never know. And even if I don't doodle, I'm confident I will be able to correctly spell my name. Come see me!"
Stairway to Heaven Comics
121 Water Street 2W Exeter, New Hampshire 03833
(603) 580-4682
IDW Limited has launched an art competition on the website Infected By Art. The Grand Prize Winner will not only receive exclusive Locke & Key merchandise but also the opportunity to be a paid participant in an upcoming IDW Limited original art project!
Press Release:
Draw or paint your personal (or imagined!) fears into the bottle so you can conquer them once and for all!
Submission Period: October 17 – November 17, 2013
Fan Voting Period: November 12 – November 18, 2013
Fears… We've all got them to one degree or another. Your challenge is to create a work of art that shows off your real or imagined fears using the image below as a template to follow. There is no fee to enter this contest, and we're providing some great prizes as well, including the opportunity for the Grand Prize Winner to be a paid participant in an upcoming IDW Limited original art project!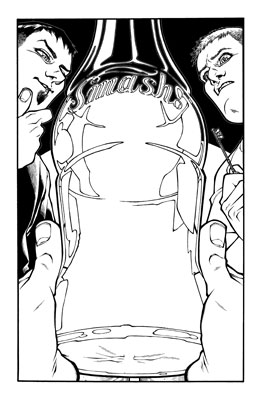 Once the November 17th deadline at midnight is hit, Locke & Key creators Joe Hill and Gabriel Rodriguez will each select one Runner Up and together they will also select the Grand Prize Winner. Fan voting will help select the 3rd Runner Up.
Remember, you have to use this image as the basis for what you create, but let your imaginations run wild! We allow each artist to submit up to 3 images towards the competition. Fan Voters will be allowed to vote for a maximum of 2 pieces of artwork they feel are most worthy. If you have any questions please contact Infected by Art.
The set up – as it appeared in LOCKE & KEY – is Kinsey (the female character) has removed aspects from her head she doesn't like, inside the bottle is the physical manifestation of her fear & sadness. Details on How To Enter.
THE IMAGE FILE YOU NEED TO WORK FROM
In order to submit your artwork to this contest, you must first save this image to your computer. To create a piece of traditional artwork you will need to transfer it to whatever surface you wish to work on (bluelined, etc), or use this file as the basis for of your digital artwork. Your entry must contain all elements from this image in order to qualify for entry.
ABOUT LOCKE & KEY
Acclaimed suspense novelist and New York Times best-selling author Joe Hill (NOS4A2, Horns, Heart-Shaped Box) creates an all-new story of dark fantasy and wonder: Locke & Key. Written by Hill and featuring astounding artwork from Gabriel Rodriguez, Locke & Key tells of Keyhouse, an unlikely New England mansion, with fantastic doors that transform all who dare to walk through them… and home to a hate-filled and relentless creature that will not rest until it forces open the most terrible door of them all… Visit the LOCKE & KEY website for more information about the series!
ORIGINAL IMAGE AS IT APPEARED IN THE COMIC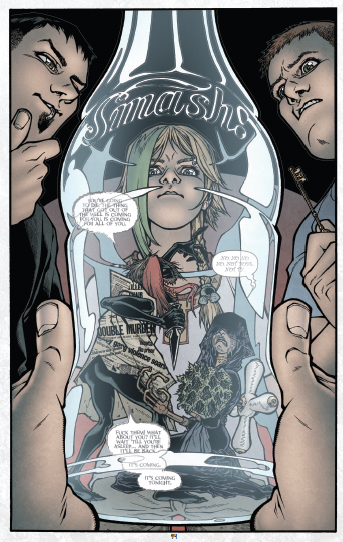 Press Release:
The Baltimore Comic-Con is excited to announce the addition of comic writer and novelist, Joe Hill, courtesy of IDW Publishing, to the growing list of creators for this year's show. In addition, IDW will also be exhibiting at the show and hosting a panel as well!
Joe Hill published his first book, a collection of short stories entitled 20th Century Ghosts, in 2005 and followed that up in 2007 with Heart-Shaped Box, his first full-length novel. But Hill is best known among comic fans for his work on IDW's groundbreaking horror series, Locke & Key, which launched in 2008. The book, which is a series of mini-series, is coming to an end with October's Alpha #2, and has been optioned for film by Universal Studios.
In addition to Locke & Key, Hill is also the author of the Kodiak, The Cape, The Cape: 1969, Wraith: Welcome to Christmasland, and Thumbprint from IDW. He received an Eisner Award in 2011 for Best Writer (Locke & Key) and is nominated for a Harvey Award this year for Best Writer (also Locke & Key).
IDW Publishing was founded in 1999 and has since grown to become one of the top comic book publishers in the United States. Their catalog of books include such licensed properties as G.I. Joe, Transformers, Teenage Mutant Ninja Turtles, Doctor Who, Judge Dredd, The Crow, My Little Pony, Star Trek, and The X-Files, as well as original comic series such as 30 Days of Night, Locke & Key, Kill Shakespeare, Fever Ridge: The Tale of McArthur's Jungle War, and Jinrise.
"We couldn't be happier to have Joe and IDW attending the show and the Harvey Awards this year," said Marc Nathan, show promoter of the Baltimore Comic-Con. "Joe's contribution to the horror genre in comics and in literature has left a lasting effect on both mediums, and IDW has continued to publish some of the best work in comics month-in and month-out for nearly 15 years! This is going to be such a treat for all the fans attending this year's show!"
Joe Hill and IDW Publishing join our previously announced guests, including: Josh Adams (Doctor Who); Neal Adams (First X-Men); Brian Bolland (Dial H); Mark Buckingham (Fables); Jimmy Cheung (Avengers vs. X-Men); Frank Cho (Savage Wolverine); Amanda Conner (Before Watchmen: Silk Spectre); J.M. DeMatteis (Phantom Stranger); David Finch (Justice League of America); Keith Giffen (Masters of the Universe); Adam Hughes (Before Watchmen: Dr. Manhattan); Barry Kitson (Empire); Roger Langridge (Popeye); Paul Levitz (World's Finest); Kevin Maguire (World's Finest); Jason Mewes (Jay and Silent Bob's Super Groovy Cartoon Movie); Mike Mignola (Hellboy In Hell); Jimmy Palmiotti (Batwing); George Perez (World's Finest); David Petersen (Mouse Guard); Joe Prado (Earth 2); Ivan Reis (Aquaman); Chris Samnee (Daredevil); Louise Simonson (X-Factor); Walt Simonson (The Mighty Thor); Kevin Smith (Batman: The Widening Gyre); Allison Sohn (sketch card artist); Mark Waid (Indestructible Hulk), and Bill Willingham (Fables).